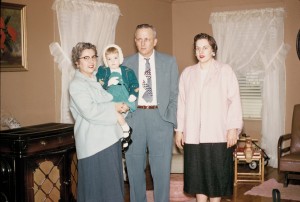 Today is my grandfather Roy Fitzpatrick's birthday. If Pop was living he would be 102. Goodness gracious please tell me where time has gone. I lived with Pop growing up until I was 13 and Granny passed away and I had to go live at my birth mother's, which was across the street but it may as well been across the world because I did not want to be there. I wanted to be at Pop's.
A few years later he was killed in Ft. Lauderdale in a car wreck with Miss Addie, his second wife.
I always miss Pop and Granny. I know they are in Heaven holding hands.  Happy Birthday Pop.. I love and miss you and I SAY I CAN NOT BELIEVE YOU WOULD BE 102!!!!  Will you give Granny a hug for me?