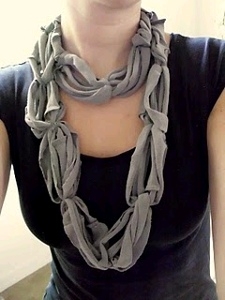 Picture was on Favecrafts.com
I have a lot of T Shirts that I no longer want. I do not want to throw them away either. Do I want to make a quilt out of them or what?
I get a really neat site in email www.favecrafts.com  Today's issue had making a knotted scarf out of old T Shirts. http://www.favecrafts.com/Wearable-Crafts/Knotted-T-Shirt-Scarf/ml/1
I can not wait to get started on mine. I can see a pretty pin right side close to shoulder area.