Well for a long time now I have not blogged. Building a new home, moving, getting organized then summer comes along and grass cutting and all those kinds of things I have not felt like talking.  I am back hopefully.
Today I along with my Aunt Jan (Deara) went to the Blount County Quilters Quilt yearly show. I hope you enjoy the pictures and the stories as much as I did taking them and thinking about all the beautiful works of art.
The entrance to the park was as lovely as always.. I was driving and my sidekick was admiring all the beautiful scenery and I did not get a shot of the inside of the park but it is gorgeous. This is Palisades Park, Blount County, AL . Oneonta to be exact. Visit this park sometimes. You will love it.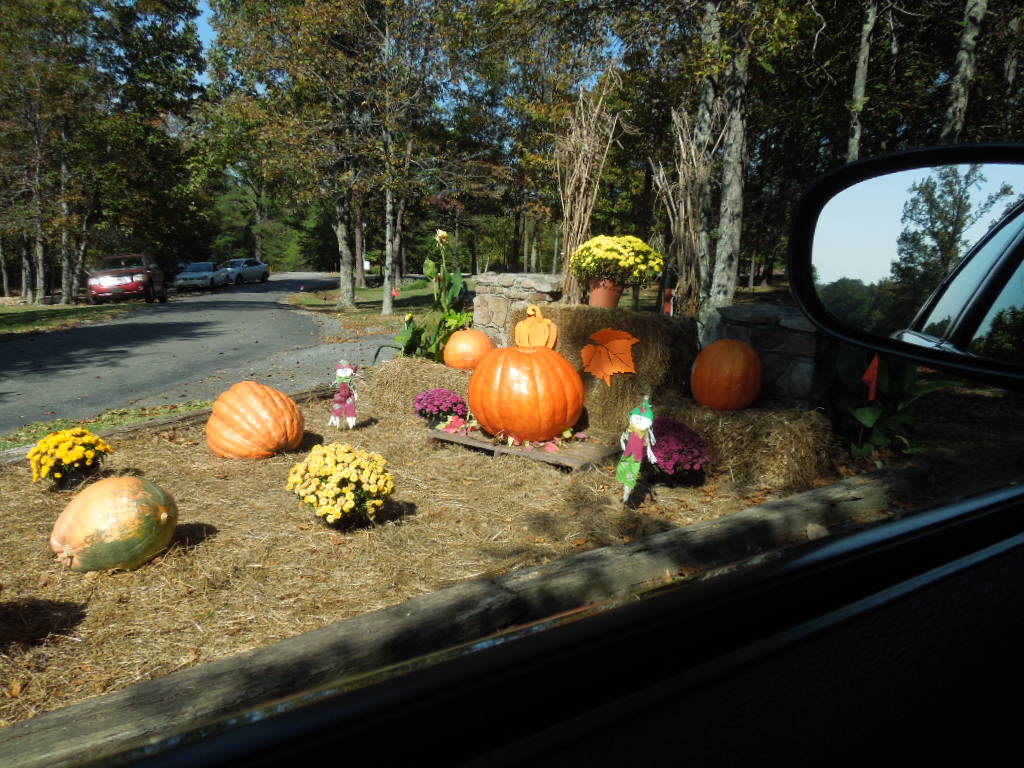 As always the show was full of beautiful quilts. It is a good thing they did not ask me to judge there is no way I could have made a decision on all these beautiful quilts. Well too I never have seen an ugly quilt either. I love them all.  From the master pieces to the scrappy ones not so perfect they are rate excellent in my book.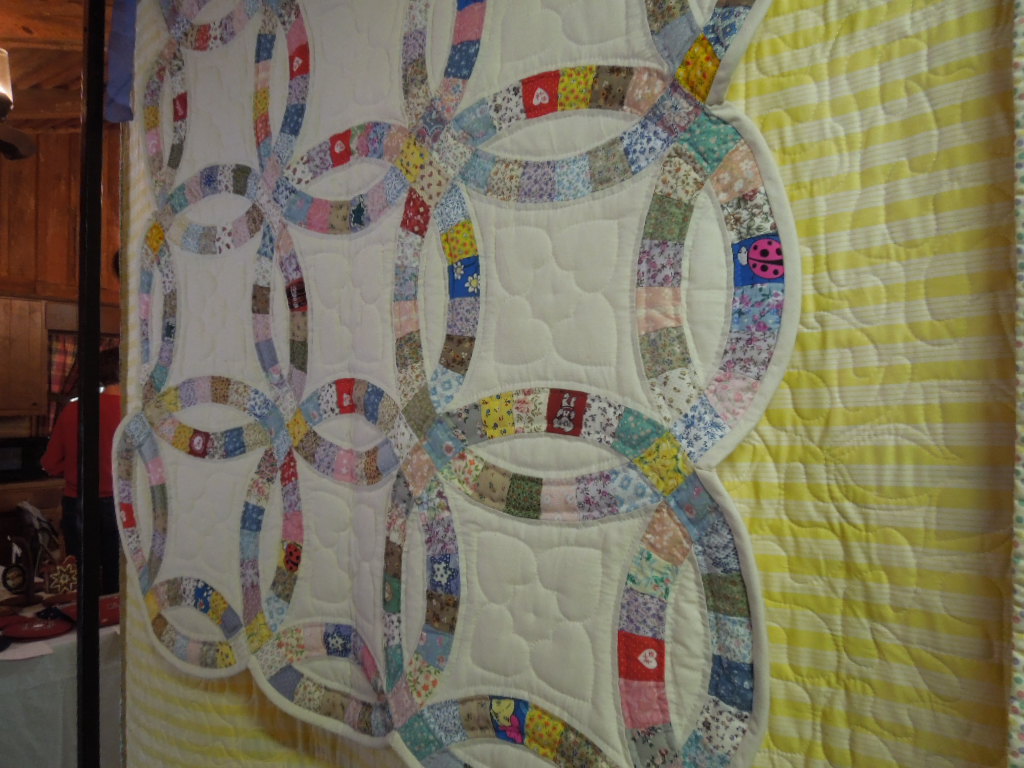 I am going to be forced to take my better camera with me when I go places. I am not the best photographer but I did try to capture something of each quilt. I loved these little squirrels.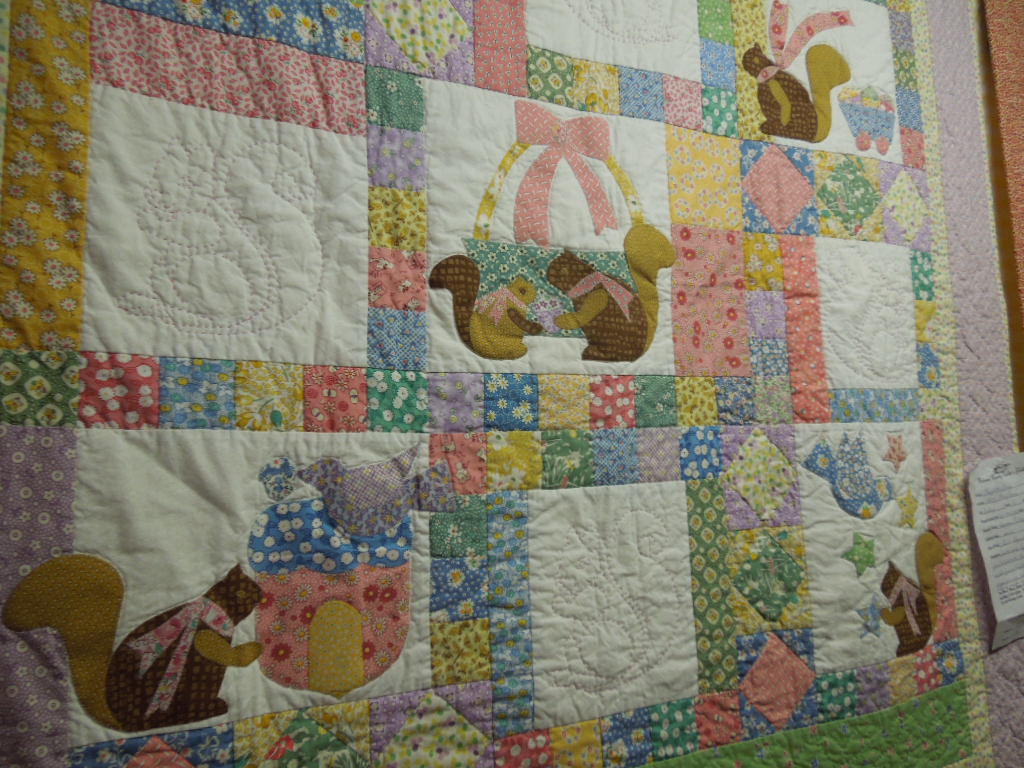 I am a big fan of Red Work. I must get some pieces started here at home. You know you could do black work, green work, yellow work. You do not have to do red. I must look up how that got started doing the pieces with red thread. I am sure there is a story if not we can make one up!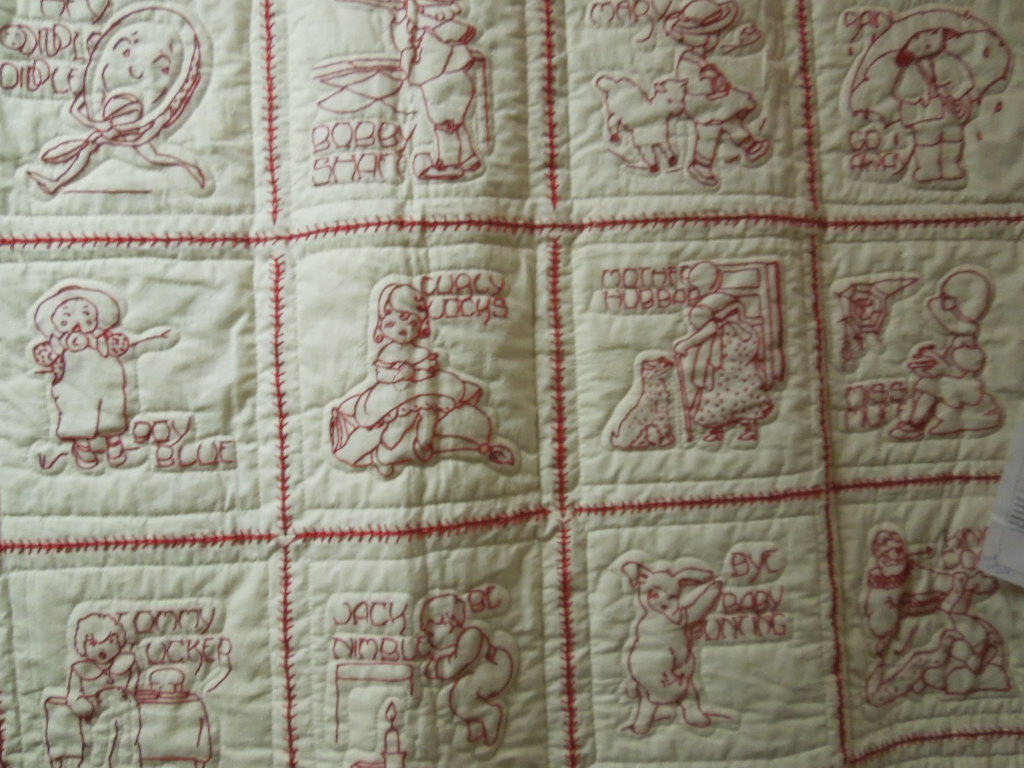 I loved this patriotic quilt. It was very pretty in person and I see I got it sideways. Let me see if I can fix it..  Oh well just turn your head.. It will be in another shot.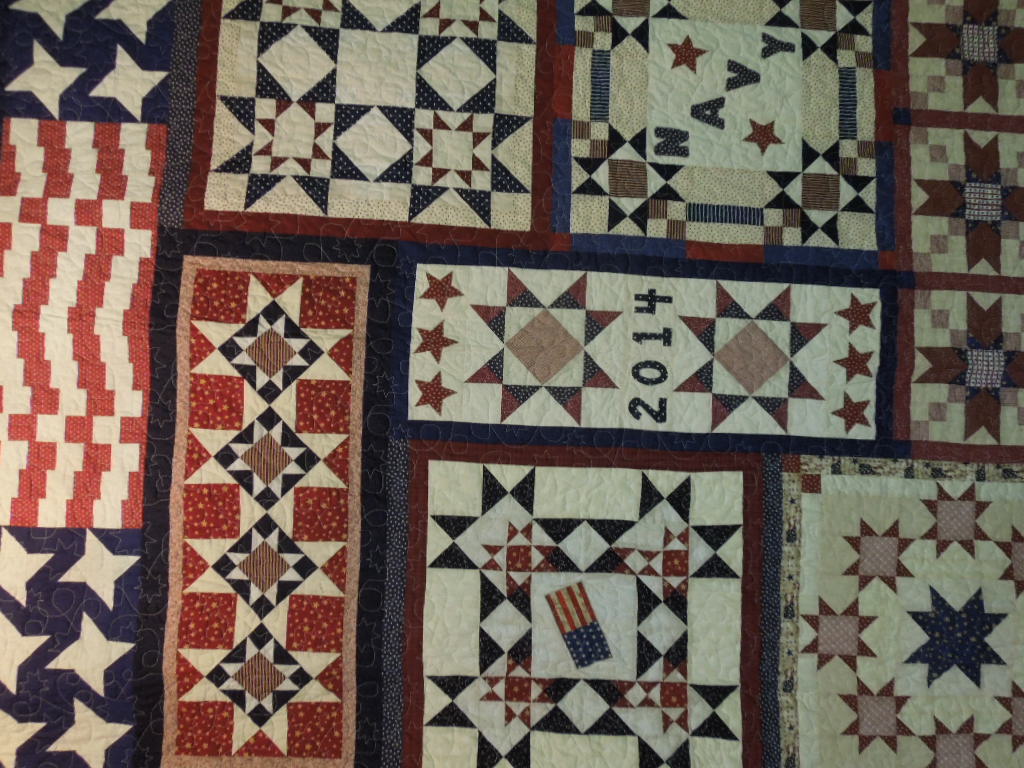 I love love love these precious little lovebirds. I am a bird fan in any project.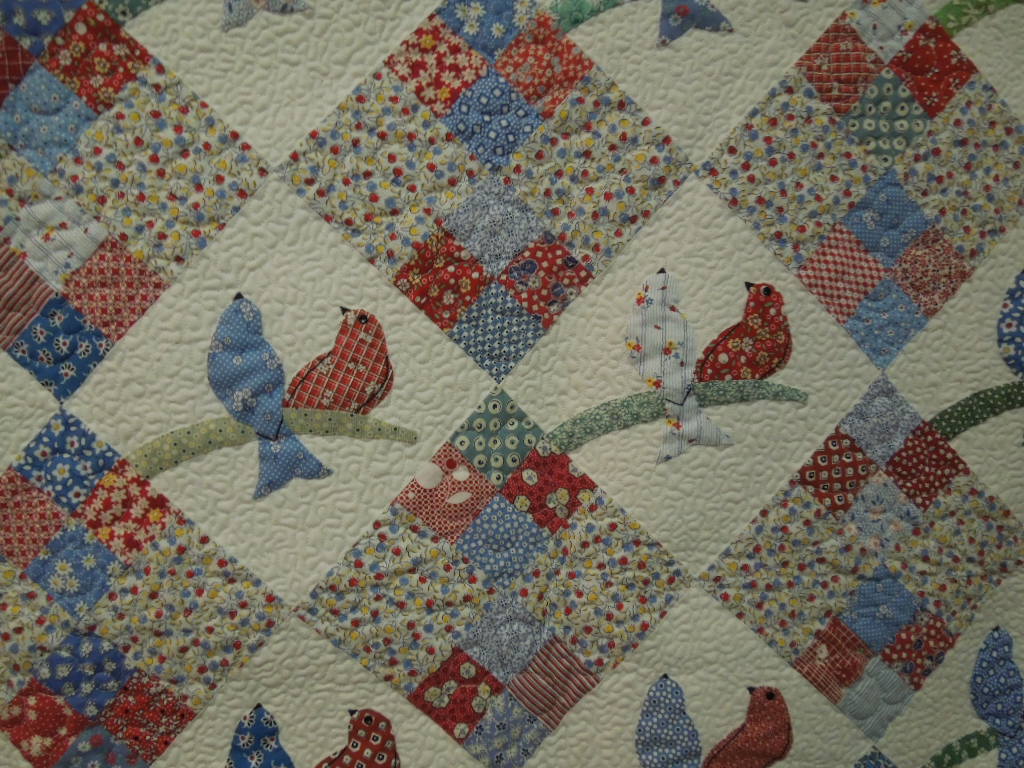 Well this should have shown up at the end but I'll go ahead and tell you about it. This lady Debbie is smiling because she won the give a way quilt. This quilt was worked on for months by the ladies and hand quilted. This year they had one in Alabama colors and one in Auburn colors. Debbie as you can tell by her shirt picked the Alabama colored one. I loved both. Another tidbit she won Best of Show today!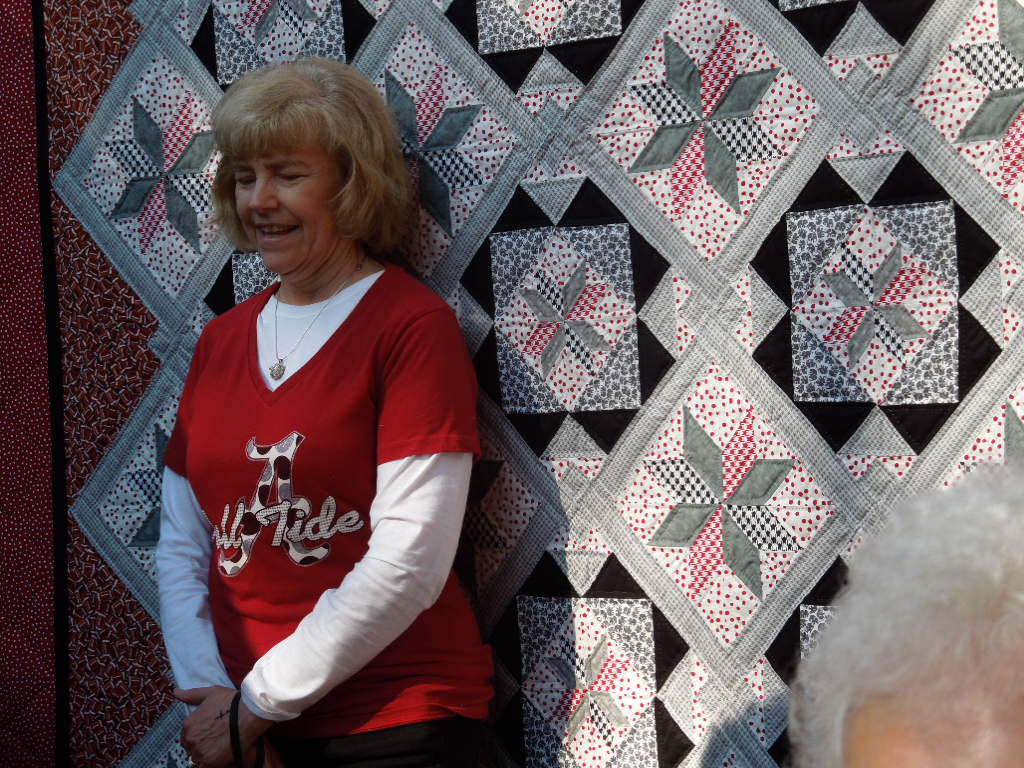 Another view of the quilt.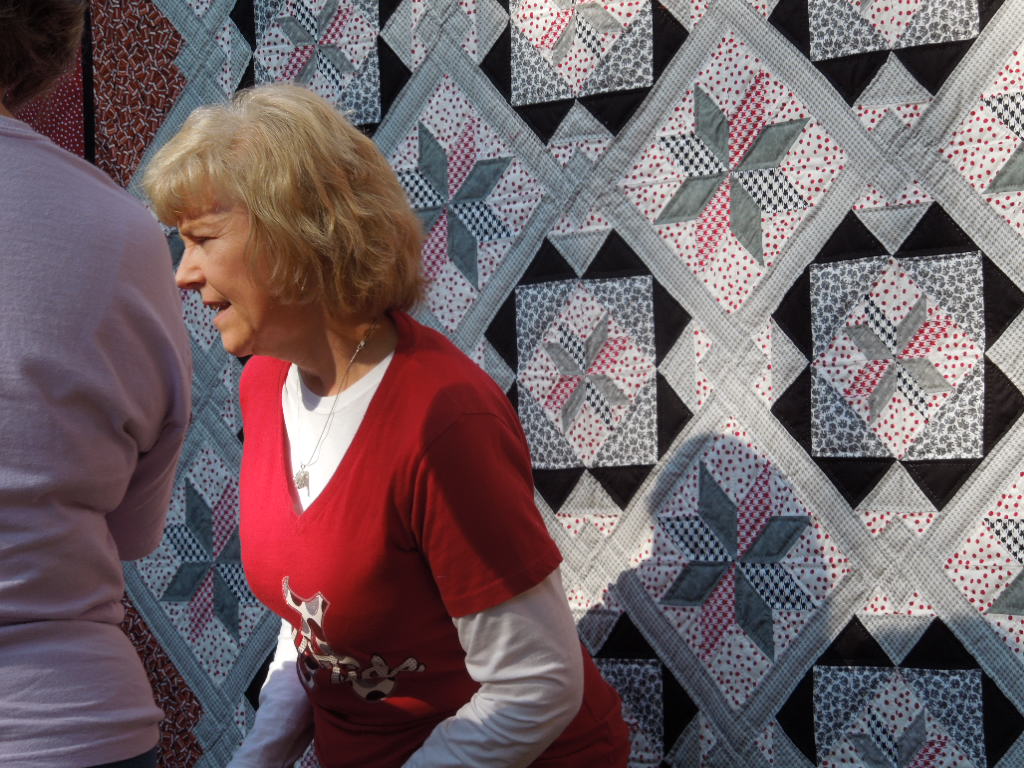 I was in hiding!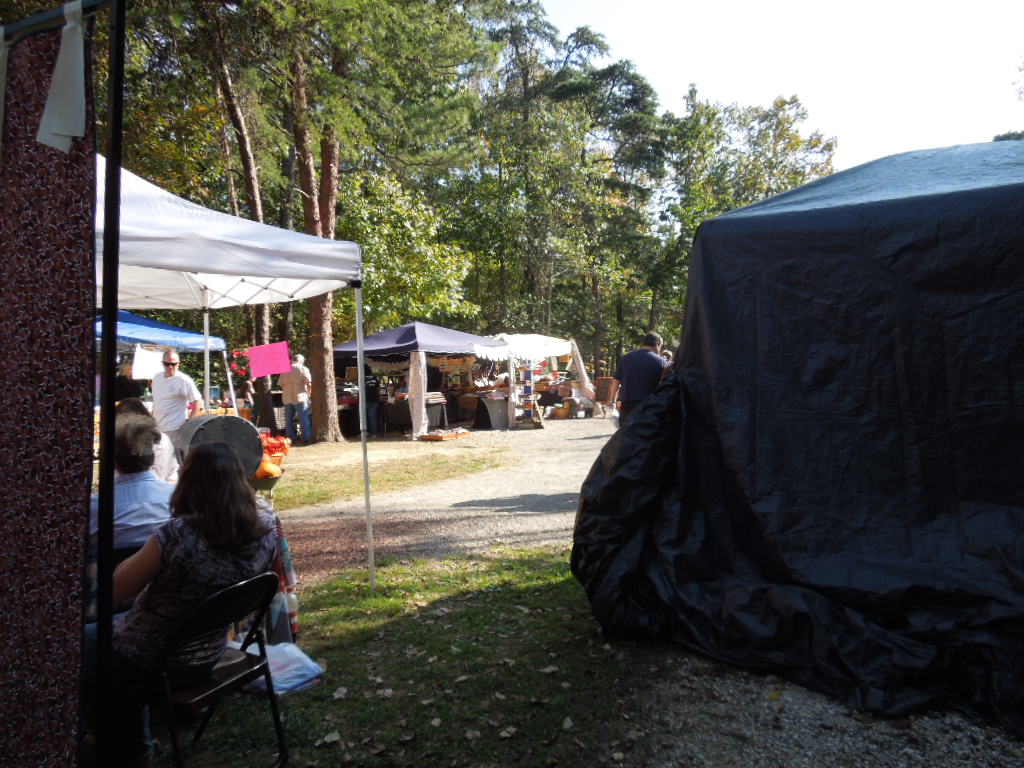 The front of the Quilters Cottage. It is an awesome place to quilt. If you live in the area and a lot do not and want to learn to quilt this is the place. The beginners would be 2nd and 4th Saturday of each month. The first year you pay $18.00 fee for the entire year. After that you pay $12.00 a year. WHERE IN THE WORLD IN THIS DAY AND TIME CAN YOU GO TAKE QUILT CLASSES GET HANDS ON PERSONAL HELP TWO TIMES A MONTH FOR 50 cents a class? That is what it amounts to.  Linda Wade is a wonderful teacher. I have seen ladies join that did not know what end of the needle to thread and they ended up turning out masterpieces.  If you would like more info just email me at SadieMaesAttic@aol.com put quilting classes in the subject and I will get you information.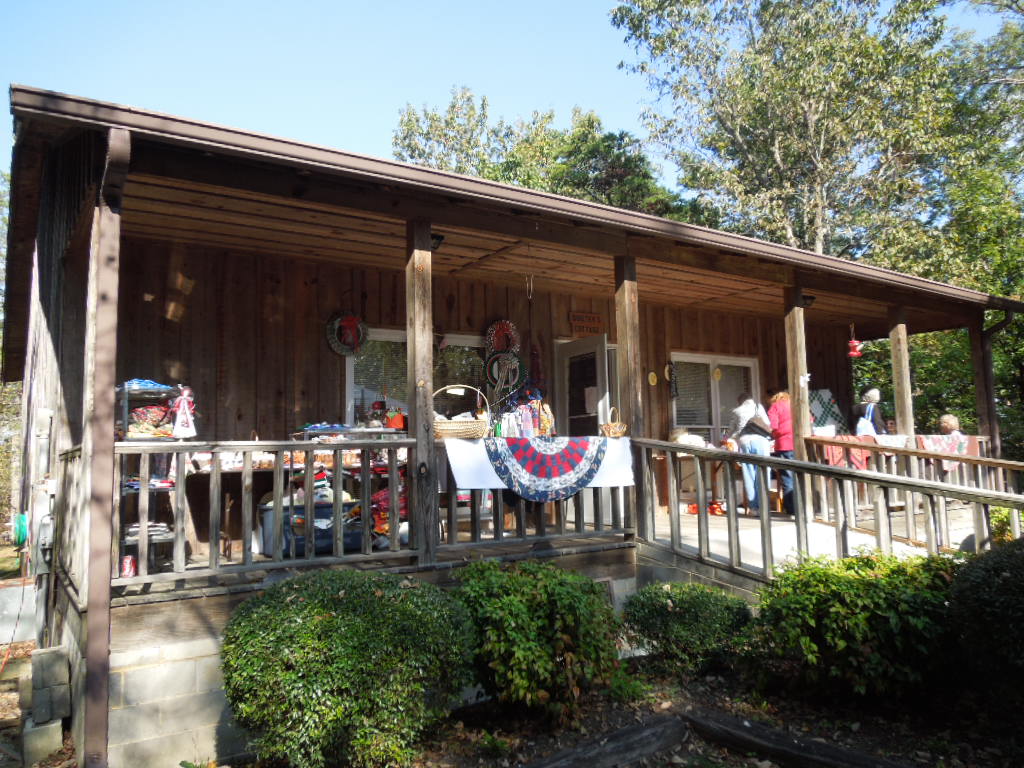 Just the side view of the cottage. I love it.. Did I mention you do not have to bring your own sewing machine if you do not want to. There are machines at the guilt for you to use. I always did bring mine because I like sewing on my own machine. You can just bring fabric and your pattern and get to work. You will be amazed at your hidden talents.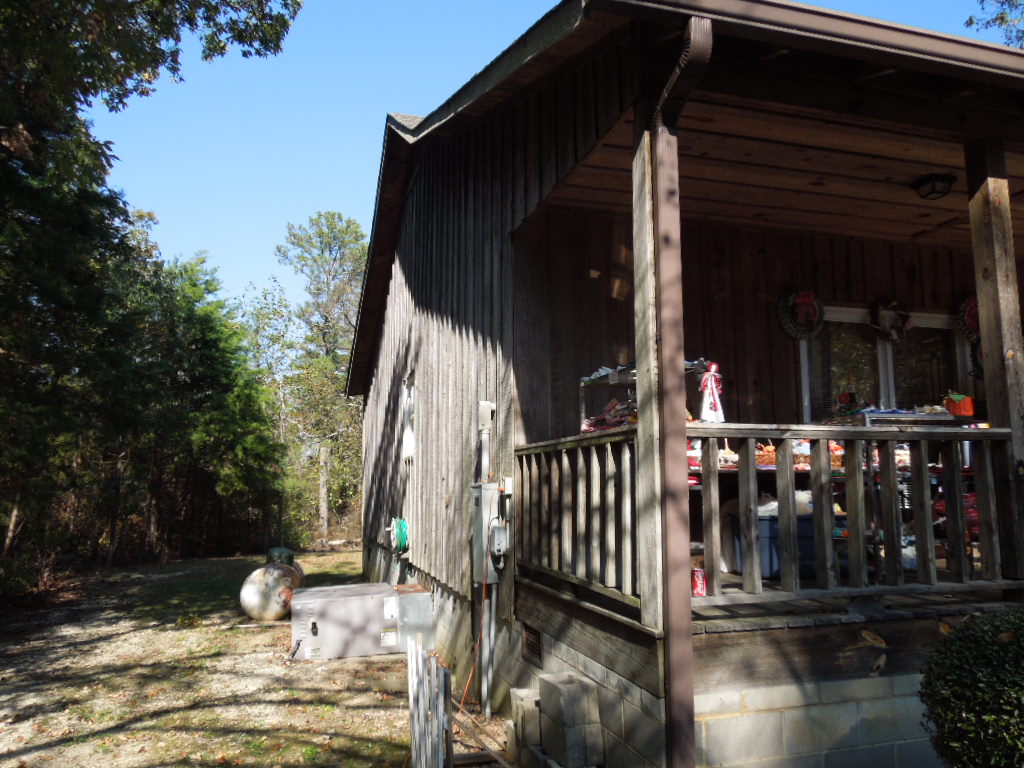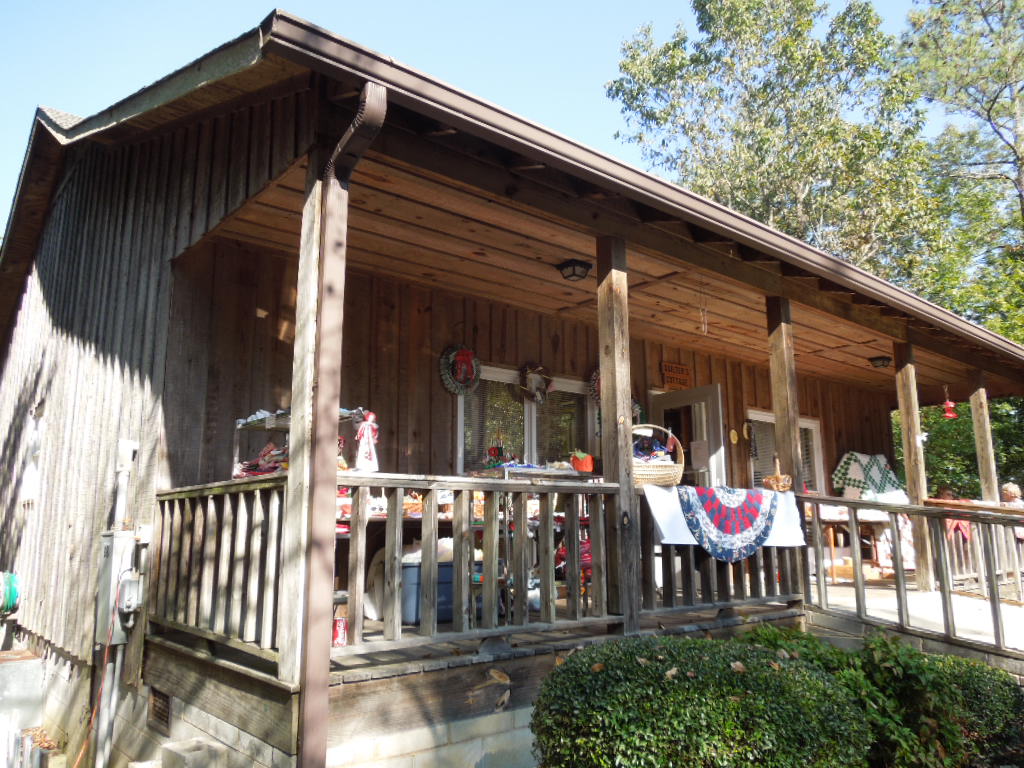 That lady on the left with the Trick A Treat Shirt on .. TROUBLE.. Oh how I love Linda Wade.. She has been a wonderful friend to me from day one. She is the Saturday teacher. Some of you may remember her from Hancock Fabrics in Roebuck. I think we all went there all the time to just see her and then we ended up with a truck load of fabric we purchased and my sewing room proves it. I have tons of fabric I purchased from there. Linda will work with you and in no time you will have a quilt to put in next years show. She is a very good teacher and knows how to do anything. To have a brain like her. You can asks about a pattern and if she does not have it with her you can bet she can put her finger on it when she gets home. She must have some massive inventory system (brain)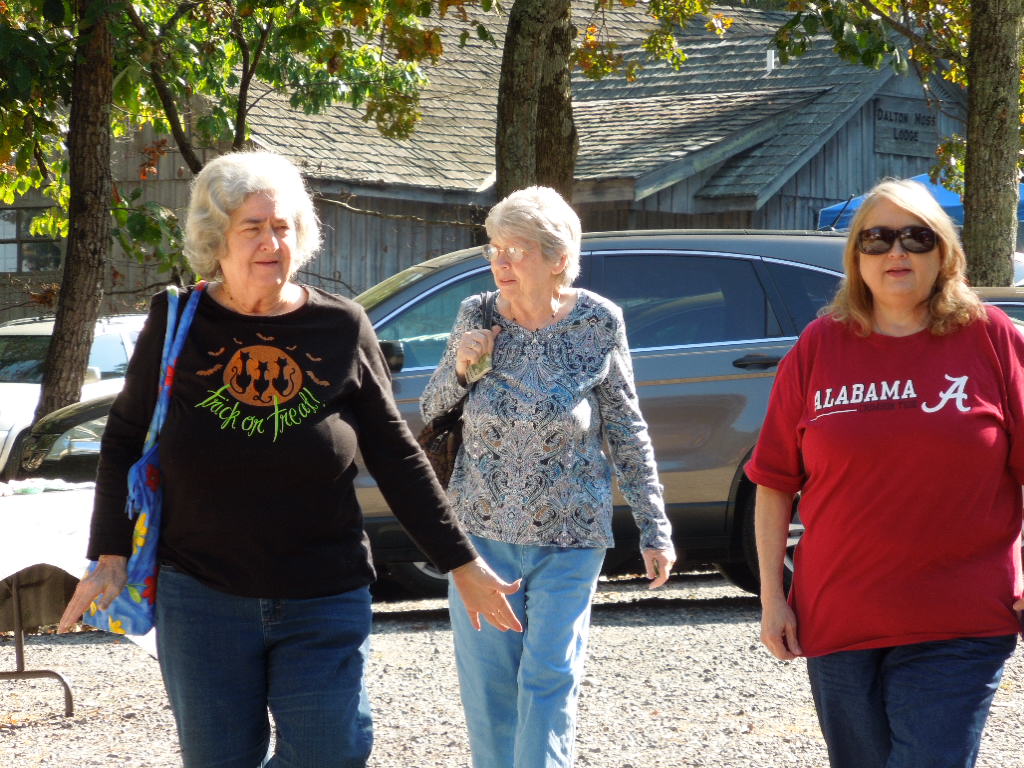 I was so longing to hear "Chris Wheeler" and I stood up by this quilt  got my picture made and was able to take it home. Oh well.. It did not happen but you know I'll live!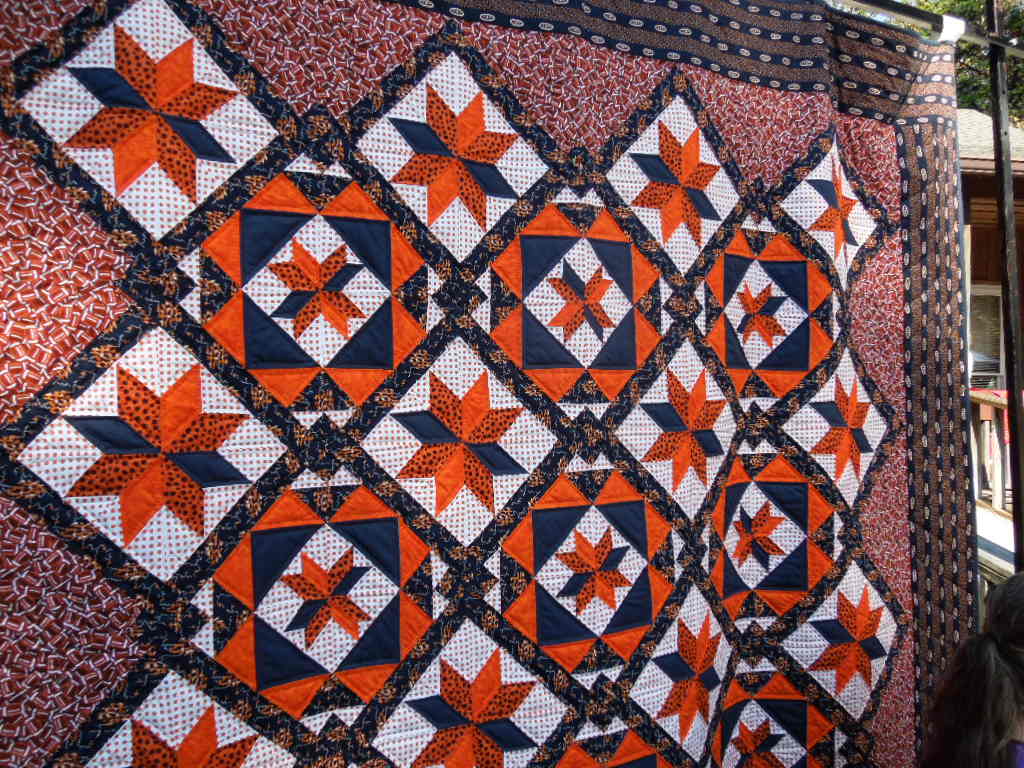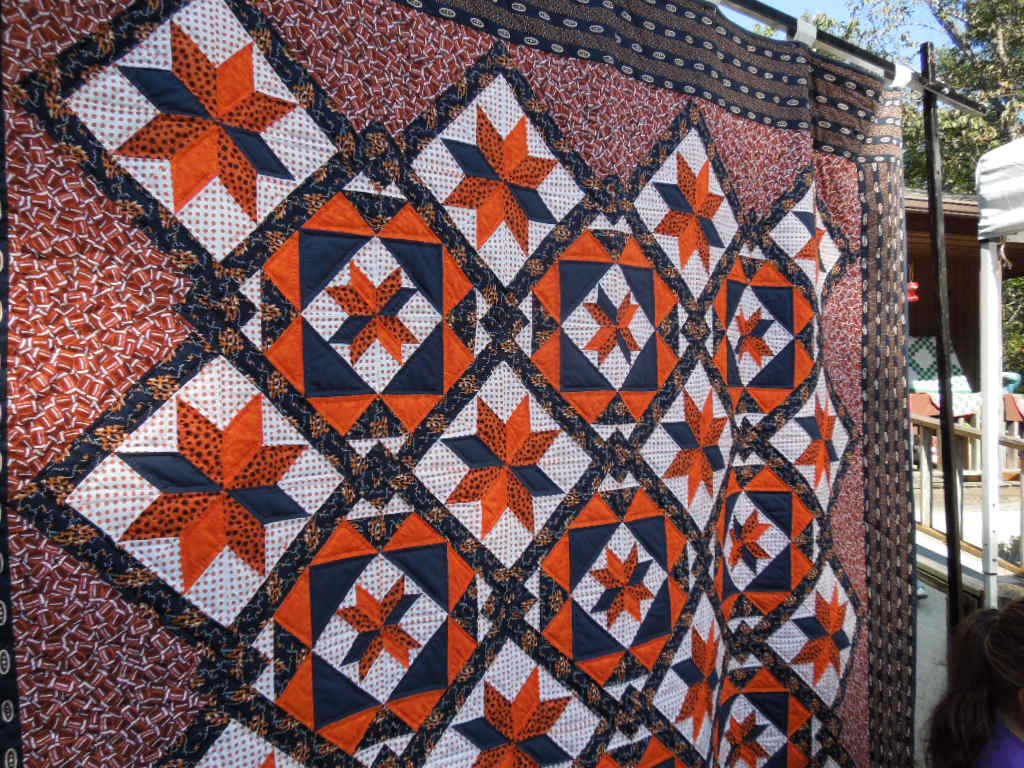 Let me "splain" Aunt Deara.. AND YOU HAVE TO FEED HER.. She gets in the car worse than a child "Where we going to eat." So if you take her anywhere just plan on that! She is going to get me for saying that so if you all do not hear from me in a few weeks call Word Press Police and report me missing!
She loves her "cocoler"  Coca Cola.. Country pronunciation CO COALER !!!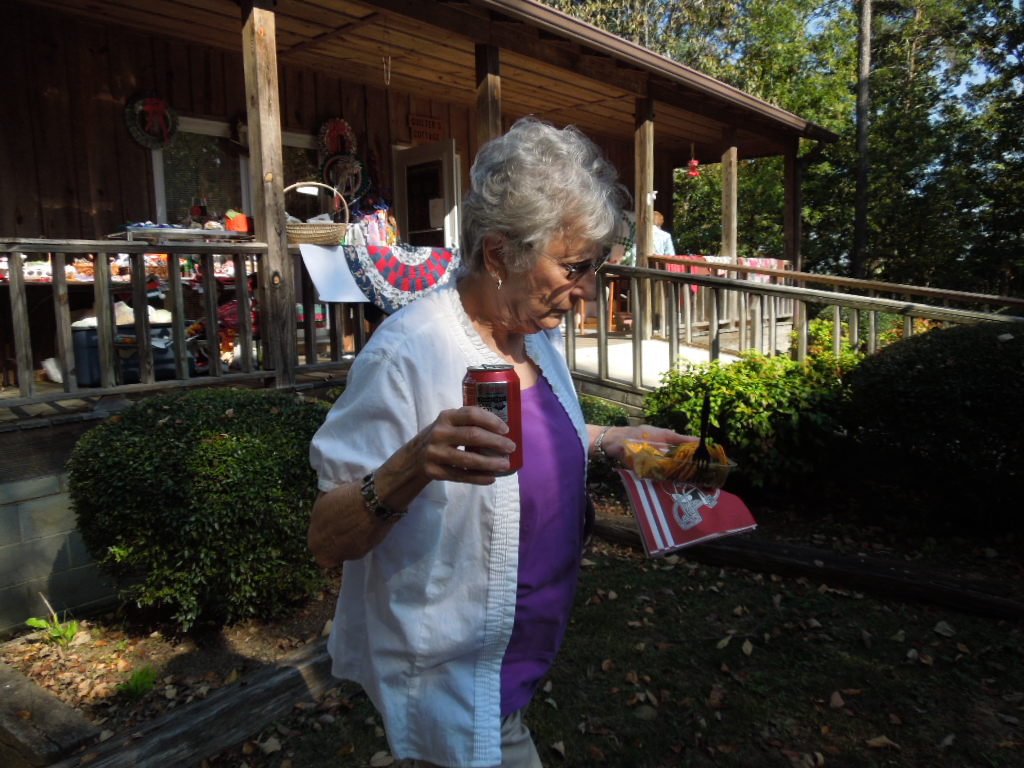 SHE IS GOING TO GET ME!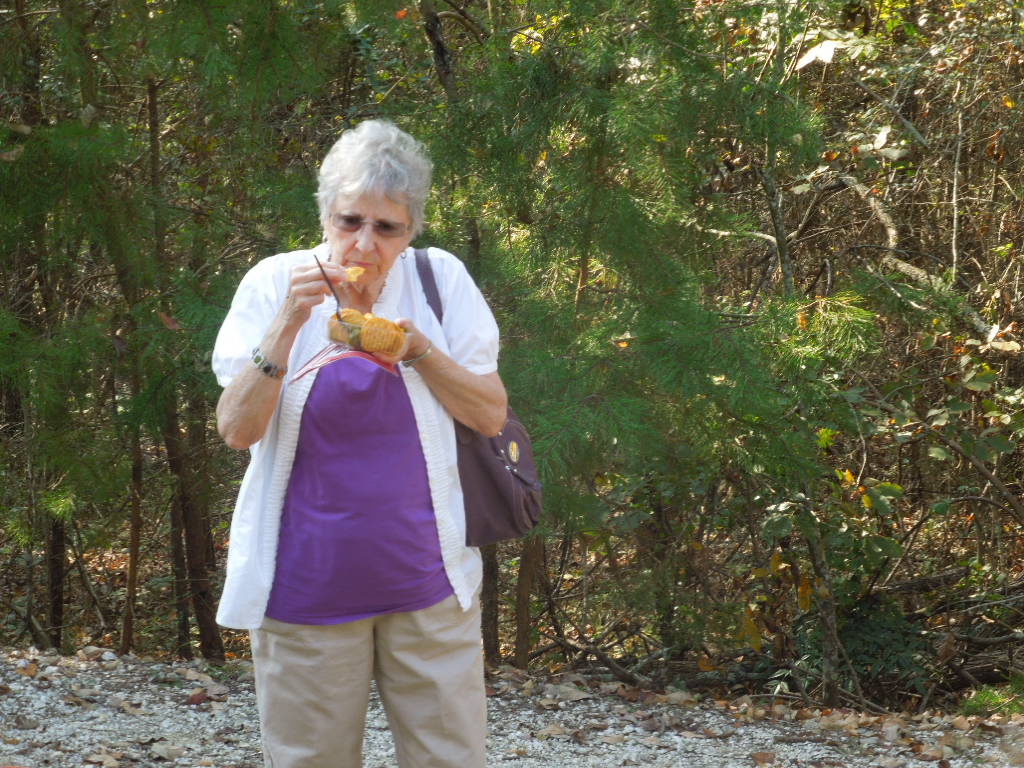 This looked painted. I inquired to one of the ladies and they said it was a Halloween panel. Ok if any of you see this let me know where. I want one of these panels. It was wonderful!( Linda just hung up the phone with me.. She said "Hancock Paducah"  I tell you the woman is a walking genius.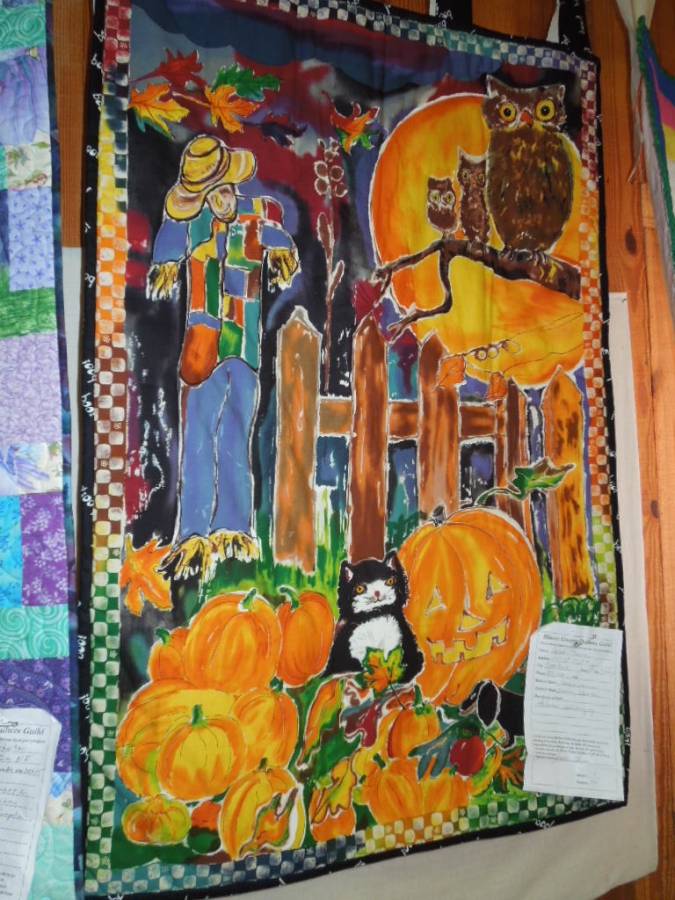 A very simple but  very pretty nine patch. Like I said. I have never found a quilt I did not love.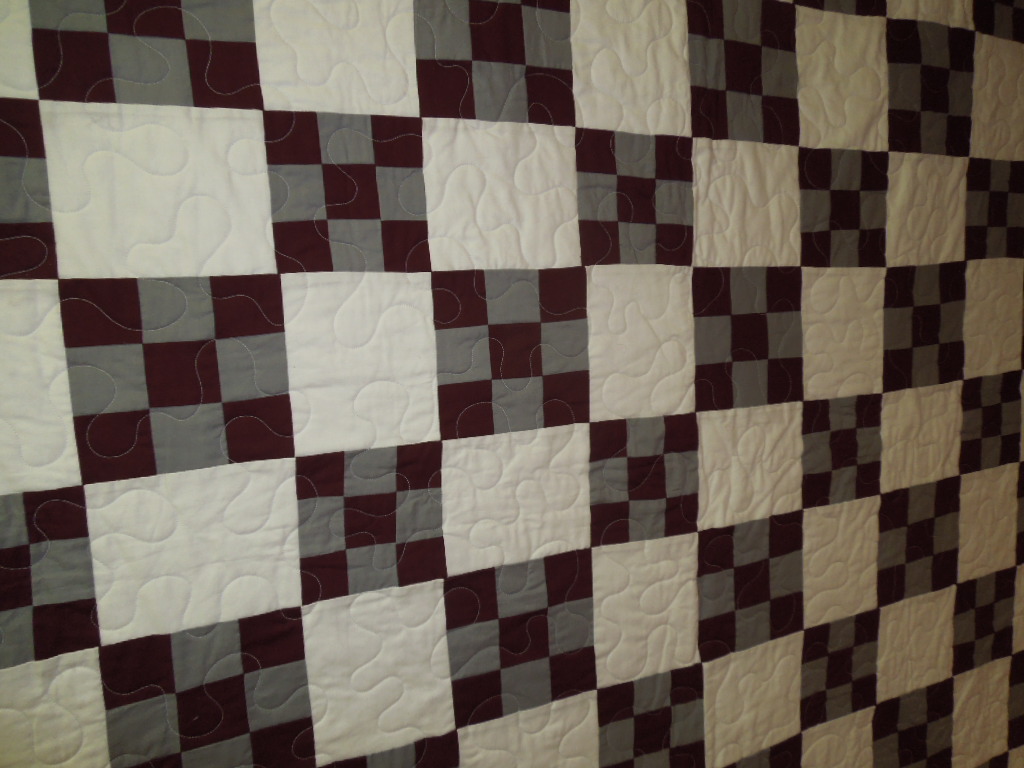 One of the sides looking at the row of quilts.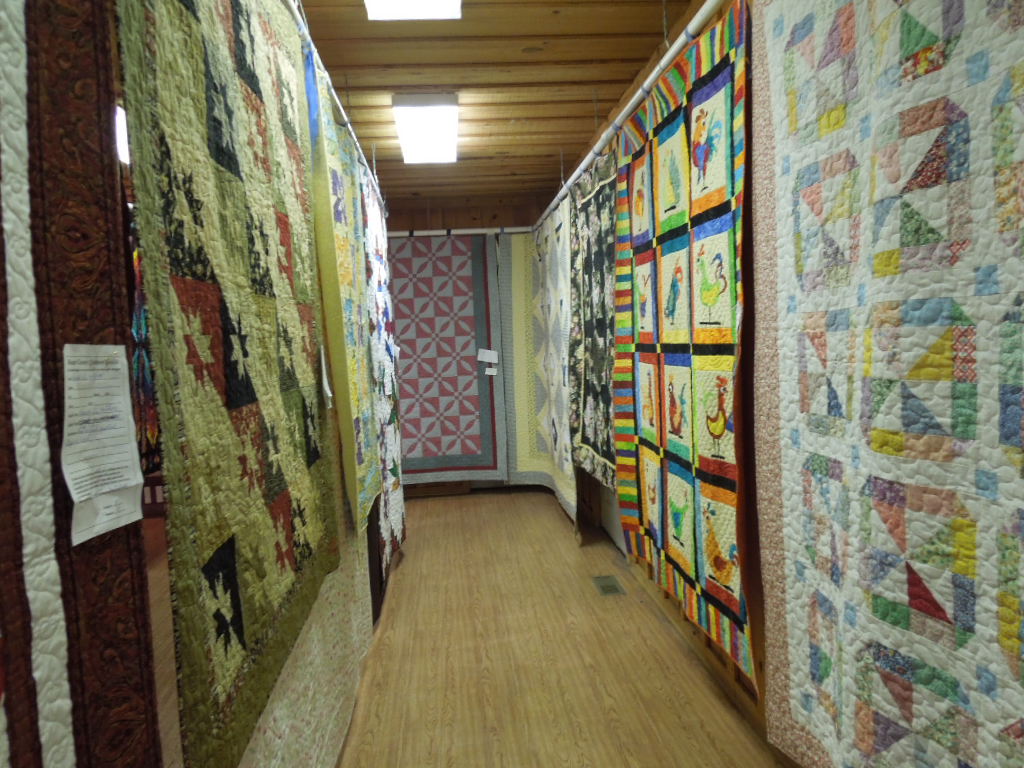 This was a very nice quilt.
I liked this. I am not sure what to call this quilt but it was very pretty. Is it a Jacob's Ladder?  I have forgotten a lot of the names.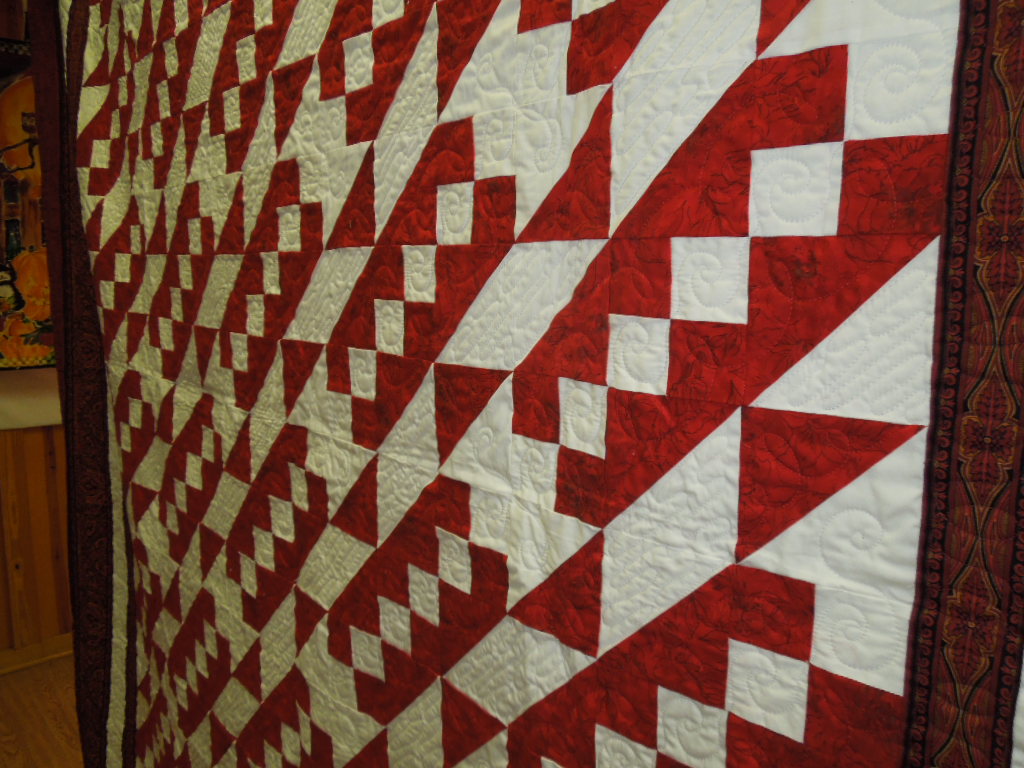 This was very pretty in person and I loved the quilting on the quilt.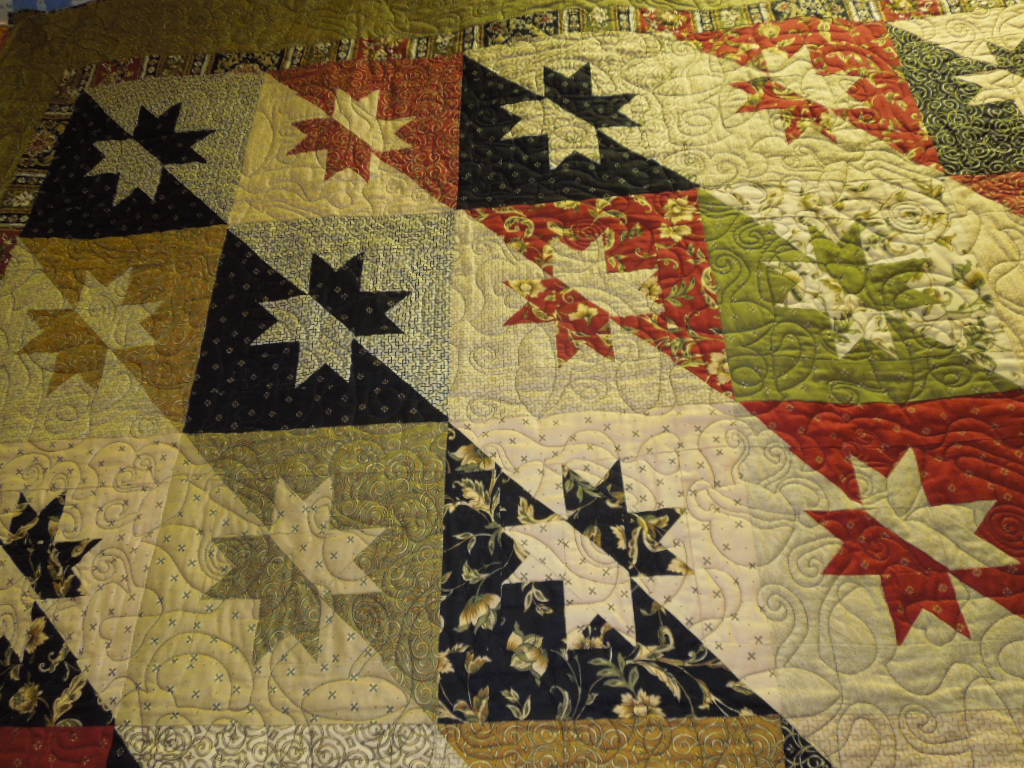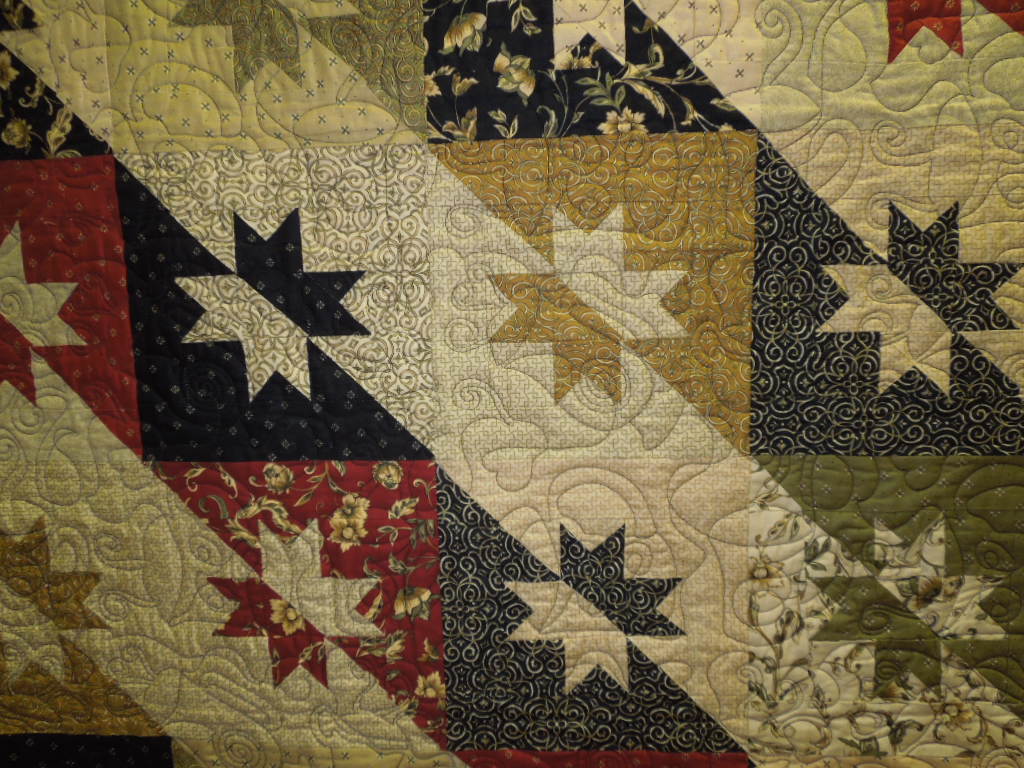 I could only think of my friend Jess in PA.. Tyedyed Jess.. She would have loved this.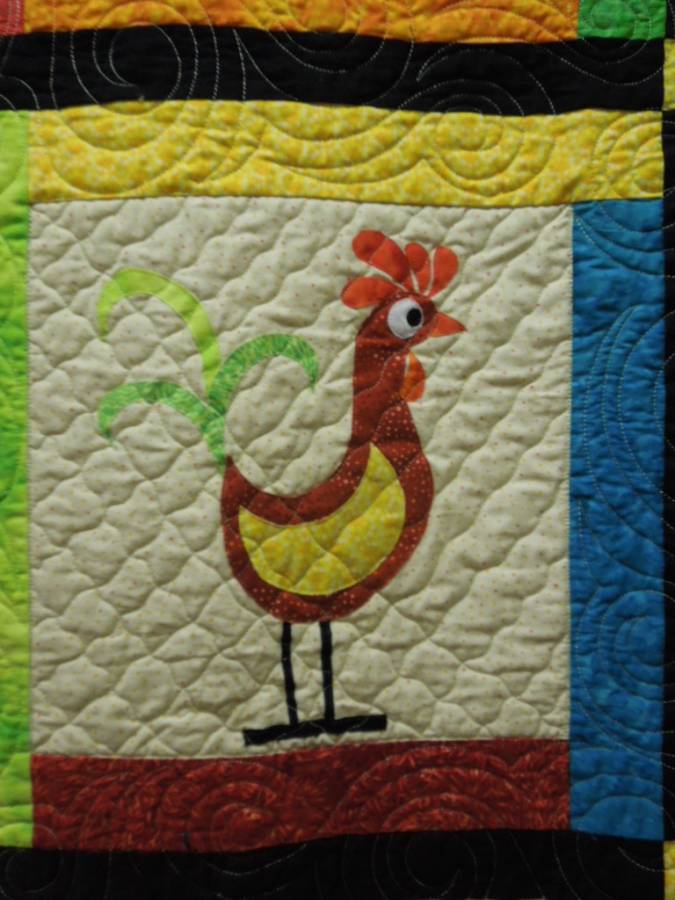 Jess is probably drooling now over these chickens. She has live chickens and they all along with her kids are always in adventures. Jess makes me laugh all the time.. I just love her and her shenanigans.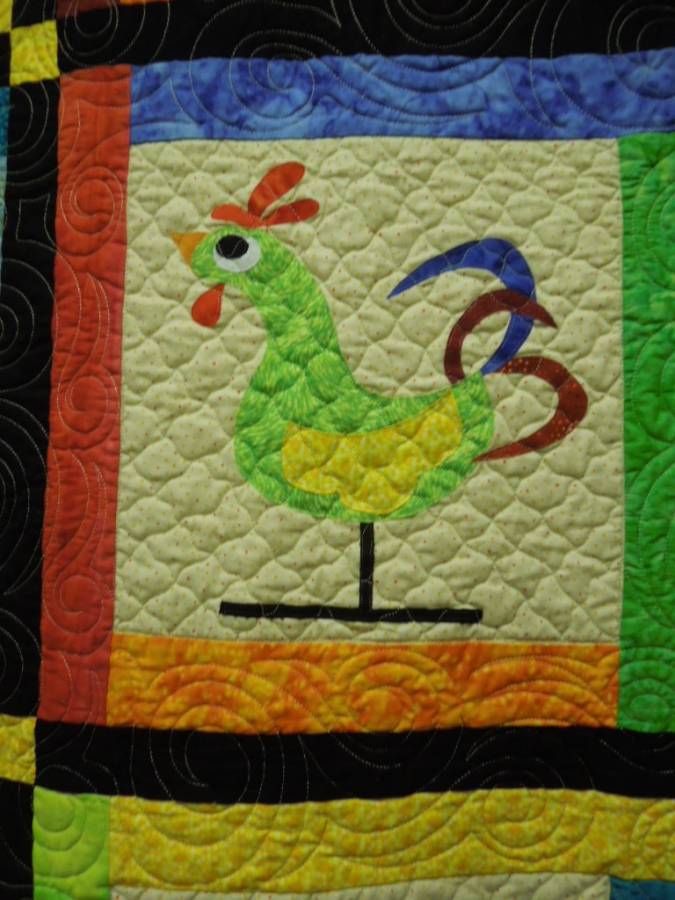 Jess do you have any chickens in your yard that looks like this?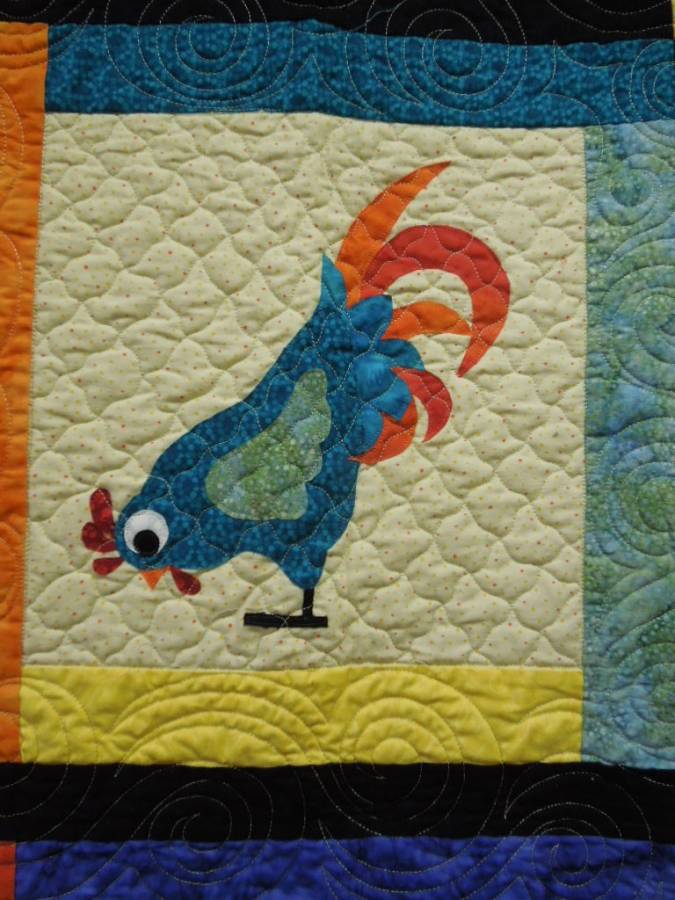 These were so cute and the quilting was so nice.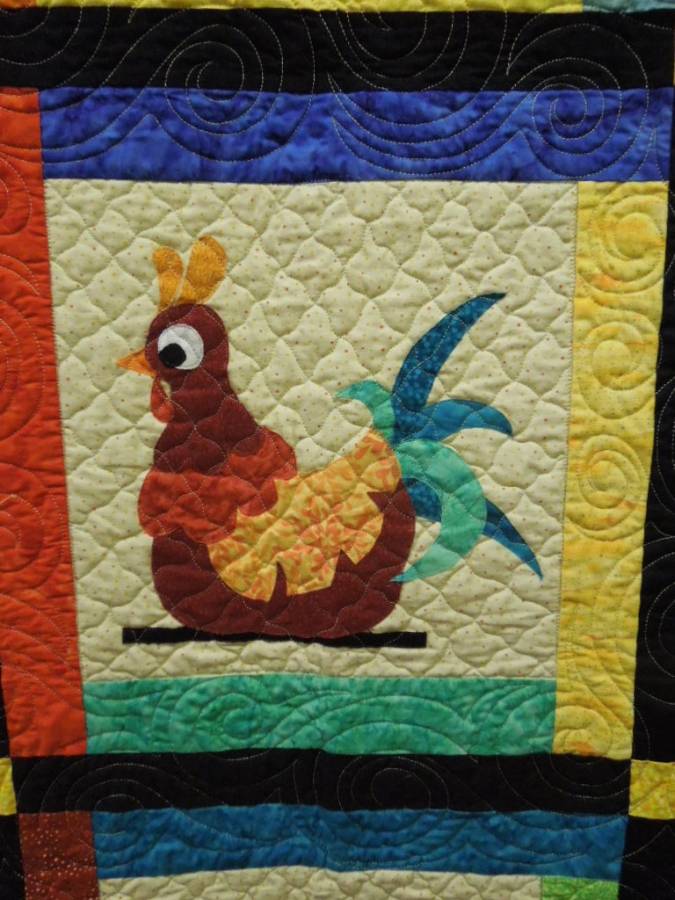 Another one for Jess.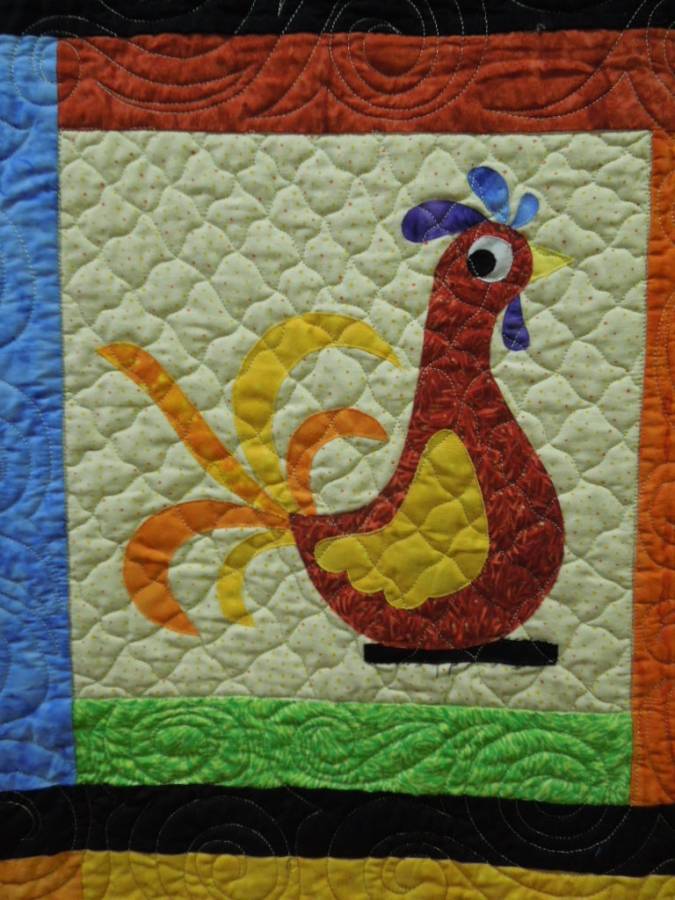 This one reminded me of a pumpkin.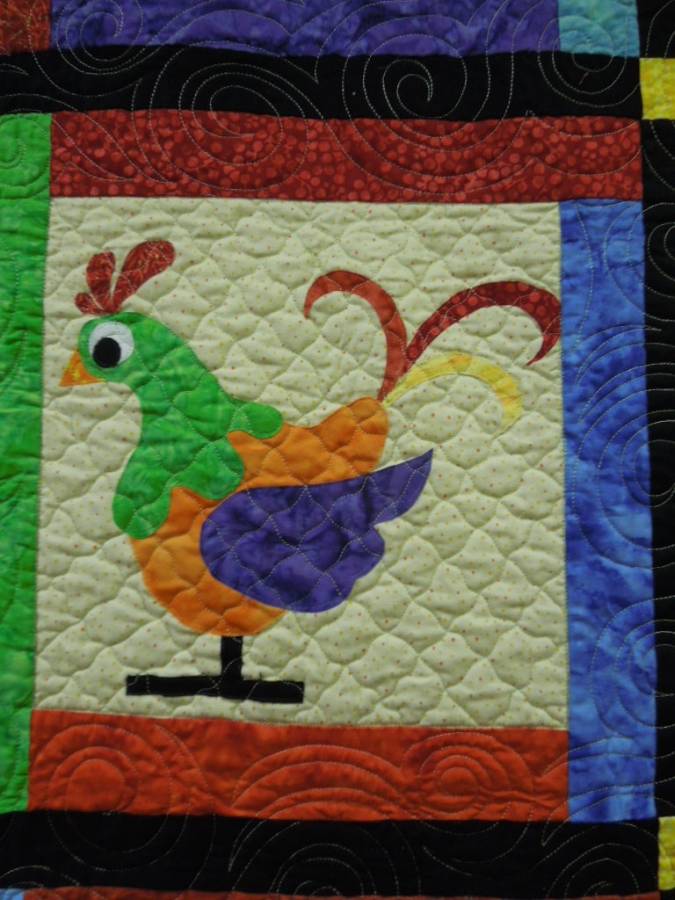 Look at this Jess. So beautiful. It made me think of you every time I passed by.
These baskets were beautiful. It reminded me of French Country.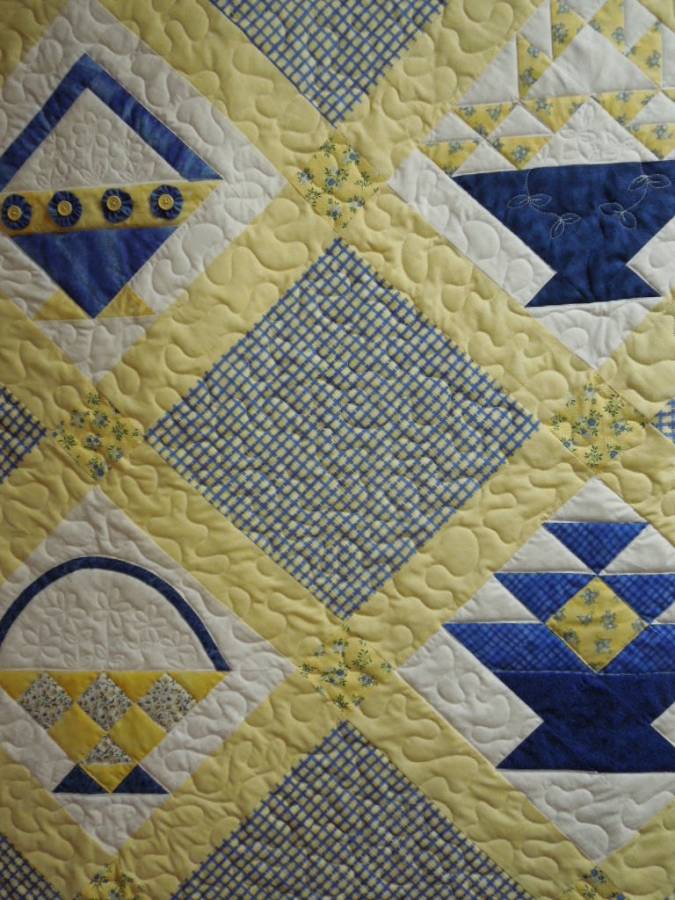 This was a bit of this and that and I loved every inch of it.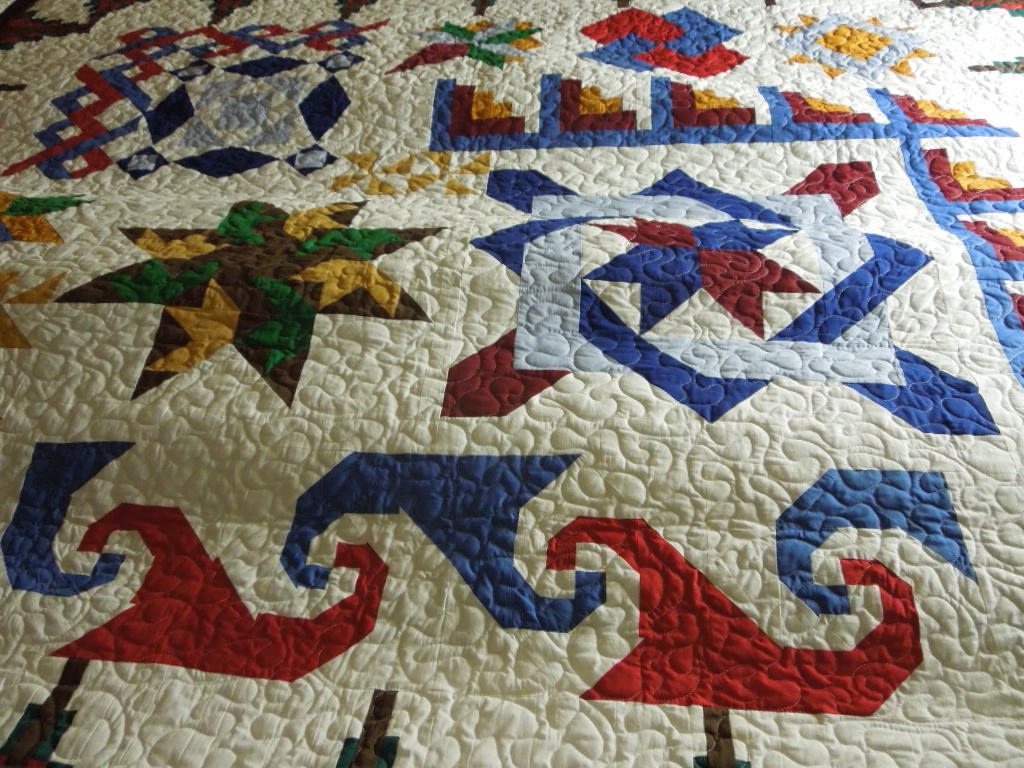 Now how did this get out of order?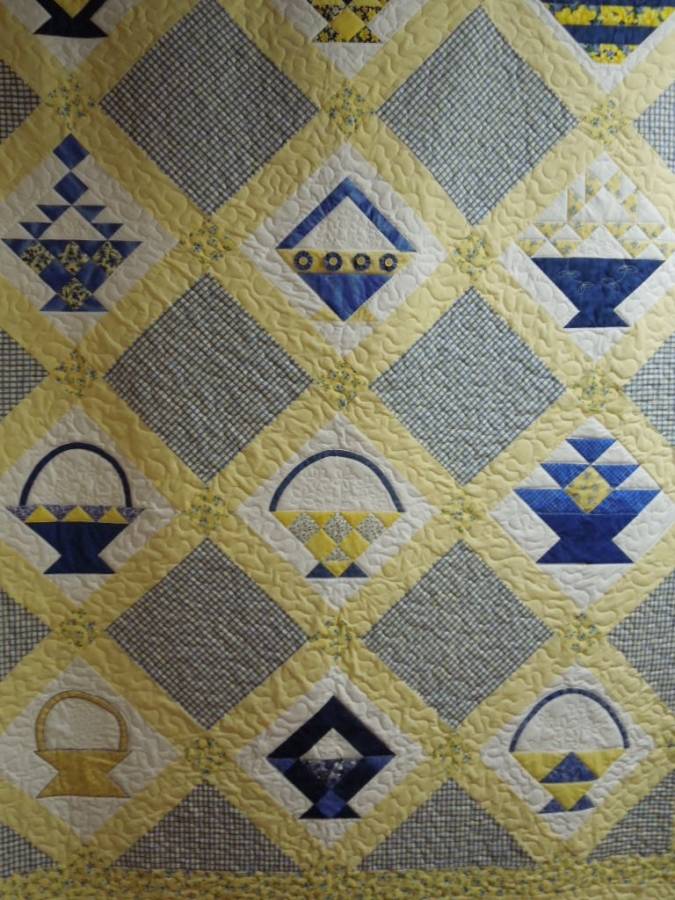 At one time I had this same identical quilt. It was from a kit from Hancock Fabrics. Gary and I donated it to a children's center for a raffle. I hope the person that bought it loves it now as much as I loved making it. It was very hard for me to give it up. But it was for a good cause. Do you know I am emotionally attached to all my quilts. I know that sounds silly but I am. There is a lot of work that goes in quilts. I get so angry well not angry but kinda disgusted sometimes when someone says "My grandmother mother could have made one of those for $25.00.. Well yea back then when she was making a quilt fabric was not $10.00 or more a yard like it is today and it takes a lot of yards. The backing alone take a ton of yards.  Then your work. You have to cut out all the pieces, work them to fit and sometimes they do not and you have to cut again.. You have to be very careful if you do not have a lot of fabric of one particular piece you need one cut wrong and you could be in a mess. Then you spend weeks and sometimes months putting one together, getting it quilted either by you or a professional. That is sometimes a good price to pay. Then people expect you to let them have  it for $50.00  Everyone on earth that feels that way needs to make ONE in their lifetime and you will have a different feeling about paying for one. Sometimes you are getting ONE item that only you own. I never can make two alike if I tried. Something will always be different so you can truly say you have one of a kind no one else on earth anywhere like yours.  (I did not mean to write a book)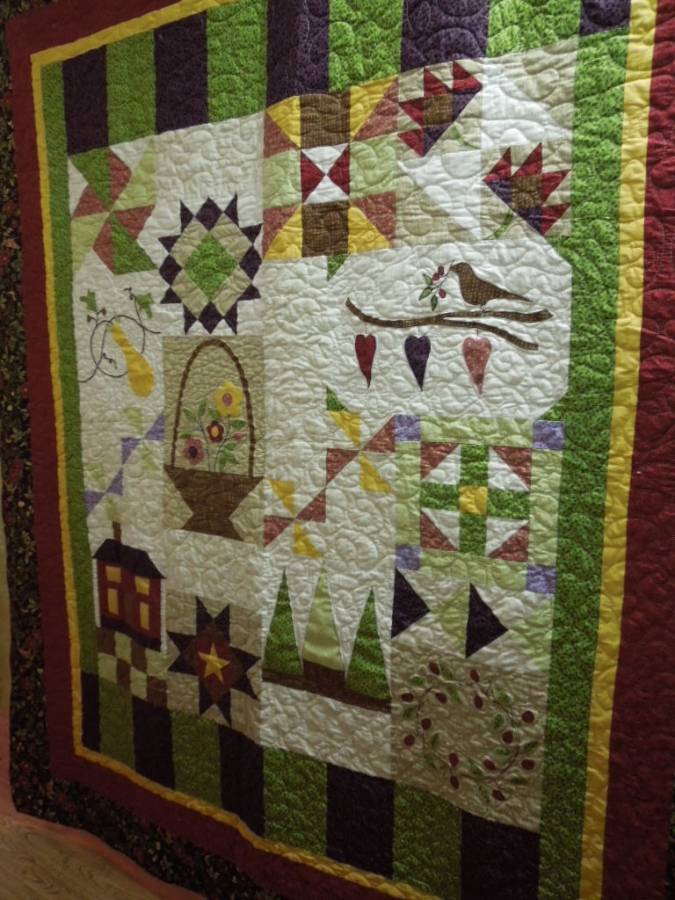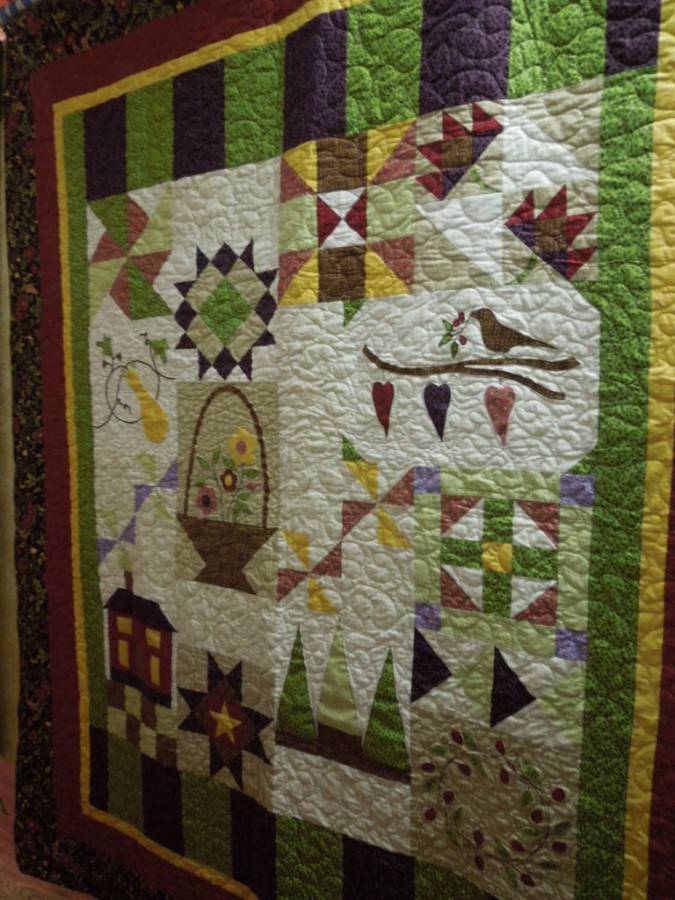 This made me think about another one of my friends Montie.  She is a stained glass artist.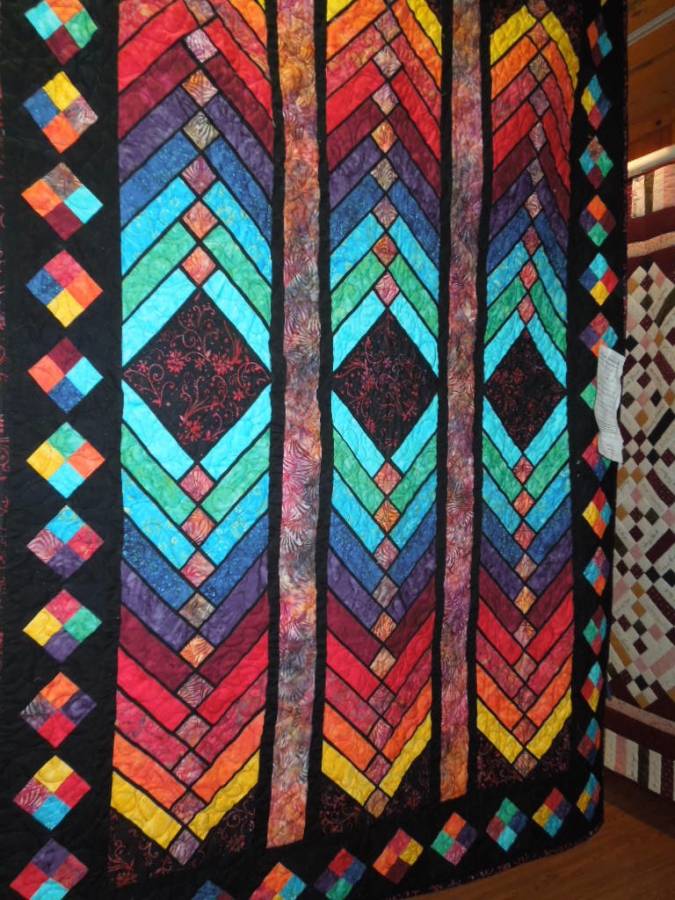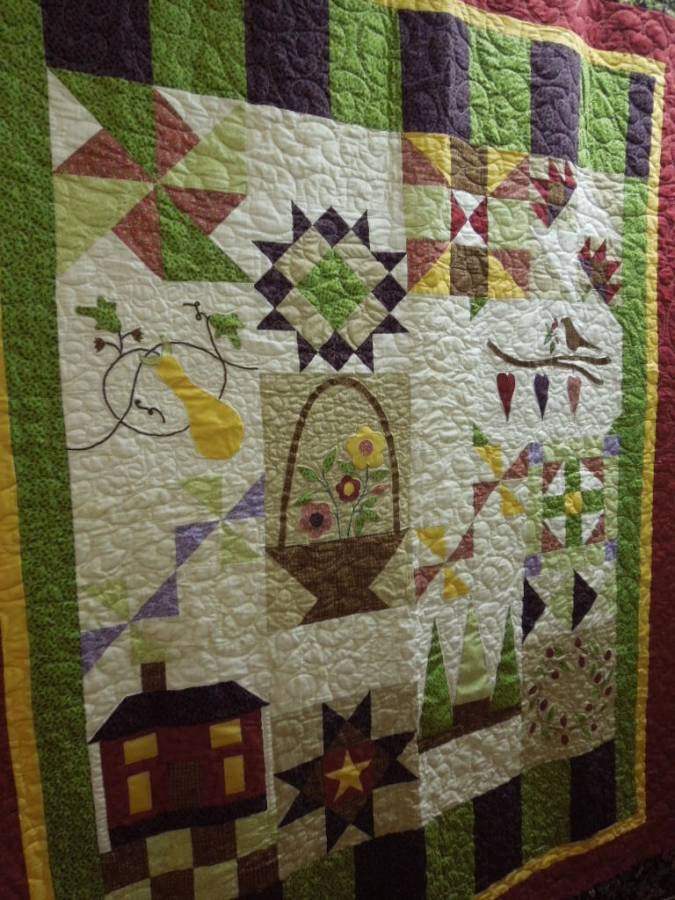 I loved this reminded me of a kids windmill .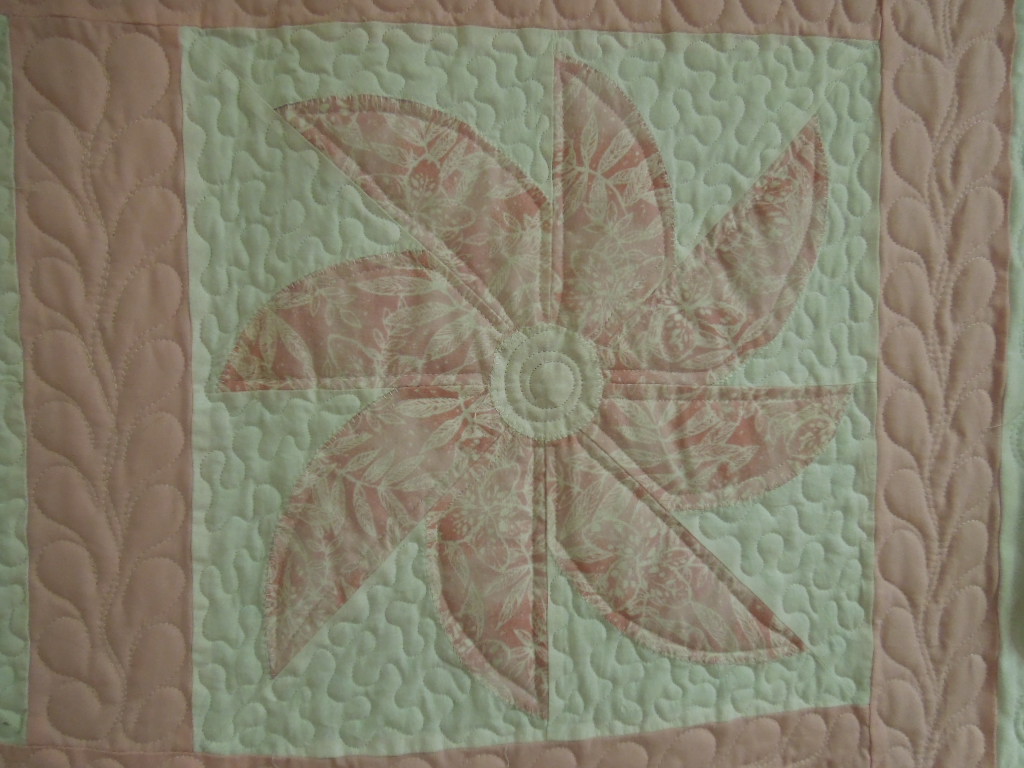 Plain and simple but yet beautiful.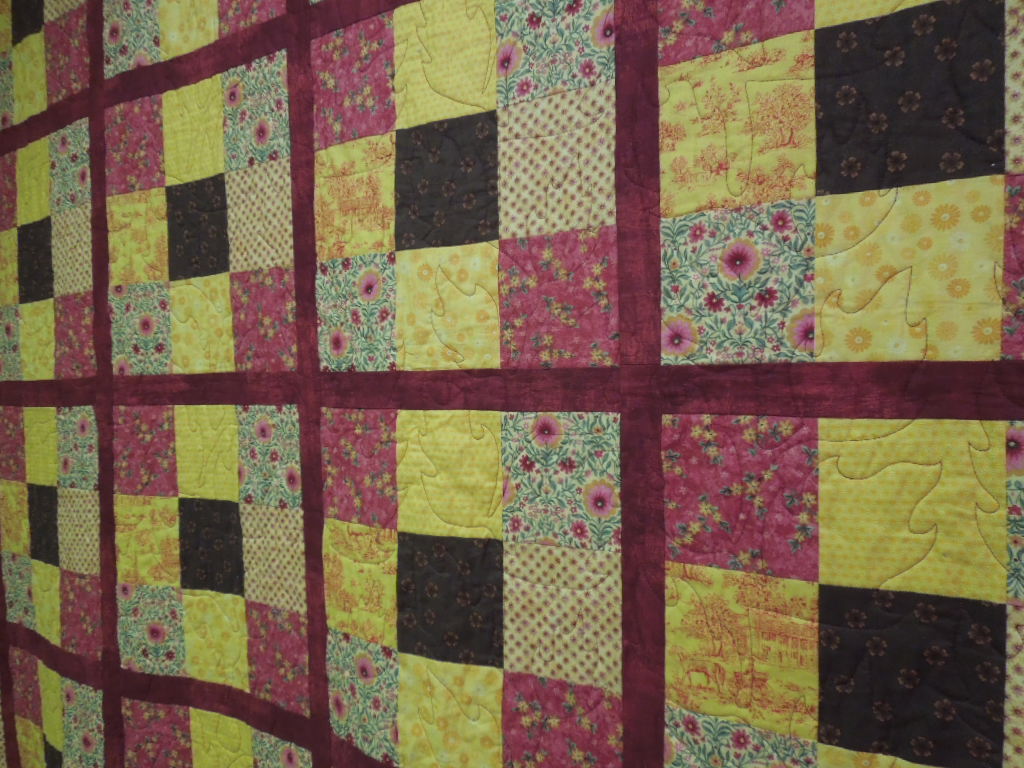 Stars everywhere I saw stars all day long .. I just loved this.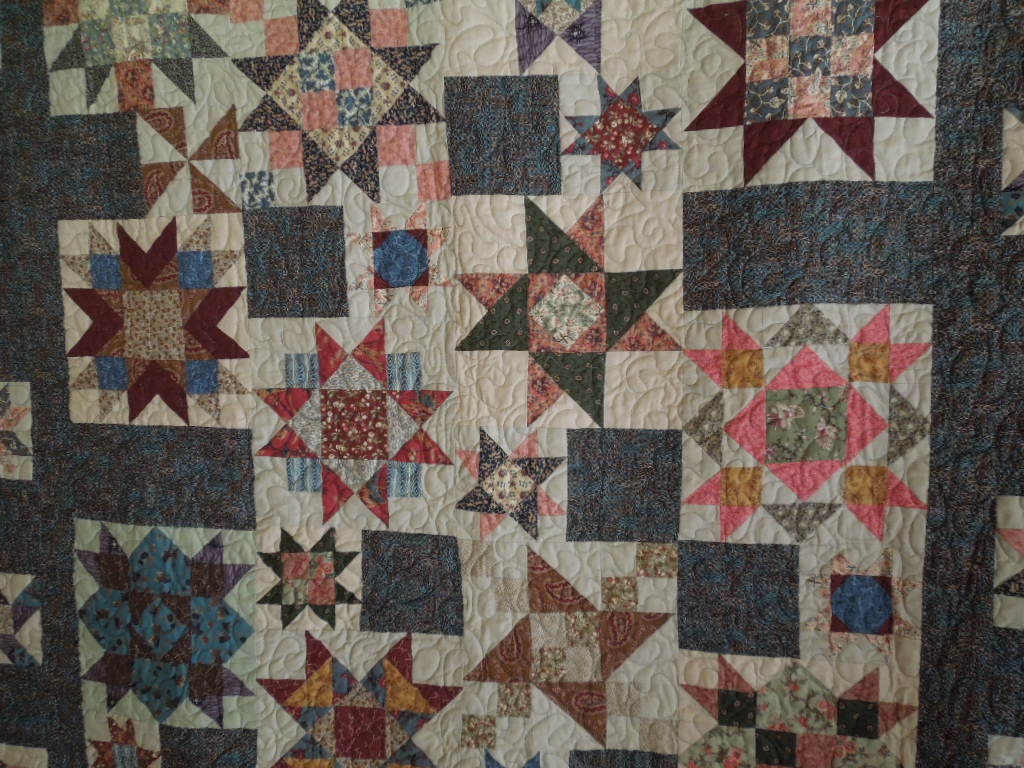 I want to say someone's grandmother made this in the 40's. Don't quote me on that one but I think that is what I read.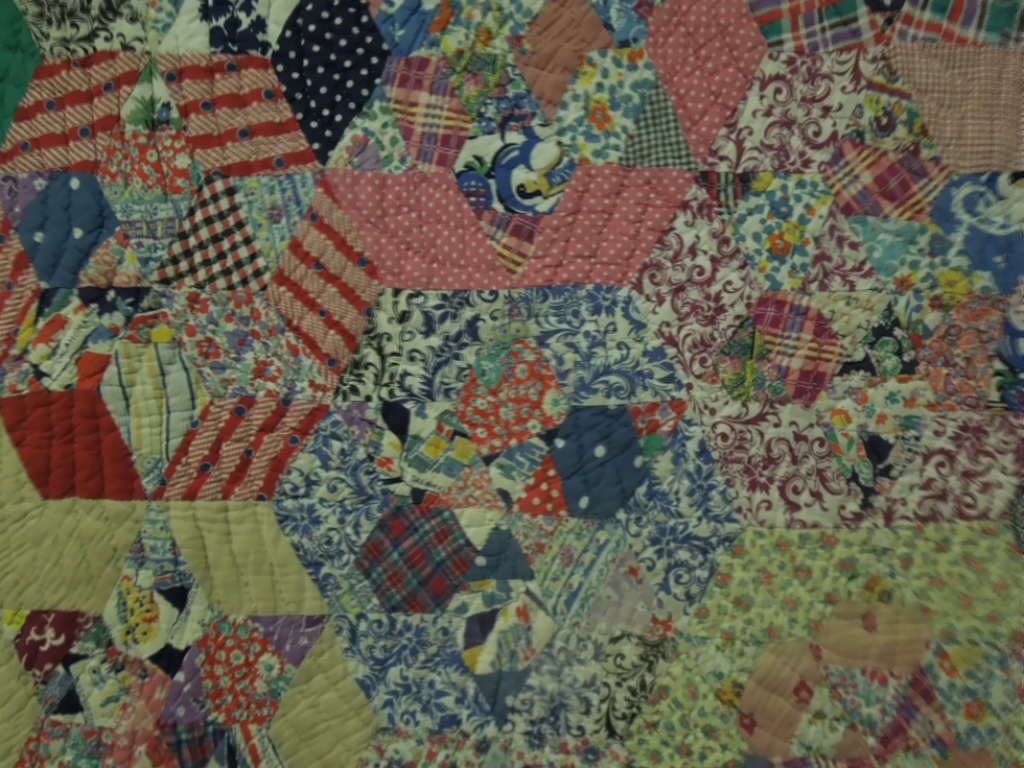 THIS ONE IS FOR MY DEAR FRIEND SONYA THAT CAN'T WAIT FOR CHRISTMAS ONLY TO GET COAL IN HER STOCKING! I HAVE READ OVER AND OVER SHE WANTS TO PUT UP HER TREE! I must have a talk with this young woman!! No seriously this Christmas quilt was very pretty and it made me think of Sonya.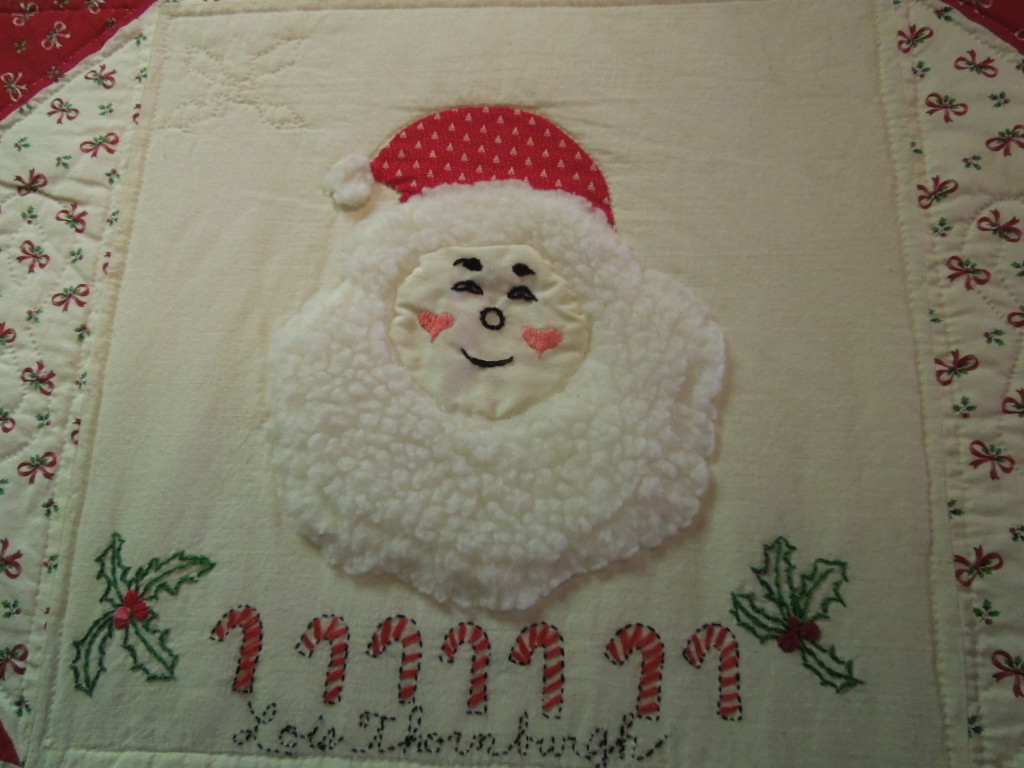 One of the dear sweet ladies that is a charter member of this group made this. She is one of the nicest ladies on earth. Miss Virginia.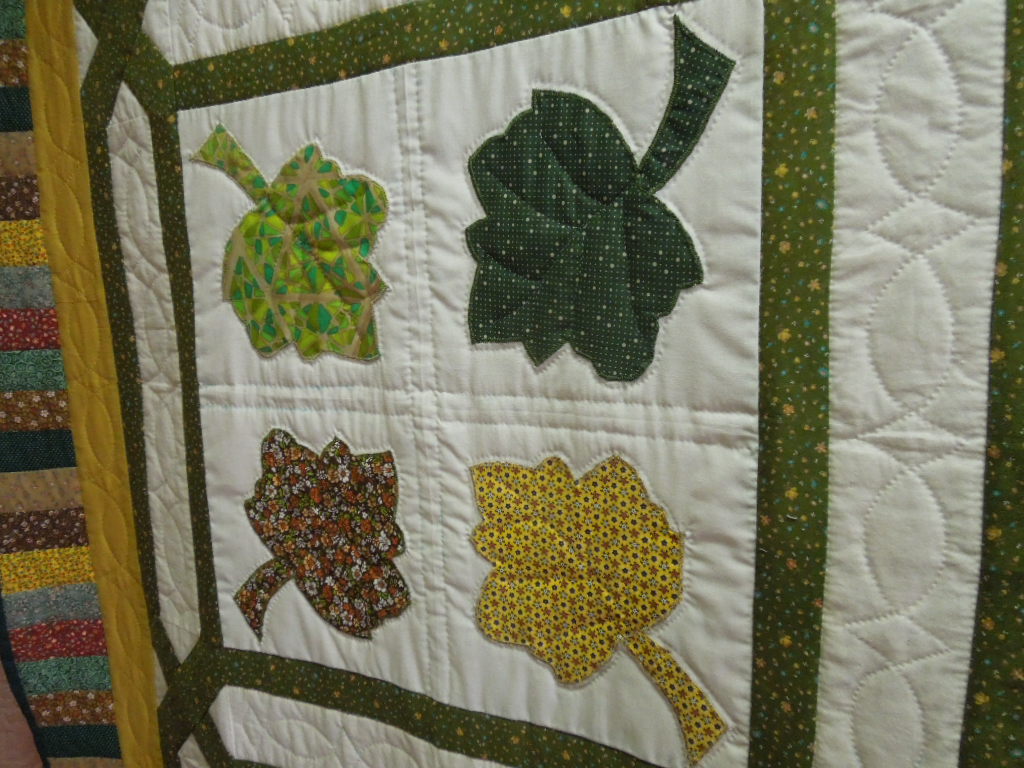 Cross Stitch. MY EYES WOULD HAVE DISSOLVED. But I did love it. I do not see well enough to cross stitch.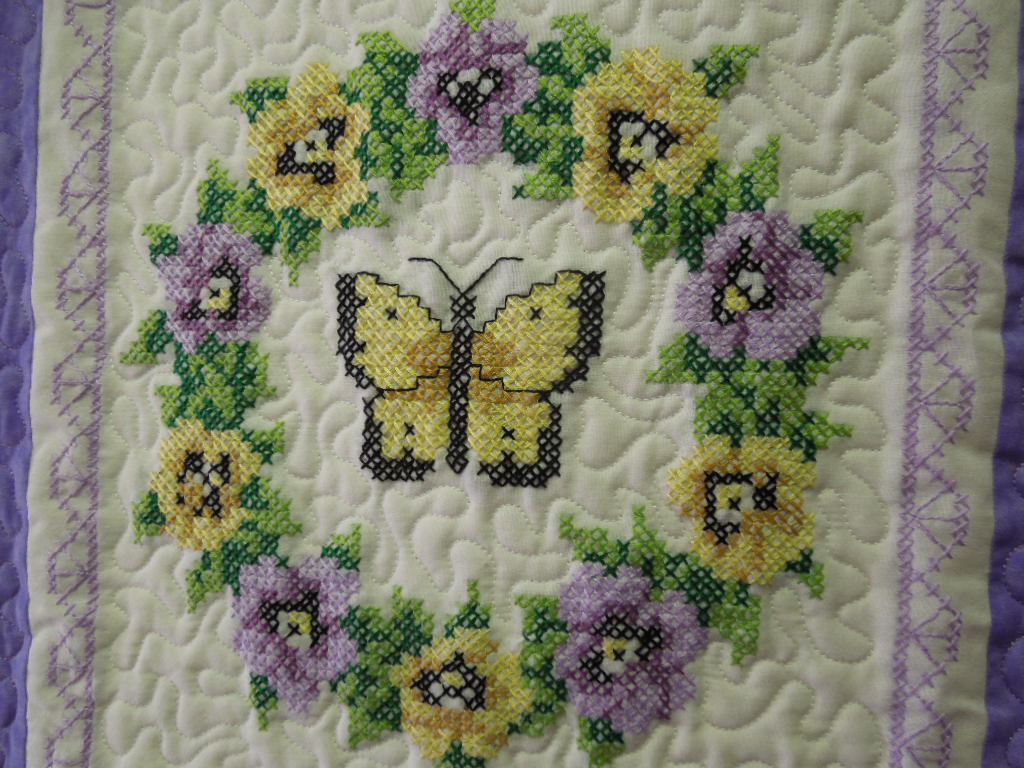 You have to admit, it is beautiful.
Now here comes to mind a friend of mine from school growing up Rena. Her mother LOVES covered bridges. I am trying to get in touch with the lady that made this to see where in the world she got that awesome pattern. This was Peggy's quilt and she used to work at Hancock's with Linda and I bet a dollar Linda knows. I have to tell you a tale about Linda. She is like one of those old traveling Watkins dealers. You can say "I need this pattern" she goes out to the trunk of her car and out comes fabric, patterns and you name it and most of the time she has it but if she does not have it in her CAR WILL TRAVEL WITH QUILT ITEMS she has it at home! She truly amazes me. There will never be another Linda.  Lord let us keep her for a ton more years, we need her! The county I live in, Blount is famous for its covered bridges. Well the ones we still have that the heathens have not torn down or defaced or tried to destroy by burning and you name it. Is it not a shame  that we live in a time no one much values anything anymore? ( My phone just rang and she is saying .. YOU SHOULD KNOW WHERE SHE GOT THAT PATTERN.) God love her I know I do.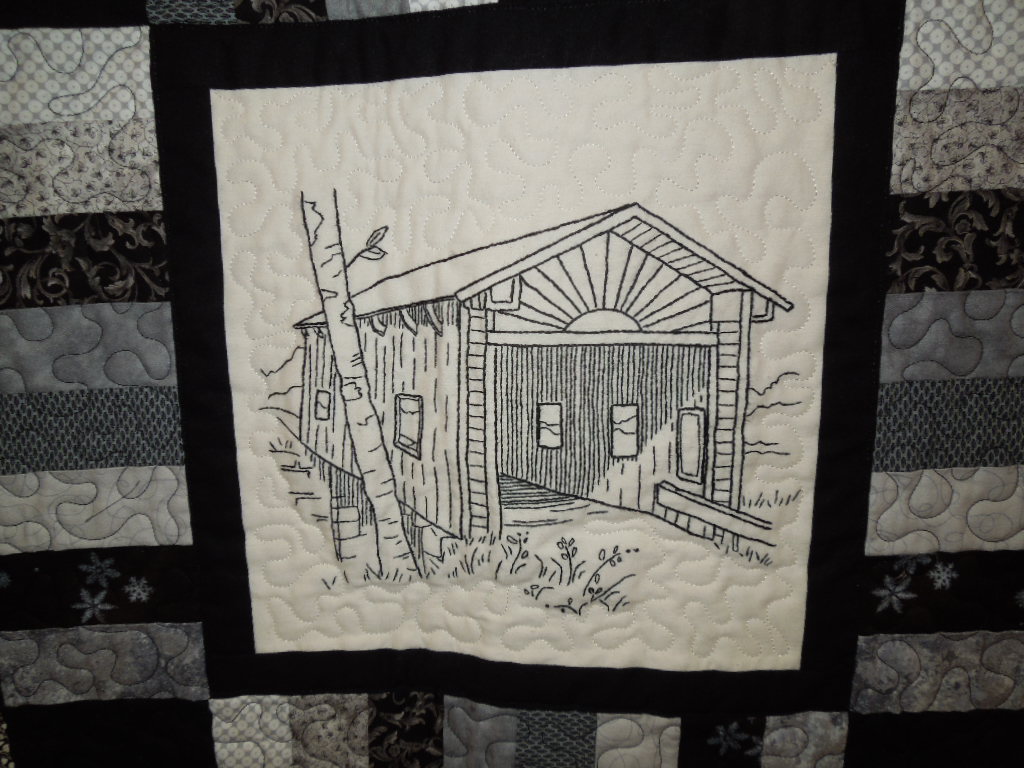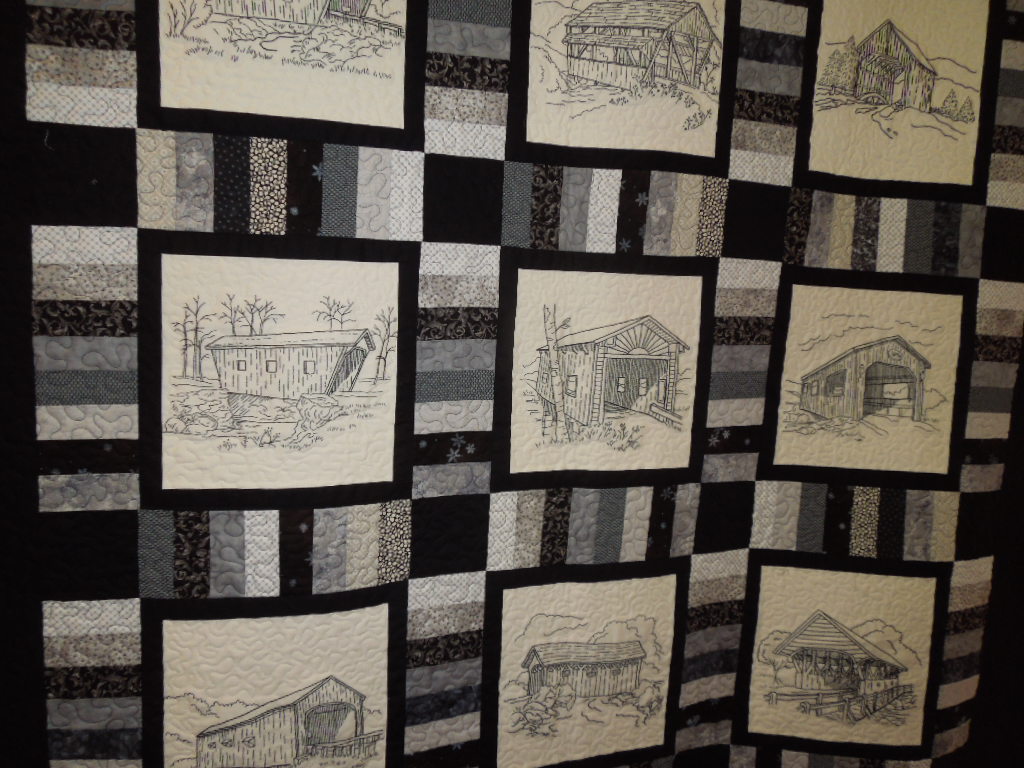 On this picture this quilt looks big but it is not. It was real tiny like a miniature about the size of half a baby quilt. Miss Blanche AKA Job because she has the patience of JOB does the most beautiful handwork ever.  Take a look she had to twist and turn a lot of ribbon. Yep has the patience of Job.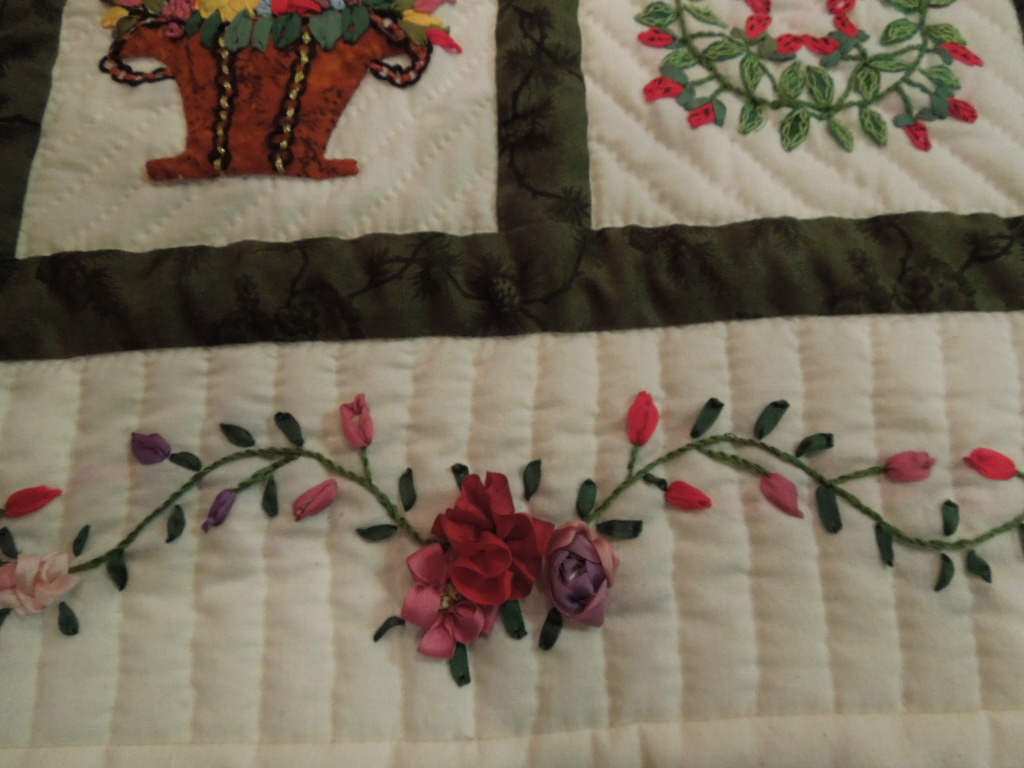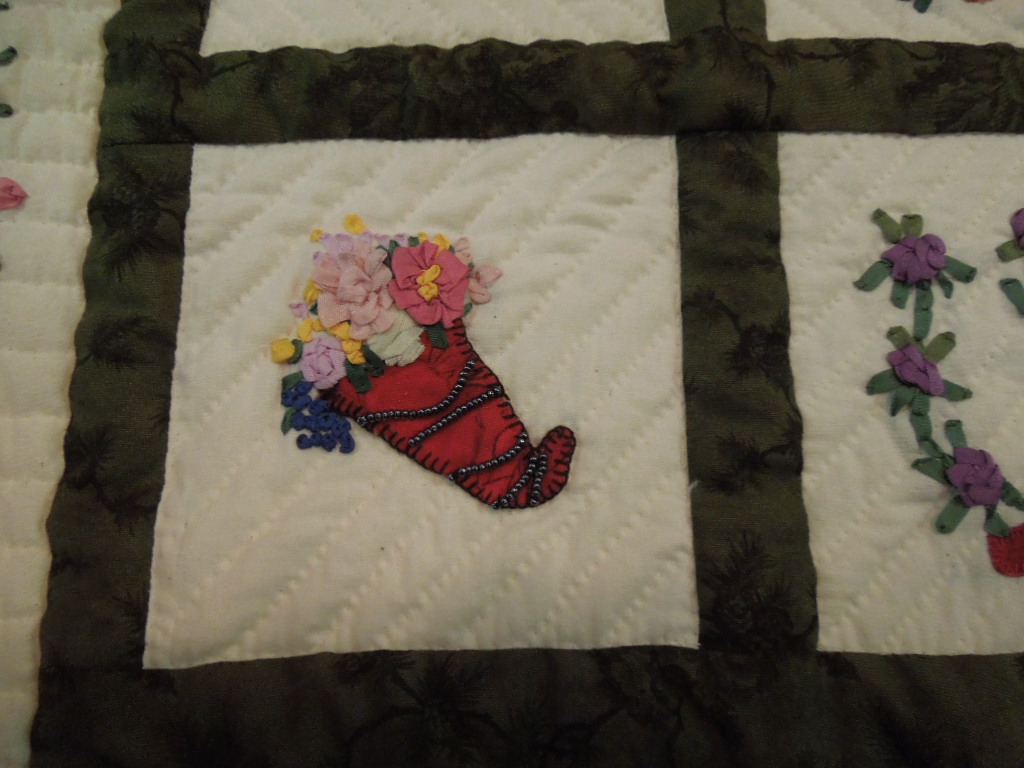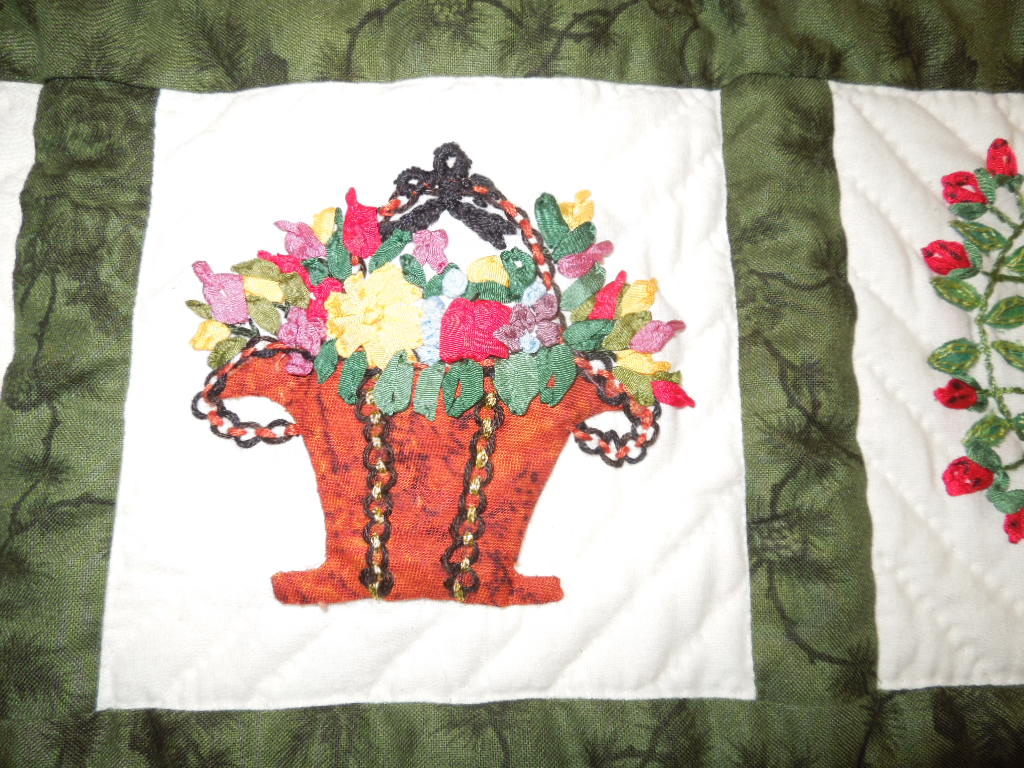 Mrs. Blanche is absolutely the Rembrandt of quilting.  This was some tiny gorgeous work.
I liked this very much. My camera does not do justice to these works of art.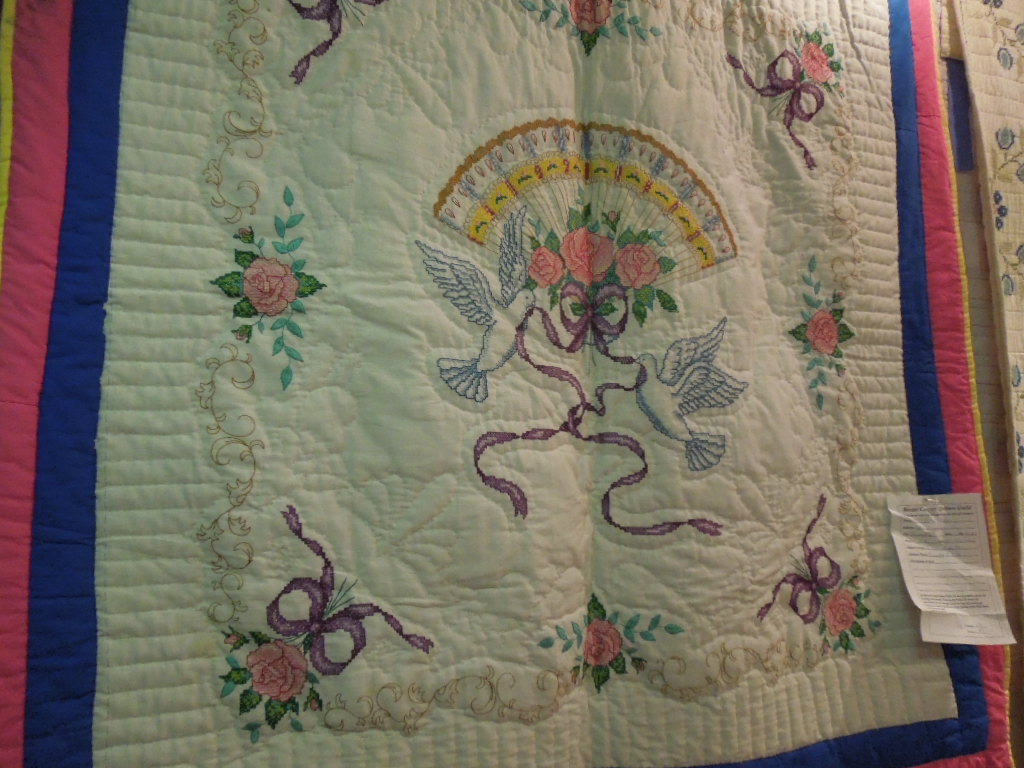 Another beautiful patriotic quilt. They had a class on this particular pattern.  I love it I asked Linda of course where I could get it and she gave it to me only to come home to find out I have had it for FIVE yes FIVE YEARS! I need to take inventory at my own home!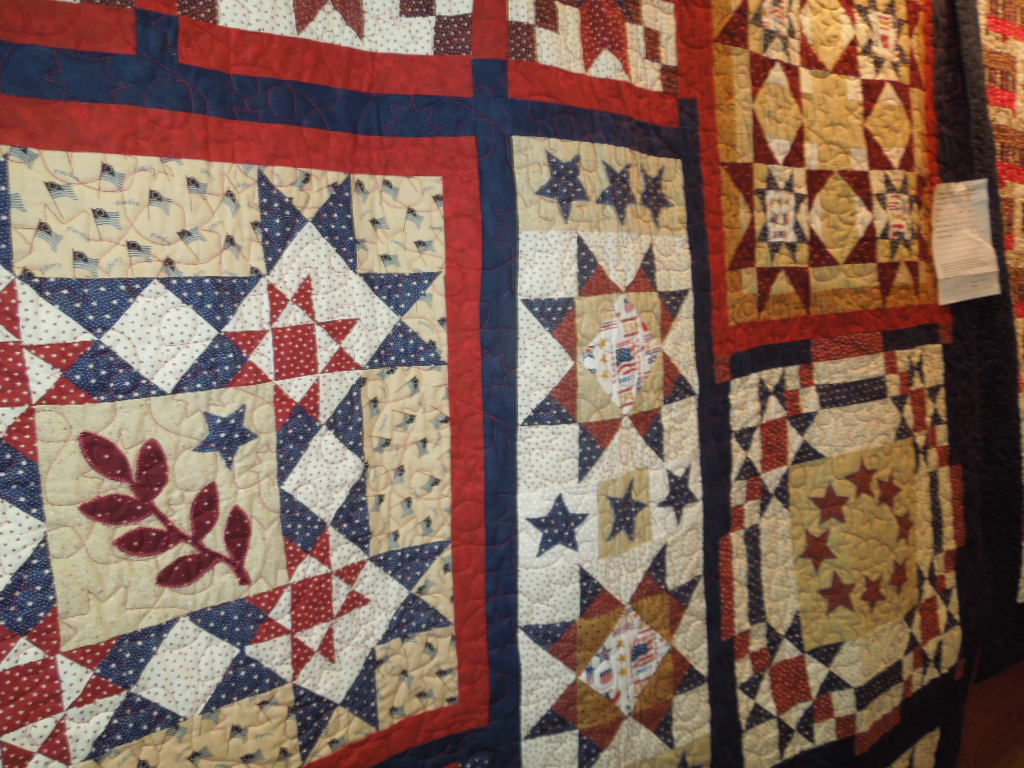 Now by no means am I an Alabama Fan but even if I am NOT a fan I have to love this.  I could see this pattern in some beautiful African fabrics. I just loved this.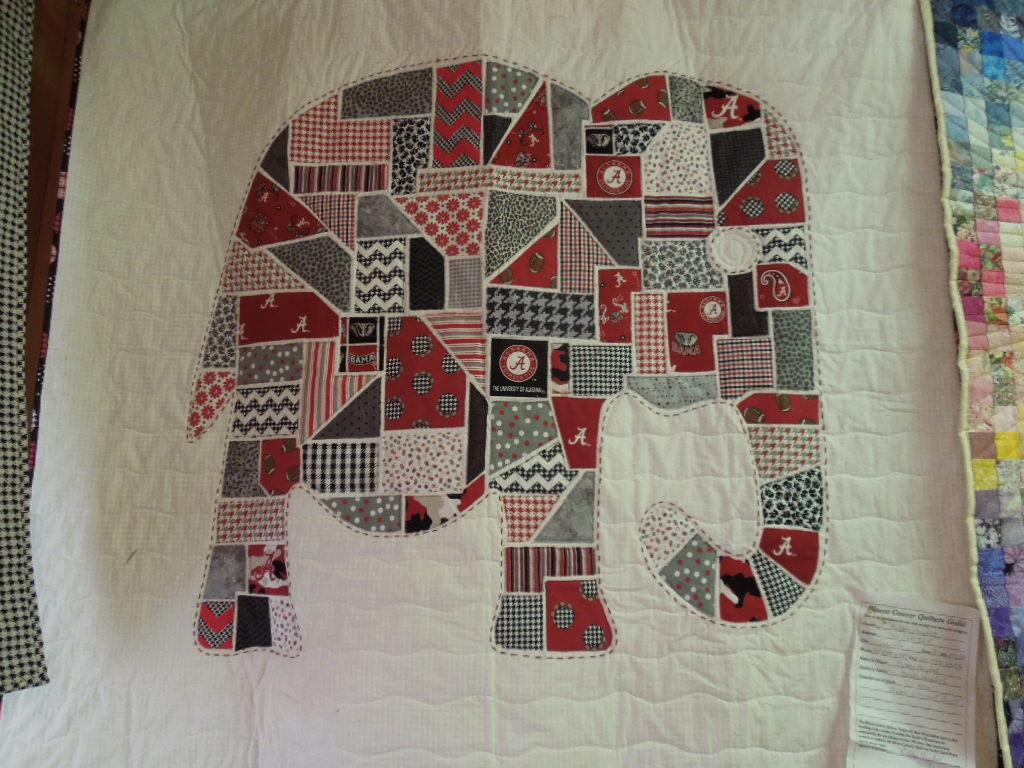 Meet VANNA uuhh I mean Deara.. She was the spokes model. The lady that made this quilt was messing around with her embroidery machine. She said she just sat down cut her out some fabric and started embroidering. This truly was beautiful. Deara looks pretty good herself.. She is my Aunt Janice but I call her Deara. Sometimes when I go places she rides "shotgun."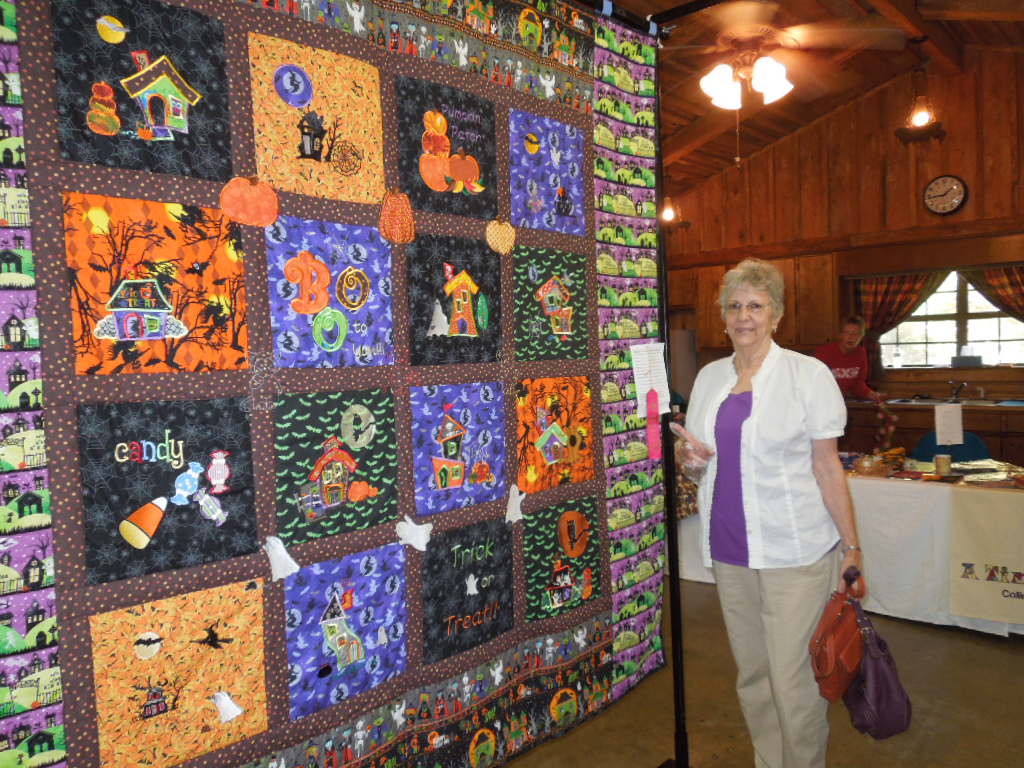 So cute on the Halloween quilt.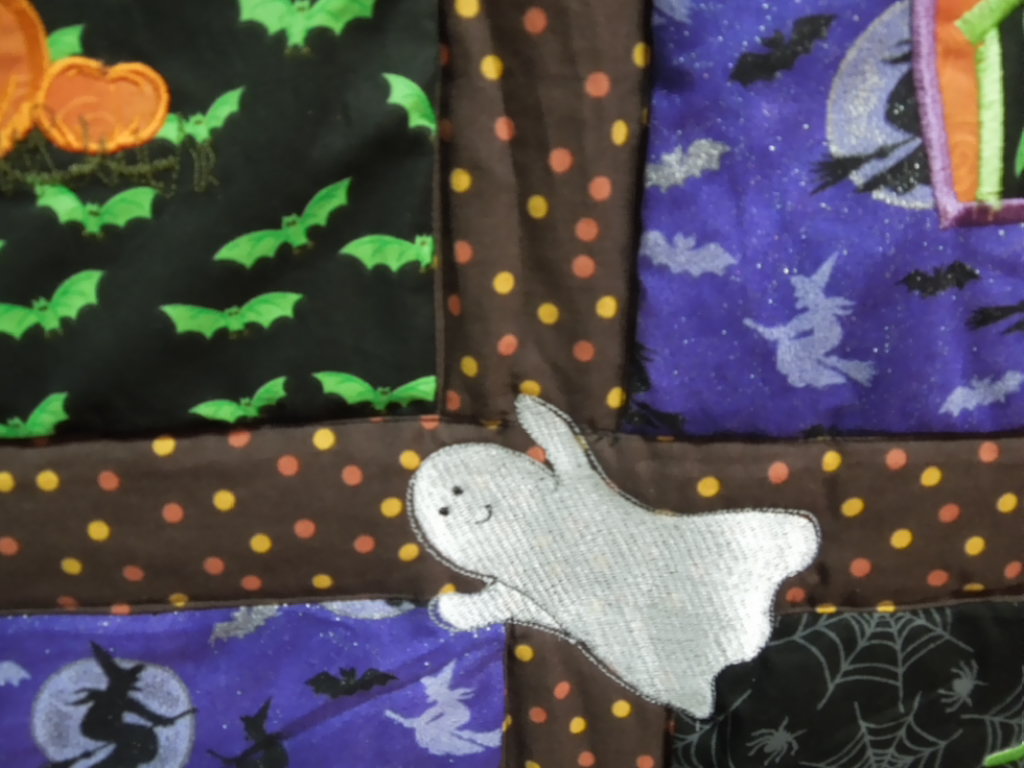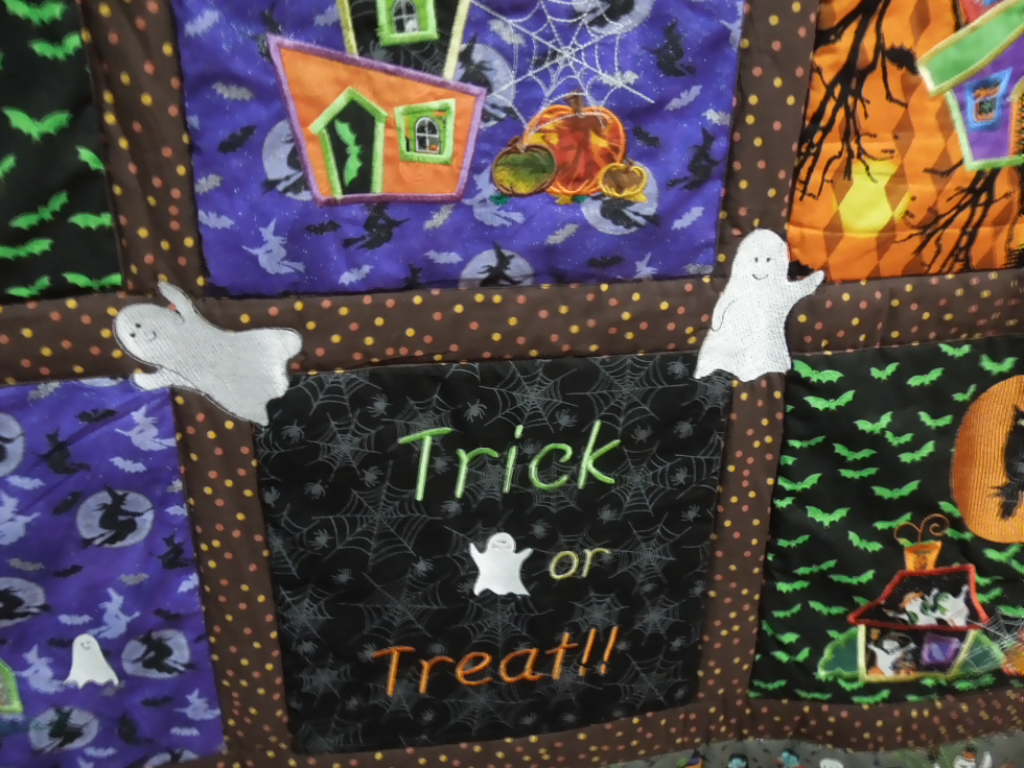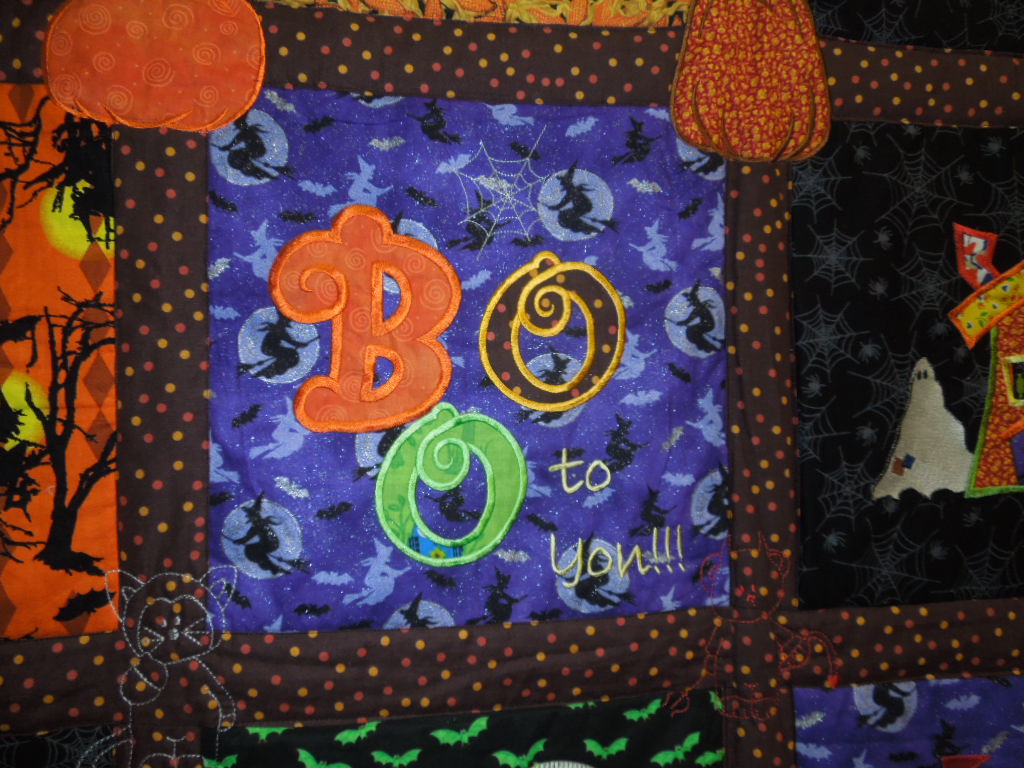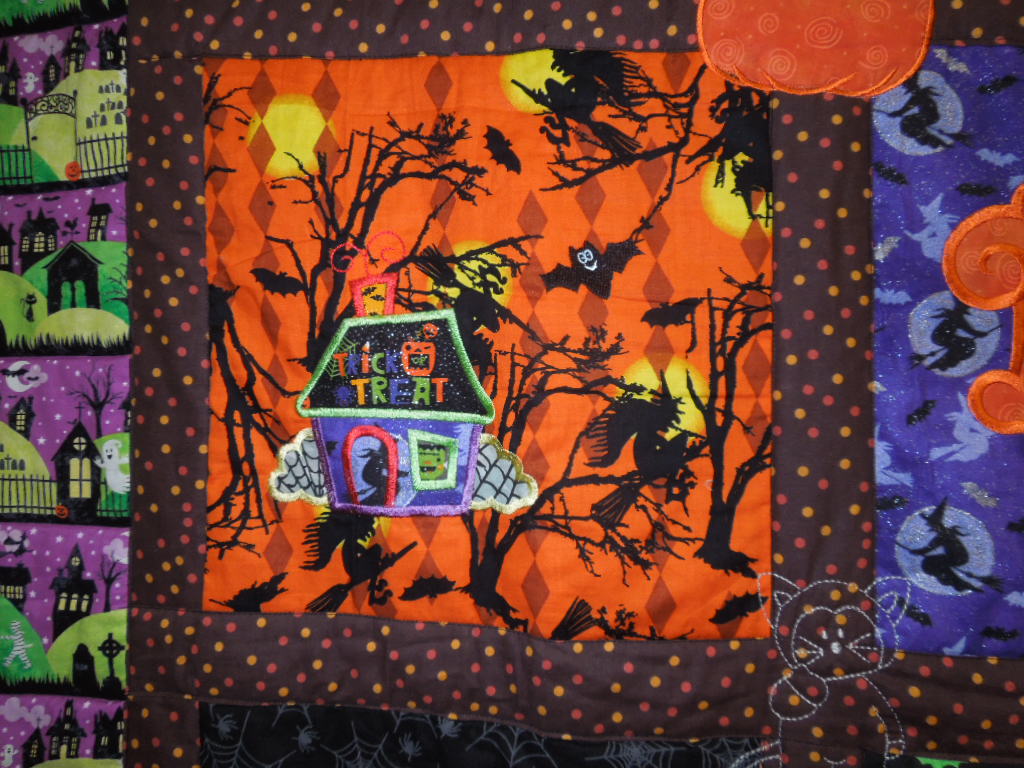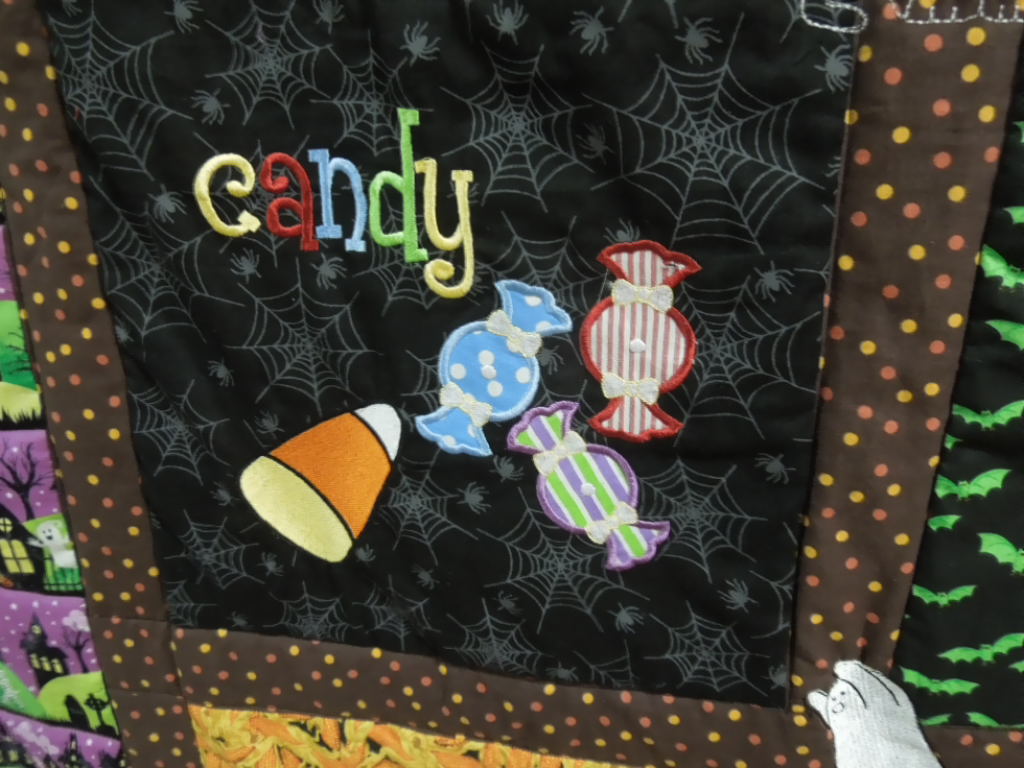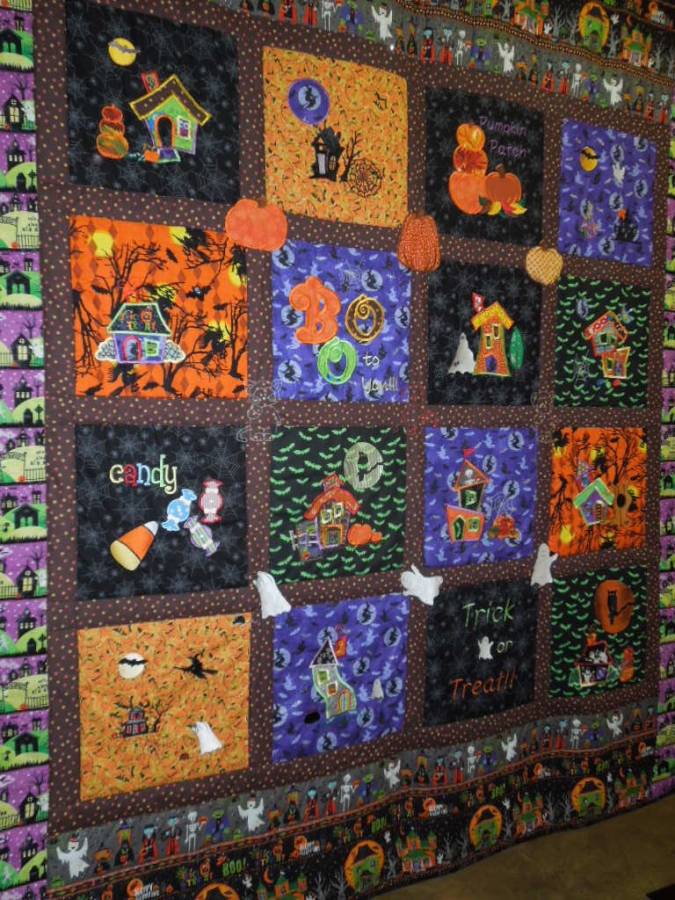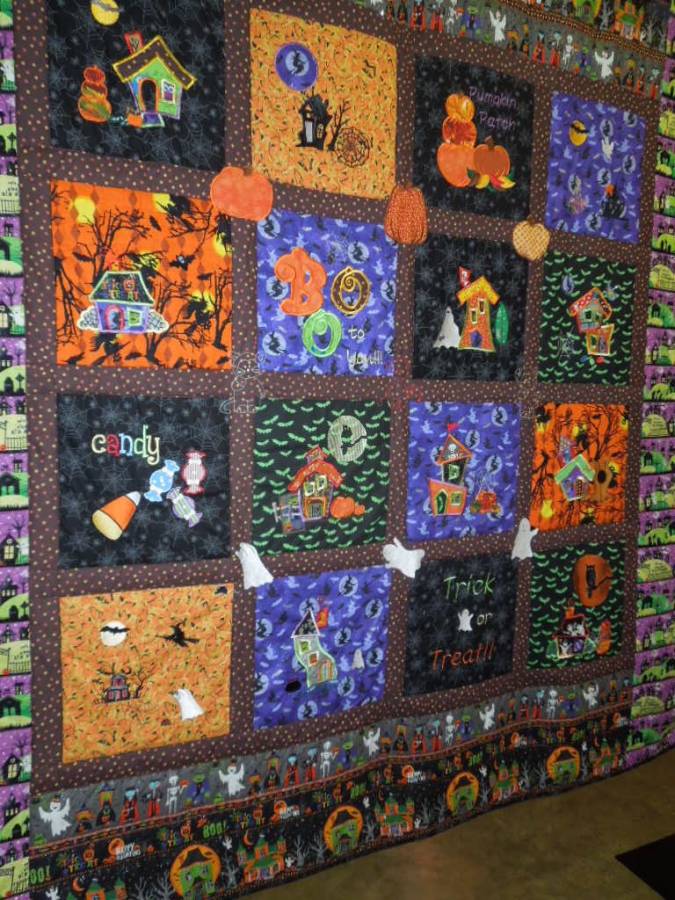 I am about to tackle this, southern for making this quilt.. It is for a special friend Janus and her husband. Well the quilt is not for them but they are taking it to a meeting of Ray's unit when he was in Vietnam next summer and they are going to raffle this. It is going to be an honor to make this quilt to know that is will be going for a good cause. Because men and women fought in wars I am able to be in a free country and do what I want to. Yes as everywhere we have our problems but you will not find another place on earth to live as good as the USA.. We have it made.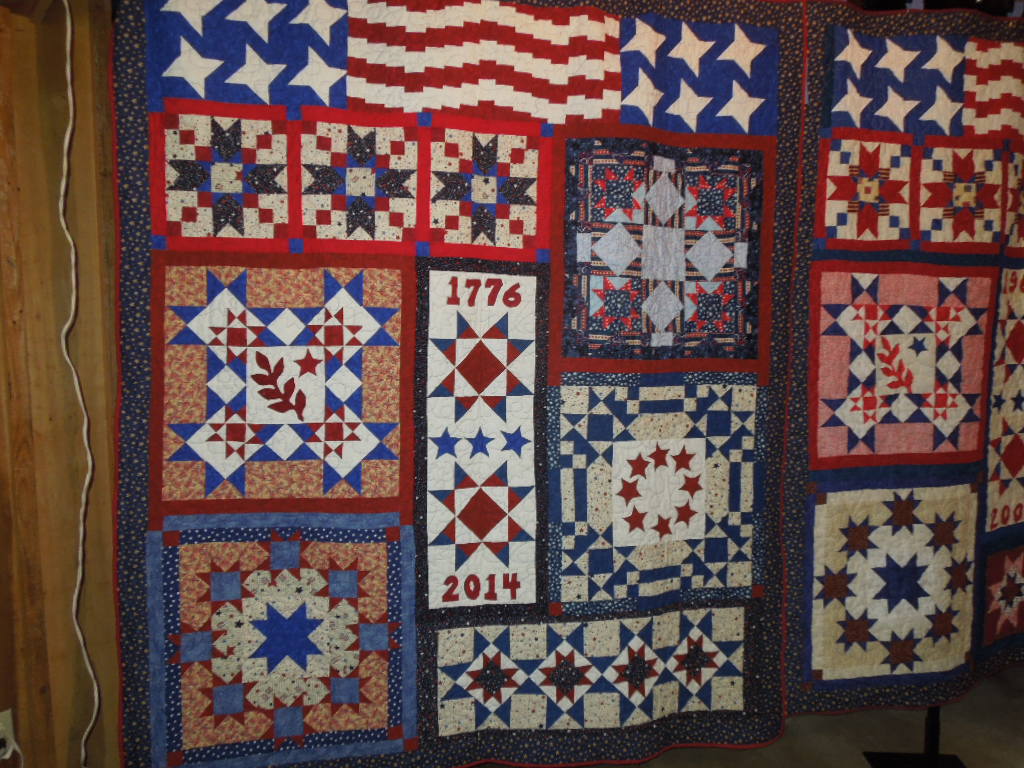 I am scrappy in my life. I laugh and say "I am just and old Raggety Ann living in a Barbie Doll World! I love colors and I love scraps.. I truly loved this quilt. Is it Raggety Ann or Raggedy Ann?? Well you get the point.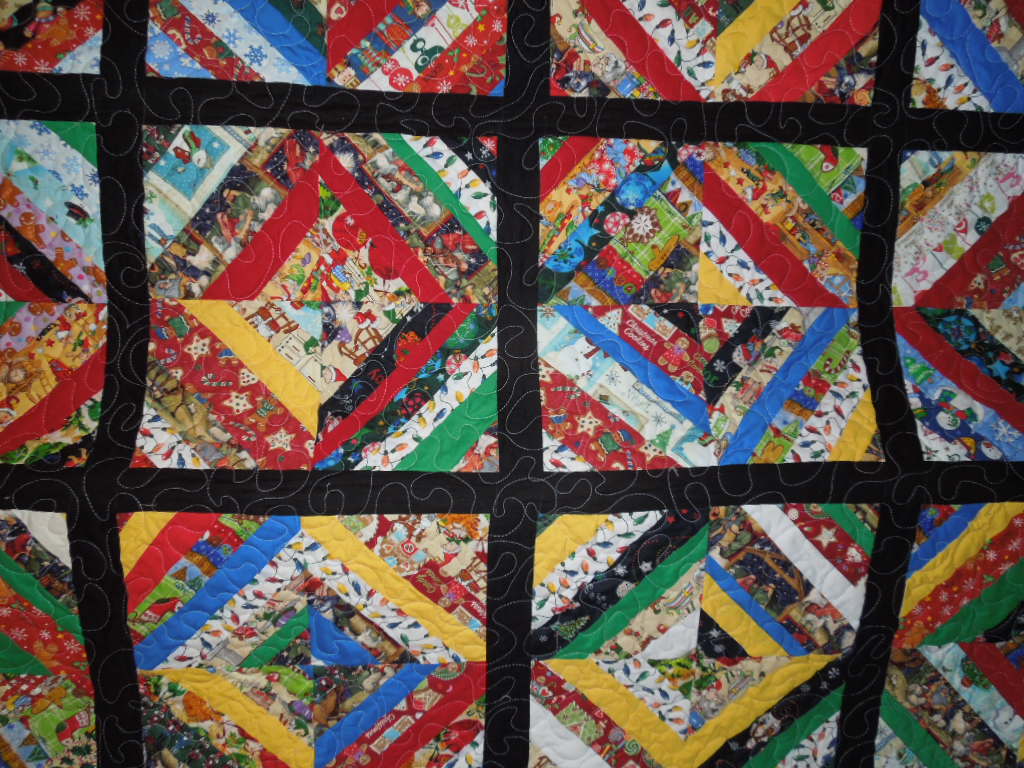 This is a Gordian Knot. I have made many. I never have tried to make that pretty border. That will be on my list of to do's. MY VERY LONG LIST OF TO DO's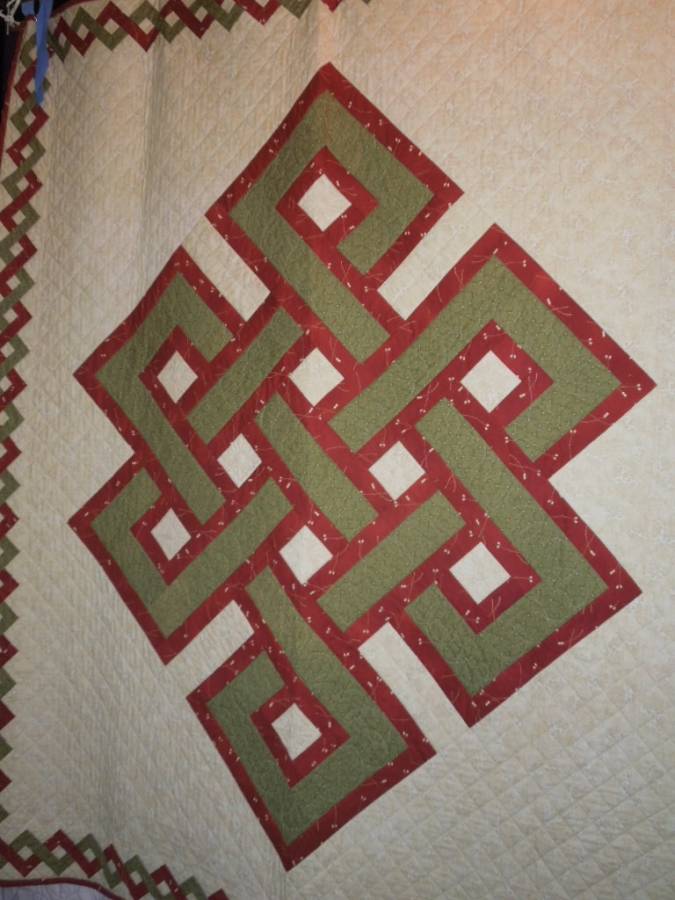 Hold on to the seat of your pants. This quilt won Best of Show.. I can see why. It was a Halloween quilt but look closely at the work. This lady put a lot of time in this quilt. It was one of Deara's favorites also.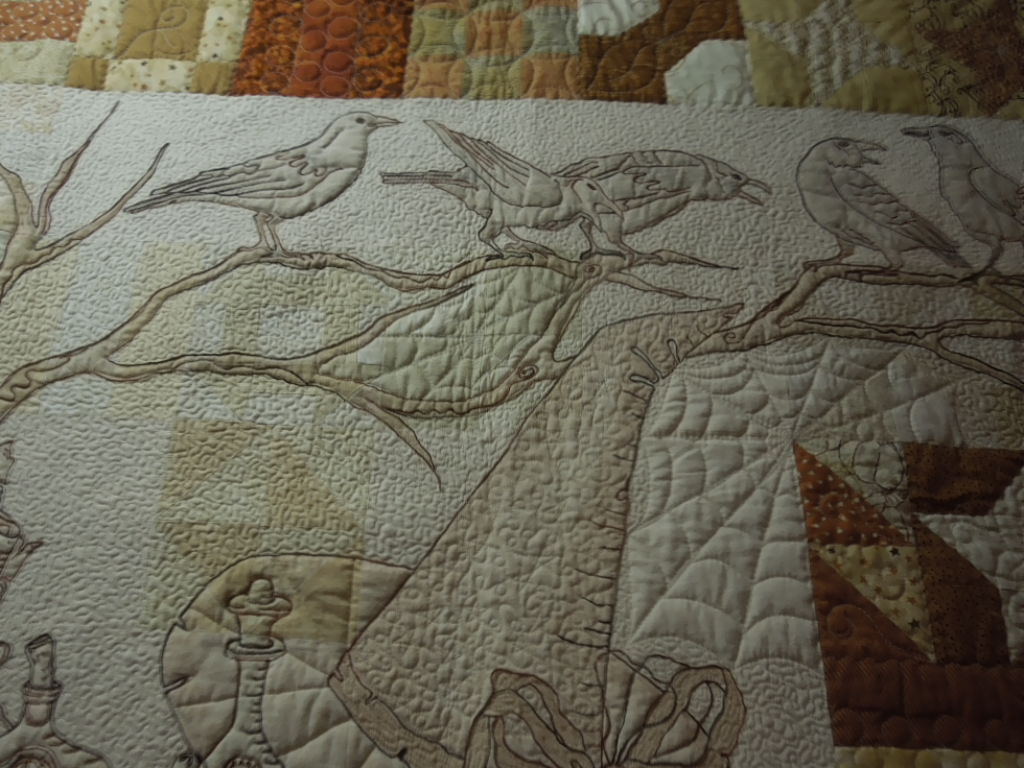 There's my spokesmodel again pointing out the Best of Show Ribbon. Notice the T-shirt quilt next to her. Alabama quilt. Made of old T-shirts. I liked it. Deara is an Alabama fan. She looks pretty good here herself!  Oh wait.. Deara did you make this?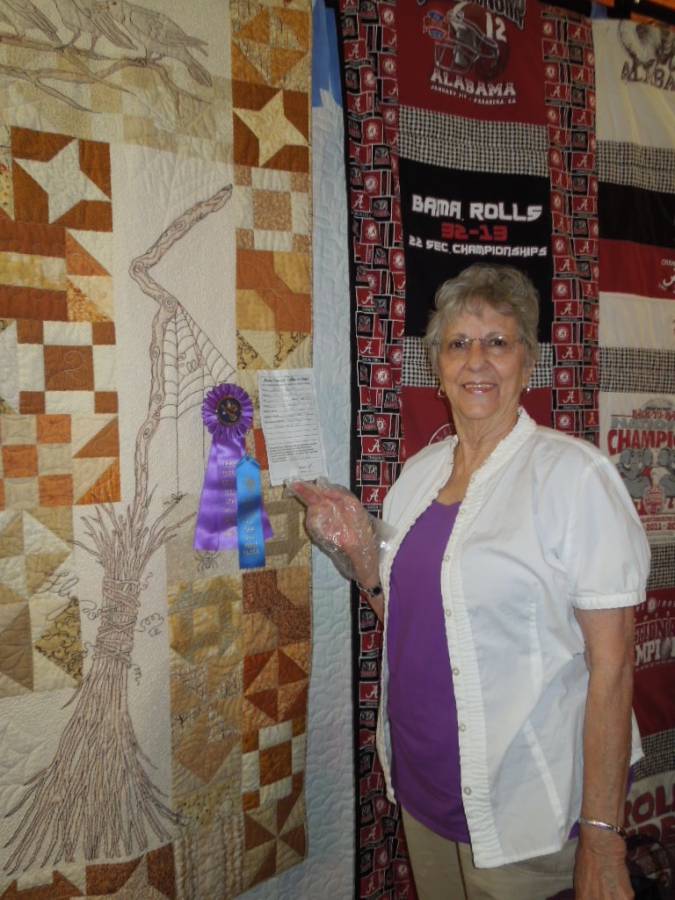 I just want you to look at this work. The lady deserved Best of Show.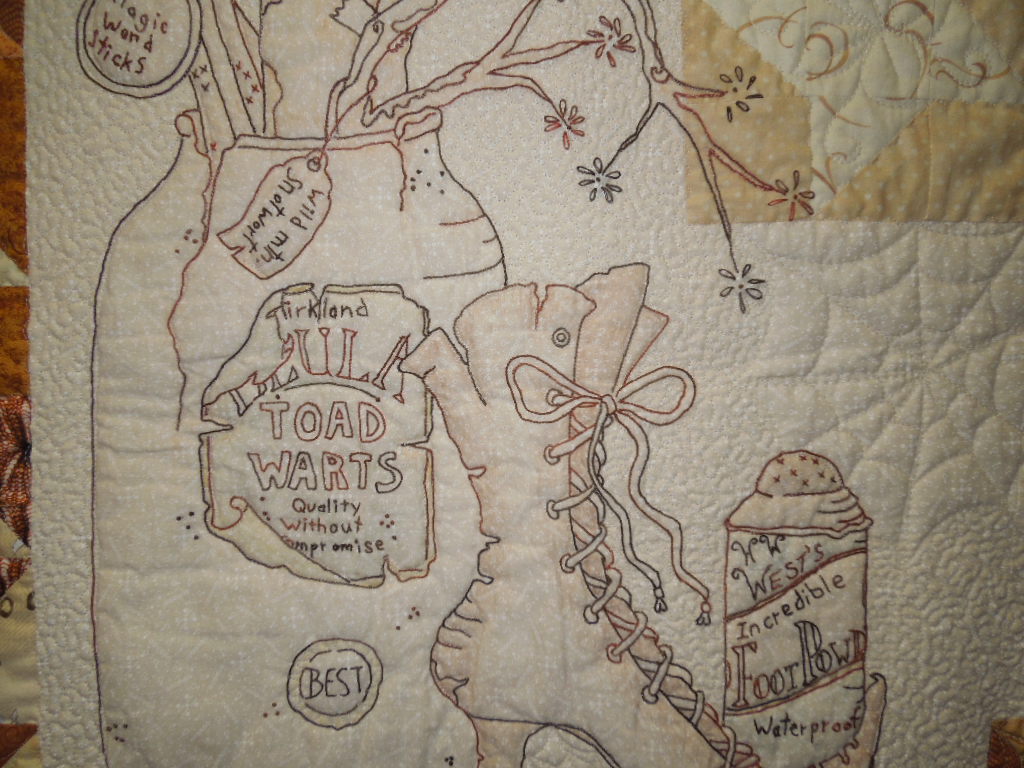 I tried to back off and get a bigger picture. What I wanted to do was take the quilt and run! I LOVED IT. They would have caught up with me before I got to the car.. I can't run. I never learned how to run. Another day another story.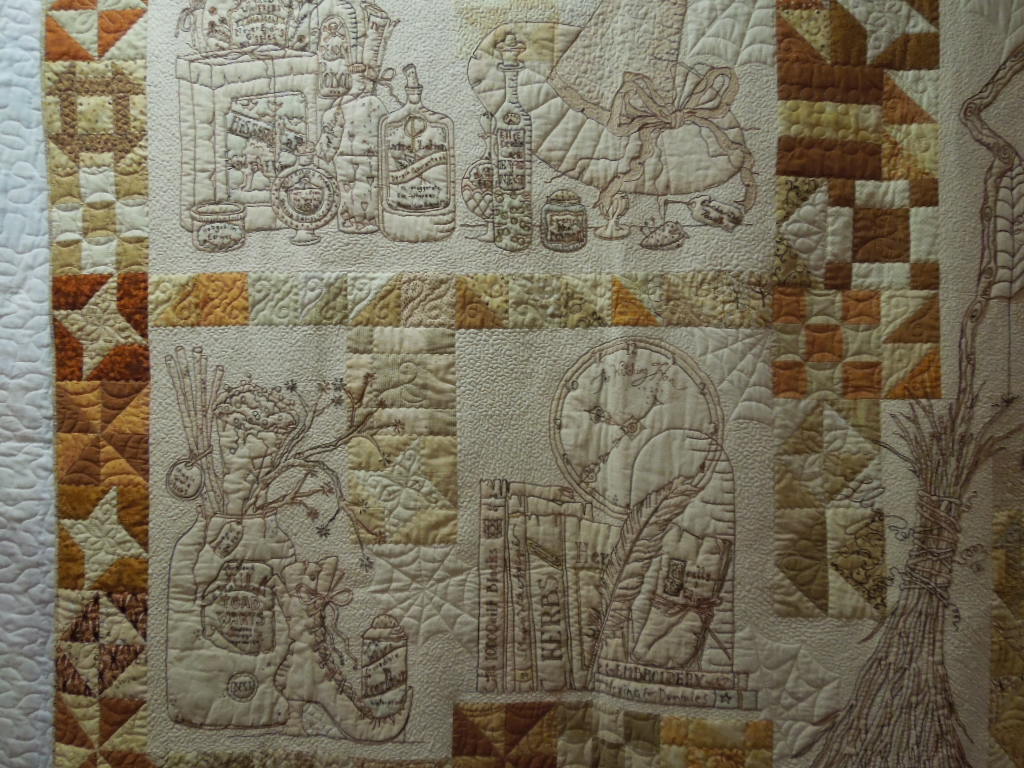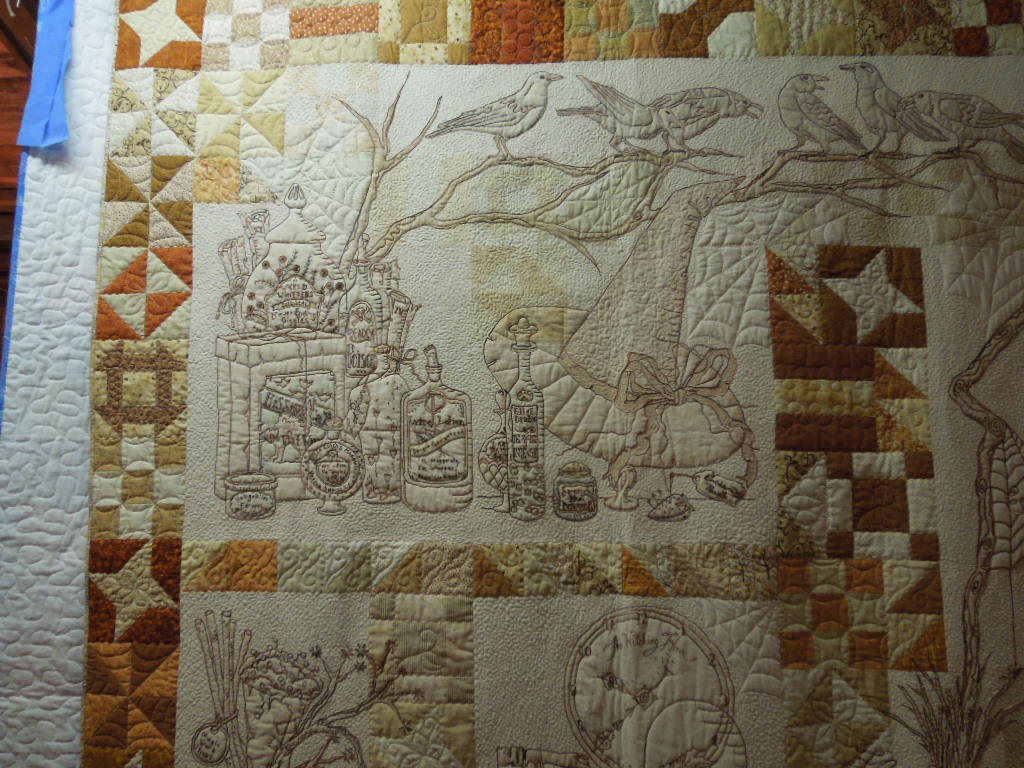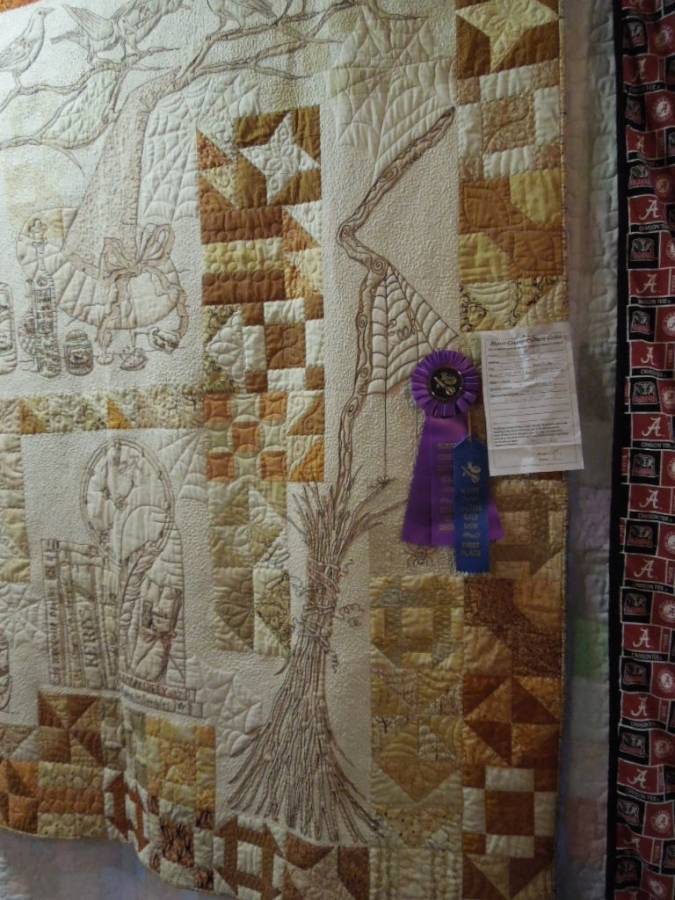 This is pretty and a lot of work. Patience is a virtue and this person is a person of virtue!  These were tiny blocks all colorful and nice.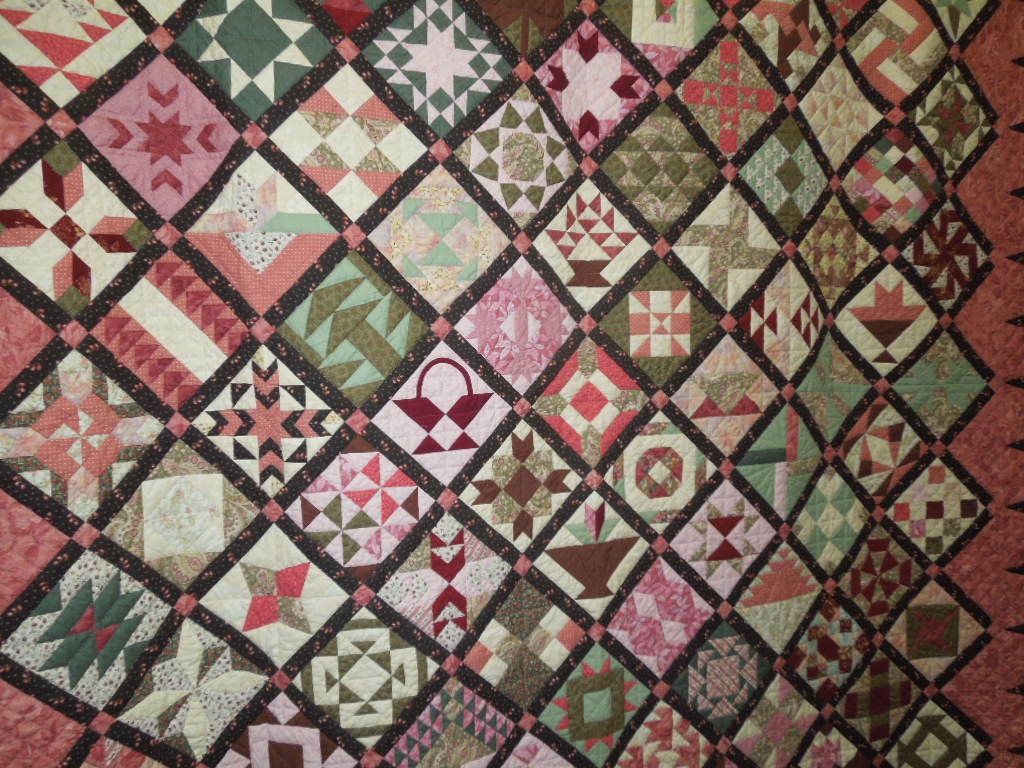 I loved this one also.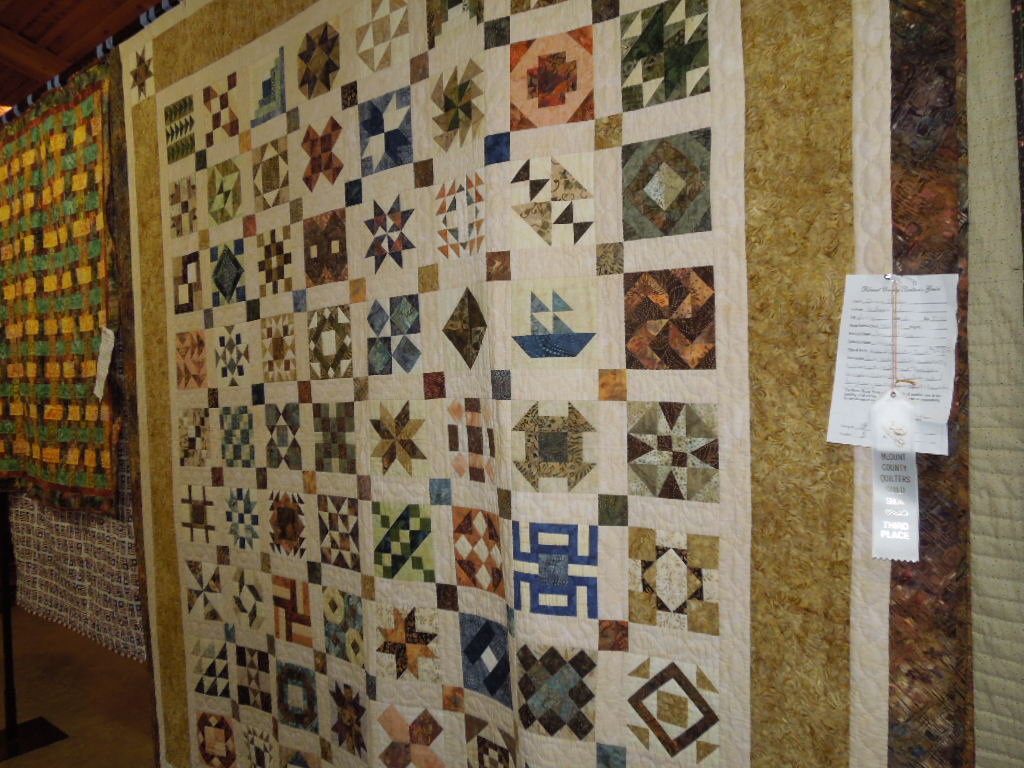 This woman was all over the place. Here she was trying to fool me in to knowing who she actually was!  The lady who made this t-shirt quilt really did a great job. I would like one in another team but I have to admit I like this also. I am going to try my hand at making some t-shirt quilts. I have been saving the shirts. Deara looks pretty here.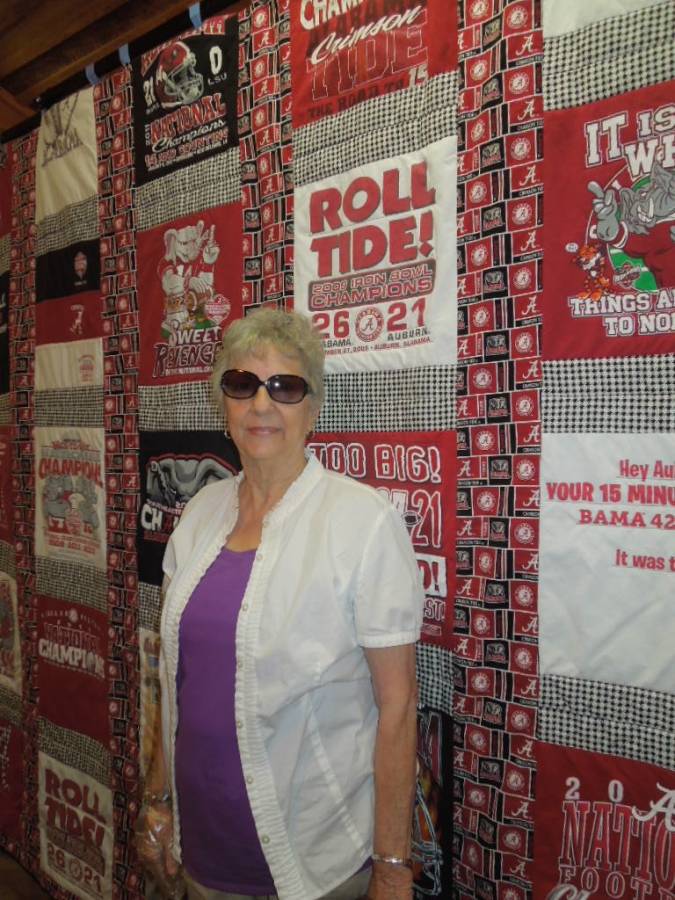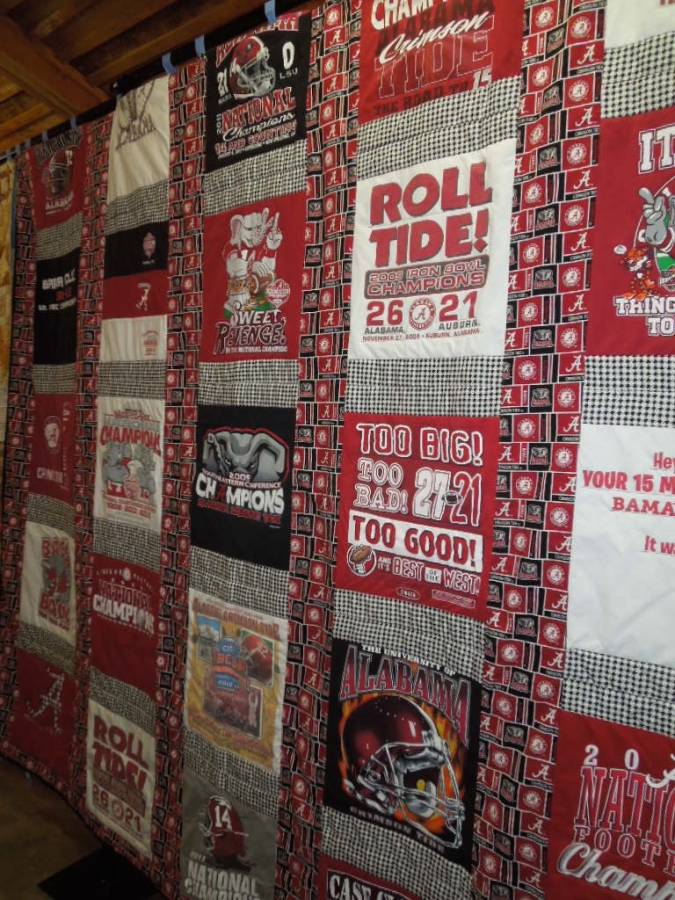 Hold your britches again!!!  A seven or eight year old took her crayons and colored all these ladies. Her grandmother then color set them with an iron.  Put them together in a quilt and they decided that the quilt needed some bling as all our lives do and they doctored this quilt up with jewels and other items. I wanted to take this one and run also This is truly a treasure and I foresee a quilter coming up in the future!  Deara loved this one and I told her I'd get her some Crayola's for Christmas.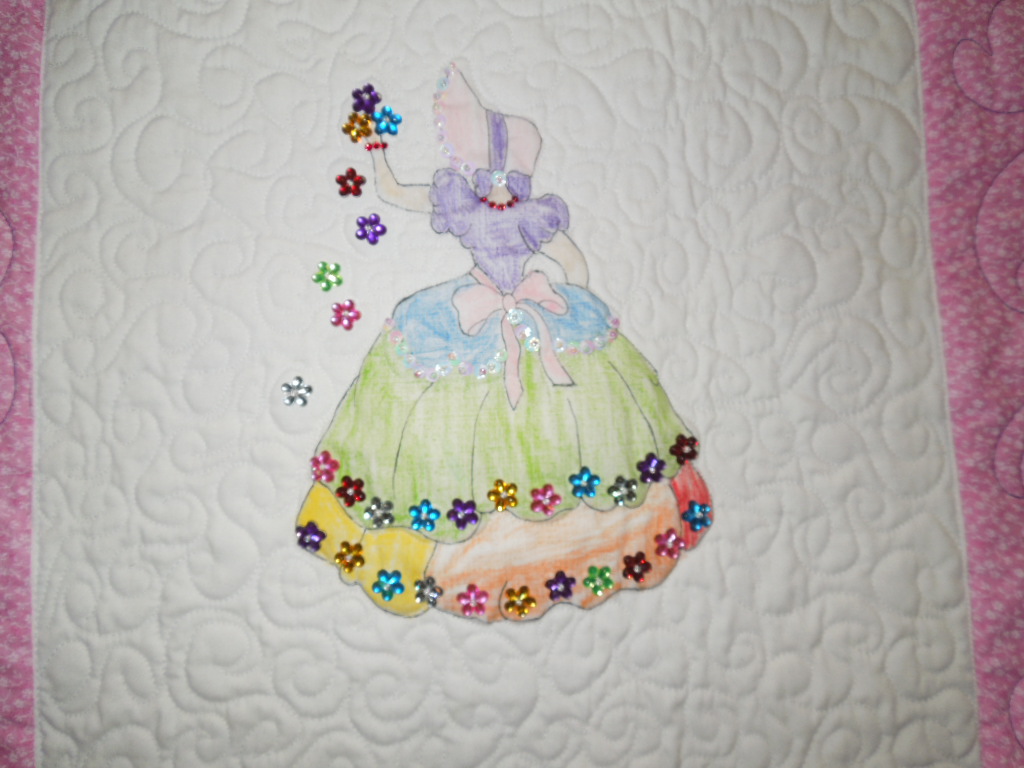 COLORED WITH CRAYONS.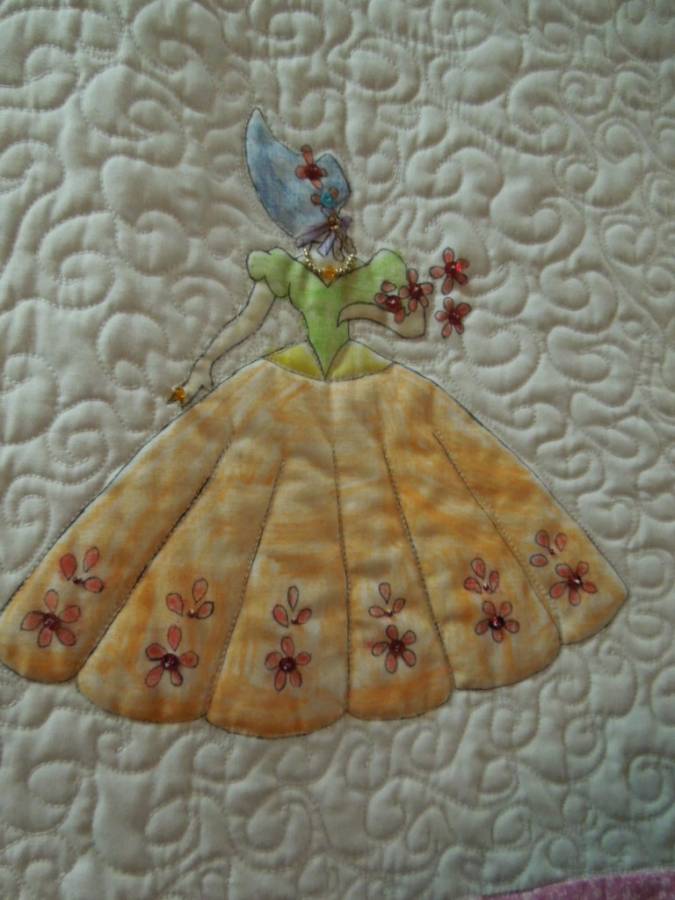 It was just beautiful put together.
Help my time when I saw this the first thing I said was "Gary will go looking for his undies and there will not be any." (snort laughing) Isn't this so cute!.  The person that made this quilt took different fabric and made it in to blocks of mens shorts. I thought it would be cute for someone to save their child's clothing over the years and then make them a quilt and give it to them at graduation.  Just so cute.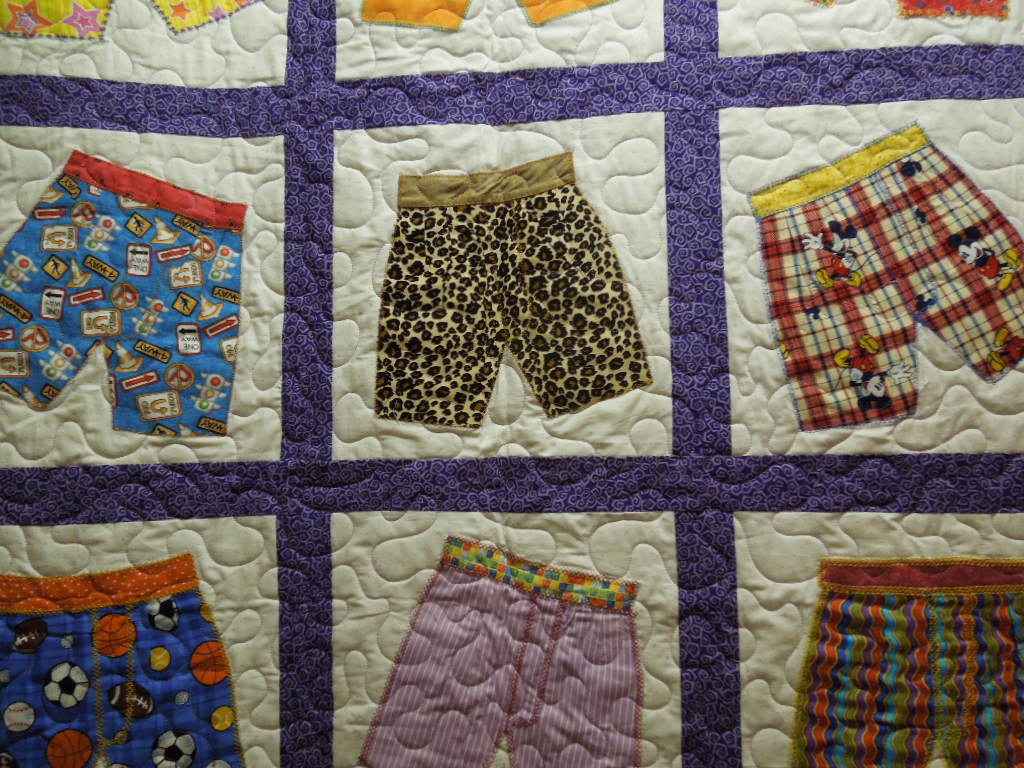 This was a lot of appliqué' but worth every OOHH AND AAHH it got from me.. This was truly a beautiful quilt. VERY GORGEOUS!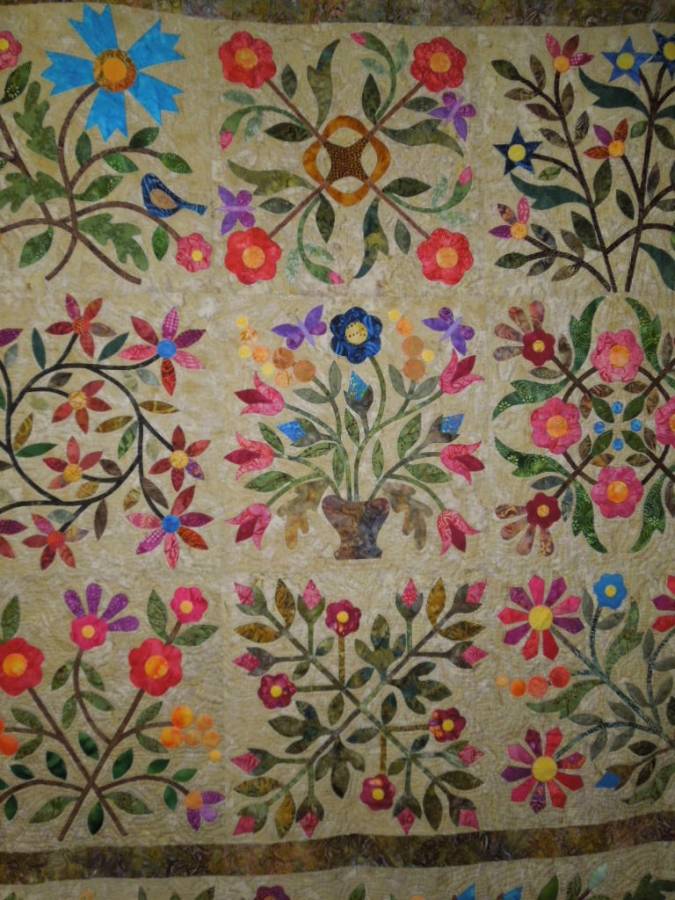 Got any hankies? if so you can make them in to a quilt!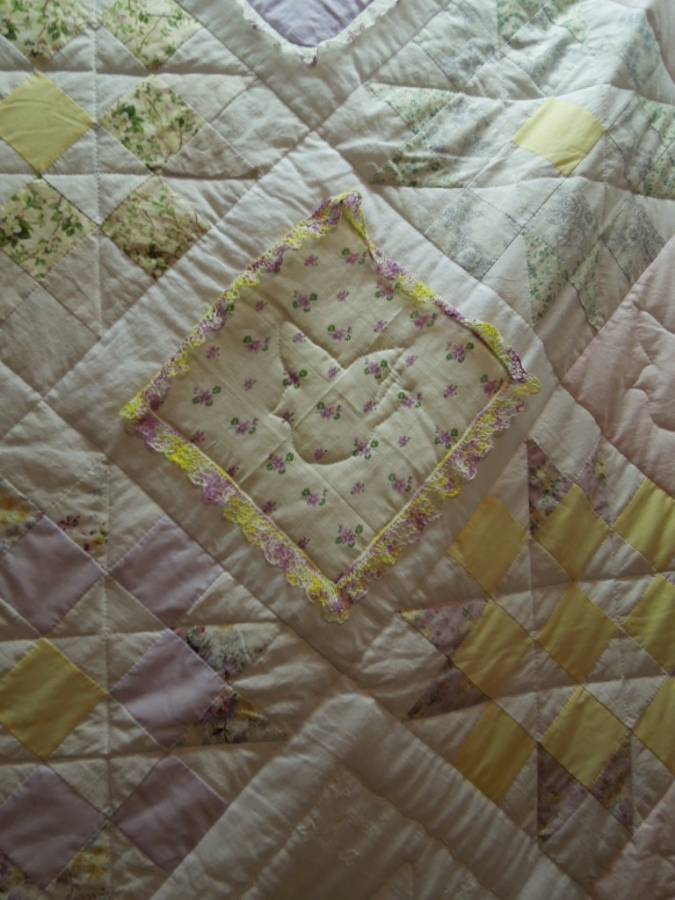 My heart just gets happy when I see these old time butterfly quit. Something about your granny, her couch and you covered up watching Saturday cartoons.. I just love vintage.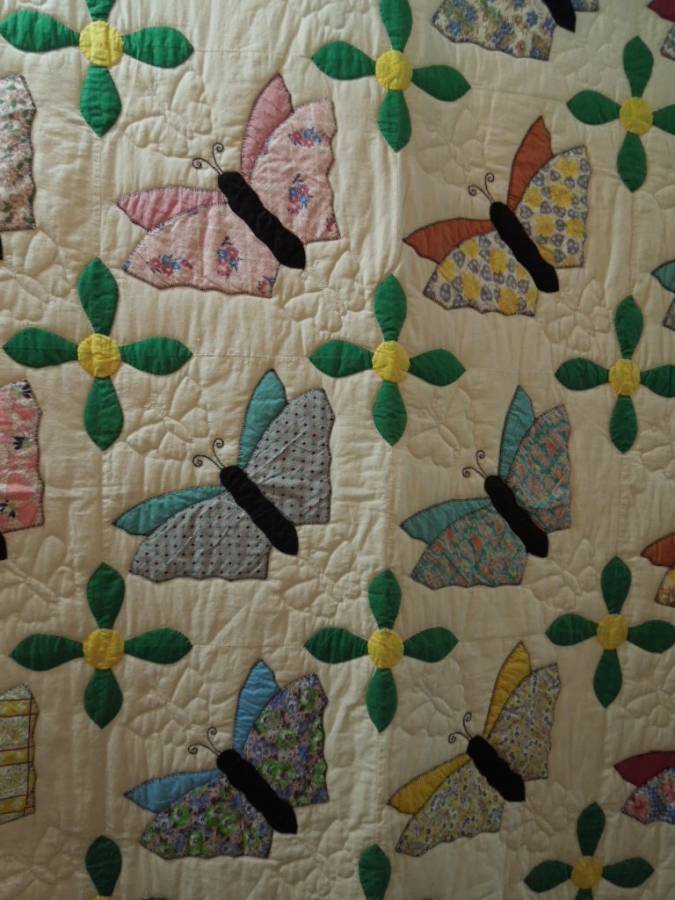 Another scrappy that won my heart.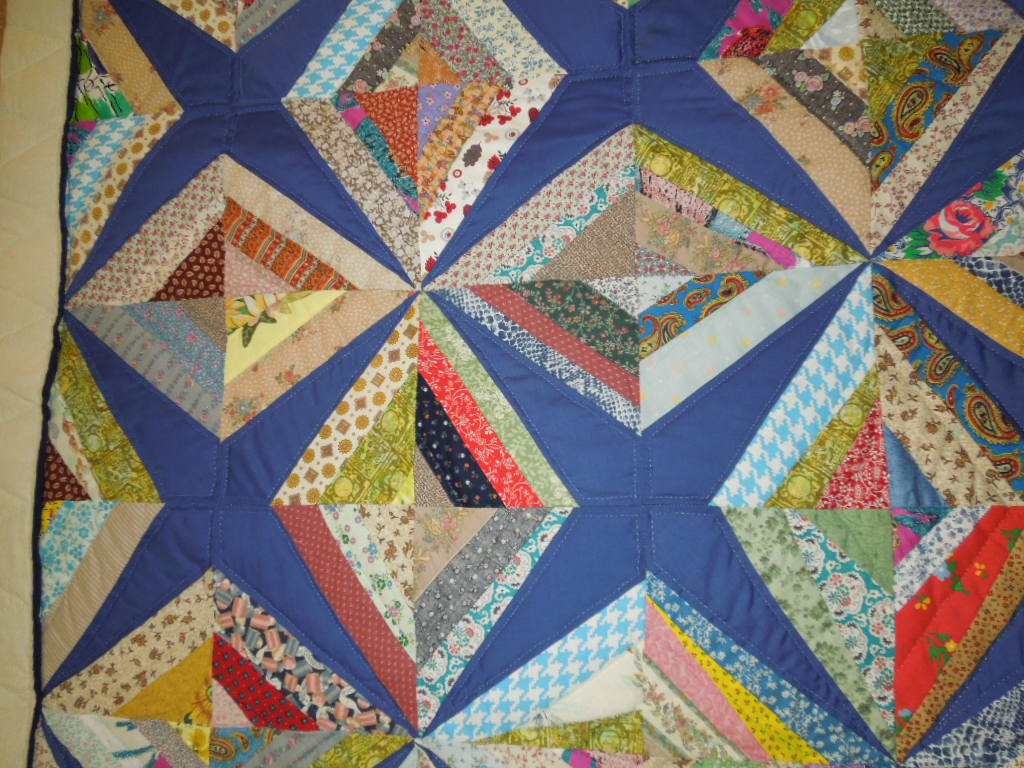 This truly was a lot of work.. So beautiful.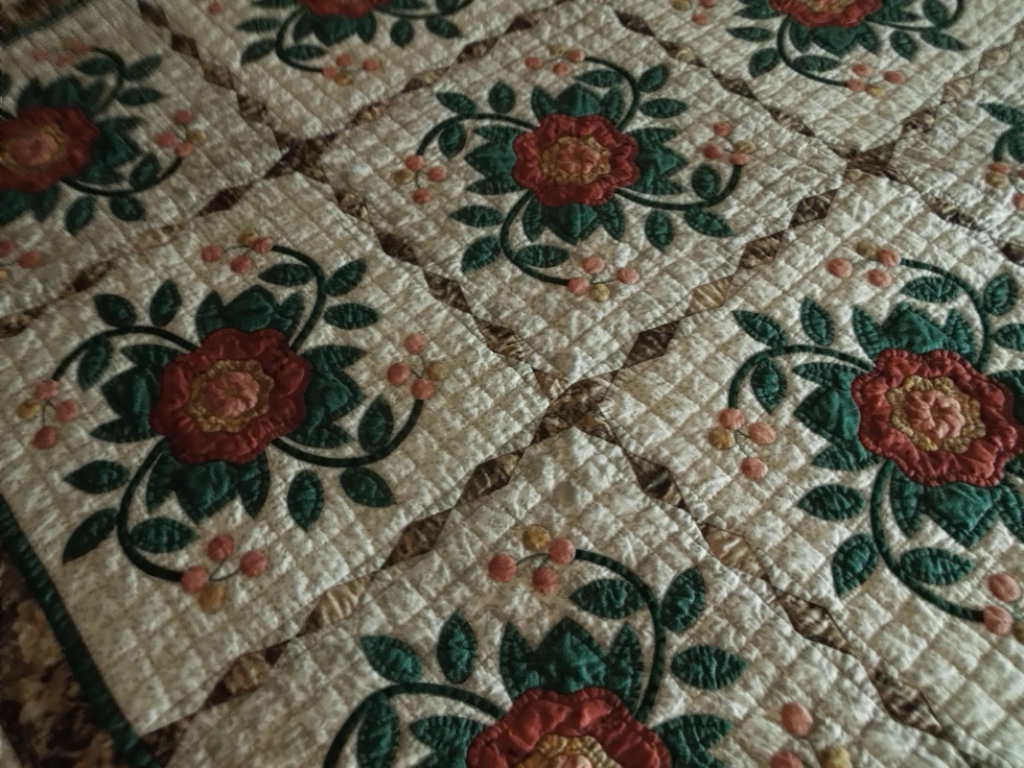 Sunbonnet Sue took a fall.. Now what she did to cause this I don't know.. But I did like this quilt.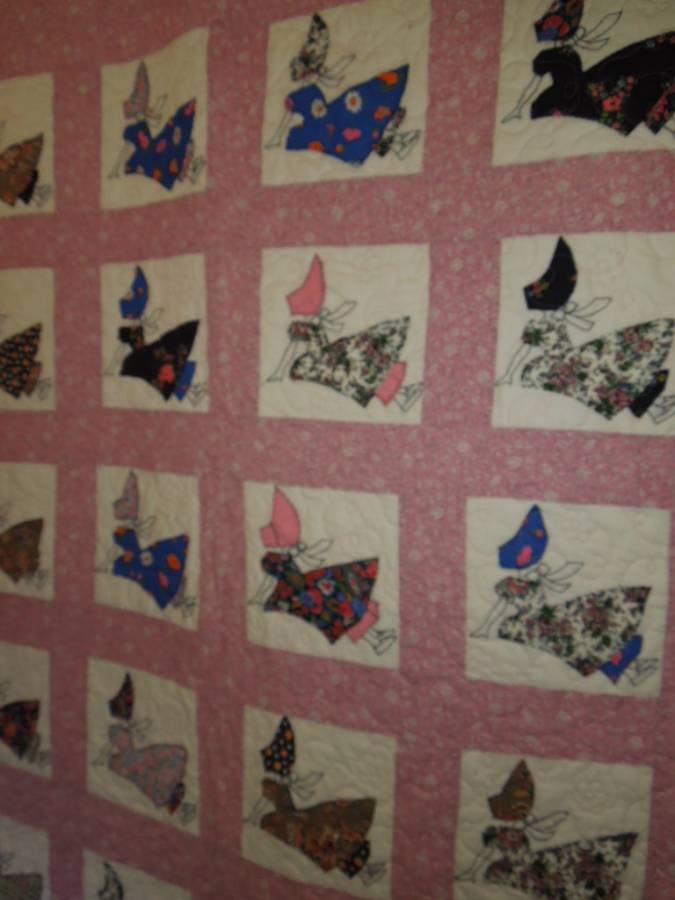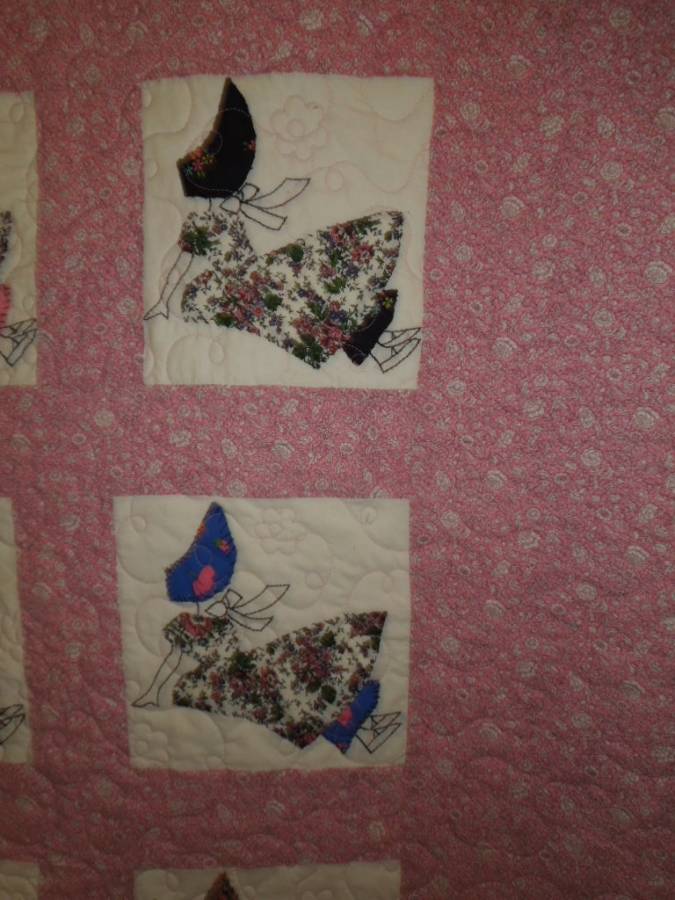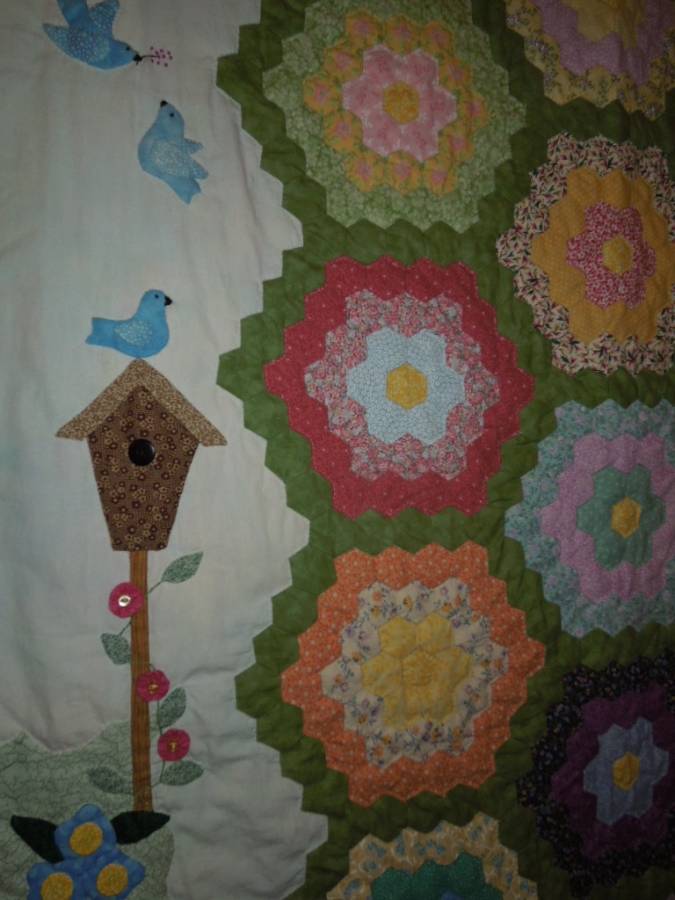 This was a Hexagon along with appliqué on the side. GORGEOUS.. and time consuming.
THE END.. well for now!