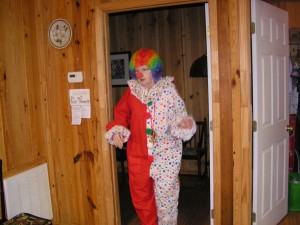 HERE'S CLEO AKA Catherine Strickland all dressed for Linda's birthday party. Catherine is such a good sport. I believe if we asked her to jump off the mountain that our guild's log cabin sits on with a quilt for a parachute she would comply.  She is just a great sport.  We are crazy about you and the funny times you give us.. It was laughs all day long.
 I think this was one of the best times we have ever had at the guild. It was great!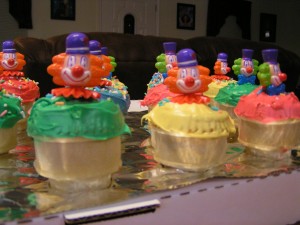 Clown cupcakes Gary and I made Friday Night. You do the usual with them, cupcake papers in a muffin pan, fill 2/3's the way up and then put a ice cream cone in the batter and bake according to temperature and directions. Let cool 30 minutes and then take off the paper. I took the shortcut of putting icing in a bowl and swirling the cupcake around to decorate. I am not good at cake decorating and this was a cinch. You eat cone and all. Well not the topper!  I found the cupcake pics on eBay.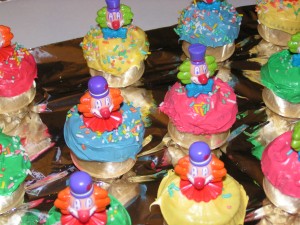 More cupcake pictures. They were real pretty all in a row and tasty too.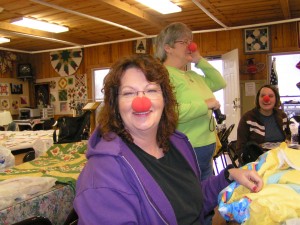 Susan,Kay and Mary… 3 clowns if there ever was any!!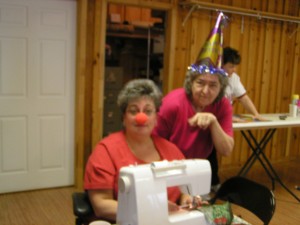 The main ring leader, Chris Wheeler with Linda Wade in the Birthday hat..  Janice took the picture and it is kinda blurry, but you will get the idea! I tried to raise my eyebrows to give the clown look!  Durn I wish I had white makeup on and rainbow hair.. CLEO MAY I USE YOUR HAIR??? Linda is famous for saying "Shut up sit down and sew and don't even think about going to the bathroom!"  We love her tho!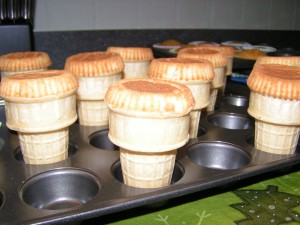 "Nekked" cupcakes.. Before the icing. But you can get an idea how they are done.  Real easy.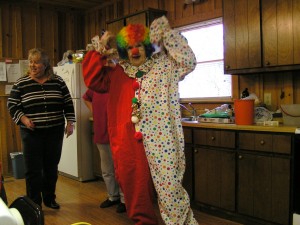 Laws be, do we have a mad clown loose?  Nope Cleo was just having fun.  Janice did not know what to think but she still was doing her usual laughing.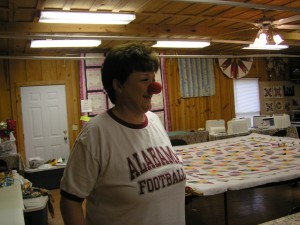 Annette, clown in the making.