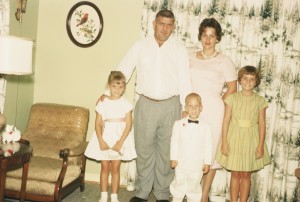 Today was my parents, William Thomas Epps (Billy) and Retha Dean Fitzpatrick Epps 58th Anniversary. They had only been married 24 years when my father died.    In this picture you will see Mother and Daddy, Karen, David who is no longer with us, and Chris (me).    Daddy died 1976 and Mother died 1994.
Mother cooked for me today.. Now you all wonder how that can happen and she is no longer with us.. Well I would like to know myself.   I had a hen that was in the freezer  that during Thanksgiving , Wal-Mart had buy one hen get one free. I got two. Froze one and cooked the other. We had to dig in the bottom of the freezer for some corn meal I had in there that I get each year during the fall at Homestead Hollow in Springville, AL. They have an arts and craft fall and winter show and it is very nice. The corn is ground there while you watch. So naturally since there are not any preservatives it has to be frozen. While we were going through the freezer I found the hen. I took it out day before yesterday and it has been thawing in the refrigerator.
Today at 1 pm I decided to put it in the crockpot.  I washed the hen in cold water, put it in the crockpot and put water about half way up the sides of the hen. Then I got a stick of butter and put it inside of the hen. Turned it on high and left it. This evening around 5:30 pm I looked at it and it was not done. I took it out and put it in the enamel roaster I have and poured the broth all over the chicken and put it in the oven at 450 degrees for about 1 1/2 hours. You just have to watch it to determine your temperature in your stove. They all are different.  In the meantime I had some raw dressing that I made for Christmas and it was frozen in a freezer bag. It also had been thawing out in the refrigerator. I sprayed Pam on a pyrex dish and poured in the dressing and cooked it in the oven the last 30 or 40 minutes the hen was in there.  On top of the stove was fresh pinto's that I had canned this summer with some of the chicken broth and anyone that can knows the canned food is already cooked all you are doing it just heating it up. I had it on real low and it just simmered with the broth. I never think my cooking is good but I promise you I believe Mother cooked this for me. It tasted just like hers.. Oh my it was so good.  My mother could cook better than anybody that I know. We could not wait sometimes until supper. Her food was awesome.  This time this meal that she cooked for us was awesome!  I have enough for tomorrow and the next day.. I can sew  like mad and not have to worry about cooking. I am proud I finally made something that I absolutely love. I plan on taking the left over broth and freezing it in little containers so when I need something to season the bean..well I have it.. MMM DEAN.. that is a saying in our family that our father used  to say to her when he took a bite of something she cooked. MMMPH Dean!!!  "It" will know what I mean, dont you IT????
Happy Valentines Day and Anniversary to my parents . After all if it were not for them, I would not be here writing this would I?