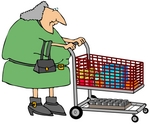 Living at Granny's house and growing up in Piedmont, AL we had some strange sayings. Granny would call Harbin Morgan's store and "Order Groceries"  instead of saying I need to go to the grocery store to shop .  I still catch myself today saying, "Gary I need to go order groceries."  You could call down there and place an order what you want. Then in an hour or so there would be this little man with this wire basket knocking at your door with your items.  Granny would pay him or sometimes charge and then when Pop got paid she would go to town to pay her bill. Town was a block away down the back alley and across the railroad tracks. 
Gary my husband has put a new meaning to ordering groceries. He has discovered www.amazon.com.  They probably have had to hire new personel to keep up with his ordering. No longer to we buy toilet tissue and paper towels. We are on automatic order and get two huge boxes every two months. It is not cheap brands either. It is Scott brand. It is a little cheaper than what you pay in the stores, delivered to your home or in our case the post office box, no sales tax and no standing in line looking at disgruntled clerks who hate their job and take it out on you. Plus look at all the gas you save.  We also order at Amazon our garbage bags, cans of International Coffee, wax carton's of soymilk that does not have to be refrigerated, razors, canned crab meat, peanut butter, batteries,  my diabetic supplies, some vitamins and just about anything you can find that is not perishable.  When I say we need something he says "I will see if Amazon has it."  I love ordering groceries online. What we don't get there we find at the Dollar Store in Locust Fork. I wish you all could see our Dollar Store. IT IS SPOTLESS and so organized. We have such great women that work there. THEY CARE and it shows.   I have not been to Walmart in over a month and I hope I can stay out for good. I can't say I never will go back there because I will BUT we order everything we can to be delivered to us instead of going to stores. Very reasonable and you save a lot in gas and time.   Of course I would be foolish to not know I am going to have to go to grocery stores for some things. That I will go to Whole Foods or the Pig in Cleveland.
Think of something you buy all the time and go to www.amazon.com and see if they have it. You will be surprised and you will like the service you get. We have had zero problems.  Now go to Amazon and "Order you some groceries!"   It works for us.   A lot of the things we get are eligible for free shipping. I love that.