My mailbox has been packed full lately. I have been getting some beautiful things from the ladies in Trading Fabric Postcards. Here are some things for you to enjoy. Also we have a website www.tradingfabricpostcards.com   You will probably even see this post on there also.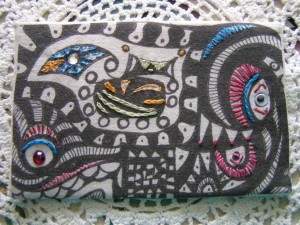 Melinda sent me this card. She said that the images were from small drawings that she calls outward expressions of internal stress. I call it wonderful! I see something different everytime I look at it.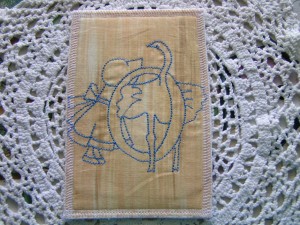 Terri sent me this great ostrich card. We are in an alphabetical swap. We started with Z and going backwards. This would be the O card. She said to be sure I did not get caught with my head in the sand. She knows me too well .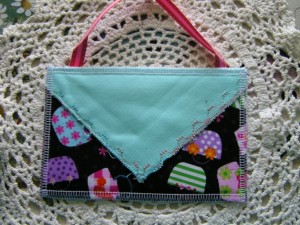 Terri sent me this beautiful purse card. Now what woman would not love to own a purse like this? I know I would.  We all gave her a hard time about not sending any money with it. She is a good sport and took it well.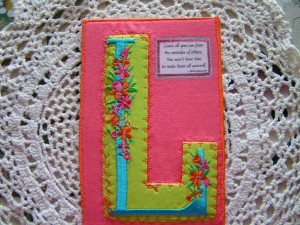 Another alphabet card. L = lovely! This is from JoAnn. She did a wonderful job of sewing and embroidering on her machine.  She also added a "Learn all you can from the mistakes of others. You won't have time to make them all yourself." Evidentally by the looks of this card she has paid attention and did not make any mistakes.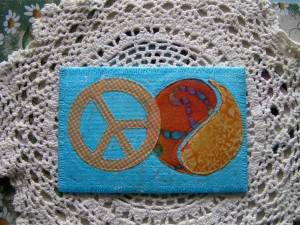 Lourdes is a new member. She and I were together in a Silence Swap. We had to make a card that represented silence. The card above was from Lourdes. She said silence for her means peace and balance for her soul.  I gave it a lot of thought about what would be the ultimate silence for me and I found this picture online and I printed it out on a piece of 4 x 6 muslin then I stitched around the corner. This would be the true silence would it not? I hope I dont experience it for another 50 plus years or more.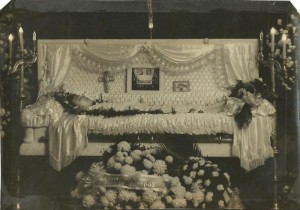 To some this may be a little bit odd but this is a beautiful picture and they sure sent this person out is style. I don't think you can get much more silent than this. Lourdes loved the card.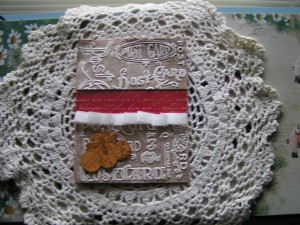 We have a Loteria Swap going on. This is some type of Bingo where the cards have images on them. Just google Loteria and you will see what I am talking about. The first swap was a rooster. Our next card will be a mermaid.
Well one of the newer members Jan sent me the above paper card she made and inside was two beautiful treasures. Here they are.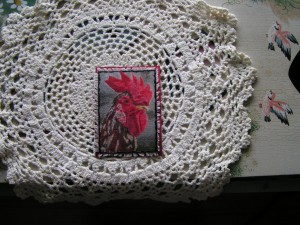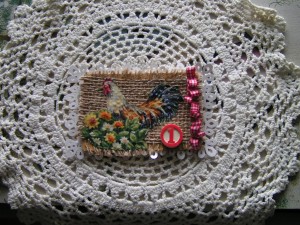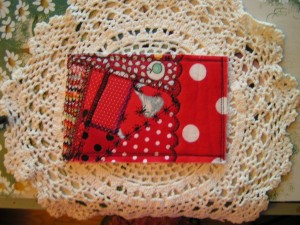 I love red and I always love the cards Malke sends to me. She said she was trying to make a dent in her stash but it was not happening.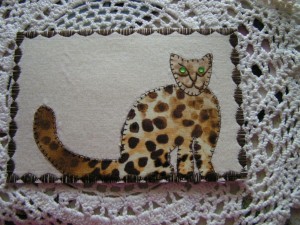 Meow from Carolyn. I love this card. Isn't the cat just gorgeous?  The background fabric is glittery and so nice. The cat even has green stoned eyes.
I would love to give you all that read this blog to join our Trading Fabric Postcard group and make a card. WARNING…you will be hooked. Or if you would just like to make one and trade with me to see how it works just send me an email at SadieMaesAttic@aol.com
It is so very much fun and you will receive some of the best one of a kind art work on the face of the earth. There are a lot of talented people and I sure enjoy getting cards from them. 
If you uncertain on how to make a postcard just look to the right in categories and see tutorials, click on there and you will see how to make a fabric postcard.