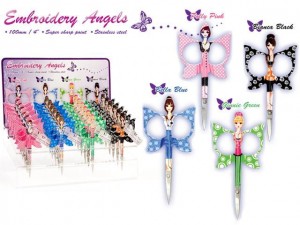 Angel embroidery scissors are on their way to WLQ. They will be on my site in a few days as soon as I get them in and get some good photos to post. In the meantime if you are interested in a pair of these you can let me know. 
They are going to be in 4 different colors
Black, Green, Pink and Blue.
They are going to be $7.00 in the USA and that includes shipping. They regular sell for $10.00 but I am offering a special for a short while. To all those that are in the area where I live, you will be able to get them at Dry Creek Antiques in Cleveland. AL. If you live outside of the USA I will have to check on postage.