Well I do not know how the pictures came in this order but there is a story to tell here. A childhood friend of mine and her husband will be going to Branson this summer to his meeting of the 591st  Engineer Department of a group he was in during the Vietnam war. They will be taking this quilt to auction off for the group.  I am going to explain the pictures in order they posted here but not necessarily in the way the quilt was made.  This was just three sections of the quilt. I could not wait to put it on something to see how it looked.
A close up of one of the blocks and yes I know the PEACE SIGNS ARE UPSIDE DOWN because the block is upside down. Not in the quilt but when I was making a photo of some of the blocks.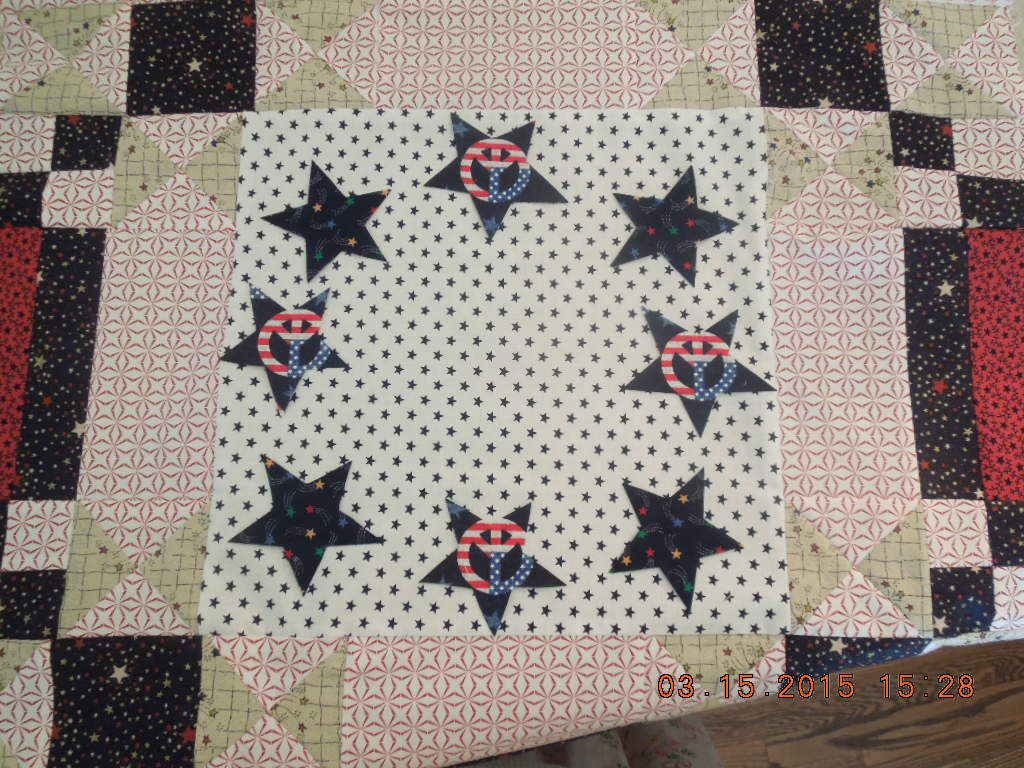 At one time this was how it was looking.. ALL A MESS on the table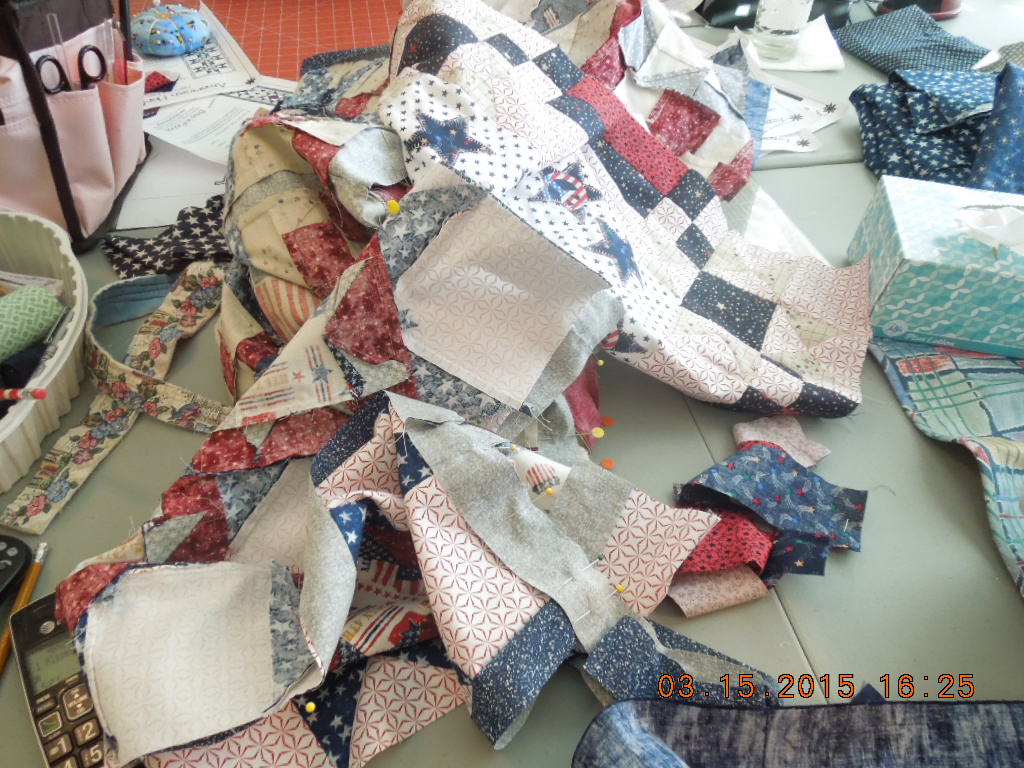 Here it is in the floor minus the borders on the outside. They are a beautiful navy blue.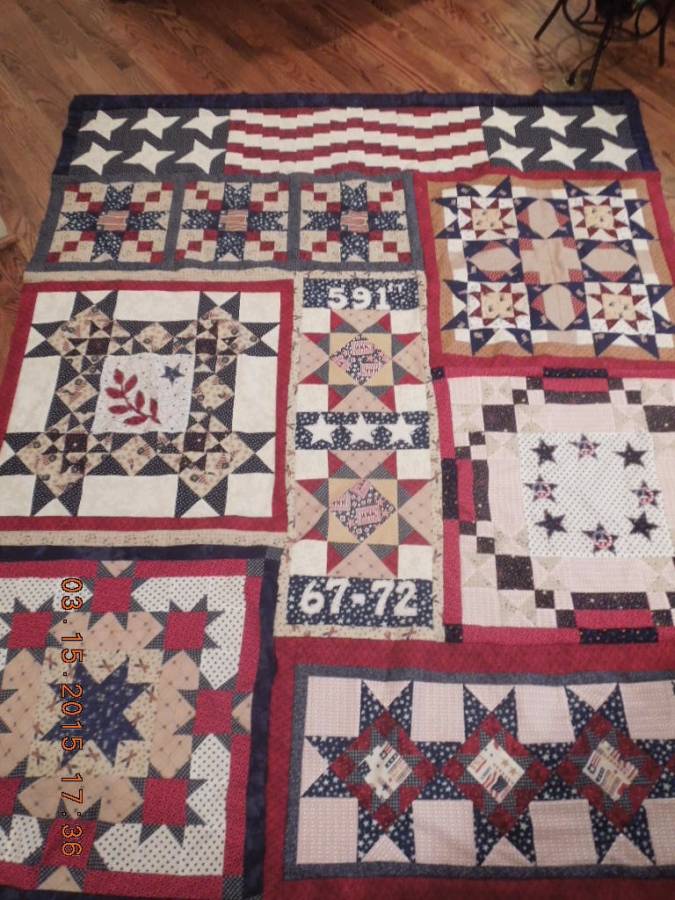 The peace signs are in proper order now!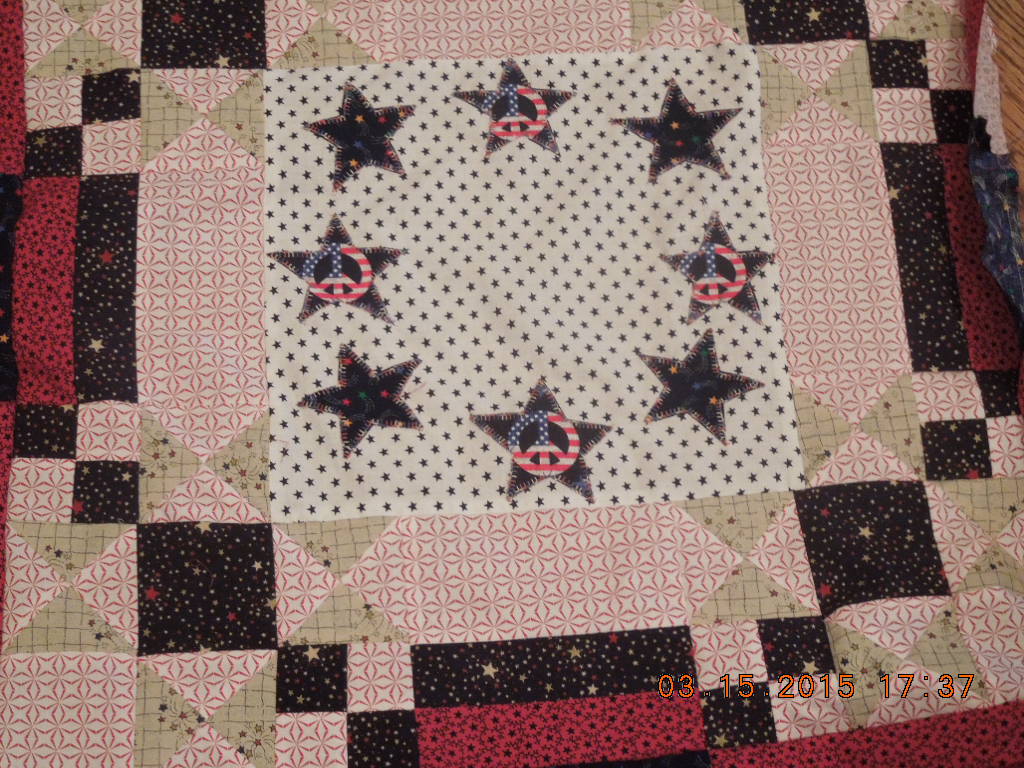 I really loved this quilt. All the gorgeous fabrics.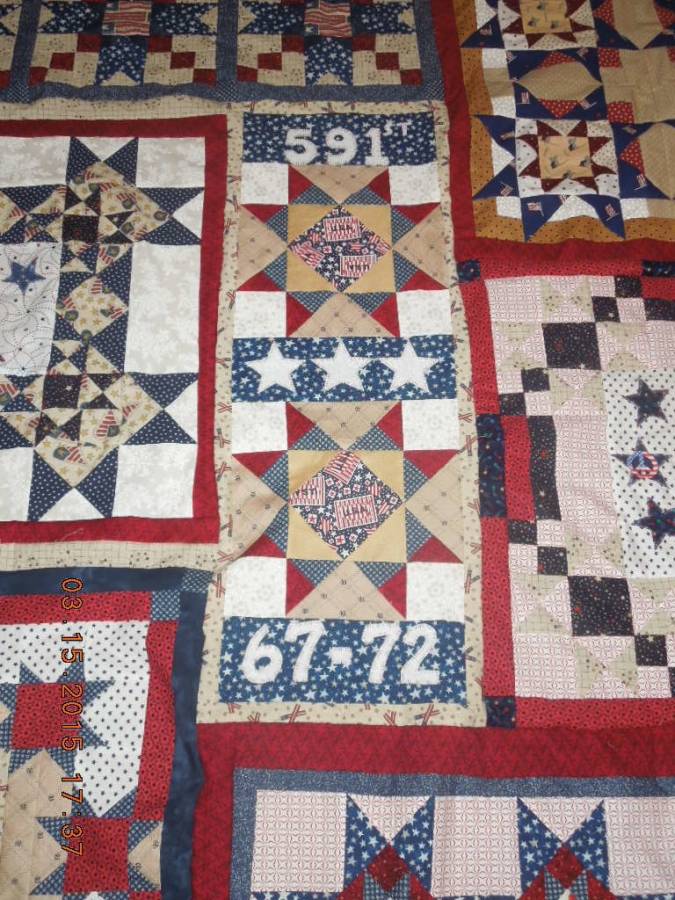 I had to take this picture. Sunday I woke up early in the AM 3:00 am I think it was or 3:30 I am still so tired I can not remember to work on this quilt and we stopped at 7 pm finished. I had Gary here cutting and Linda my friend was also cutting the borders and checking to see if I had everything that was suppose to be. She had already made one for her and you all should see it … GORGEOUS.. Well it was funny that evening I had Gary aka Little Precious in the kitchen cutting up veggies for our salad and Linda moved over to my machine when I went to check on Precious and I came back laughing. I said "I have one in the kitchen cooking and one in the sewing room sewing. Life is good! I could have not finished this quilt without Linda or Little Precious. That is one sweet husband and one sweet lady friend. I am blessed.
Here it is all finished out on mine and Gary's bed.  I have never been so glad to see something finished in my entire life. It is not due to be auctioned off until June or July I can't remember which but I wanted it finished and then off to the long arm lady then back for the binding and locked back up in our steel storm shelter inside our home. I am NOT TAKING ANY CHANCES.
In my previous posts about Agent Wade I carry on things for fun and yes we do get work done.. I however this time am very serious, if it had not been for Gary doing all the cutting and at the end Linda helping me put it together I still would be working on it today. I truly appreciate having both of them in my life. Oh did I mention Linda made one of the blocks? One was giving me trouble she stepped up used her own fabric and came back the next Sunday with it.. Now that is a friend!