Here are some photo's of the 2014 give a way quilt. You will see the information below. This years winner for the first time will have the option of picking one of these quilts and the other will be offered for sale.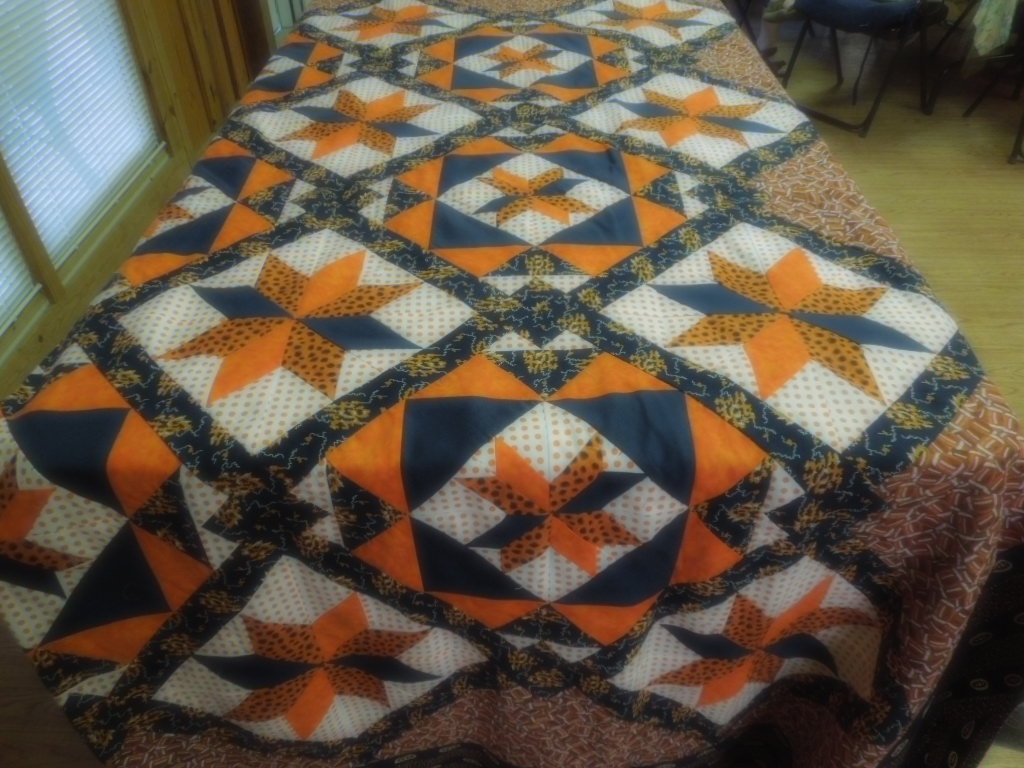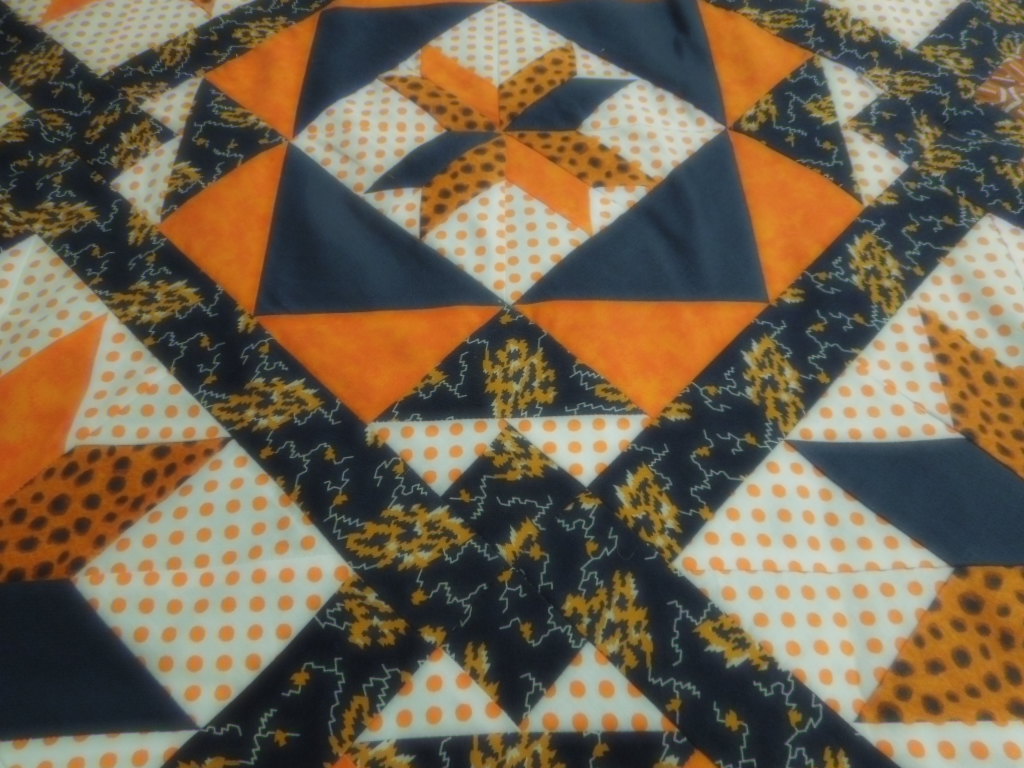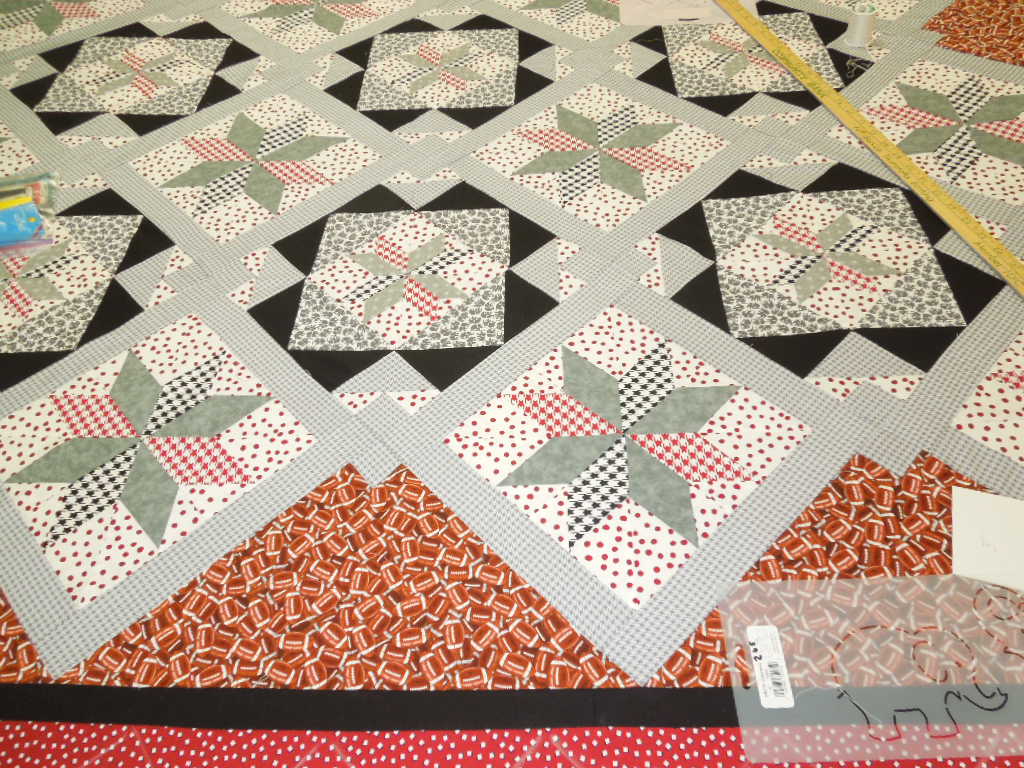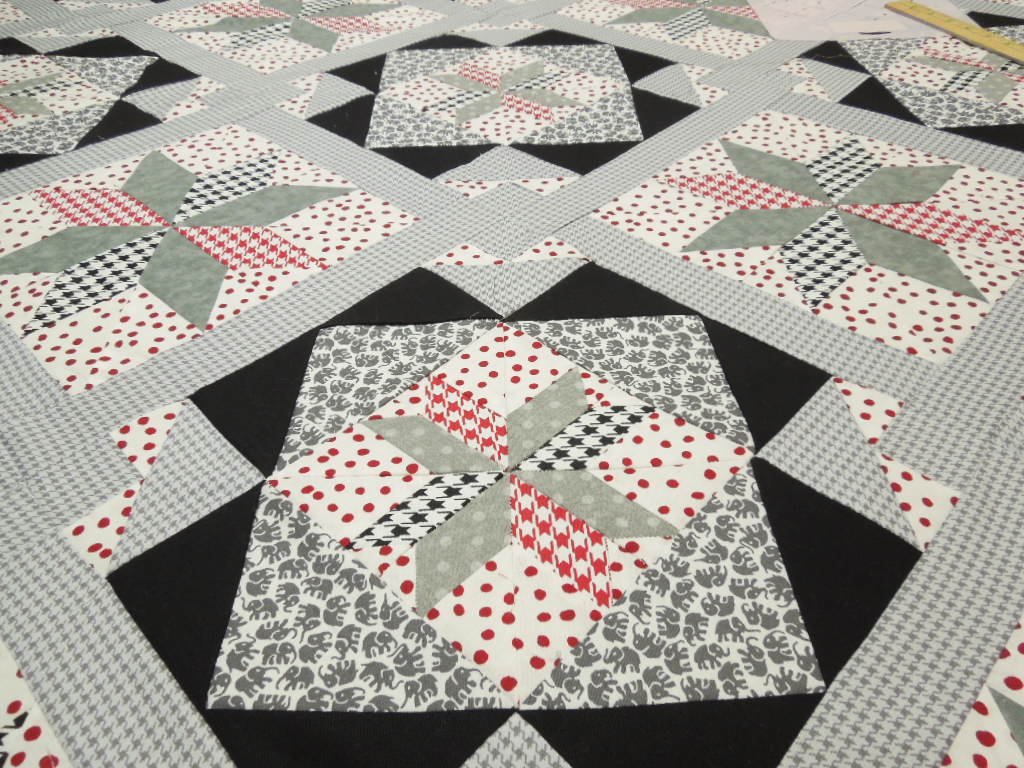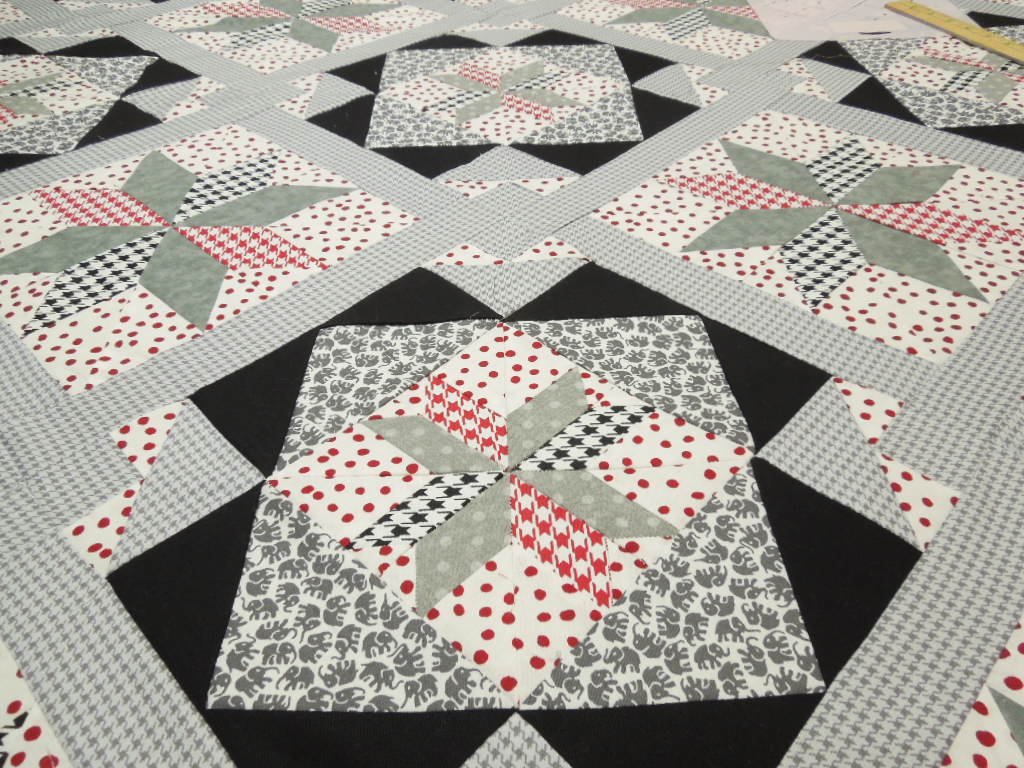 The above I took last year while it was in the process of being made so you can get a really good idea of how it looks. They both are very beautiful and I would even have a hard time trying to decide which one I would like. It takes about a year to construct the give a way quilt. You are getting a bargain if your name is picked. IT DOES NOT MATTER IF YOU LIVE OUT OF STATE.. They will ship to you at no charge. One year I believe the winner was in Vermont or some northern state.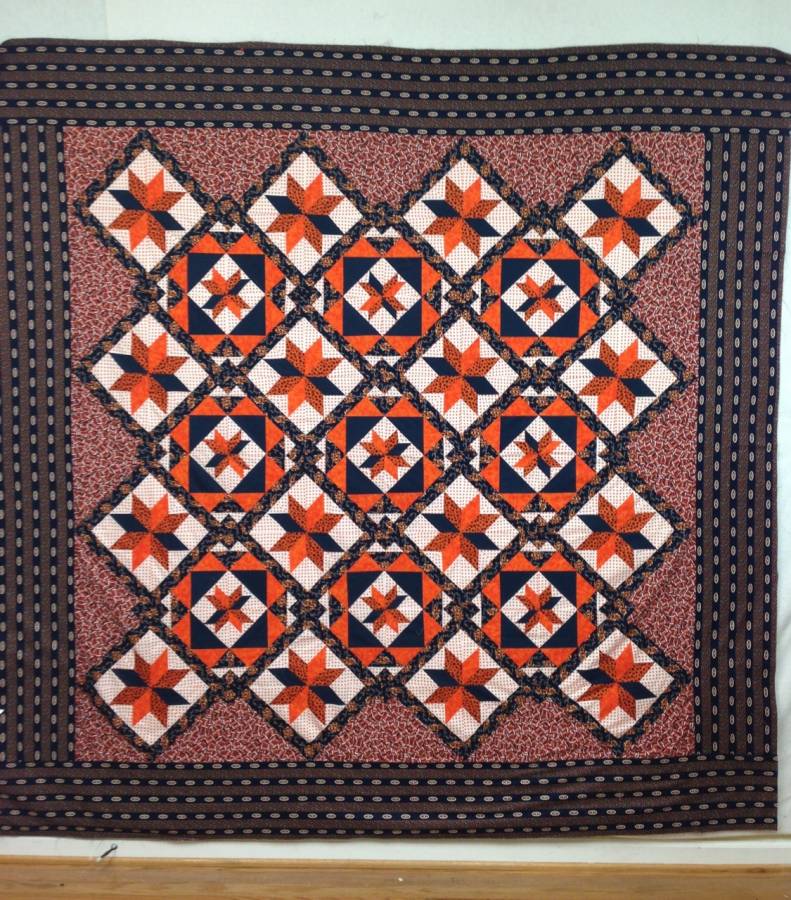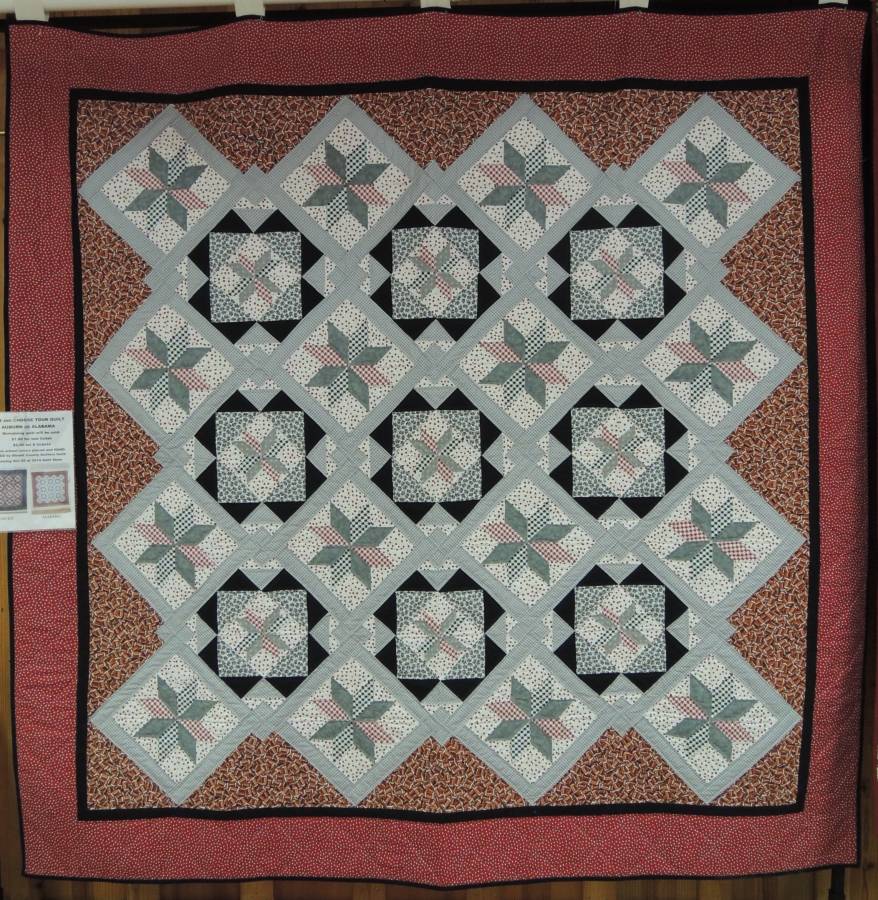 These last few were made on an iPhone and the photo's are not that good. They are so beautiful in person.
October 24, 25 2014 the Blount County Quilters Guild will be holding their annual quilt show at Palisades Park close to Oneonta, AL. This park in itself is gorgeous and a wonderful place to visit. The quilt show is held inside the park will be at the Quilters Cottage. It does not cost anything to enter the park but there is a small show entrance fee of $5.00. This will get you entrance to the cottage and Moss Lodge to view all the beautiful quilts on display.  This money later on in the year goes to scholarships for young people in our area to go to college. Each year the guild gives several scholarships. They also sponsor many other charitable organizations.  You will see gorgeous works of art. Oh you can enter your quilt in the show if you wish. They give ribbons.
They will also have a raffle for a quilt. In the past they have only had one handmade quilt for raffle. This year they will be having two.  Now the winner will only get to pick ONE quilt and the other one will be offered for sale.
Linda and some of the other ladies decided that since in our state Alabama and Auburn Football is the thing that ranks number 1  they would make a quilt of each team and the winner gets to pick which one they want.  Well Linda contacted each school and NO they could not use the LOGO's on any of the quilts but they could use the colors in the quilts.  I think this turned out so much better. I personally love Auburn University but I also think Alabama's colors in their items are so pretty. It would be hard for me to want an Alabama quilt with their logo on it but I sure would not mind this one with these beautiful colors. If my name is picked it is going to be a hard choice for me.
I was once a member of this guild and got so busy along in life that I am not  a member this year  but I truly support the shows, their work and the raffle quilt. I know what goes in these quilts.  These are handmade. By that I mean yes the tops are sewn together on a sewing machine which we all do. Hardly anyone makes a quilt anymore they sew the top blocks together by hand. However the quilt itself is quilted by hand. Now that is almost not heard of anymore because most of us have Long Arm quilting machines that we quilt them on the machine instead of by hand. So if your ticket is drawn out the last day of the show which will be Saturday 25th at 4 pm you will receive ONE quilt of your choice. Tickets are $1.00 each or 6 for $5.00.  If any of you are interested in purchasing a ticket or tickets you can contact me at SadieMaesAttic@aol.com and put tickets in the subject.  That was my grandmothers name and not a spam site. I used to love to play in her attic when she went to town and told me not to get in to anything while she was gone I'd head up to the attic knowing very well I would get in trouble if I got caught!
I will see that you are notified back that I received your money and I will mail your ticket stub to you. If you are more comfortable with mailing it directly to the guild I will provide the address and contact person. Just send me an email and I will work with you any way you wish.  Of all the many years I have been affiliated with the guild this is the best quilt or quilts they have offered. They are the most prettiest I have ever seen the guild have for a raffle and I love the two choices. So if you are an Auburn or Alabama fan and you wish for a chance to win the ONE quilt of your choice let me know.   Do you know to have a quilt hand quilted it cost 1000's of dollars. If your name is picked you are getting a deal!  A handmade quilt for $1.00  you can not beat that!
If you are in Alabama and wish to attend the show please do so. You will not be sorry. There are vendors there each year and if you wish to be one yourself please let me know and I will put you in contact with the President Eileen Cundiff for information.
TICKETS $1.00 each or 6 for $5.00   you can make out your check or money order to Blount County Quilters Guild and mail it to Chris Wheeler, PO Box 170 , Locust Fork, AL 35097  or if you prefer I can get you the address of the guild and you mail it there. I am just trying to help them out. DO  NOT MAKE THE CHECK OUT TO ME..  They are non profit organization and you may be able to take this off your taxes as a deduction because of a donation.
In the same weekend on Saturday only, Blount County Alabama will have their 31st Annual Covered Bridge Festival.
This will be downtown Oneonta, AL. In addition to visiting the Blount County Quilt Guild quilt show at the Quilting Cottage at Palisades Park be sure to try to visit this festival. There will be a pancake breakfast, arts and crafts, 5K run, a fun run, golf tournament, car show, river walk and much more. You can go to http://bocc.publishpath.com/covered-bridge-festival to print out an application if you wish you be a vendor. Plus there is more information there.
Here is information about the guild   http://www.blountcountyquiltersguild.com
Oh for all of you that want to learn the art of quilting the second and fourth Saturday of each month Palisades Park, Quilters Cottage is the place to be.  Linda Wade is the most awesome teacher ever. Membership fee for one year is $18.00 for the first year and that includes your pin.  From then out it is $12.00 a year.. Where can you go to take a quilting for $.50 a class??? No where. That is basically what it amounts to .. They meet 10 till about 2 or 3 pm. You do not have to bring your own machines. They have some there. If you prefer to bring yours that is ok also.
You can email me for more details.  SadieMaesAttic@aol.com   Please put something in the subject like like Quilt Tickets or Quilt Show so I will not send your email to spam.