Gary about worked me today till I passed out. Two truck loads to Jerri's at Dry Creek Antiques.
I was going to do a story but I am so tired no telling what I would say.. Here are pictures of the jars.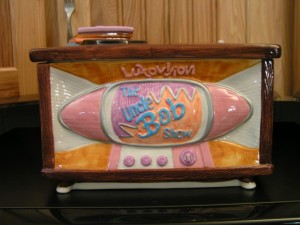 Uncle Bob's Television Show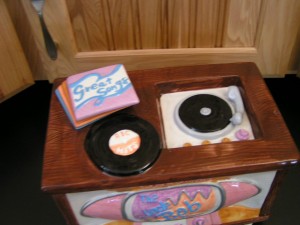 Lid to Uncle Bob's TV.. look at the LP albums and the covers. I bet young folks today do not know what an LP Album is.
Fruit basket cookie jar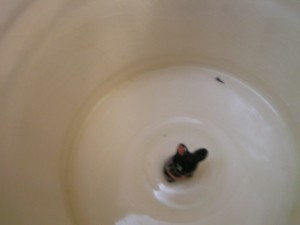 A nice surprise inside. A tiny mouse and it belongs there. Speaking of a mouse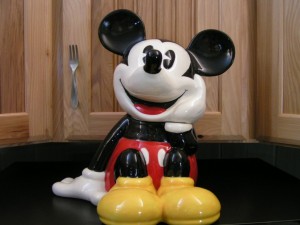 A steal at $25.00  Who does not love Mickey? When he is not performing at Disney World or Disney Land he is farming. See him here?
Farmer Mickey is $25.00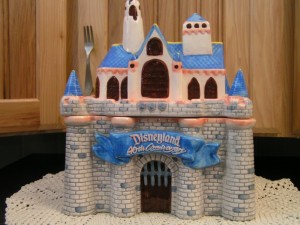 Disney celebrated their 40th Anniversary with a castle cookie jar. Inside this jar is a certificate. I believe it was Nestle they were partners with to celebreate with these jars.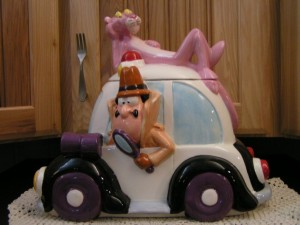 Pink Panther by Treasure Craft. This is about the coolest jar.  This jar is priced $25.00  The reason I am telling you the price on the twenty five dollar jars is so far they are the most expensive and are far more worth than the price I have them marked. There may be a couple more for the 25.00 price but most are below. Here is the tag on the car.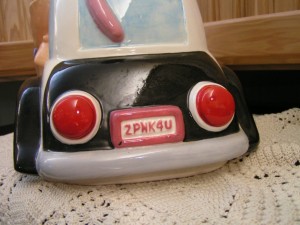 2 PNK4U?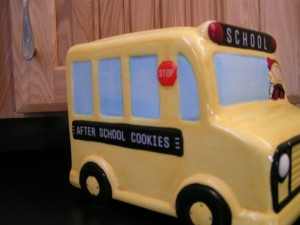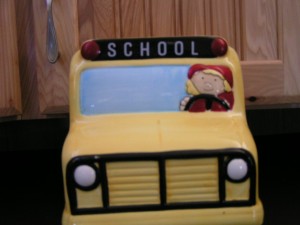 I think the school bus is really neat.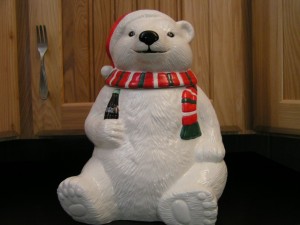 Coca Cola Polar Bear Cookie Jar. Doesn't he look refreshing?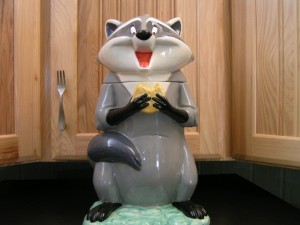 Remember Meeko in the Pocohontas movie? Well he is at Dry Creek Antiques now!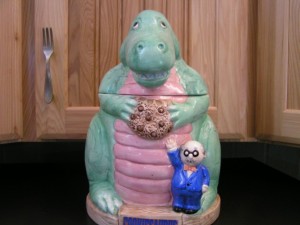 2012 is the Year Of The Dragon for the Chinese.. It is the year of The Cookiesaurus at Dry Creek. Who is that man on the cookie jar? Gary or is it Terry?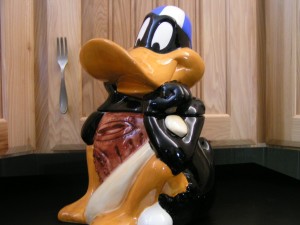 Daffy Duck playing baseball complete with hat , bat and mitt.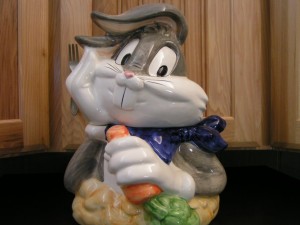 Bugs Bunny complete with carrot. What's up Doc?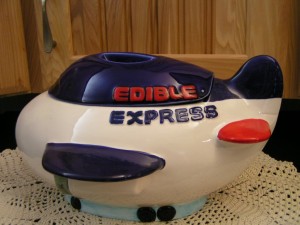 Next time you need to mail some cookies you can use Edible Express. I prefer you to use USPS to do all your mailing but for your cookies you can use this plane.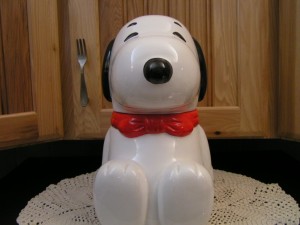 Snoopy could not stand it. He had to be in on the action. He is looking for the Red Baron to fly your Edible Express to you.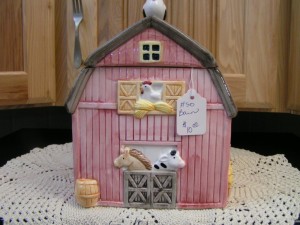 If you act up, Jerri will make you go outside to this $10.00 barn. It is really nice. I was running out of space and only took one picture but it has all kinds of things on the side of the jar. Very nice.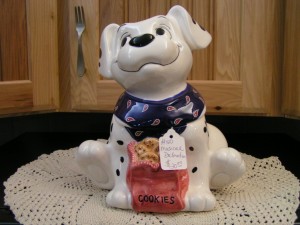 Even the Dalmations are there. You know what is really neat about this Schmidt Dalmation Cookie jar? It is musicial. Yes you turn this dial in the lid and it plays a nice tune. This was a very expensive jar years ago. I think I have it priced for $25.00. It was 3 or 4 times that much year ago.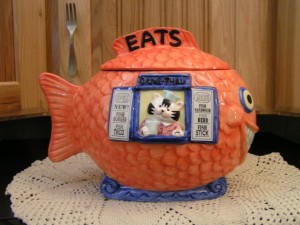 If you are hungry you are on your own. Jerri is too busy to be fixing us something to eat, but you can step across the store to the Eats Diner.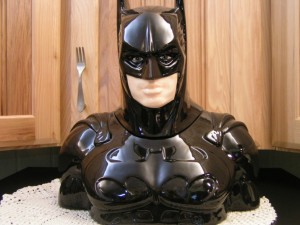 Warner Brothers Batman Cookie Jar. Jerri and I both drooled over his beautiful eyes. I hope our husbands were not listening. Mine was unloading the truck and Terry was at his job.. So we are safe unless they read this blog..I do have to say this is a beautiful jar. One of my favorites and the eyes are baby blue and they can see right through you. You know Batman always had that power over us.. Well me anyway. That was one of my favorite TV shows.Batman and Robin. The Dynamic Duo.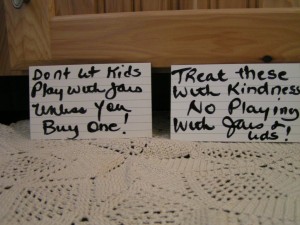 I hated to put this in my booth but I am taking some very collectible nice jars. Please when you take your children ANYWHERE have respect for others things and do not let them fondle the entire store. I see this so much. Parents let Wal-Mart and other's shop become the babysitter. Kids are allowed to roam the store and pick up everything. I never was allowed to pick up things and today as an adult I do not touch or pick up everything. Only what I intend to buy. DO NOT LET YOUR KIDS DESTOY OTHERS STORES!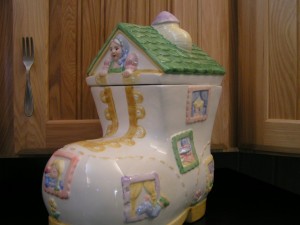 The Old Lady In A Shoe has a passle of kids and she makes them mind!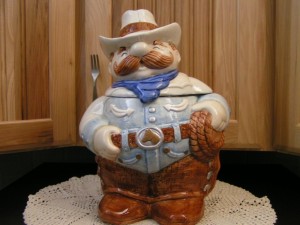 "Well hello little lady. Is there some type of trouble here at Dry Creek Antiques? You need to let the Duke know and he will take care of it for you. I do not take lightly to women being bothered, you just let the Duke know and it will be fixed." "I'll see to that little Ma'am!"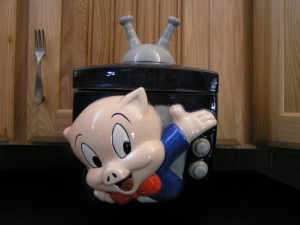 Th-Th-Th-Th-Th-That's All Folks!!!!
Dry Creek Antiques is located in Cleveland, Alabama. If any of you need directions just let me know.