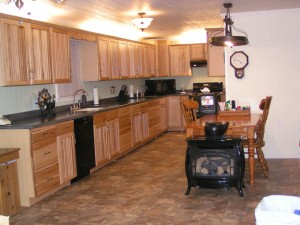 This is my kitchen minus the heating stove. It quit working and I took it back to Lowe's and got another kind. But that is not what the post is about.
I AM TRYING.. very hard to learn to like to cook. However yesterday I went to the dreaded Wal-Mart while we were out running errands and got enough Healthy Choice dinners to last for two weeks. I figure one or two a week and that will give me time to recoup and figure out what I am going to have for dinner.
I talked with Aunt Jan last night and she asked me about a recipe that someone told her about. Now for someone who hates cooking I have a ton of cookbooks. I found the recipe and thought I would share it here with the ones that can eat sweets. We can not much and this would be too much for two people, but may just work perfectly for you.
4 Layer Chocolate Pie.
First Layer:
1 cup flour   1/2 c chopped nuts and 1 stick of margarine melted.
Mix this together and spread into a large pan or dish . Bake 10 to 12 minutes at 350 and let cool completely. This is your crust.
Second layer
1  8 oz pkg cream cheese, 1 cup powdered sugar, 1 cup coolwhip (8oz) and tsp. vanilla.
Blend all this together and put in the cooled crust.
Now for the 3rd  layer.  1 large package instant chocolate pudding  and 3 c. milk.
Mix pudding with milk. Mix well. Spread over the second layer.
Last but not least. Spread 1 cup Cool Whip over other layers. You can garnish if you like with chocolate chips, coconut, chopped nuts. Refrigerate for a couple of hours.
Now I know some of you are going to laugh because you know how I hate cooking. But when I first married I cooked and tried a zillion things for my hubby. This recipe I am about to give you was one. I entered it one year in the  1987 Alabama State Fair and walked away with BEST IN SHOW! Still have my ribbon to prove it.
My No Name Pie.     I don't remember where I got the recipe. So just call it NO NAME!
1 stick margarine    1 cup chopped nuts   1 cup graham cracker crumbs   6 oz of chocolate chips   7 oz shredded coconut and 1 can Eagle Brand milk.
Melt butter in 9x 13 inch pan. Sprinkle graham cracker crumbs over the butter. Add a layer of coconut and chocolate chips. Pour one can of condensed milk and spread lightly. DONT MIX just spread. Sprinkle pecans on top. Bake at 325 for 25 to 30 minutes. Cut in squares and you are going to love this..  Overload on sweets but good.
Both recipes are wonderful. If you try it let me know how you like them.