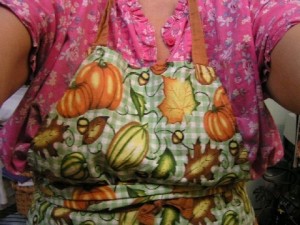 You all that read my blog from time to time or my Facebook, know that  I fuss, moan and groan about cooking. I do not mind sewing, cleaning house (sometimes) or blogging. So I decided to go at this a different way.
I am going to blog about my cooking adventures. Maybe this will inspire me to do better and cook more.
Yes this is me in my gown that I wear around the house all the time and I even have on my Edith Bunker apron. I wear this gown because I do not see any sense in wearing clothes in the house. They last longer if you only wear them when you have to go somewhere. You are more comfortable and I do not care if Clorox or cleaning products get on this gown. It is always clean and I just love it so I will be wearing it in my cooking post. I may get really adventurous and start a video on cooking! Now that will be a hoot!
Gary and I love to go to Panama City Beach, FL. There is a restaurant we absolutely have to visit each time and we have been eating there since the early 80's. The Boars Head.
Linda is our favorite waitress and the food is awesome. One great thing is their Key Lime pie. They use almonds in the crust. This Thanksgiving I was going to ask Linda if she would get me the recipe. She has been there for 35 years I think. Guess what. They were closed and we did not get our pie.
When we got home after a week in FL I knew it would not be the same without the pie. So I googled Key Lime Pie with almond crust and low and behold there was a recipe. It took me three stores in the country community I live at to find the ingredients and I probably paid four times more than I should but I did.
I decided to give it a try. So here is my progress. I will give you the pictures first and the recipe will follow at the end of the post. I hope you enjoy the pie. It was not hard at all.
First of all I decided to use fresh limes. Here where I live we basically have those stores that is combined with gas station. QuickMart I guess you would call them and one small store. Lemon juice was everywhere but lime juice was not. I got 3 fresh limes. Nothing smells as good as a fresh lime cut up. The slices are also good to use in your sweet tea in place of lemon slices.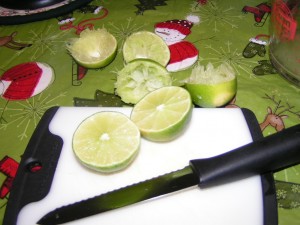 I then found my Granny Sadie's juicer thing. I am not sure what you call it but it is made of glass and you put the cut lemon or lime on it and twist. The seeds fall in one area and the juice another. Works pretty good. I have had it since 1972 and would not take anything for it.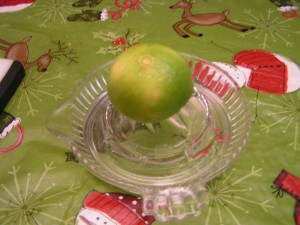 I am not very talented at separating eggs. I am one of the folks that think if you can't use yellow and white part of the egg you do not even need to be putting them in recipe. Well one year at Homestead Hollow I decided to buy me this hand thrown egg separator. I put it up in the cabinet and forgot about it until it was time to separate these eggs. It worked like a charm. For someone who does not like to cook and know the correct terminology to use.. I have some pretty neat things.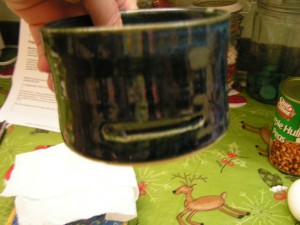 The separator in action.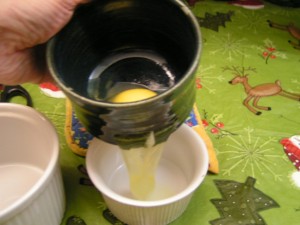 It worked really good . The white part was thick and I had to gently tug it but it separated the white from the yellow part really well.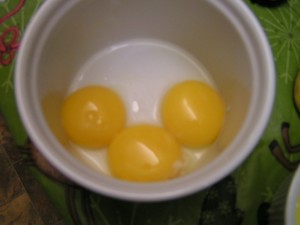 I went to pick up the eggs to move them over to where I was going to start mixing and they reminded me of Mickey Mouse!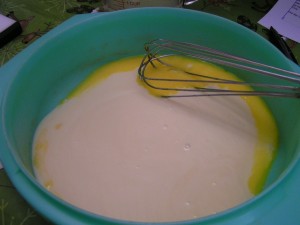 I started mixing up the ingredients. This Tupperware bowl is 40 years old. I have had it that long and could not bear to part with it. I do not have to measure somethings I have used it so much I can just eye it and get it correctly because of the bowl.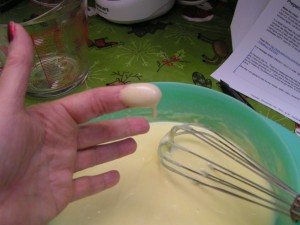 Is there ANY doubt in your mind where this is going? YUM!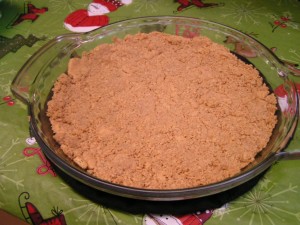 The pie crust made with almonds. Recipe to follow the pictures.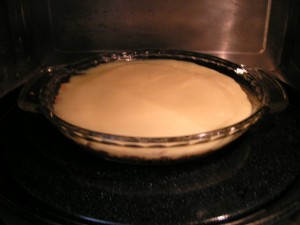 Pie in the convection oven. This time I had it on oven and not microwave as I did two weeks ago when I smoked up the house and caught the bread on fire.
Now the pie turned out wonderful. The recipe stated to take the egg whites and make meringue. I don't make meringue and I rather have a dollop of Cool Whip or whipped cream on the pie. So I threw the whites down the sink.
Here is the recipe and we gave it 5 stars EVEN THOUGH I left out the sugar accidentally and did not miss it all. If I make this again I will however add the amount to the crust that it called for. But for the pie..I will leave it out.
Key Lime Pie
FOR THE CRUST:
1 cup graham cracker crumbs.( I crushed my own crackers but you can buy them already mashed up.)
2/3 cups blanched almonds, toasted lightly, cooled completely and ground in a food processor.  I bought a small pack in the store. Put them on a pan and baked 350 for maybe 10 minutes or until they were as brown as I wanted them. Let them cool and ate a few and then ground up the rest.
1/2 stick of unsalted butter, melted and cooled.. This measures out 1/4 cup.
1/4 cup of sugar.
In a bowl combine above ingredients. Press the mixture in a Pyrex or pie dish that can be put in the oven. I lightly sprayed butter flavored spray on my pie plate first. Put in oven heated to 350 degrees for 10 minutes or until it is as brown as you like. It depends on your oven and if you are like me confused at cooking because it said to heat it until it was brown. Well hello the Graham crackers are brown to start with.. I think I may gave it an extra 5 minutes in the oven.
FOR THE FILLING:
3 large eggs. Let them stay out on the countertop until they are room temperature and separate the yellow from the white.
1 can Eagle Brand condensed milk. Eagle Brand is all we ever use.
1/2 cup key lime juice. You usually can get this in the grocery store where the bottled lemon juice is. Where I live they never have heard of lime juice so I had to get 3 fresh limes and squeeze the juice out of them. I am glad I could not find the bottled lime. This was a much fresher flavor.
1/3 cup sugar.
Mix all this well . I stirred slowly mixing each one ingredient at a different time. The recipe called to chill the pie for 1 hour. I did not.. I guess I should have. I baked it in the oven 350 degrees for 15 minutes and it made the pie set.  Let it cool or chill in the refrigerator for a couple of hours. Cut and put a bit of Cool Whip or your favorite mix in a can on the slice.
This was very good. I don't think it was as good as the pie at Boars Head but that may be because of the atmosphere of the beach and someone else making and serving you. Next time I go down I am going to see if I can get Linda to give me the recipe.
Like I said I give this 5 stars. Idon't cook cakes and pies all the time but during the holiday's I say go for it. Someday I may make this again. It was just good. It lasted two of us a week!  Stayed tuned for the next episode of " Cooking With Sadie" real soon! HAPPY EATING!