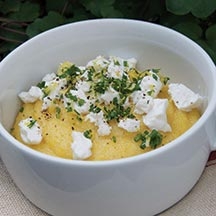 Sadie is going to try this recipe this week. I will let you know how it works out.
I get emails occassionally from Mary Jane's Farm. If any of you do not know about the magazine they  have you are missing out on a good thing. I get it and I just drool over everything in there.
Then I get emails from them. This was one http://www.maryjanesfarm.org/recipe-project/recipe-20120102.asp
It looks great. Polenta with goats cheese and a few other things.
You can go to http://maryjanesfarm.org/ and see more about them.
They even have a blog http://www.maryjanesfarm.org/MJFBlog/
I JUST LOVE MARY JANE!