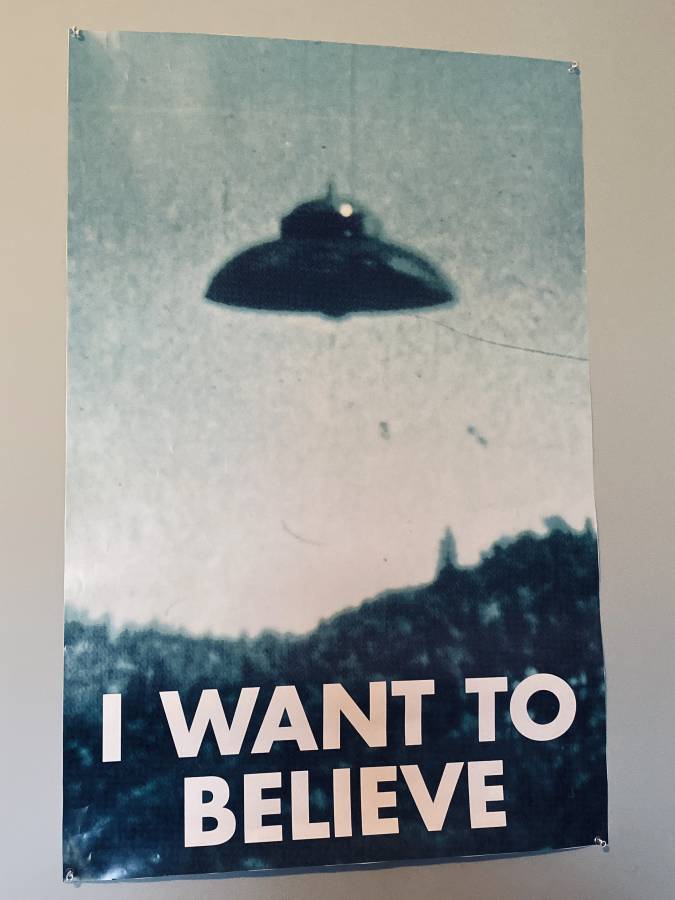 I WANT TO BELIEVE these UFOs I am about to show you will disappear before summer. I spend too much time in the evening with my computer seeing who is doing what or going where and watching too much TV. I have decided to start tackling these UFOs (and yes I do believe in real UFOs). I am not that close-minded that I think we earthlings are the only ones! I just wish one would land in my back yard! Bear with me. I am really prolific at times!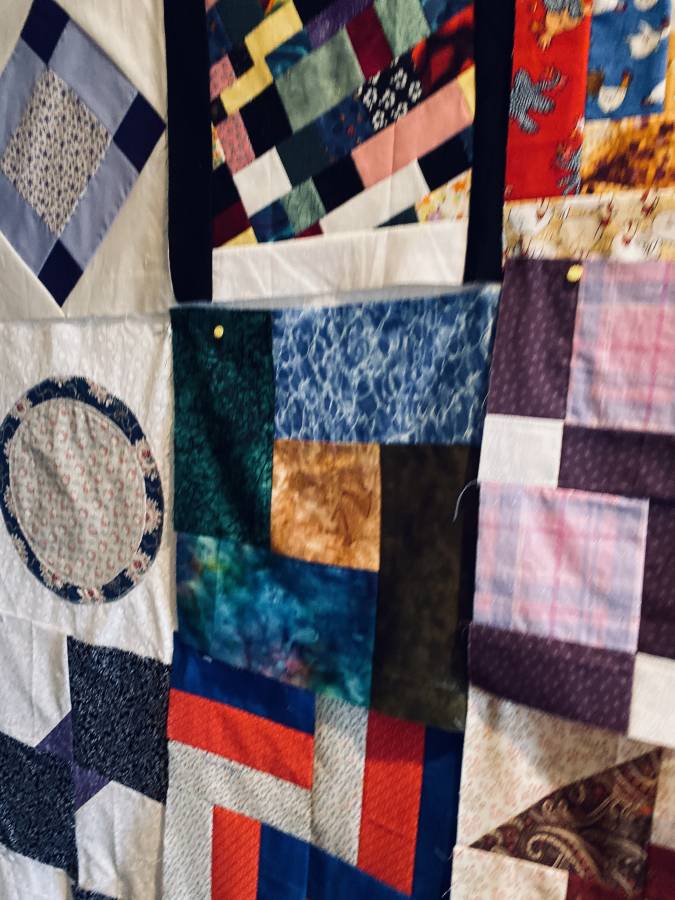 This quilt has been hanging on my design wall for months! ORPHAN BLOCKS!
These blocks are on my design wall. I have tossed around what to do with them. Do I want to make a quilt? Do I want to cut them up to make pincushions out of them? Do I want to donate them? What do I want to do? Next picture, please!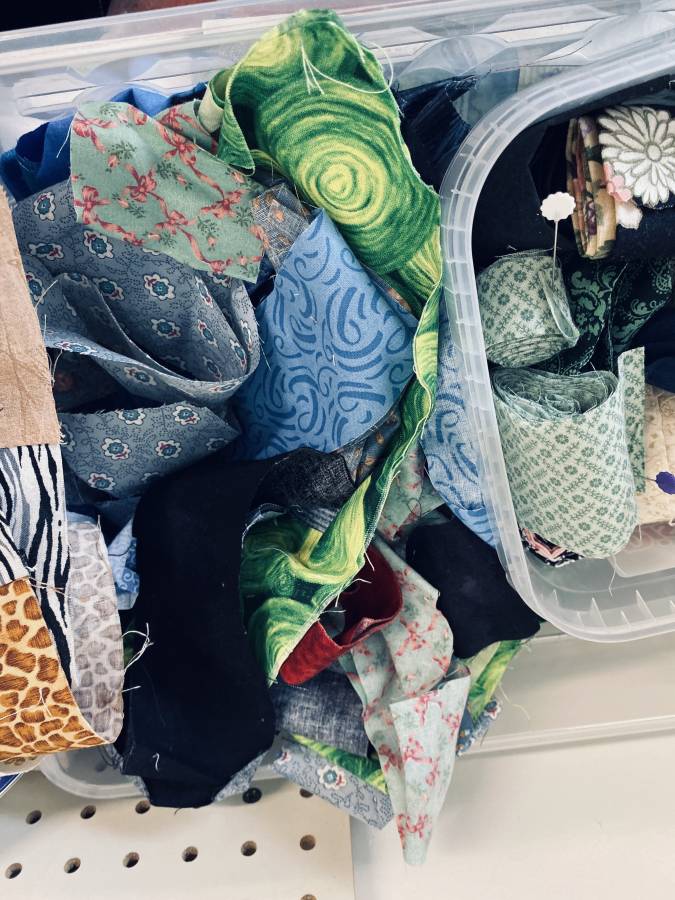 Here is a tub of miscellaneous bindings, all colors, all sizing. I am going to grab a block and pick at random four bindings. All four sides of the blocks will be different bindings. I will take them off one by one so I will not have two of the same bindings next to each other.
Stay with me!!!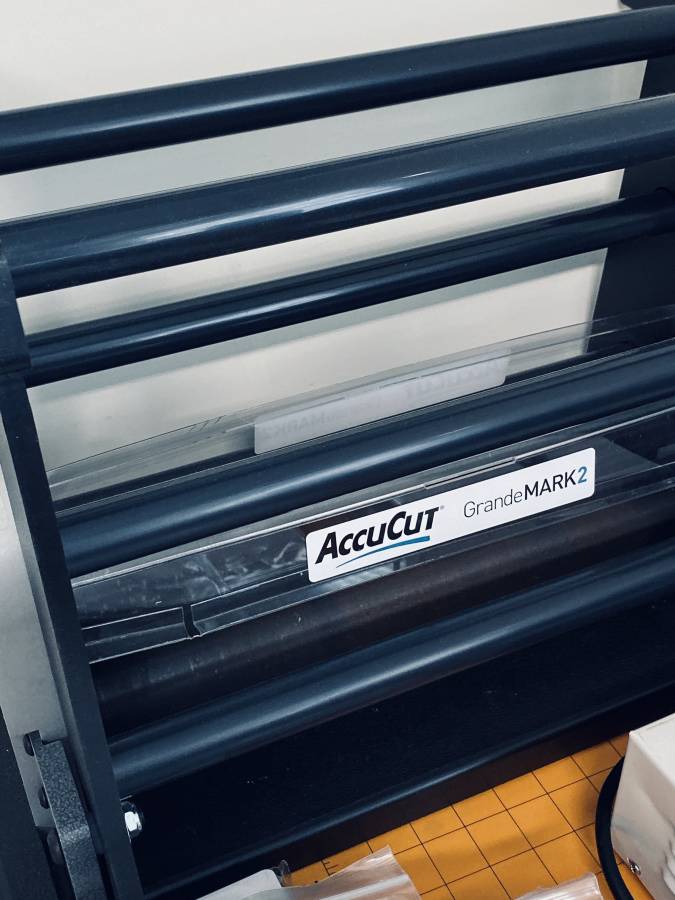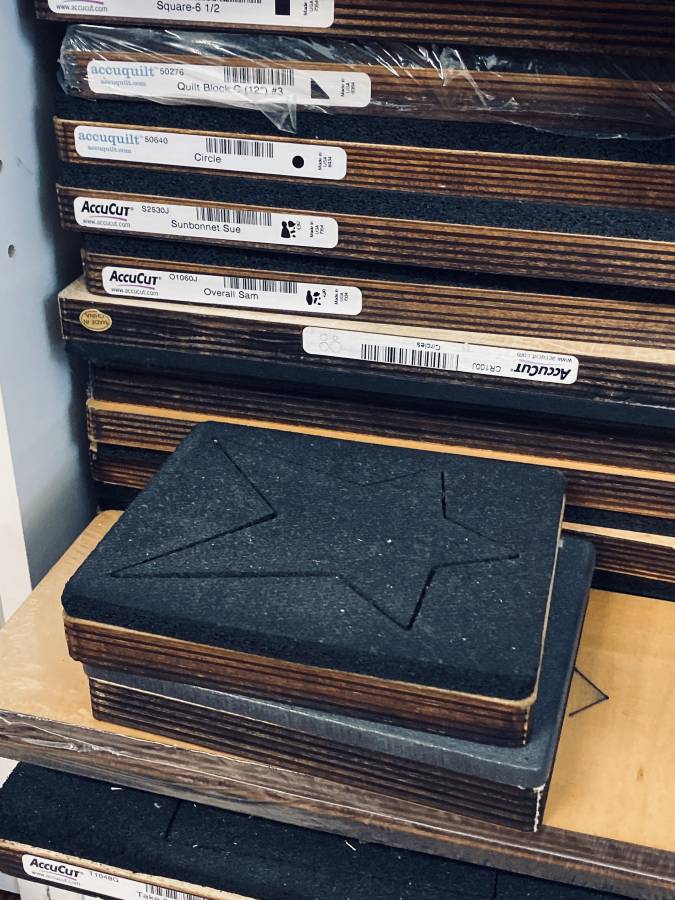 My husband has had terrible issues with his back and he is on the mend. I can get back to my studio now and start working on different projects. His first job is cutting up some kits for me. I have a lot of these dies and the perfect cutting machine. I have a lot of scraps and he can cut them up in little squares for me to sew a postage stamp quilt. SEE NEXT PHOTO.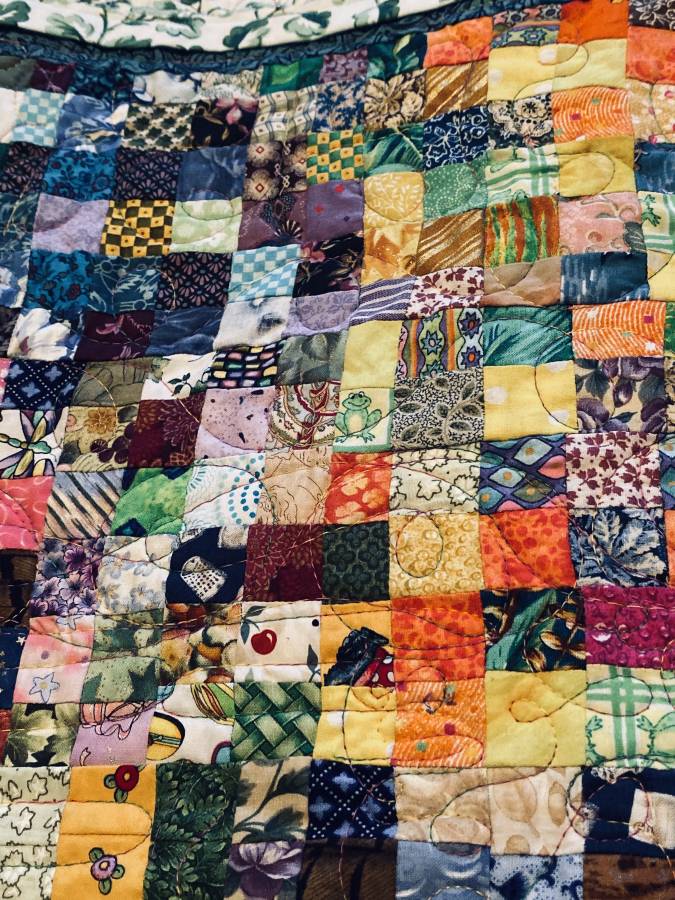 Actually this postage stamp quilt my husband cut out the pieces and assembled it. I quilted it on my Tin Lizzie 18 Long Arm. I am about to get to that!
Hang in there!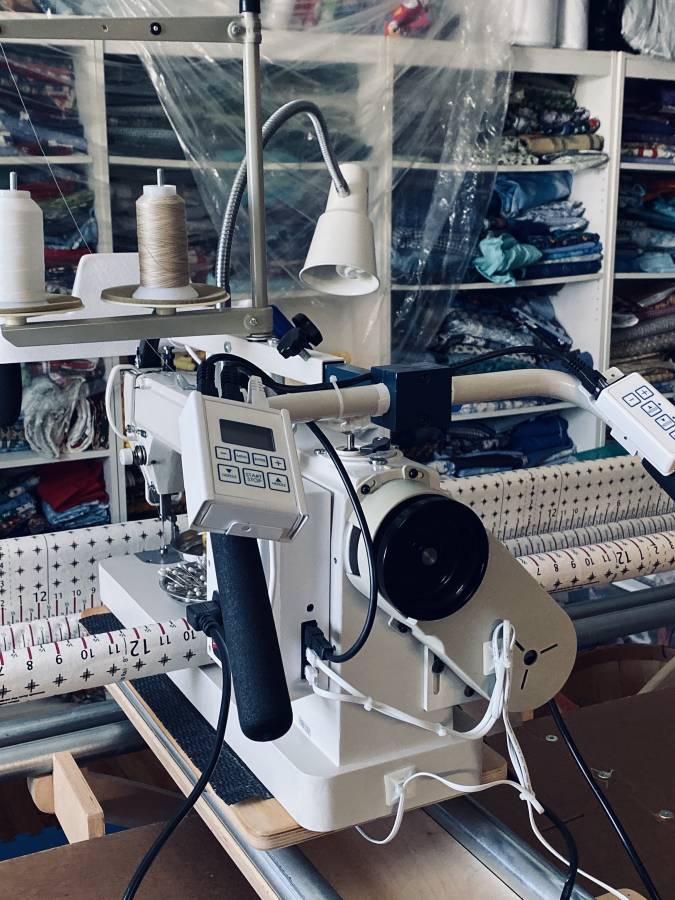 This is the back of my machine. Tin Lizzie has a set of handles on both sides. Thanks to Tony Colson S & R Huntsville, AL Wonderful man and has the best shop! Actually he has one in Decatur, AL, Guntersville, AL, and Huntsville, AL  He is my service person. He makes house calls.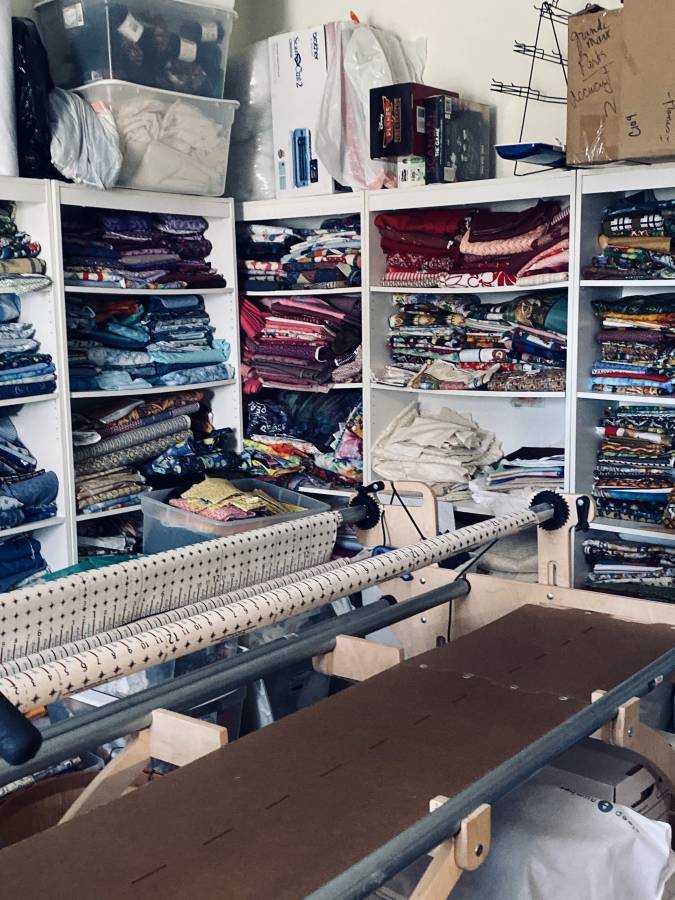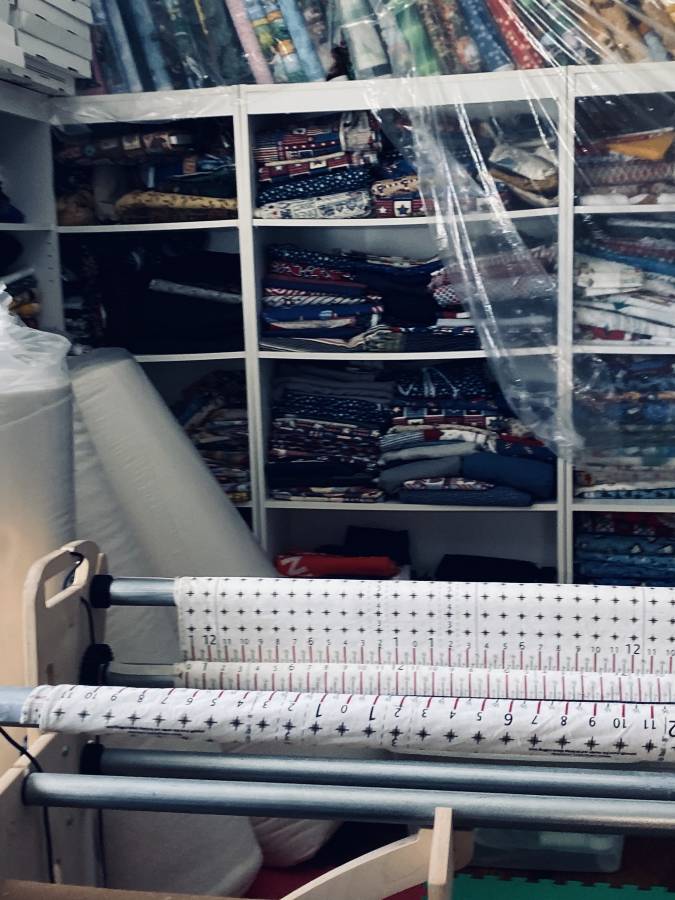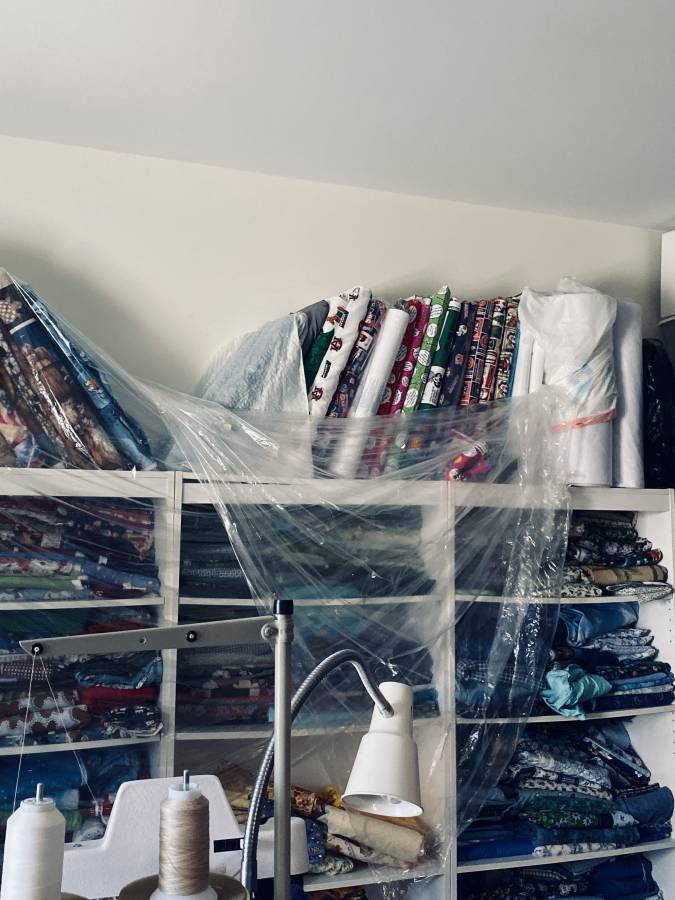 This is just a tiny bit of fabric in my studio. I HAVE ZERO excuse not to be creating. I have a Brother Dream Machine 2 and I adore it but I am going to have to make myself conquer my fear of this long arm machine. Nothing wrong with it, it is me. I do not know if it is I do not like loading a quilt on the machine, or if I just hate rolling it, or is it the tensions?  I freehand all my work. My machine has a computer box I just did not invest in the computer. I like the freehand. I think I have a lazy streak because when I do use the machine I lose myself in all that I can do. I can not draw a straight line with a pencil and paper but I work wonders on this machine!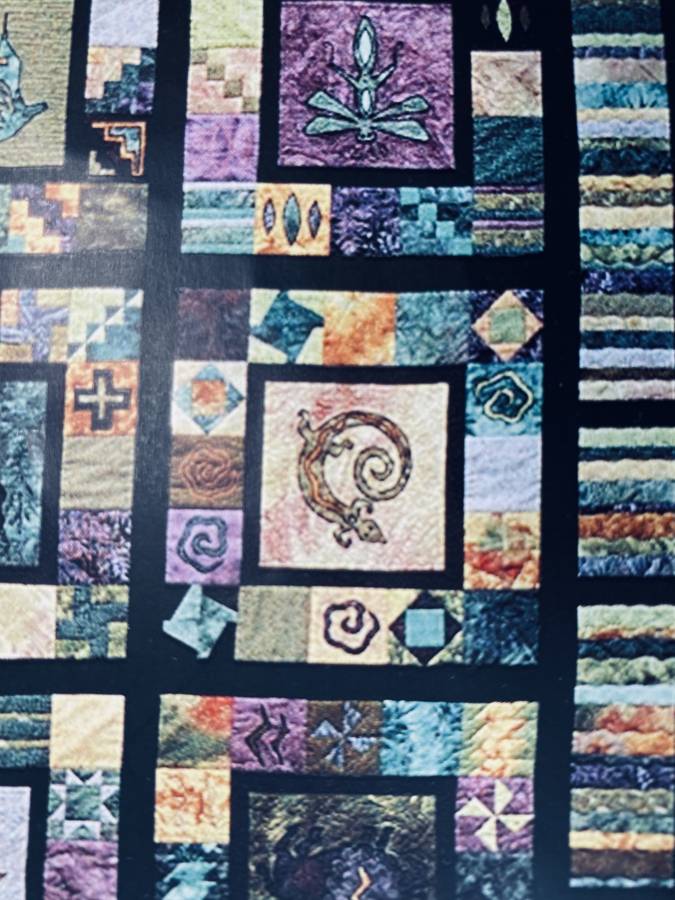 I suck at pictures. This is a quilt I need to finish. I have everything sewn but those tiny blocks. THAT IS ONE UFO I have to shoot down this year. I have had this pattern maybe thirteen years! $200.00 for the kit because I could not believe I let go of that much money for a fabric kit but oh I loved it. I am going to finish it use it.
I don't know why these blocks are upside down. I sure did not take them upside down. They are part of the kit I am going to finish in the real near future.
WELL HECK, I see the picture of the pattern is upside down. Could you please just stand on your head or turn the phone or computer around. I am sorry. I have yet to figure out on my blog how to make the pictures flip. That will be a lesson soon.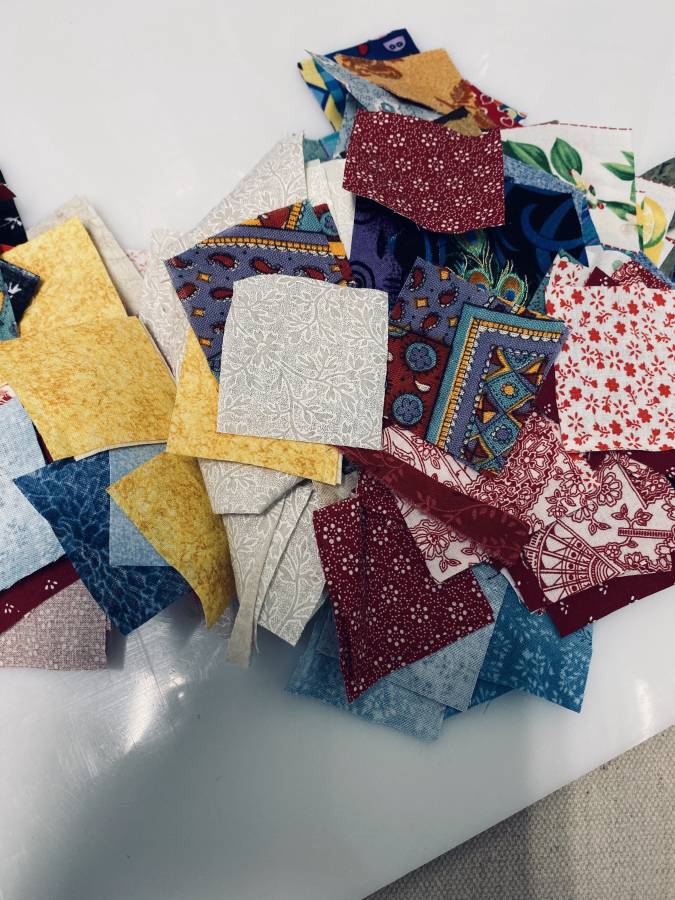 My husband's job is to take scraps and cut in these tiny squares for me to sit back down sew them together unless he gets a notion to and that would be fine with me! He is a great quilter.
His mother once asked me "Chris, why do you take a perfectly good beautiful piece of fabric, cut it up put it back together!" Yes, she was serious.
Two rag quilt dies came in this week to tackle all the hundred-plus yards in the next picture.  Go! Go! Baby! Go!  I love anything Accucut has or Accuquilt!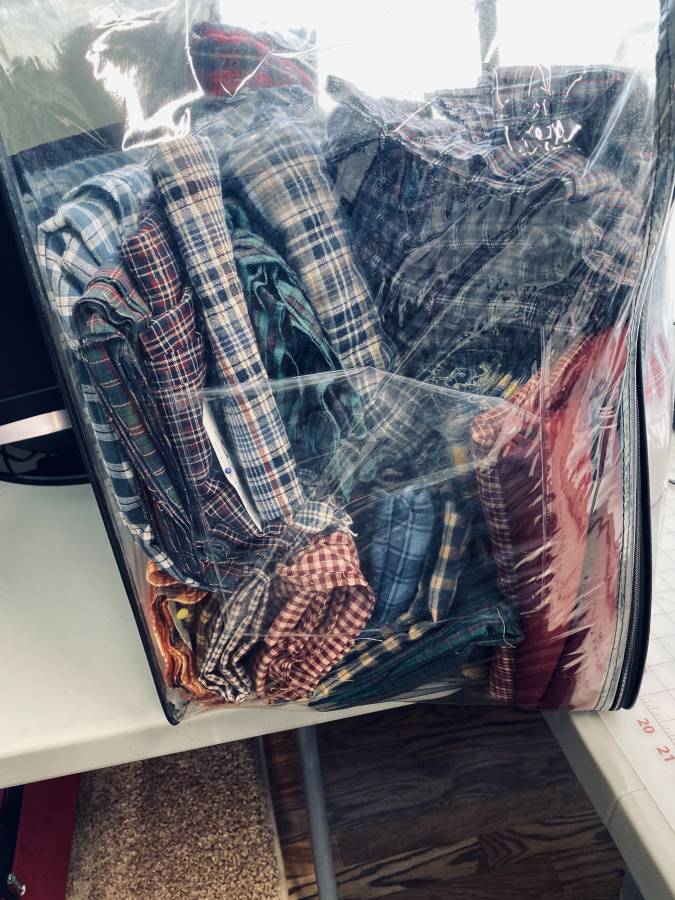 A rag jacket may be in the future also! Gary is going to be one busy man!
Upside down, sideways, just like me. But these scrap pieces will be a pincushion or two or three. I bought several bags of pink sand to fill them up with. I think one bag will do a lot of cushions. I love that snake with Virgo. No, I do not have a snake and I had to end one's life this year when I was trying to shoo it away from trying to crawl under the garage door and it came at me with a vengeance. It tried everything but jumping off the water barrel I have to collect rainwater to get to me. I am sorry, it had to go.  I do like snakes on fabric, tattoos(I have none, yet) jewelry, just do not want one to live with me.
I started on this tumbler quilt several years ago. My friend Linda has a fire built under me. She is finishing her UFOs a lot faster than I ever imagined. Now I got to keep up!
I love writing messages on my quilts that I put together on my Tin Lizzie 18. This also was King Tut's variegated thread! Beautiful thread! Yes, I love Cam Newton!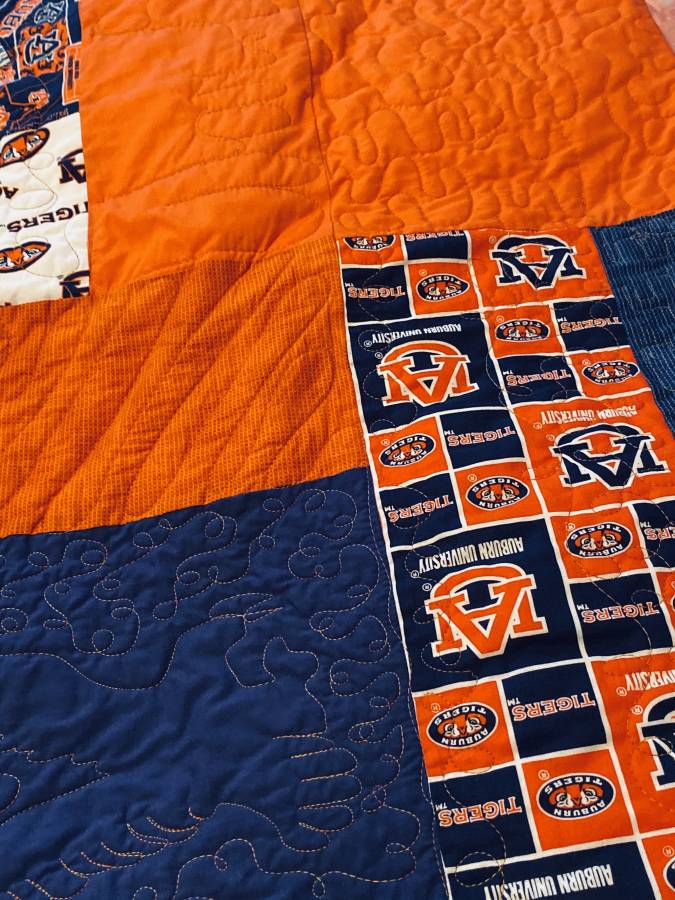 I promise I do not know why the pictures are upside down but if you look closely at this quilt, I quilted an eagle in the blue.
Halloween wall hanging or door hanging!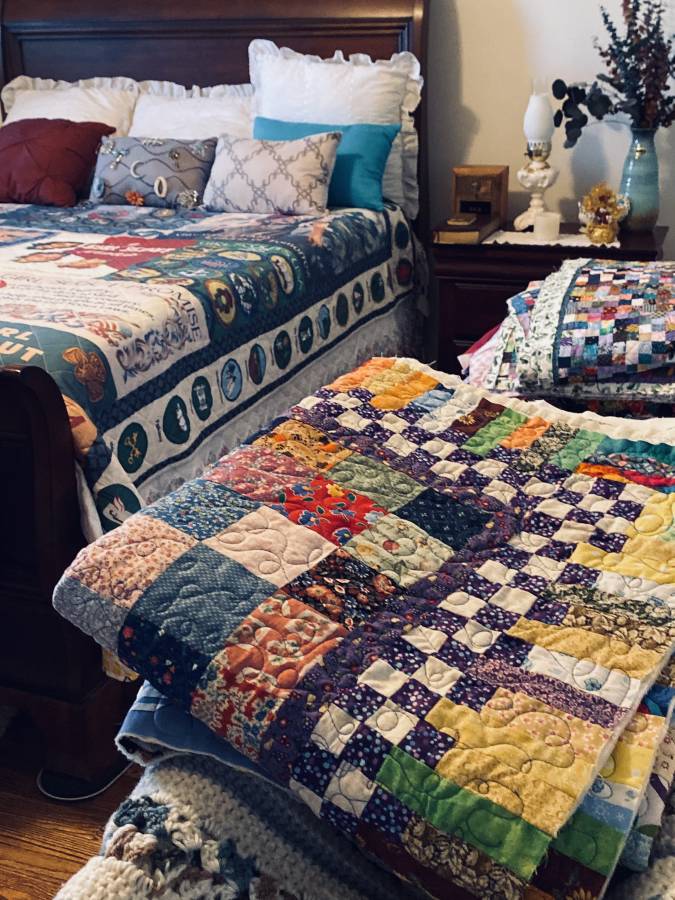 The above quilts only need bindings. A couple already has the binding sewn on it just needs the finishing by hand. I got to make a list put it in my day planner. OH WAIT, I accidentally threw it out in the garbage. Don't ask makes my blood pressure go up. It was packed full of info and ideas. It is gone along with my year-long football schedule I printed out and probably with my t-shirt quilt.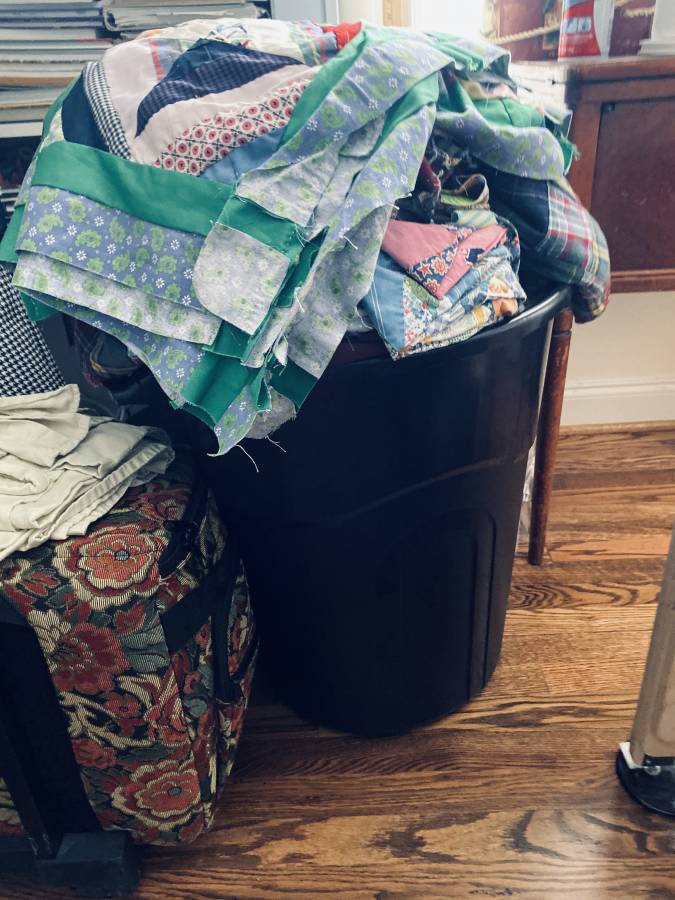 This garbage can is FULL of tops to be quilted. SOON VERY SOON.
This is a quilt commissioned for someone. I like both patterns and I am not sure right now which one I am going to do. I have to sleep on it!
My friend Kate, gave me this top in some fabric she gave me. I love it. I think it is going to be the first thing loaded up on the Tin Lizzie. First project!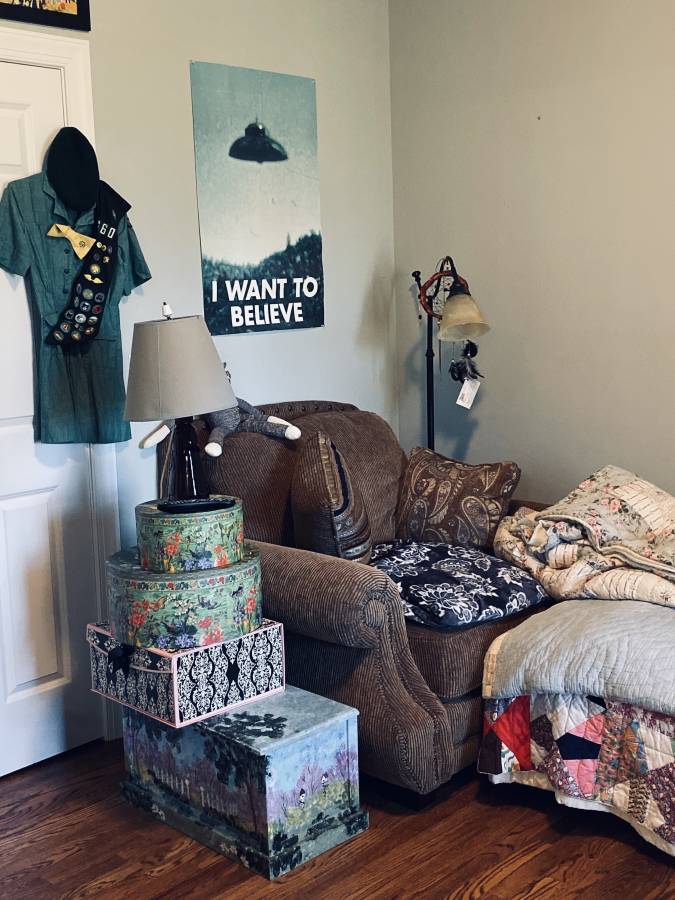 Here is part of our sitting room next to the sewing studio. It has a big TV in there and a rocker along with all my hippie items on the walls. I just did not take a picture of it. Now that blank wall will have a big surprise in the next few months as long as I get the courage to get up on a ladder! My husband, can sit in there with Elizabeth Taylor and watch TV while I sew when he is not in the mood to cut out the pieces on the die. Elizabeth Taylor is the poodle that we will be picking up Monday. I do not think I ever will grow up. I still love stuffed animals, with sock monkeys coming in first place!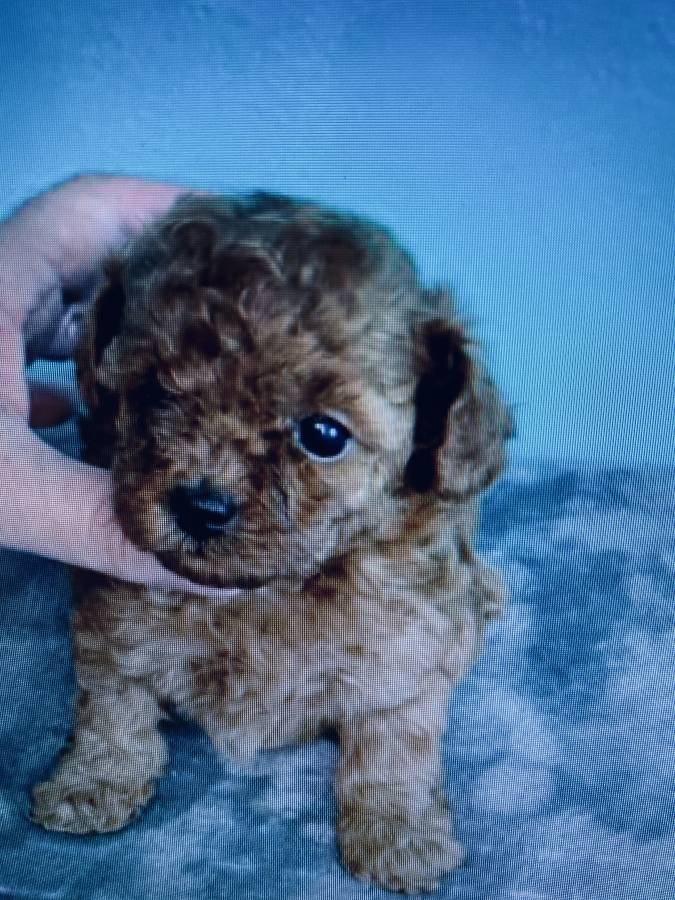 Say hello to little Miss Elizabeth Taylor Wheeler. She will be our baby this Monday! I have not had a dog in over forty years! Yes, I am starting to be a mother @ soon to be 66! New adventures with much love! I think she will be good for my husband. We already love her. It is going to be nice to have a little baby in the house! The Adventures of Elizabeth Taylor Wheeler, coming soon!
Oh if you buy stock I suggest  Chewy.com.  I have several boxes in the garage from them.LOL. You know you have to shop for your newborn before they get here! I see her line of embroidered clothes and quilts very soon!