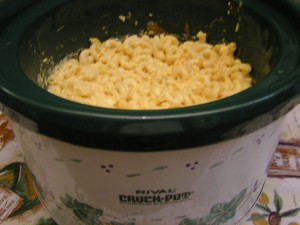 I have been married for 23 years this June. I never thought my cooking was good but Gary always ate it and never complained. Well maybe once. I decided it was time for me to straighten up and fly right or get traded in on a new model!  In an earlier post this month I posted about my wonderful find "Fix It and Forget It" crockpot cookbook at Dollar General for $8.00. Today I saw the same book at Wal-Mart for $15.99.
Tonight Mac and Cheese.  It is wonderful. Here is the recipe and it gets 5 stars and definately a keeper.
Macaroni and Cheese, By Sherry L. Lapp, Lancaster, PA  Page  145
8 oz of elbow macaroni,  I cooked mine for about 10 mintues on stove according to the box directions.
13 oz can evaporated milk
1 cup whole milk.. I used skim.
1/4 cup butter melted,  I did not melt mine
2 large eggs, slightly beaten
4 cups total of sharp shredded cheese divided.  I did not seperate mine.
1/4 tsp to 1/2 tsp salt, according to taste. I did not use much because we do not like a lot of salt.
1/8 tps white pepper. I did not use this.. I used regular pepper to taste when I put on plate.
1/4 cup grated Parmesan cheese.
In slow cooker combine lightly cooked macaroni, evaporated milk, whole milk and butter, eggs and 3 cups of cheese, salt and pepper.   (I combined everything including ALL 4 cups of cheese)  Top with remaining cheddar and Parmesan..  I only had to top with Parmesan.. That is just me.. Sometimes I cant follow perfectly.  Cover . Cook on Low 3 hours.. I covered and cooked on high 3 hours. I was pressed for time.  Before I served it I gave it a good stir.
IT TURNED OUT PERFECT. This would be a great dish to take to your church function or anything else . You could cook it even day before and when you got to function leave it on low and it would stay perfect until ready to serve.
We had serving of Mac and Cheese, slice of pork roast, creamed peas and tea.  I can say one thing. WE LOVED IT.. The first bite… I swear I heard the Mormon Tabernacle Choir singing Hallellujah, Hallellujah!! "cause it was heavenly just like their singing!  
It is wonderful,  a keeper and plenty left over for more meals. This would be great if you had children. Cook it, feed them and put rest in refrigerator for another day.  I may even try to freeze some.  It really is good.