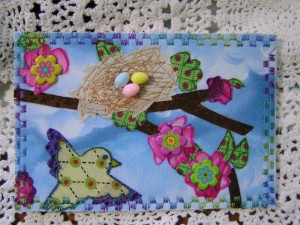 I ended up making 3 of these cards. I was in a Mother's Day Swap and Heart and Soul swap.  Well there are mothers in all species so I decided to make mother bird. I liked it so well I decided to make extras for the Heart and Soul swap also. I hope the people who received this card like it as much as I enjoyed making it.
Yes we have an Alabama Lottery.. Well almost one. Each month on Trading Fabric Postcards we sign up for a lottery. At the end of the month the person who won it the month before draws for the current months winner and that person receives ALL the cards. Carolyn Mathis was the winner for April. I sent her Henrietta. This was the first card I made when I started swapping. I was so nervous that the other ladies would not like it. They did and  I hope Carolyn  does also. I took a piece of fabric and stamped all the postcard symbols in the background and then drew off Henrietta and colored her with crayons!   Carolyn give Henrietta a good home please!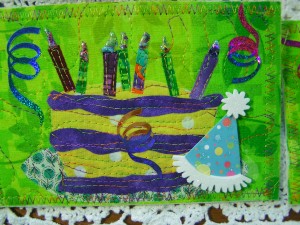 In June we have two ladies having Birthdays that belong to Trading Fabric Postcards Birthday Group. I hope they are suprised and like their cards.  This is on version with a different colored hat than the second one I sent. The hat on that one was pink.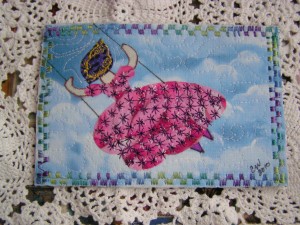 I was in a Southern Belle Swap. Lisa A  and Carolyn M will be the recipients of my Southern Belle Cards. They basically are the same but the hats are different. I am showing you both versions. Tonight I was looking at it and decided next time I make these cards I am going to put yellow fabric and then stitch in yellow the designs that I used on these cards and make them look like hair. I hope you love these cards. I enjoyed making them.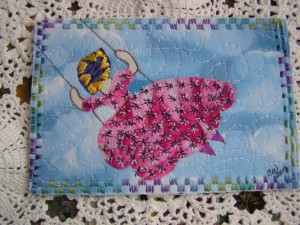 On this one the design on the hat is different. I could actually put say for instance a brown hat on here and then use this stitch in a lighter color of brown and make it look like the back of her hair.  There are all kinds of ideas for this girl.  I call these My Swinging Southern Belles.. I may try to put pantaloons on the next one.  The dresses was some fabric that had pink daisies on it..  I stitched purple stars to give it a design.