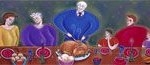 I am setting the stage!
Dinner party for 10.
You can invite anybody that has ever been in existance.
Think about it all day and tonight post:
1.  Who would you invite?
2.  Why?
3.  What would you serve?
Don't feel guilty if you don't want to invite your spouse or family member. This is to be fun and get us thinking who and why..  I have 6 on my list , but I am pondering over the list and I am sure major changes will be made.  No one should say anything nasty about who we choose. It is just a fun thing to do… We should all enjoy who each other picked  and why they did and what they were serving!   NO BASHING PLEASE !
Think about it and post tonight.  Give it some serious thought I am!!
If you are reading this off Facebook  you feel free to post your answers there or leave a comment in the comments box below  on the blog.
Thank you all for participating! I think it will be fun!  Who knows what surprise some lucky person may receive!!!