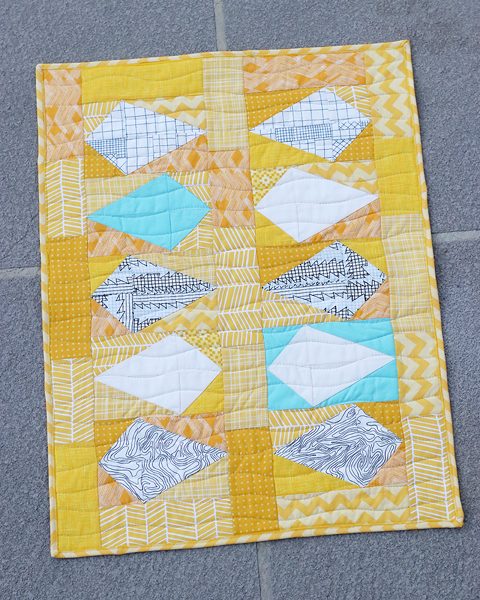 This is one of my favorite quilt artist, Kirsty and I love her patterns. She does give you a lot of free patterns with awesome tutorials. Who does not like FREE??  In our economy today I call it a blessing. She has some pretty reasonable patterns for sale also.
Today Kirsty is giving away a kite pattern.
http://www.bonjourquilts.com/scrappy-kites-mini-quilt-pattern/
I want to tell you a kite story. Growing up in a small country Alabama town there was not much for us to do but ride our bikes, go to the library at the school and either the YMCA if your parents could afford a membership or go to the city pool which we did if your parents could not afford a membership and fly kites.
My brother David who is no longer with us and my cousins would go to the local 5 & 10 cent store and get several balls of yarn and David made his own kites. He also would take the balls of kite string as we called it and rolled it up on a stick. He would tie a knot that would not come loose to join the balls of yarn. That may be a reason he did so well in the Coast Guard later in life with the knowledge of the knots! I like to think of that anyway.
He would run back and forth in our back alley when the wind was going pretty good until he got the kite out of sight. All of us kids would be standing out there with our hands shadowing the sun from our eyes seeing the kite disappear. Then he cut the string and off went the kite in space. I have often wondered if a plane was flying somewhere in the sky and passed a kite. I could only imagine the look on the pilots face. Later on in years when I got older I wondered why he did not write his name on the wooden sticks and address. It would have been nice to have gotten a letter in the mail (we did not have Internet or Iphones back then) saying"Dear David, we found your kite" and it be from some far away place.  David left us in 1990. I sometimes wonder when he walked through the Pearly Gates there on the trees was some of his kites! You know kids and their imagination and at sixty three my imagination still runs as wild as it can!
Don't you dare leave Bonjour Quilts without checking out their blog. Not only are there some great tutorials there are lots of free patterns and reasonable priced patterns for purchase.  ENJOY!!!!
http://www.bonjourquilts.com/blog/
I am going to make one of the kite quilts out of scraps. I think that will be just awesome. Maybe in reds. Stay tuned.