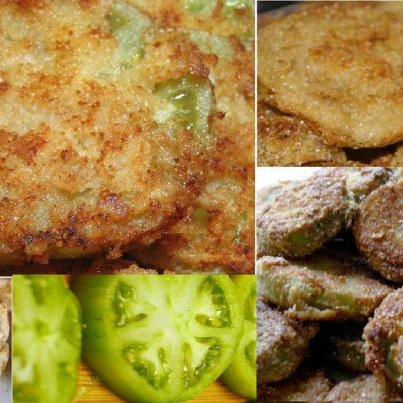 In the South, you are not right if you do not eat fried green tomatoes. Something has to be wrong with you. We will travel miles to a place that makes the most perfect fried tomato.  Heck Fannie Flagg even wrote a book called Fried Green Tomatoes and a movie was made. We have cooked them here and they never made the table. We'd eat as fast as we prepared!
We will grow tomatoes in our Earth Boxes and most of the time they never get past the green stage.
I was glad to see this recipe yesterday about how to make them in the oven.
I will try it and let you all know the results. Oh I may substitute a tiny bit of grape seed oil for the butter. Maybe!!! I feel a platter being prepared soon.  Oh also on the recipe I will mix 1/2 flour and 1/2 cornmeal. We have always just used the flour to make ours.  Well to tell the truth I probably will make them 3 or 4 different ways. It sounds awesome.
Oven Fried Green Tomatoes
4 Green tomatoes, sliced
½ stick butter, ¼ cup
1 tsp salt
1 tsp black pepper
1 cup flour or corn meal
1 tsp baking powder, heaping
Preheat oven to 400 degrees F. Melt butter in a baking pan. Stir in salt and pepper. Coat sliced tomatoes with flour and place in baking pan. Bake on lower rack of oven for 8 minutes. Turn oven up to broil in order to brown tomato slices. Serves about 6
Granny's Favorites Cookbooks