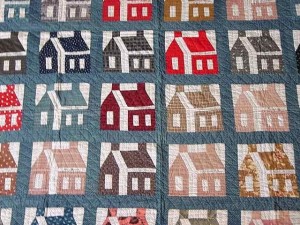 A friend of mine, Mary on Facebook asked me last week to be in a friendship swap with her with quilt blocks. She wanted a  bug  jar. She gave me all the dimensions and stated that I had to sign the jar lid. I agreed. It seemed like fun. 
Tonight I was looking online at different sites, blogs and such and I came across the above picture on eBay of a signature quilt. Then it came to mind that I would love to do a friendship swap with this house block.
Any takers?  Anyone interested in swapping signed blocks?  If so let me know by emailing me at
SadieMaesAttic@aol.com
and put Signature Block Swap in the subject. We will talk about the details. I will provide the pattern.
I hope to see you there.