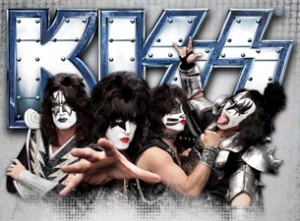 I heard today on Magic 96.5 FM that KISS is coming to the Oak Mountain Amphitheater in July. I nearly ran my car off the road! Everyone that reads this quilting blog from time to time know I go a little off the subject of sewing, creating, cleaning and cooking to my dark side meaning that I am always talking about my hearts desire ..a pair of the Demon Destroyer Boots size 8.5 ladies.
Ok I was thinking today since I don't fly that I along with Gary could drive to LA and I would clean the Simmons abode for a week for a pair of these boots. They could even film me on my hands and knees in the latrine scrubbing! I don't care . I am not too good to work for what I want.  So Shannon no need to worry, that is the ONLY proposition I would be making Gene.. Let me clean your house, you give me a pair of boots. He does not even have to be there. I could just clean and talk with you while I worked. Let me warn you. You would have to do a voice over because I sound just like Ellie Mae Clampett on the Beverly Hillbillies!
Seriously I have always wanted a pair of these boots. I can see Aunt Jan rolling her eyes now.
To all you KISS FANS go to http://www.magic96.com/main.html for details or you can always go to the below link to get your tickets and get ready to ROCK AND ROLL!
GENE I WANT THOSE BOOTS!!!!!!!!!!