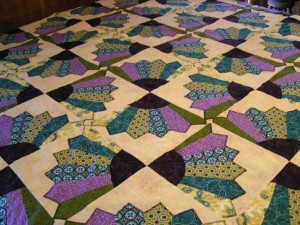 Finally the quilt top is finished. Now on to the quilting part.  I did buy some very interesting fabric for the back. I really like it. When the quilt is finished I will post a back picture as well as a front picture.  This is going to be the last  Grandmothers Fan that I plan on doing.   Sometimes after I do so many that is it.   Well this is it. I dont think I could do another.
I love scrappy and I am going to only do scrappy old fashioned quilts the rest of this year and the entire next year. I hope I do not get tired of them.
I met with my webmaster Carol yesterday. Our heads are bursting at the seams with ideas.
Stay tuned for more information at a later date. See that is a reason to come back for a visit.