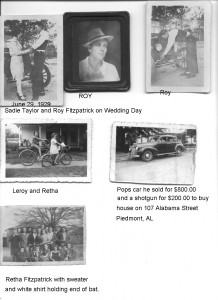 In the top left you will see my Grandmother Mother and Grandfather known as Pop and Granny.  Sadie Mae Taylor Fitzpatrick and Lee Roy Fitzpatrick on their wedding day June 29, 1929.  I am not sure where they were married but I would say Alabama. I will have to ask their daughter, Aunt Janice.
No one on the face of the earth but me will know what they meant to me. They basically raised me from birth until I was 13 and Granny passed away and then two years later Pop lost his life in a car wreck in Florida.
I am so thankful for their wedding day. If it had not been for that I would not be here today.
Happy Anniversary Pop and Granny, I love you and know you are happy in your new home together! There is never a day that passes that I do not think about you both.