As long as I can remember I was called "Tiss" by my cousin Johnny. He had a tiny speech impediment. As kids growing up he would entertain us with his adventures . He told us tall tales and had us believing every one of them. He was the "story teller" of the family. He did not lie he would just make up stories and make us think they were the gospel. Like the time he bought a pair of those xray glasses out of the back of an old detective magazine. When we would come in the room he would say he could see us without any clothes on. He would sit there and grin. I was horrified. I asked once if I could see them and he said no that they were specially made to the specifications of his eyes and only they would work on him.  I would come in the room covering my body parts with my hands the best I could so he would not see me!
In the first grade we went to the hospital together to have out tonsils out. I would cry when it was time to get a shot and he would say "Dont cry Tiss, It only will hurt 15 minutes." Somehow that made it better.
Johnny had the best collection ever of comic books. I spent many times reading the Adventure of Archie, Veronica and Jughead and then see what Superman was up to. Aunt Margaret did not know what comic books were worth later on and I must say I am sorry to say that she had a cleaning out of the house and they went to the garbage. He kept them in the dining room in the bottom of an old china cabinet she had. She probably threw away "most a million dollars."
He had a monkey. So Michael Jackson, you had nothing on him. He wanted a horse and Big Daddy bought him a horse.  He and I got a baby chicken one Easter. Mine did not live to long and his lived and was one old mean rooster named Chickadee. You would get out of the car and be walking to the porch at Big Mama and Big Daddy's house where Johnny lived with his mother and daddy, and that chicken would come out of nowhere and jump up on your back and peck the devil out of you. I hated that thing. I am not sure whatever happened to Chickadee. Do you eat roosters? Aunt Margaret made some great fried chicken and a washtub full of her famous potato salad. She was famous for her potato salad.
In the 50's we made our TV debut. Aunt Margaret took us to WTBS in Atlanta to be on the Popeye Club with Officer Don. Gosh we had a blast. I remember us looking up and seeing the glass box type room where the parents were sitting watching below at the children. We dreamed about being movie stars and we thought since we had been on TV we were.
Johnny was the most awesome baseball player. He would play ball at the "Y" in Piedmont. When he came up to bat they just stood there and did nothing, just watched. Pitcher would pitch the ball and he would knock it out of sight. You would hear the bat cracking , the crowd hollering and all of us cupping our hands over our eyes to keep the ballpark lights out of the way so we could watch it dissappear. I know in the Mill Village , where the workers at the Standard Coosa Thatcher cotton mill lived, there had to be many houses with the metal roofs dented. He could knock a baseball several blocks away. Up in the air and out of site. He got a letter from the Braves in Atlanta in the 60's I think it probably was stating they would like to talk to him about playing for the Braves when he graduated. He quit school at 16 and went to work. There went the baseball dream.
Then in 1960 he and I were in a Tom Thumb Wedding. We felt like royalty all dressed up in a bridesmaid dress and him in a suit.
 His birthday was today. This is the first time in a very long time that I did not buy a Halloween birthday card to mail to him. If I had I would have had to sent it to Heaven.  Johnny is not even thinking about his birthday today. He is having a far more better time. I do miss him and I love him.  Happy Birthday Johnny!  October 28, 1953-December 16, 2009.
Love, Tiss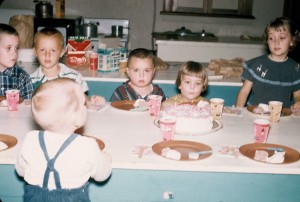 That is Johnny standing next to me while I am blowing out the candles on a cake.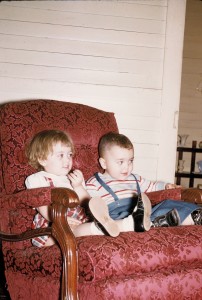 We sure were enjoying Big Daddy's old rocker.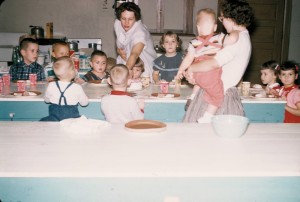 Mother getting ready to cut the cake and Johnny surely giving it the eye.. He wanted some cake!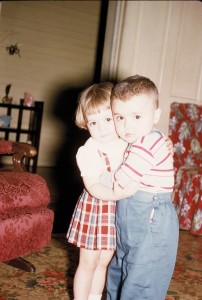 We were so cute.. Our clothes almost matched.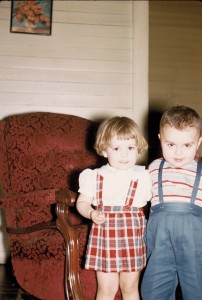 I bet he is thinking about those glasses he is going to get in the future!  Look at that little devilish look on his face.
Chris and Johnny in the Tom Thumb Wedding.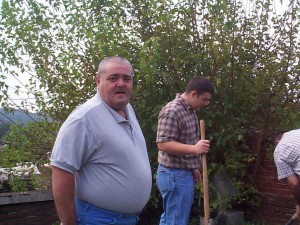 This is Johnny. It was on the day we buried his mother's ashes.