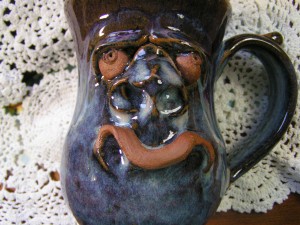 I love face jugs and pottery with faces on it. I do not buy to many of them because I swear each time I go to get a piece of pottery the face looks like a relative of mine and I just cant bring myself to get it. Creepy. 
I did not "birth" any children of my own. However when I married Gary 23 years ago June 12th, I also got two lovely young ladies. They were just teenagers. Today they are grown, beautiful, sweet women with their own families.
They never forget me on special days with cards and gifts.  I could not love my own children any more.
This year Kim gave me this face mug. I am so glad she picked it out for me. It does not look like anyone in our family!!!
I have some good news soon. I will post about it later but it is great!  We are all very happy about it!
Thanks Kim, Curt and Chase for the mug.  I will treasure it always.