Happy New Year. I am ready for you.   I did not post much this year. We started back in March designing and getting ready to build a new home. I have an awesome quilt area or studio as some may call it.. I am not finished completely but when I am I will send you a picture.  Here is a sneak preview of my fabric. I think I need to go shopping. What you think? I am blessed to have it right at my fingertips. Nothing bothers me anymore than having to get ready to go to the store to get a piece of fabric to finish a project.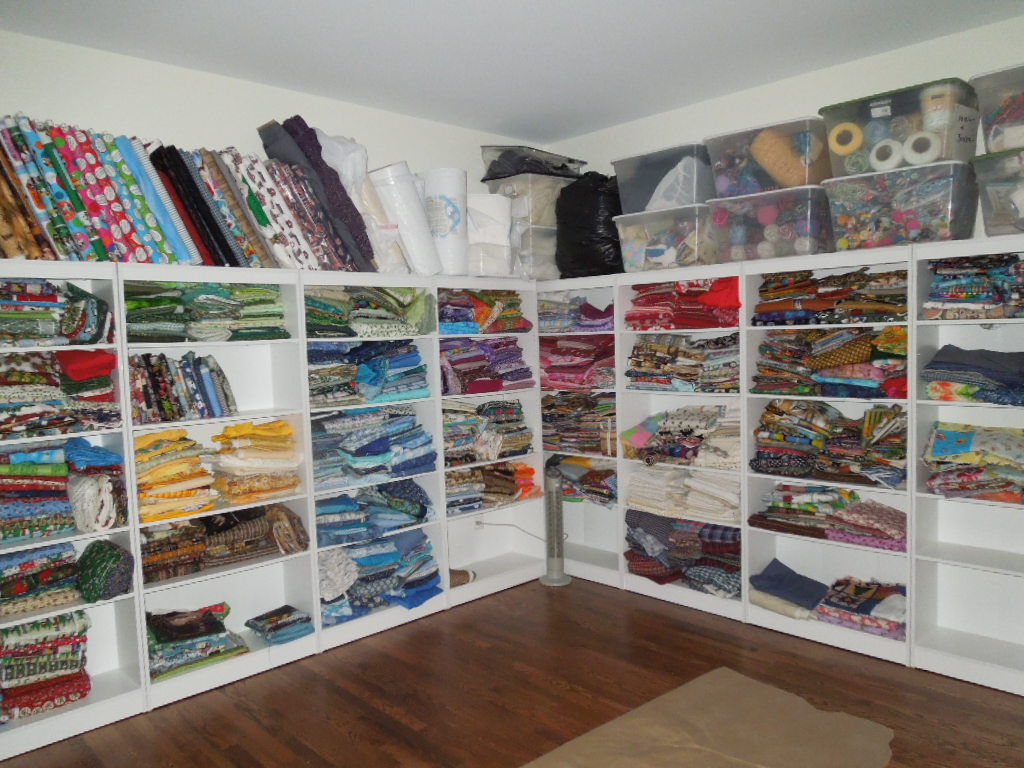 This room is big enough for me to put my long arm in here.  I have been in such a sewing funk. Does that ever happen to any of you. We had a nice home it was small and an attic was my sewing room. IT WAS A MESS..I mean a royal mess. I hated to go up there. I only made myself go when I had to go.
Here at the new home with several huge rooms for my sewing I will be able to just walk around the corner, no steps and sew. I even put a den on that side of the house so Gary my husband can be there watching TV and not miss me. LOL seriously we love being close by each other and he is my official cutter. He cuts all my fabric. My hand does not know what a rotary cutter feels like. I do not like cutting I mess up cutting and he is perfect and he likes to do the cutting. We have an awesome view. I look out to a beautiful neighborhood and two of my new best friends.. Two horses in a pasture across the street from me.  I go over daily and talk to them and rub their noses. They are so cute.
So now that we are about 99 percent finished I am ready to start blogging and being creative.
Did you miss me?
YES THE GIVE A WAYS ARE COMING BACK.. We will start the new year off right.  Just leave a comment here about what you have planned on doing or try to do this year. You know nothing can ever be wrong with anything you try. If you have always wanted to learn to paint with oils. Take a class. So what if your picture looks terrible to you. It is your work. You are only a failure IF YOU DO NOT TRY.  Look at some of the famous painters paintings. They are horrible.
If you want to learn to quilt find someone nearby that will teach you. There are guilds all over the place and someone is always willing to help you. So what if your quilts are not perfect. We do not want perfect we want progress and finding something we love.  Look at the Gees Bend Quilts. They are not perfect.  Look how they are loved and accepted.
I want to learn to crochet. I plan on going to a town nearby here to learn as much as I can. You know you can go to YouTube and find a wealth of information.
HAPPY NEW YEAR AND LEAVE A COMMENT HERE TO BE IN THE DRAWING FOR THE GIVE A WAY FOR JANUARY.
Be happy 2014 step out and try something new. Just think you may be the next famous artist or quilter or whatever and do not even know you have that in you.. GET BUSY AND TRY.. You only fail if you do not try.