Oh and a fussy husband!!! But I adore him fussing and all!
We had the logs stained on our home. It is maintenance. You have to do it every five years max. The front of my house is going to have to be every year and the rest of the house every two years because of the sun it gets. Alabama sun will ruin your home if you do not take care of it.
Roger Speakman who is a great guy, honest man and just a great painter gave me a quote to paint the bedroom that for 20 years has had paneling on the walls. I did not want to pull it down because underneath it is crappy sheet rock covered up with wallpaper from the 70's. I have had enough. I have had enough with a lot of things and the bedroom just added to my pile of aggravation.
Roger is going to start this week on the bedroom. It will be a two day job. Now here is how I roll.. Gary went to the Post Office to pick our mail. While he was gone I got to swinging. Of course I was told NOT to do anything thing until he got back. Did I listen? NOPE am I ever going to listen? NOPE. He will be reading this blog post and I hope he is ok with it because I roll that way. If I can do it I will do it. I did it!
I found the ladder, got the hammer and screwdriver and went to tearing out old molding that did not even match, gaps in between and was just horrible. I figured I would be in trouble when he got home and there were some laying out on the sun porch ready to take to the place to stack it so we could take it to the dump. I took my chances. It is like being grounded. If your parents told you that you had to be home by 10 PM and you were there at 10:05 you were grounded. My thoughts on this stay out to 1 or 2 am because you were already in trouble and you may as well make it worth your time and punishment. Usually that was a bad whipping at my house so if I was going to get a really good beating then I may as well make it worth my time.
If I was going to be in trouble here I may as well go on and make it worth it. I got started. I could not quit. I named every board and gave it heck. Just be glad you are not on my enemy list!! Just saying.. If you are you got a headache today! I ripped you to shreds and I have a good time doing it.. I am funning but I did think about a few as I was beating the crap out of the baseboard that would not come loose.
Now back to the house. Like I said here is how I operate. Three doors and frames GONE. All the molding top and bottom GONE.. the window frames GONE all except the seat. I knew if I took that out the window would fall out in the yard so I left it THEN and I say THEN I call Steve Zamiatala. Steve and Gary has just about rebuilt this house. After two voice mails I called and pretended to be his wife Freida. I knew he would call me back then. "Steve this is Freida Wheeler, please call me and gave the number." In about an hour he called laughing. I then proceeded to tell him.. I have torn down all the trim, molding, door frames even to the closet.. YOU ARE GOING TO COME UP AND PUT NEW UP ARE YOU NOT???? You see that is how I quilt. I sit down and go at it..then 3/4's the way through I see if I need the pattern! That is they way I am going at life.. HEAD FIRST then I will clear out the bull crap as I get to it.. I am not planning nothing else.. I am going to get up daily with my hammer, screwdriver and crowbar and get to swinging. Just get out of my way!!!!! You can either be on my team or get your own team!!!
Here are some of the pictures of the bedroom. I am ashamed to let you see the UGLY HORRIBLE CRAPPY PANELING I HAVE BEEN LIVING WITH FOR A ZILLION YEARS. Now maybe I can get some sleep. I have MADE IN AMERICA curtains being shipped in about 4 weeks, in the meantime I can have it painted, the molding put back up, a new bathroom door a new bedroom door and I will be just so proud. I even have a quilt and some pillows in my mind. I will get to them when I get my curtains back from California. Until then I will be hammering, screwing and crow baring my way through life . I knew you would like that. Oh and I asked for a leather tool belt for my anniversary.. Steve has a cool one. When he leaves it I put it on for fun. It is so heavy it almost pulls my pants off. I would not have mine that heavy. Just saying.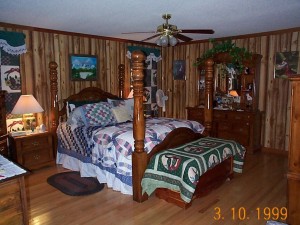 This will be the BEFORE picture. Can you see how terrible this is.. 70's and 80's??? That paneling. No wonder I don't sleep. It is a nightmare!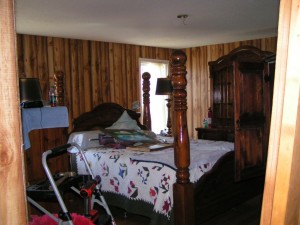 Everything is pushed out in the middle of the bedroom. We have just enough room to walk. That is ok. I will only be about 2 feet away from the tv.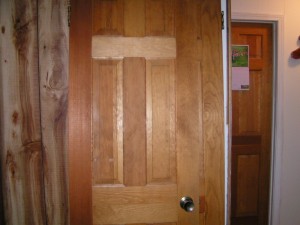 Two doors GONE!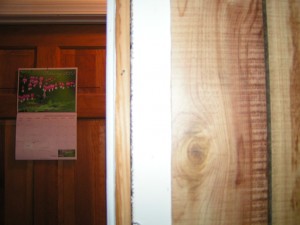 You can see where I tore the frame off the door. Of course Steve said it was ok AFTER the fact!!!
Hell's flames are not as deadly as me when I get started swinging!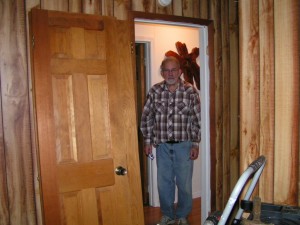 BUSTED. Ole Grumblebutt caught me. I figure I would be grounded so I kept going. May as well make it worth my while.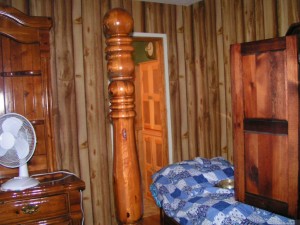 You can see the bathroom door is gone. Hopefully by the end of 2012 both bathrooms are going to be gutted and refinished. THEN I will have nothing to do here but cook, clean and sew… well a few more things I wont say! Oh yard work.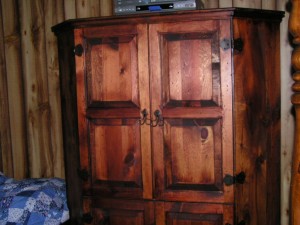 From the foot of the bed there is about a two foot walkway in front of the TV.. I may get used to this. I won't have to have my bedroom glasses on! I have an old pair that is about 20 years old with my top prescription in them. I can't read with them and they look horrible. I can lay in bed and see the entire screen out of any place on the glasses. I sometimes wake up the next morning with them still on!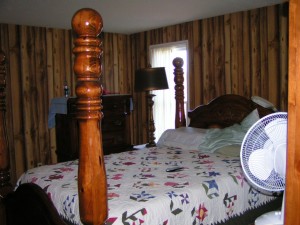 Our Paul Bunyon bed is going to be so pretty with the White Chocolate walls. That is the color we are having them painted and white ceilings. It is not white and it is not beige just in between. I have it in our living room and hallway and I just love it.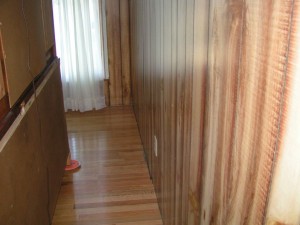 Back behind the dresser of the stockade. That is what I feel like it is. Hardwood floors and wood paneled walls. OH ROGER HURRY UP AND COME PAINT!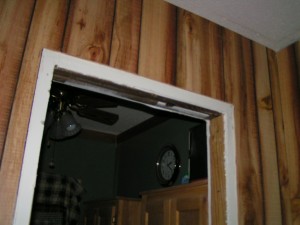 Another one bites the dust! New doors. HALLELLUJAH. I will not be having to pick splinters out now from these old splintered doors.  I think after 20 years I deserve a coat of paint and new curtains. Don't you all?
These are the before pictures and I will show you the after minus the quilt because it will take me a while to get one finished. It will be a month to six weeks before my beautiful curtains are here. STAY TUNED and if any of you in my area are remodeling and need a good hard working helper.. as long as you pay I will show up for work.. I can swing a hammer, use a screwdriver and give it heck with the crowbar. I dont mind cleaning up the mess either. Now I may not be able to walk tomorrow but today I was rocking and rolling. Tomorrow we tackle the walk in closet!