Great news. Fox 6 in Birmingham with Fred Hunter came to Palisades Park in Oneonta, Alabama today where our guild meets each Tuesday and Thursday, plus 2nd and 4th Saturday of the month . We were so blessed that Fred is going to do an hour long special on interesting stories in Alabama. Our Guild, The Blount County Quilter's Guild and the park where we have our cottage, Palisades Park will be on the special. Fred  came today and filmed for several hours despite being up most of the night with tornado and storm warnings. Fred and his crew are awesome people. Very nice and we thank them very much. Here are some of the many pictures that were taken today. Be sure to watch the special on Fox 6 Christmas Day 6 to 7 pm. For those who will not pick it up I will link to it from their site if available. Mike Tucker was Fred's photographer.. I took these pictures. Mike makes pictures a zillion times better than me.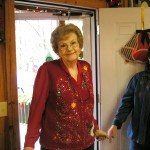 Catherine Strickland all dressed up like a movie star and glittering like a Christmas tree! She looked great!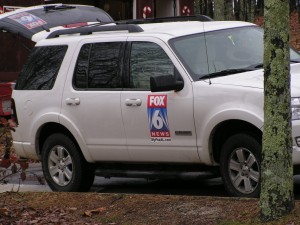 Fox 6 News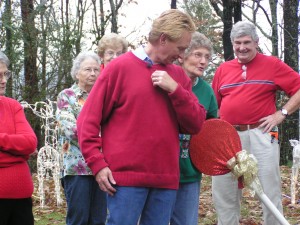 Fred Hunter, Ruth Davis, David Woolary and the gang.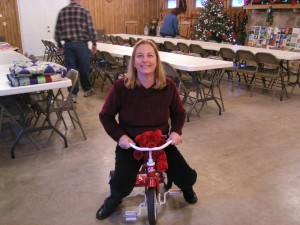 Eileen Cundiff with her tricycle she had as a child.. We think she is just going in to her second childhood! Gary Wheeler and Susan Burton in the background supervising the project.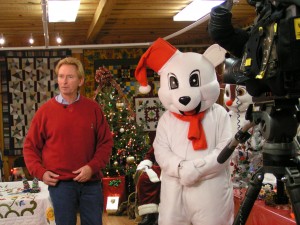 Fred  Hunter and some animals that roam the park. This was taken inside the quilters cottage.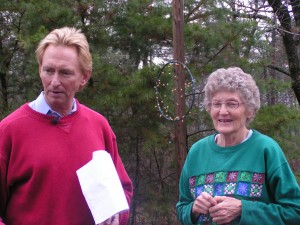 Fred Hunter and his number 1 fan,  Ruth Davis.  She Luuuuuuvvvvvvssss  Fred.. And so do we also! He is a real nice man and a good sport!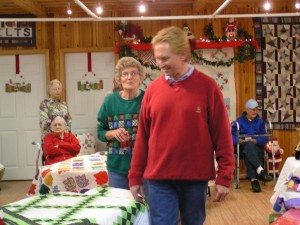 Is Ruth trying to kiss Fred????  We would not blame her!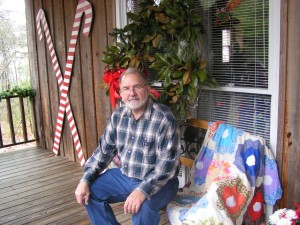 I am his biggest fan!  Meet my husband Gary. He is the best person I have ever known. I love you Gary.. Thank you for all you do for me.. You are truly the best gift! AKA Da Fudge Man! He does make absolutely wonderful fudge, all flavors even pumpkin!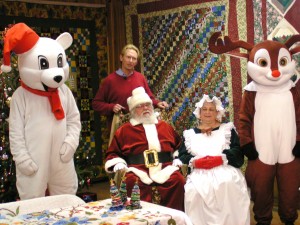 Fred with Mr. and Mrs. Santa and some wild animals.
Don and Cecelia Wallace. They are very kind and good people. We were so honored to have them come today to the guild to help us out. May they be blessed for their kind gesture. THANK YOU!  The fabric yo yo Christmas trees in front of Santa were made by Gary Wheeler.  They are beautiful.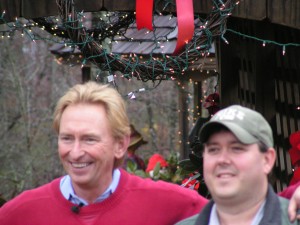 Fred Hunter and Jeff at Palisades Park..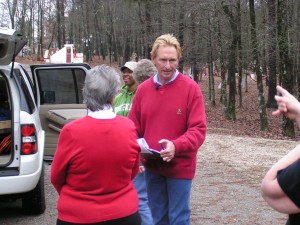 Fred interviewing Katie Woolary. She is a very talented lady and makes great jelly and preserves. Katie is very pretty and photogenic. A great choice to have her on television representing our guild.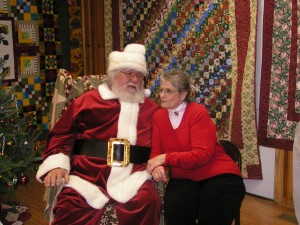 Katie Woolary and Santa. AND YES Katie there is a Santa Claus. She has been a good girl all year long! Give her what she wants Santa!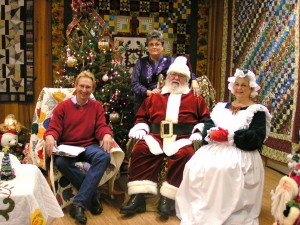 Fred Hunter, Chris Wheeler, standing,  Santa and Mrs. Santa.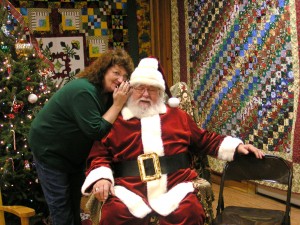 Susan Burton trying to convince Santa she has been a good girl. SANTA DON'T BUY IT!!!  We will fill you in later on this one! She is a doozie!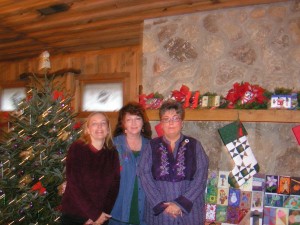 Eileen Cundiff, Susan Burton, Chris Wheeler
Excuse the blur.  My old camera has been acting up!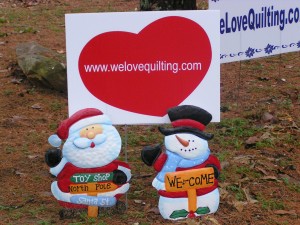 Our display we had during the month of December at Palisades Park, Oneonta, AL. Thank you for letting us put the decorations there. Great place to visit, such a beautiful peaceful place. Heaven on earth!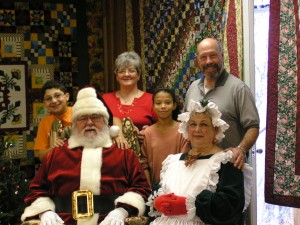 The Calamusa family with Santa. Susannah joined us for our Christmas party at the guild and kept us entertained.  Susannah please come back!
 Lord I hope I called the little one by the right name!! I have so much problems with remembering if it is Susannah or Savannah.. Either one…She is a doll!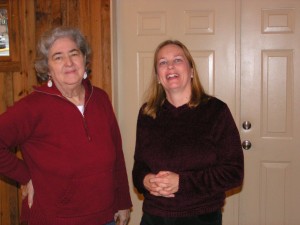 Meet WARDEN Linda Wade and Eileen Cundiff.  Linda is our leader and she takes it seriously. Some of us made the mistake of getting up to go to the restroom during a class project. We heard, "Where are you going?" When we told her we got "Shut up sit down and sew." We have learned not to drink anything before and during quilting. Just kidding. Linda has taught us alot and done alot for us. We love her and believe it or not we made 4 quilt tops that day! Yes, cut and sewed together 4 complete tops. We were afraid not to!! We really wished everyone had a teacher like her! THANKS LINDA!