Well not really. That is a joke. I went outside yesterday to get you some pictures of the pretty flowers and such growing in the yard and snapped away like the paparazzi. I came in later, took out the SD card , guess what, I had snapped away WITH NO CARD IN THE CAMERA. I posted on Facebook last night if any of you had a need for a photographer I was for hire since I do so well..
I got up this morning and went outside this time armed with the SD card. I made a ton of pictures so I am going to break them up in a couple of post.
During the summer I don't sew as much as I do in the fall and winter. However I have been knitting dish cloths at night like crazy.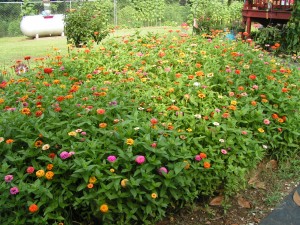 This is just out of my back door off the sunporch. Zinnia's. I am so proud of them. I grew them from seed and the day I planted them it was so windy that now I figure somewhere in Blount County some old lady has to be wondering how Zinnia's showed up in her yard. It was so windy that I had to sprinkle some on the ground, put the container in the front seat of the car and come back and cover them up. Get the container out and sprinkle a few and run back to the car. The things we do!!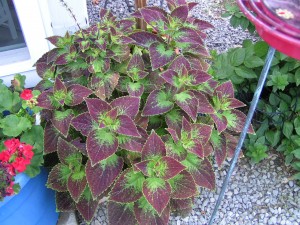 One of my Coleus. I have always loved to grow these. They are really pretty and nothing to grow. I have been thinking about taking some rooting powder and then take some of these leaves and root them for next summer. But you know they are so inexpensive I wonder if that makes any sense to do that.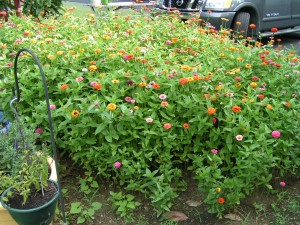 Another view of the Zinnia patch. The hummingbirds love them. Butterflies also.
View of the sunflower patch from the Zinnia patch.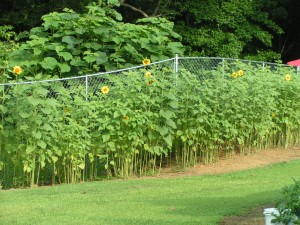 Can you see the yellow heads peeking out?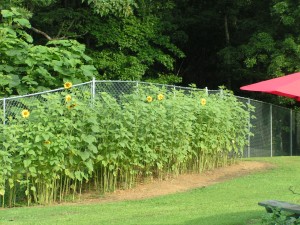 They are really tall. We have a 7 foot fence and some are 3 to 4 feet past the fence top.
My cute little yard boy!  See Bonita Bonehead Barbie's leg sticking up out of the flower bed? She is doing well.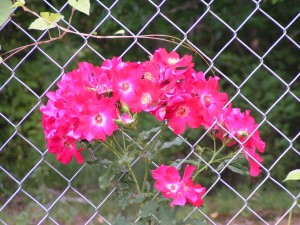 I have a climbing rose bush I am trying to get to act right. It does look good.. Now to any of you rose growers do I cut it down during the fall?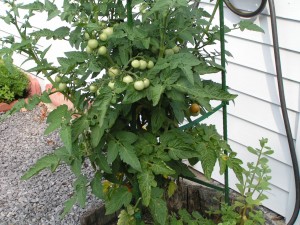 Mr. Tommy Toes seems to be doing well. These are cherry tomatoes but in Alabama we call them Tommy Toes.. Why I don't know.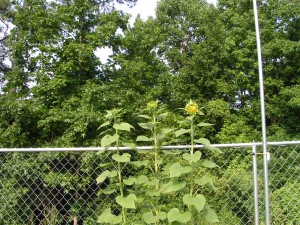 Here are the Introvert Sisters. 3 in one place. All alone. They are beginning to open up.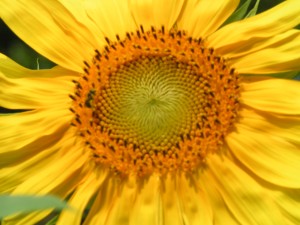 Close up of one with a bee to the left. Bees love sunflowers.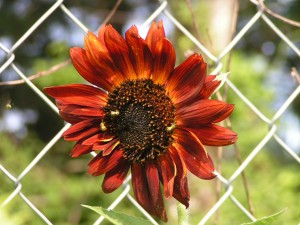 There has to be one in every crowd! I believe in racial harmony so it is welcome to live among the yellow sunflowers. The strange thing is I don't remember planting any but yellow sunflower seeds. When they all start opening there is no telling what I will have. Just "Can't we all get along?"  I think it is beautiful  and reminded me of the red heifer story of the red cow . Google Red Heifer and you will get the story.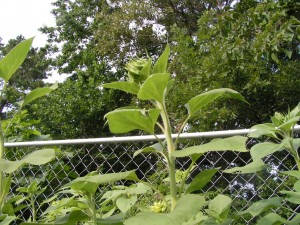 In England they have their Crown Heads. Here in Locust Fork I have the Crown Heads of Sorts.  The flowers all just about have these crowns on them. In a few days they will be open and a brilliant color of yellow or RED!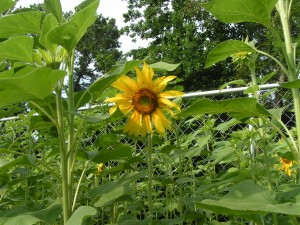 I am 5′ 4.5 inches tall. I am looking up making most of these pictures. Hardly any of these sunflowers are eye level to me.  I did plant some mammoth ones that are suppose to get over 18 feet tall.. I will get on a ladder and make those pictures or climb my persimmon tree!!!!
This one is at least 9 foot tall.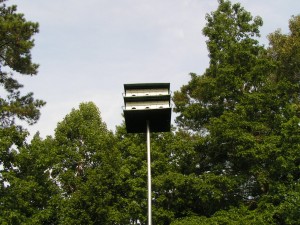 Yes there is room in this inn.. Rooms for rent In Locust Fork, AL , real reasonable. FOOD PROVIDED considering you like sunflower seeds.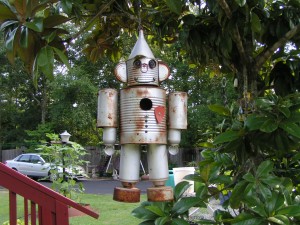 Oil Can.. Remember in the Wizard of Oz when Dorothy found the Tin Man all he could say was "OIL CAN" in that really stiff voice.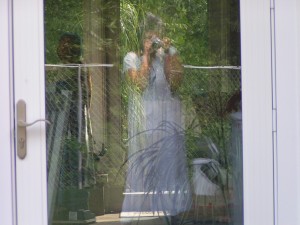 There is that old Ghost Lady again. She follows me around everywhere. I see her everywhere I go.
My house will never be in Better Homes and Gardens, Southern Living or any Decorator Showhouse. It is clean but it is lived in , every inch of it. Nothing matches but I don't care. I buy what I like and use it. It is not totally out of whack but if I see something I like and I need it I get it and work with it. My yard is NEVER going to be in Southern Living or any of the yard magazines. It is just an old country yard worked by an old country man and old country woman that it does not take too much to make happy. We just enjoy planting things and watching them grow. I live on a hill. You don't come in my front door. You have to come to the back door. One year I went to open the front door to go on the porch and it would not open. It had not been opened in several years and it was stuck. Now isn't that pitiful. I have two doors in my home, you walk in the back door and walk straight across to the front door.  I have nothing but grass in the front yard. I may next year plant something from seeds like the Zinnia's but I doubt it seriously so no use wasting either of our time talking about it and you having to read a lie. We live in the back yard. Do I care what the people passing down the road think because there is nothing in the front yard. SURE DON'T CARE . You barely can see up against my house from the road. I don't much care what anybody thinks but my sweet husband and sometimes that is debatable, depending on my mood I am in for the day! Just kidding. I really have a good soulmate. He is a good person.  I love getting up in the morning figuring out what I can get in to today. Next year we are going to have a lot of different things in our yard. I will tell you more later and ask for your suggestions. So see there is reason for you to come back and visit.
Come back tomorrow for Part 2.  I hope you enjoyed Part 1.