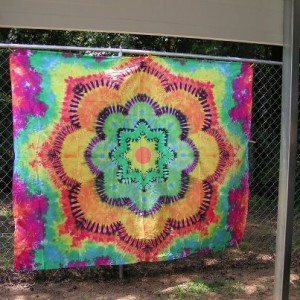 It is a full size sheet dyed in these beautiful colors and designs.
I have always loved Tye Dye.  Well I have found a lot of great artist on Facebook and purchased a good bit of their work. This was the piece that came in this week. The biggest so far.
When I purchased it I knew it was not going to be quite big enough and that I was going to have to work my magic on it and make it bigger to fit the bed and then quilt it. This week I am starting to decide what I want to do with this and get started. Here is a picture of how it looks on the bed.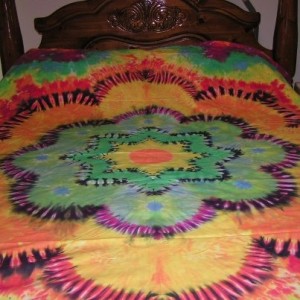 This piece was done by a great tye dye artist Pamela Wipff. If you are on Facebook go to this like and like it and see all the beautiful work she has https://www.facebook.com/pages/Soulshine-Tie-Dye/167023643376042
You can also see her work her http://www.soulshinetiedyeshop.com/
http://www.soulshinetiedyeshop.com/shop/
You will not be disappointed.
Follow the journey with me on what I do with this piece. I think you will love it.. Stay tuned for many pretty things to come.