Yep sure am..
The summer is a hard time for me.. Between cutting the back yard with a push mower and yes I love it , flowers and swimming and occassionally a few trips before it gets to hot and you have to water the flowers daily I do not have time to sew.
At the end of our hallway there is a stairway it goes straight up to one room. We have one room upstairs. It used to be an attic and the stairway divides the attic. Gary put a board across the top of the stairs and then put down cutting mats. That is where he stands to do ALL the cutting. I am dangerous with a rotary cutter.
We had someone to put down hardwood floors for us and we painted the room and moved all our sewing up there.. Well almost all. I do have one room downstairs full of fabric in tubs. It was a bedroom we do not use anymore.
THE ROOM UPSTAIRS IS A WRECK. I have tried time after time to clean it up and it is impossible. It is our work area. Today I came to the realization that I was NOT going to keep it spotless and organized. If I did I could not find anything.  I was told a clean desk is a sign you are doing nothing. Well as you can see in the pictures I am about to post I AM UP TO SOMETHING.  I have been up there two days in a row sewing and gotten quite a bit accomplished.  Enjoy the pictures and now that I have SPILLED MY GUTS… you will be seeing more sewing pictures from me.
This is like therapy.. It makes me feel so good to show you my mess. AND NO TO THE ONES WHO WONDER..The rest of my house does not look this way. I keep it clean. The sewing room can be closed off downstairs and if you did not know it you would not have a clue it looks this way.  I have a goal. Wheeler Olympics 2013. By this time next year majority of the fabric upstairs USED UP. Wait and see if I make it.. Reports weekly. Call me on it if I fail to sew for the week.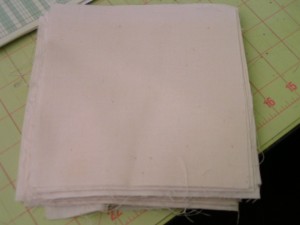 I call these "inbetweens" in between Gary cutting out my blocks for me I take these muslin squares and sew scraps on them.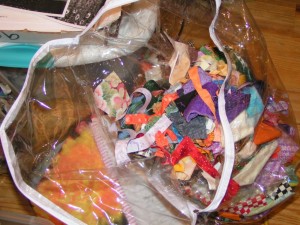 I have plenty of scraps. I save them because you never know when you need that tiny piece for something on a fabric postcard.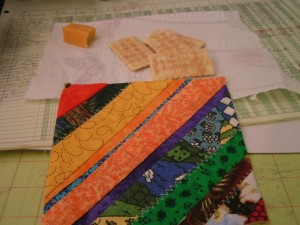 Now see how nicely the scraps look after trimmed to 6 inches by 6 inches!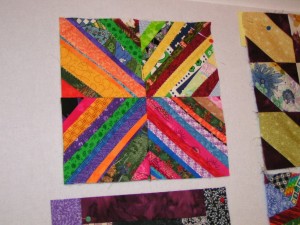 Today I put four together.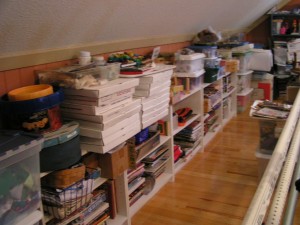 This is a few of my many books.. I have most of my magazine in a box about three foot tall. I am going through them and seeing if there is any quilts tops or items I want to make and if not they will be going up for sale and also in my give a ways on here.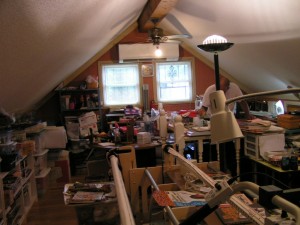 Looks like a tornado hit here.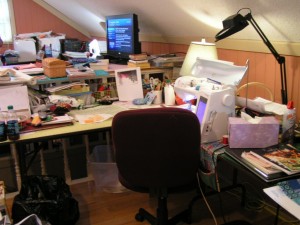 Hit here also.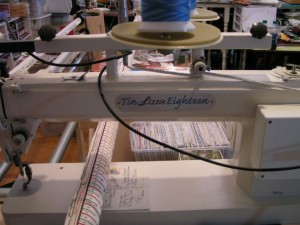 Here is Shug. We had great aunts that quilted. Aunt Lizzie and we called her "Shug" and Aunt Emmaline. I decided to call my Tin Lizzie…Shug. Yes I am terrifed of it but that is about to come to a halt. The lady that taught me in order to make herself look good made it VERY DIFFICULT and a terrorist is what I call her now. I need to go to the Tin Lizzie factory and learn how to operate it.. Is that in Utah? If so too far for me to drive so I guess I will just have to do the best I can.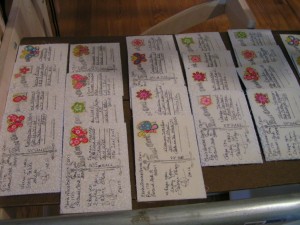 I got a lot of fabric postcards made today. Tomorrow you can see the front.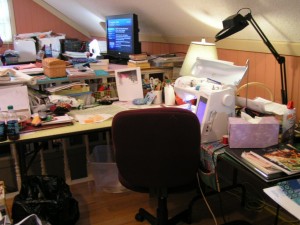 I think I already showed you this once. Oh well.  Just call it a clearer version of where the tornado hit.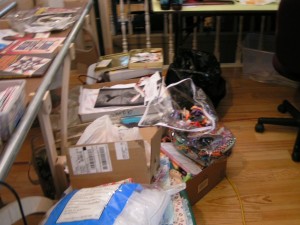 This is next to my chair. I use the heck out of the items here.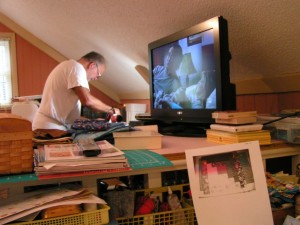 Look at my helper. God love him. I could not do without my Gary.. He is a great soulmate.
The man on the tv is like "WHAT THAT HECK..Lady what you doing?"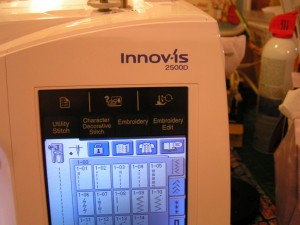 I love my Brother Innovis 2500D.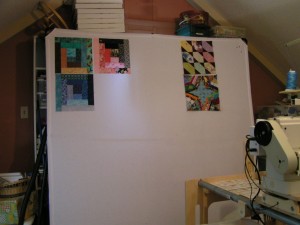 My awesome 6′ tall design wall. You can take it apart and carry it to class with you if needed. It came with its own carrying case. I probably will never do that but it is nice to know I can if needed.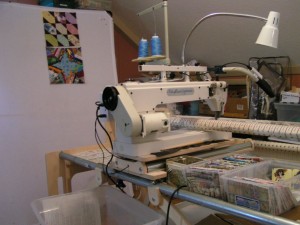 Viewing Shug from another area.
In my Trading Fabric Postcard Group we are also swapping quilt blocks. You will send eleven out and received eleven and make yourself one and that gives you twelve. We each picked a color scheme. I love scrappy so anything went for me. So far here is the two I have received.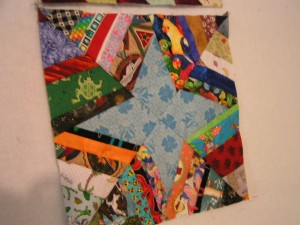 I am making the Log Cabin design for my blocks to send out in the colors the ladies requested. Here is a few I finished today.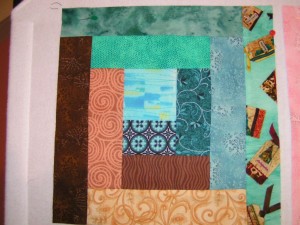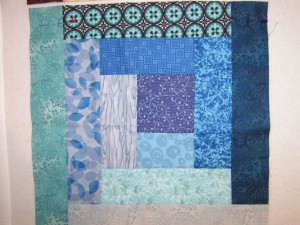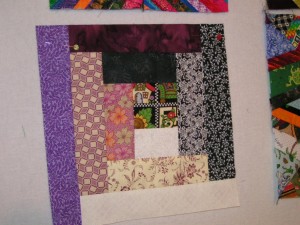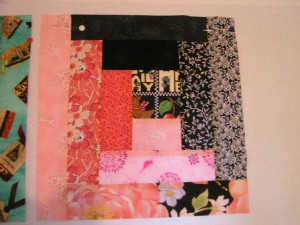 Ok I feel better now. I guess it is true confession is good for the soul or in my case "spilling my guts! "  If you don't start seeing sewing posts call me out! Fall and winter coming soon and that is when I do my best creating. I have a lot of lost time to make up for.