Well here I go again. I just had written a good bit and lost it. So now I have to start over.
I eat two Dove dark chocolate pieces each night. Being borderline Type 2 diabetic I can not eat chocolate like I want to but I can have 2 of these pieces.  On the inside of the foil pieces is a Promise Message. My first one said "Start a Habit Today."  And the other one said "Enjoy the pure indulgence of DOVE."  Which I was doing. So start writing on my blog is going to be my habit.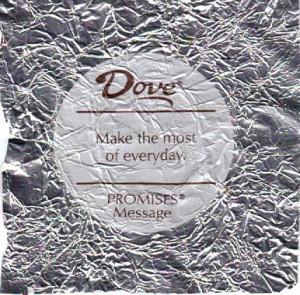 I was told just recently I was prolific. I had to look the word up in my Websters Dictionary. I keep it by my computer. I practically keep one with me everywhere. I love to hear a new word and look it up.. Webster describes me as producing many young or much fruit. Turning out many products of the mind.   After I figured out that was me I fell in love with that word. Thanks Dave Burks.  I love that word!  Yes I do turn out many products of the mind. Mine never shuts down. That is why everyone in my house is asleep and I am on the computer trying to come up with something to write.  Check out some of Dave's beautiful photography. www.daveburks.com
I have met many good people online and enjoyed so many new friendships. I never knew there were so many quilters. That is my second love. My first is my husband Gary and he is a quilter also. You will never find anyone so particular as he is when it comes to cutting. Perfect! I could not do without him. I can't cut a straight line and it takes me all day to cut one pattern. He can cut it in a short time. Of course he also has an Accucut so some of the tops he cuts out goes very fast but he does a lot the old fashioned way with rotary cutter and mat.  He also likes to sleep a lot when I am on my computer. I call it watching tv on the back of his eyelids.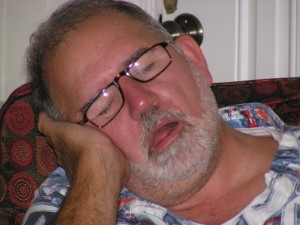 I hope he does not mind me showing this picture. He had a hard day. I had him cutting our fabric, making fabric yo yo's and dealing with my whinning.
He really is a good guy and his work is excellent.
Gene Black. I discovered this very wonderful talented artist and all around nice person. You will not find anyone that is nicer than he is and very helpful. He fusses at me everyday because I have not written anything on my blog.  Gene is very computer savvy . He not only has a great blog he also has a wonderful web site.  Check him out and his beautiful purses and fabric birds on http://artbygene.blogspot.com.    His beautiful paintings can be found on www.geneblack.com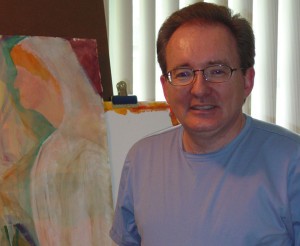 I am into so many project and works that my head usually never shuts down. I can be sitting in a restroom somewhere checking out the floor patterns sketching to see what it will look like in a quilt.  I love quilting. I am my happiest when my machine is humming and my creative juices are flowing. Quilts and fabric postcards are my favorite.  I stumbled on a postcard group online called Art2Mail. I have some of the most beautiful postcards from all over the world. This is to much fun. You can go to www.art2mail.com to join up for the next swap. It cost nothing but your time and postage. Fabric postcards are miniature works or art. The cards are made similar to a quilt with a top fabric design of your choice, batting that is either Peltex, Timtex, or Sew2fuse and a back for the card. Ihave a big rubber stamp that looks just like a postcard back and I stamp my cards with it.
Making these cards is a great way to express your creative self. The cards are usually 4×6″ in size. I however have made a 5 by 7 inch card and it went through the Post Office just fine. Sometimes I can't go by the rules. I always said "Rules were made to be broken." You use a extra fine sharpie pen or I do and write the address and message on the back of the card.  They will go through as long as they are regulation size 4 by 6 inches and no more than 1/16″ thick. The stamp affixes well on the fabric and I mostly put them in clear plastic envelopes to keep them from getting dirty. Always ask the clerk at the window to hand cancel them and NOT send them through automation. They will do just fine.   Contact me at SadieMaesAttic@aol.com if you have any questions or concerns and I will be glad to help you anyway I can. Here are some of the postcards I have received. You can also go to www.welovequilting.com to see some I have in my gallery.