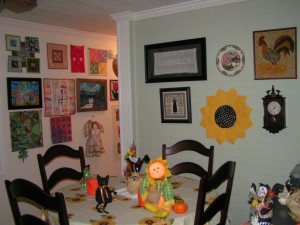 I love colors, I love everything different, I could care less if my house is Better Homes and Gardens style. It is me! I bet I am still the only person on the face of the earth with a rooster made out of popcorn and beans hanging on the wall!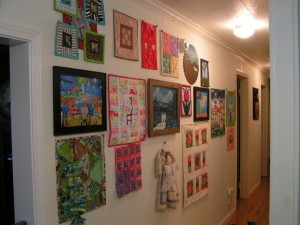 Here is my art gallery. It is mostly filled up with miniature quilts. We not only make fabric postcards on our group Trading Fabric Postcards, we make miniature quilts and mug rugs.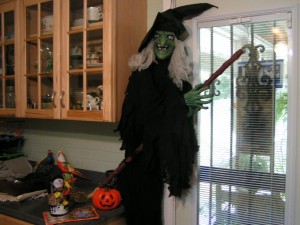 Well butter my butt and call me a bisquit, look who's here! HILDA!!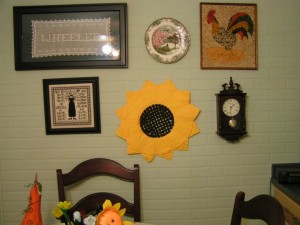 See this clock on the wall under the  rooster? Well I got it at Jerri's Junque Swap this summer. I am so glad I went. Not only did I get lot of nice things, I got this clock. It makes the most beautiful chime. It sounds like a door bell.  Whatever time it is after it chimes it dings that may times. First time it did ring, we thought it was a fancy doorbell. We realized we did not have one! So now when it rings we say "There's our ghost visitor." 
Jerri is getting ready to have her swap real soon.