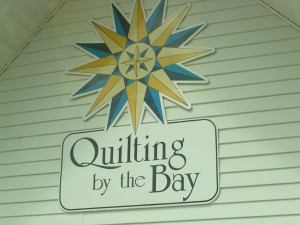 Now you did not think I was going to let a quilt shop pass me by do you? Nor Spanky!  He was right there with me picking out and shopping.  We however just bought a tiny bit..Maybe 2 yards total to do some fabric postcards.
Quilting by the Sea.  Great shop in Panama City Beach Florida. Check them out here at http://www.quiltingbythebay.com/
Beautiful shop, lots of gorgeous fabric and some very nice ladies working at the shop. There must be a zillion quilters in PC.  A lot of people came in or heck they could be like me.. Have ALL the quilts shops in the United States plugged in their GSP's.. or it so seems so!
I saw a brochure on the counter about Birmingham,AL Quilters Guild.