I love Auburn University, I love the Auburn Tigers football team, I love old quilts and my cousin Cheryl.
I had a Facebook message from Cheryl saying she had a quilt she was sending my way that her mother in law had made. I will not turn down a quilt in any form or fashion.
Today it arrived. Yes it is old, yes it is a bit worn so are we!!!  I LOVE IT.. It looks to me like it was painted with the old Trichem embroidery paints.  Regardless of the age or the condition which by the way is pretty good. I did see a couple of places I need to patch but I need some patching. It is also handquilted. Thank you Cheryl. I will treasure it. I folded it nicely and it is on my cedar chest with the rest of my favorites.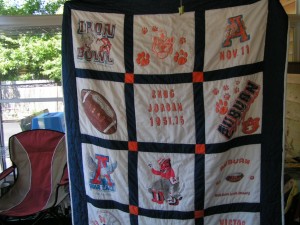 Gary was trying to hold it up so I could get a picture of the entire quilt. He could not hold it that high.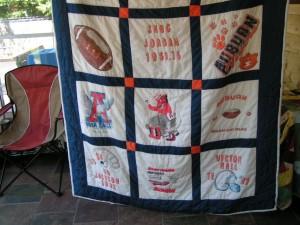 The bottom half.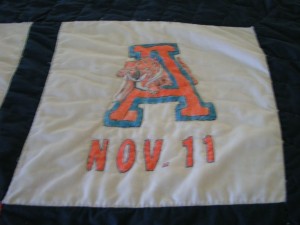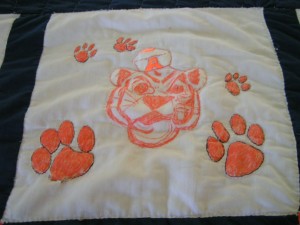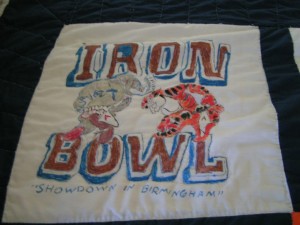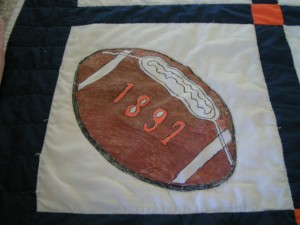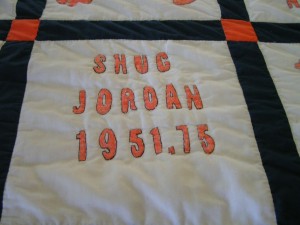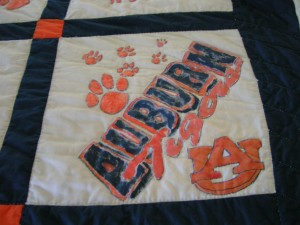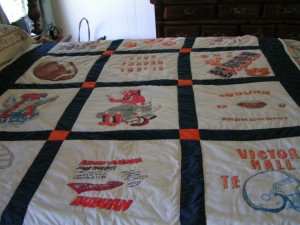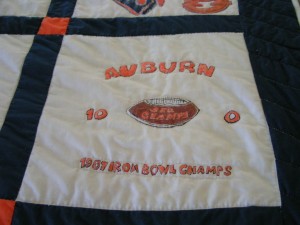 This was back when the Iron Bowl was played at Legion Field in Birmingham, AL. THE GOOD OLD DAYS.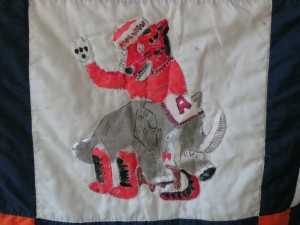 My favorite block!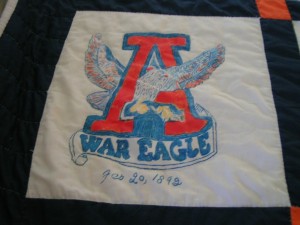 WAR EAGLE!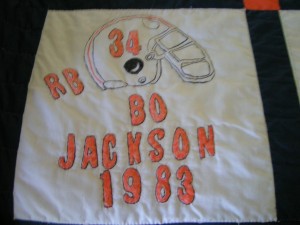 What Auburn Fan does not LOVE BO JACKSON. Bo is in Alabama today through the weekend with Bo Bikes Bama. He and other celebrities are riding their bikes to help the tornado victims.  http://bobikesbama.com/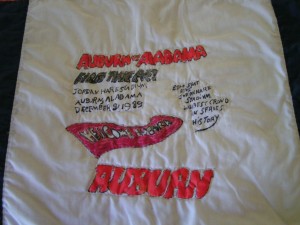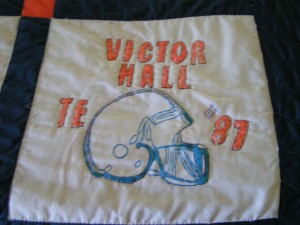 I got a great handmade quilt and I will be able to use the blocks for patterns.. How great is that???
Thank you again Cheryl. You made me one happy cousin!!!
I FORGOT TO SAY IN THIS POST.. I sell Tri-Chem paint. If anyone is interested in the paint you can go to the web site www.trichem.com  see what they have and I can order it for you. I will be glad to.