Yesterday I came somewhat out of my low funk, I do not want to say depression, I prefer to say something over took my body several months ago and I am trying to rid it. But yesterday I decided to ignore it somewhat for the day and do some work. Here is what went on.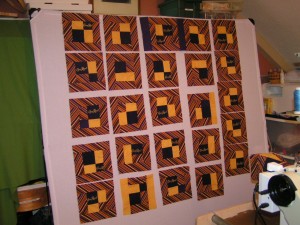 Gary put my design wall together we got from Checker Distributors. www.checkerdist.com If you have a business license and tax number this is the place to get your supplies. They have just about everything . You can go to the site and view what all they have.
The quilt you see on it is Jerri Wood's. She asked me to try to help her fix the top. It was totally sewn together and we took the blocks apart, squared them up and I am about to put purple stripping back on them, sew the top together and go visit Jerri at Dry Creek Antiques and take her the top back.  The design board works very well.  I did bump it and run into it and knocked a few blocks off so we are going to have to position them again but on the other hand it will be fine.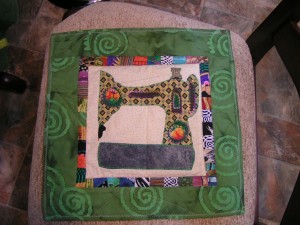 I put this miniature quilt together for a swap we have on Trading Fabric Postcards. I love African fabrics and scrappy and it has both. I hope Arlene likes it as much as I do. I am going to have to make me one to hang in the hallway with the rest of the miniature quilts I have received in the swaps.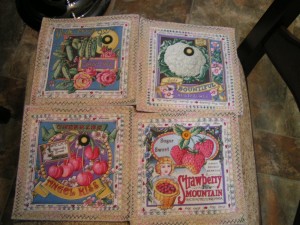 On the group Trading Fabric Postcards and we have a site www.tradingfabricpostcards.com   and on yahoo at http://groups.yahoo.com/group/TradingFabricPostCards/  we participate in different swaps other than just postcards. The ladies wanted to do a Fat Book swap. That is where everyone has a page to do for each one that signs up and we have no more than 12 that we allow to sign up for a swap. It would be a lot to have to make more than 12 pages. The first Fatbook we had a month swap. I had December and I had to put something on the page pertaining to December. You can go here and see what a Fatbook is and see the pages we have in our book. http://tradingfabricpostcards.com/what-is-a-fatbook/  The above is the pages I made for the second swap. I had to make 10.  This month was flower theme. I picked sunflower but I had some pretty fabric that looked like a catalog page advertisement so I used that and sending a package of sunflowers.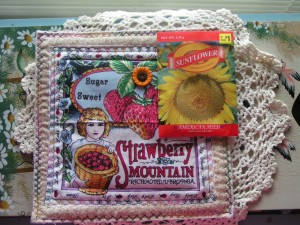 You get the idea.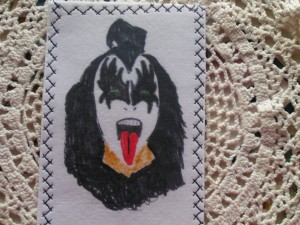 On TFPC we had a Mask Swap. I decided to do the above mask. Gene Simmons of Kiss. I really love Gene Simmons Family Jewels show on TV so you know I had to make this my card. Drew it off and painted it with fabric markers.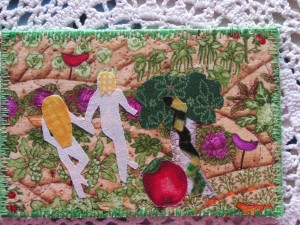 One of the swaps was Summer Fun.. What more fun than walking through your plants and garden with your husband! It even had an apple tree complete with snake!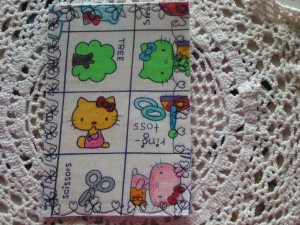 We had a Coloring Book Swap on Trading Fabric Postcards. I had some black and white fabric and decided to use my fabric pens to color. I loved doing this card. What I did find out is I am still not good at "coloring". I always got out of the lines and still do!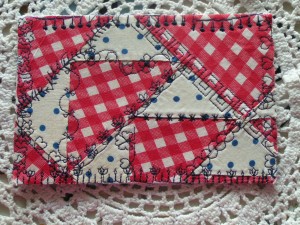 On Trading Fabric Postcards we had a Red White Blue swap. I used this very old quilt block and cut it up and made a 4 x 6 postcard, then with blue thread I tried out a lot of new stitches on my machine.
I hope you all enjoyed seeing my work I accomplished yesterday. I have more work to do today. Getting it all in the mail is one thing. Then back to the designing board!