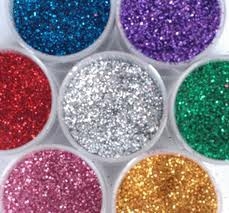 Make Your Own Glitter out of Tin Foil! Need: * Baking Pan * Tin Foil * 1/4 cup of salt * 1/2 teaspoon of food coloring * Preheat an oven to 350 degrees. Directions: * Mix 1/4 cup of salt with a 1/2 teaspoon of food coloring in a small bowl until the salt is uniformly colored. * Spread the mixture out in an even layer on a foil-lined baking sheet. * Bake in the oven for ten minutes. Allow your homemade glitter to cool before using it. NOTE: * You may also store it in an air tight container for several months. * This glitter can be used for almost any type of project and may even be mixed with glue for special crafts. Repinned from Great Ideas to Try by Susan Phelps
http://pinterest.com/   was where the above came from. If any of you make this will you let me know how it turns out?
Look to the far right column top in red.. Will you join my in Pinterest?  I love it..