I have discovered the Ninja. The three in one cooking system.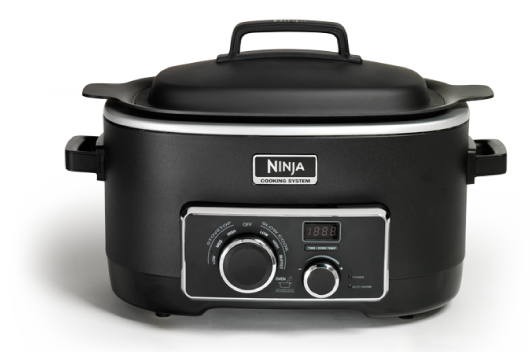 Here you have a stove top, an oven, plus a slow cooker ALL IN ONE.  I am in NINJA HEAVEN.
First of all I am a pitiful cook. I hate to cook nothing I make looks like the pictures, fitting to eat, I usually throw out more than I keep but not with my Ninja! I am cooking like a pro. If we had a dog it would have already been dead from eating my cooking. PITIFUL….
I am happy, my husband is happy. Finally his wife is cooking. I had to laugh tonight. We eat out basically at one place. Red Lobster. Why? We love the coconut shrimp. We go in and here is how we order. "No bread, we want to share one coconut shrimp dinner with coleslaw, baked potato with butter and sour cream, extra Pina Colada sauce and I'll have a Boston Raspberry tea with an orange slice and he will have ice water with lemons."  THAT IS IT!!! Never sway away and get anything different. Ten shrimp come to the table with the dipping sauce and I am not talking about tiny baby shrimp I am talking about big shrimp. Filling you up so there is no way we could eat a dinner by ourselves so we share. Two times  a week. Well tonight Gary gave me the best compliment ever. "We should take that Red Lobster money and put in our food at home money because this is good!" No we will not quit going to Red Lobster maybe just not two times  a week but we still will go and get the same thing we do every time.
Well I decided I was going to learn to cook and operate my Tin Lizzie Long Arm Quilting Machine. Not at the same time but you get the idea.  That was two projects for my new year.  I have been sewing on Lizzie and now I am best buds with my Ninja. I have used it twice. First time I cooked baby back ribs. They were absolutely wonderful.  I used The Wright Rub. After using that I would not think of using anything else.  http://www.wrightbbqco.com  It is absolutely divine. I am going to use it this week on some fish on the grill.
Ok now getting back to my next item. Beef Stew. It was in the cookbook that came with Ninja. I decided to give it a try today. Now I followed the recipe basically to the letter but I did use celery in mine. Something just wanted me to add the celery so I gave in.  Of course I gave it. I love celery and I thought it would be a great addition to the stew and it was.
Please excuse that baby cutting board. It is about as big as a wallet. I need to get another one but I will not cut meat on a wooden one. It is not safe so do not do that. I am going to have a wooden one made and then I will get a bigger plastic one for my meat cutting. Those knives came from Costco. I really like them. They have a shield they go down in so there is no way in getting cut if you reach your hand in a drawer to get something.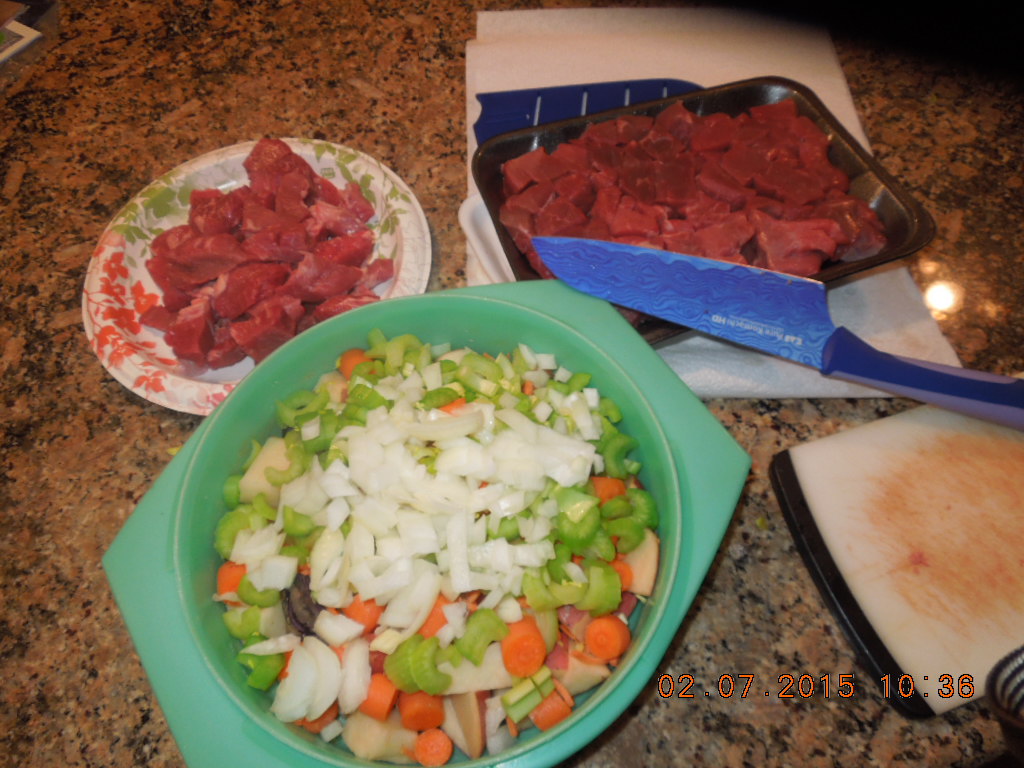 First  I chopped veggies like a mad woman.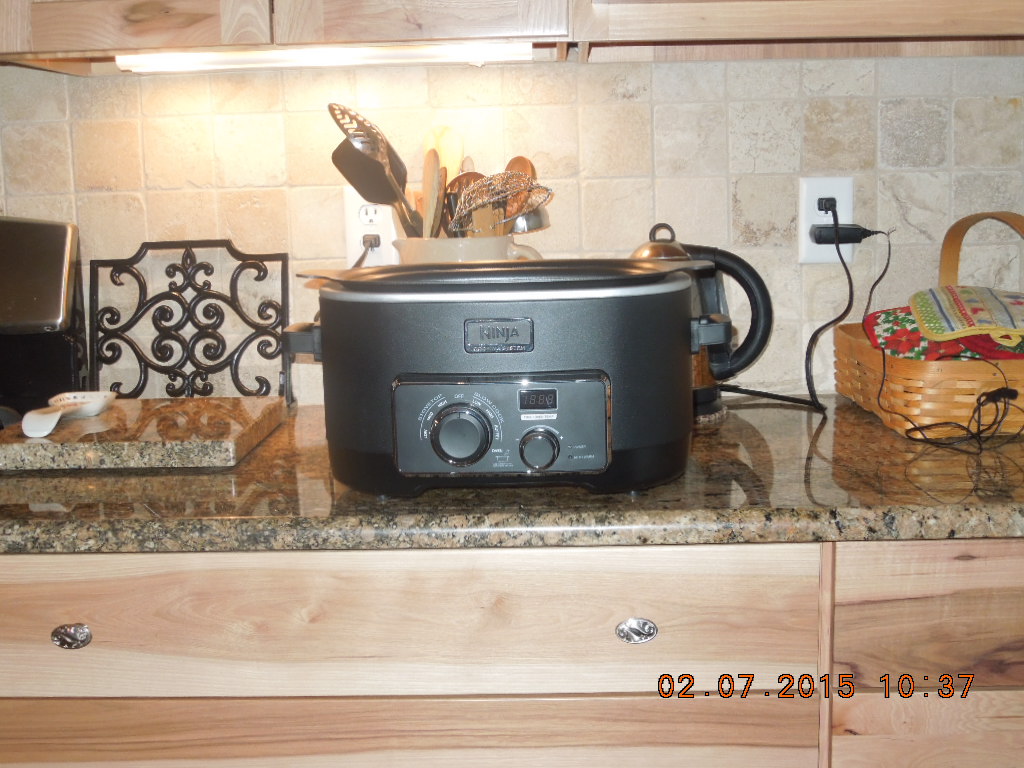 I put the Ninja on the counter by the stove. There is only ONE thing I am not crazy about. Now do not get me wrong it would not keep me from buying one but the cord is a bit shorter than my liking. So instead of going on my bar it had to go over by the stove which worked out ok. That will eventually work out. I plan on getting an electrical strip thing that I can take out of the cabinet when I use my Ninja and be able to put it on the bar.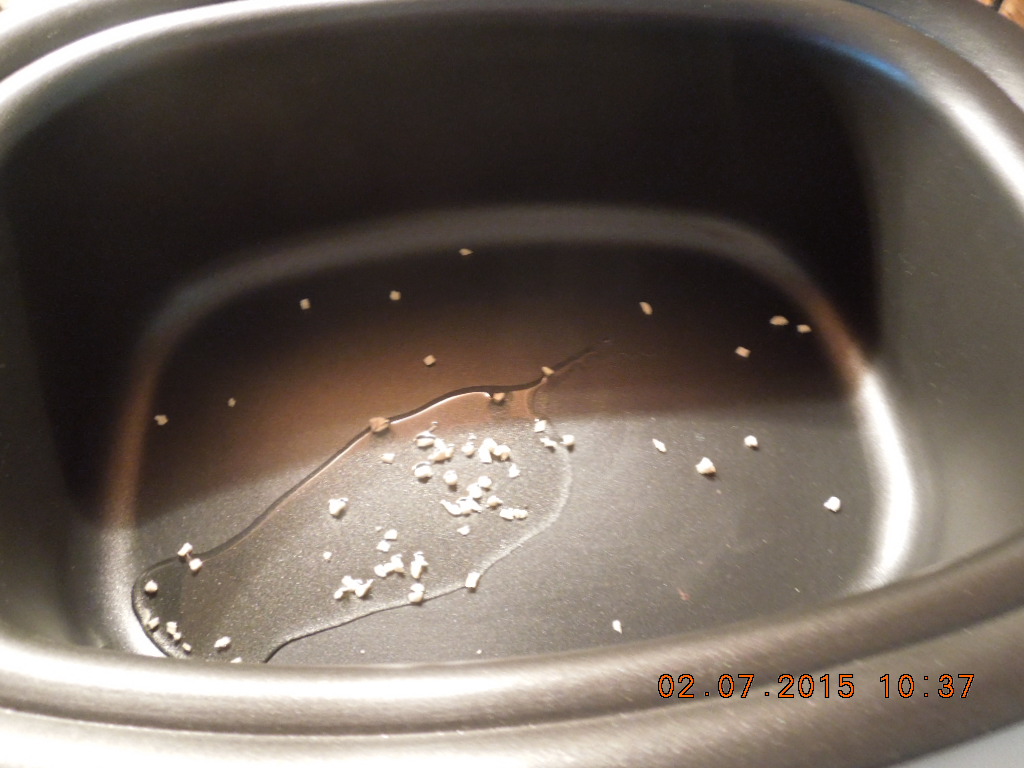 I put a tiny bit of oil in the bottom and some garlic. I am not a big fan of garlic so I just used a tiny bit.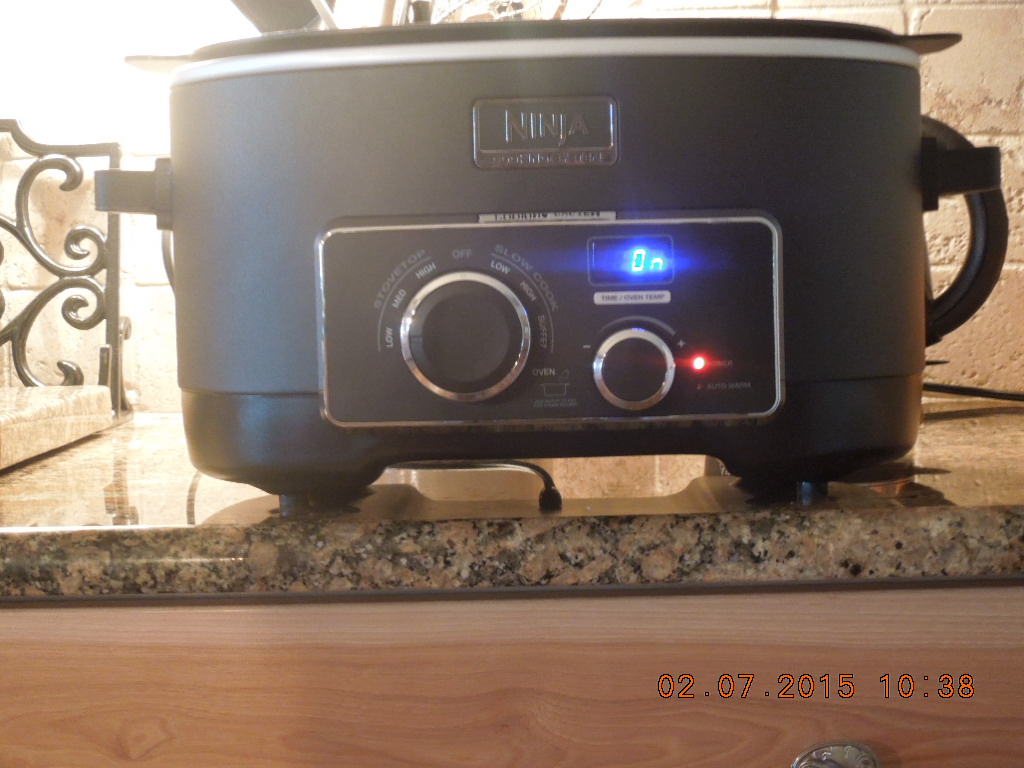 First as you can see below I floured the meat and then cooked it a bit on stove top setting.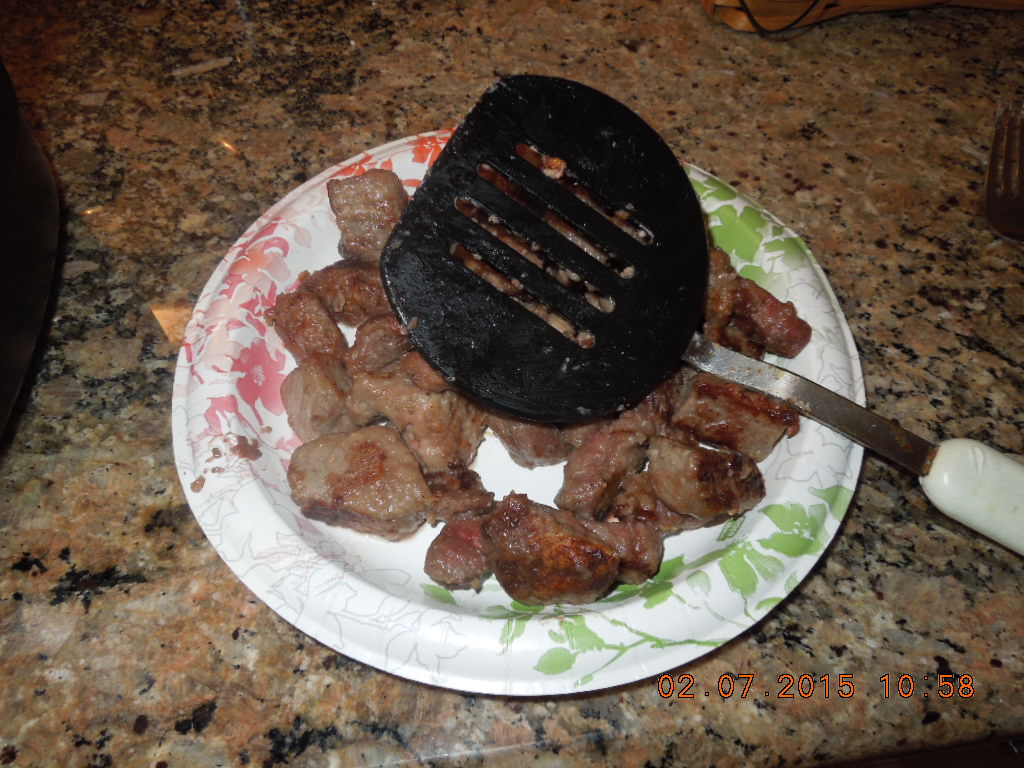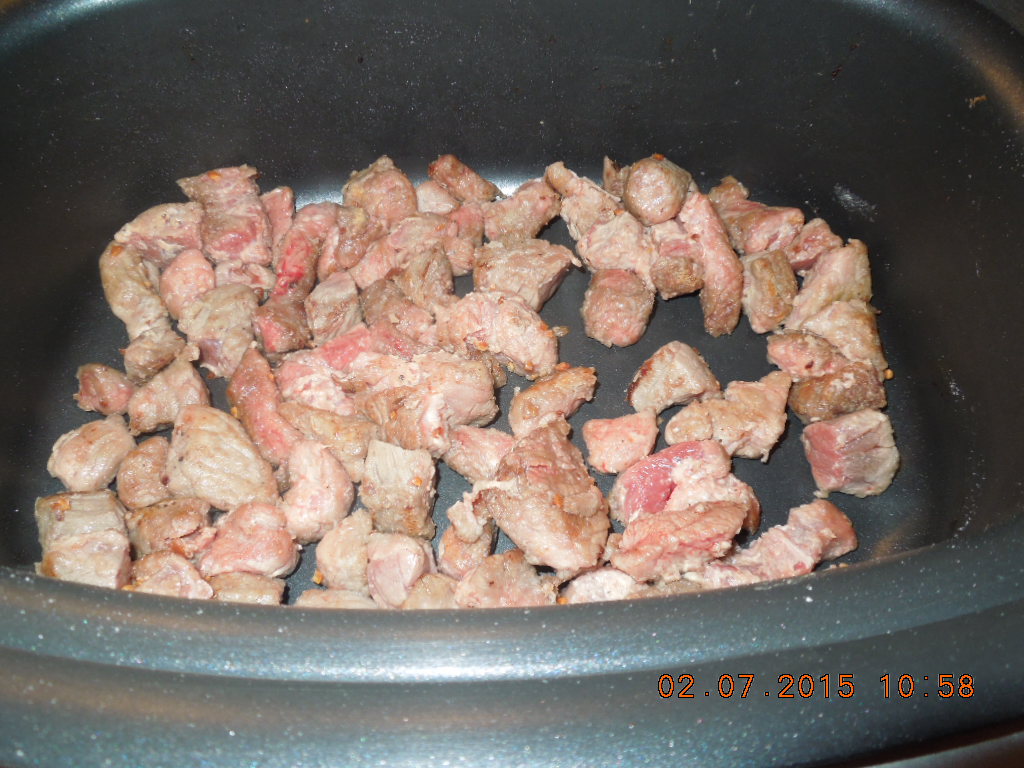 Then came the broth. Yes that is "Him" in the background watching. I have a life size Jesus in my home. Oh I try to use low sodium. My husband needs to be on a low salt diet. I am amazed at products in the stores. Look at the label.. Read how much sodium. So dangerous.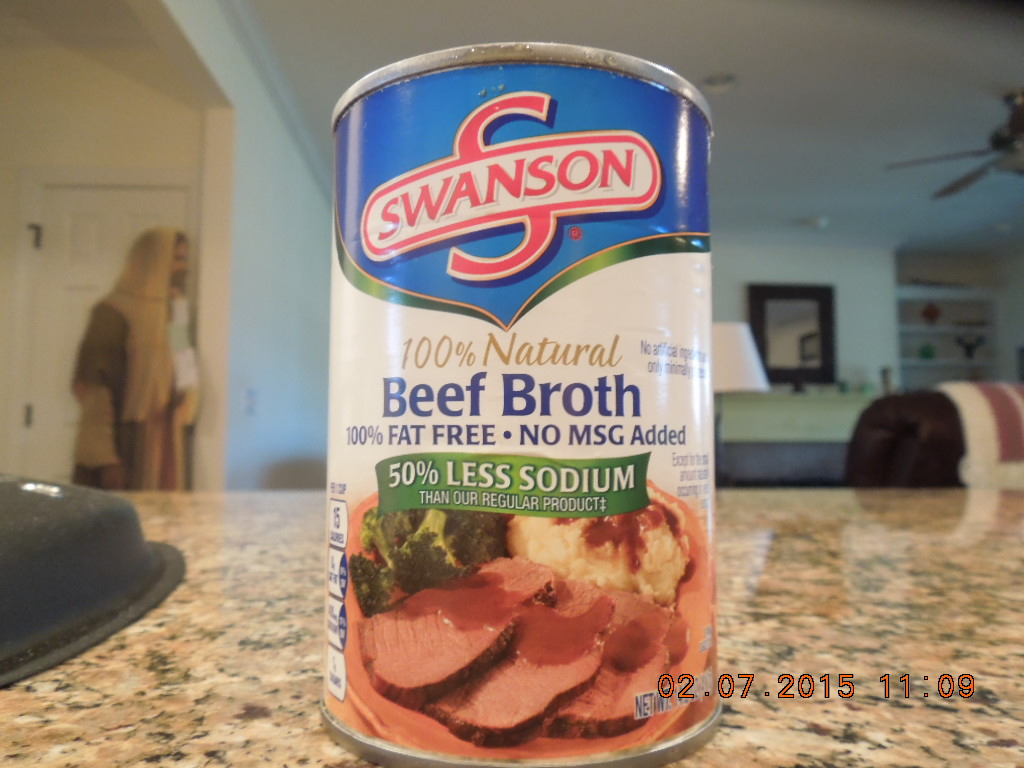 Gary and I have started adding this Great Lakes Unflavored Beef Gelatin to our coffee and today I added it to our soup stock. It is good for you.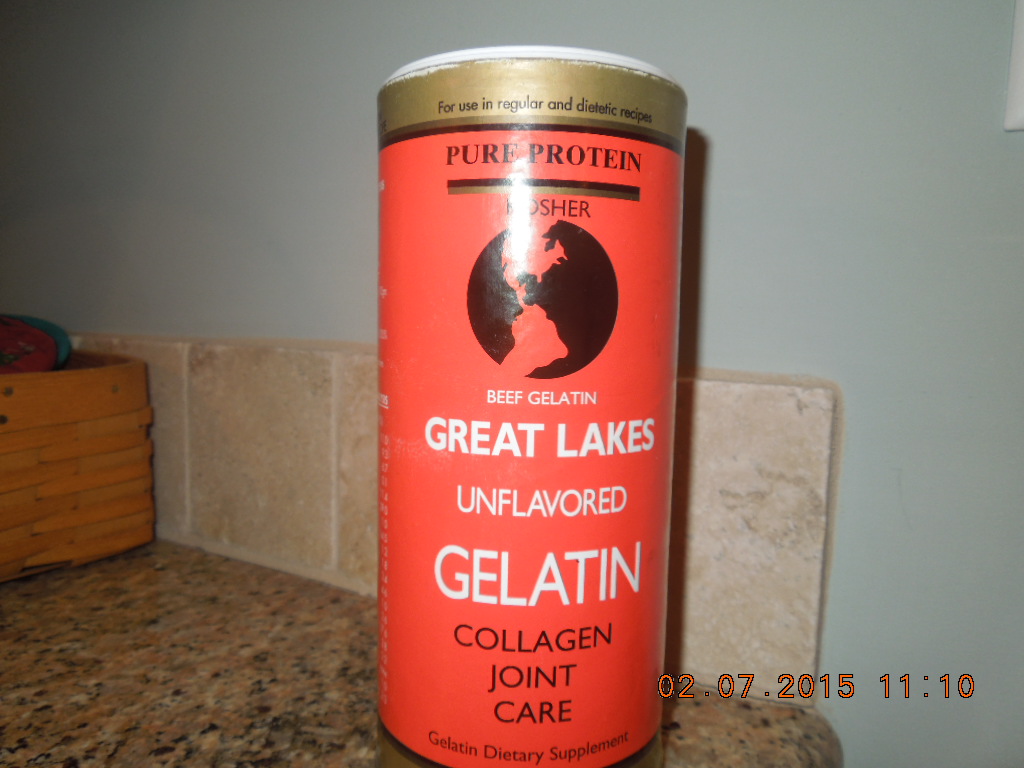 Close up of all the chopping I did. I think the colors are so pretty. Eat the rainbow!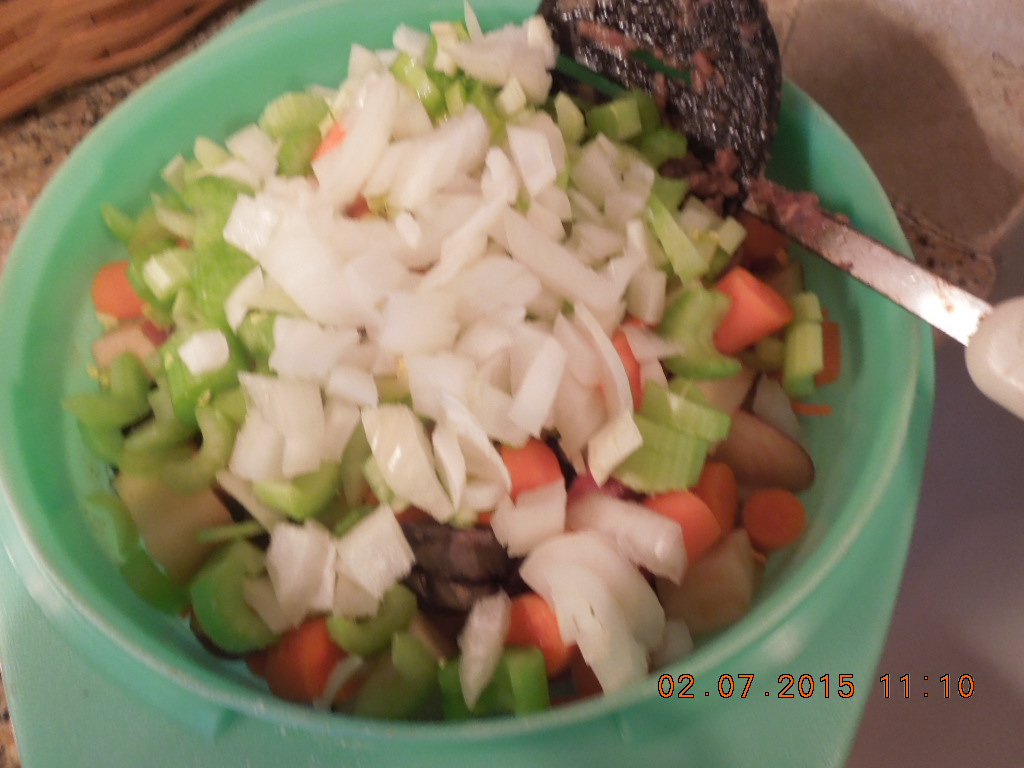 Here is what it looked like when I mixed it up and before I put the lid on.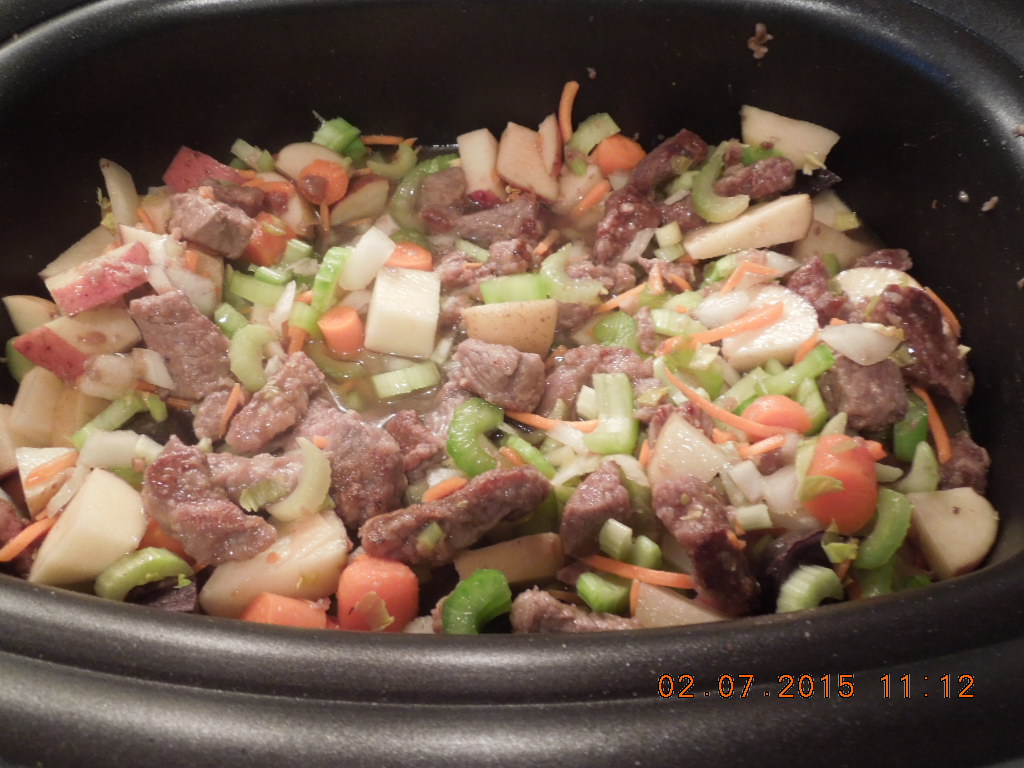 I started with 8 hours low. I knew it would not take that long but I decided to start with that and then determine how I would do it in the future. ON LOW.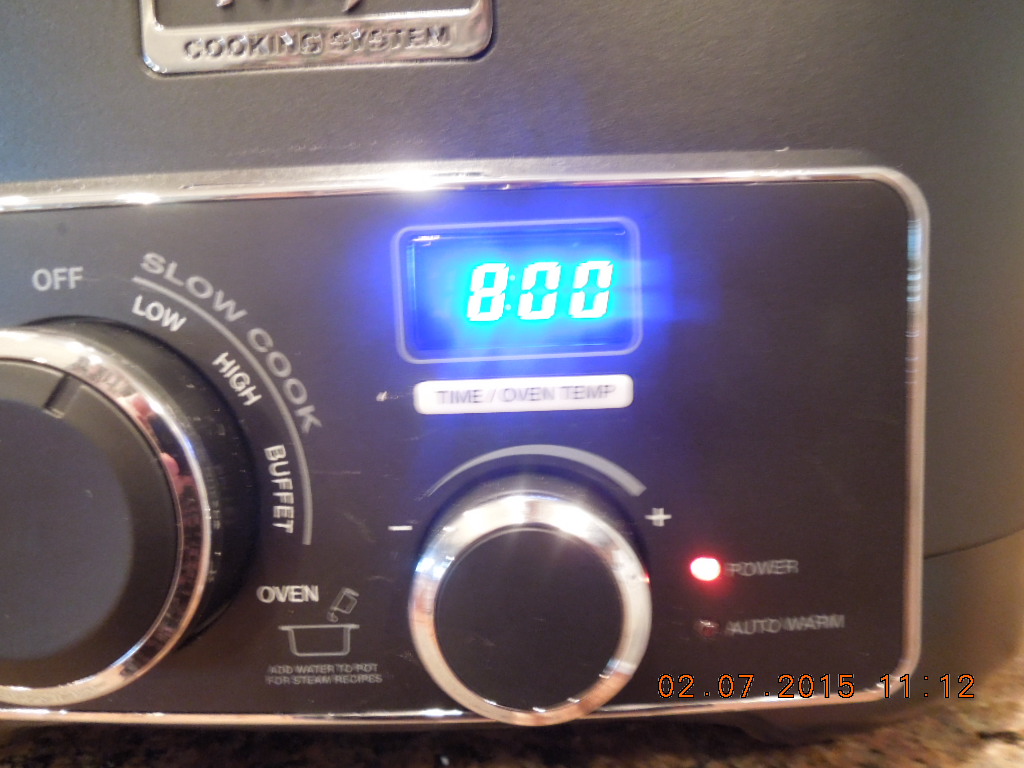 It looks so pretty sitting on my counters.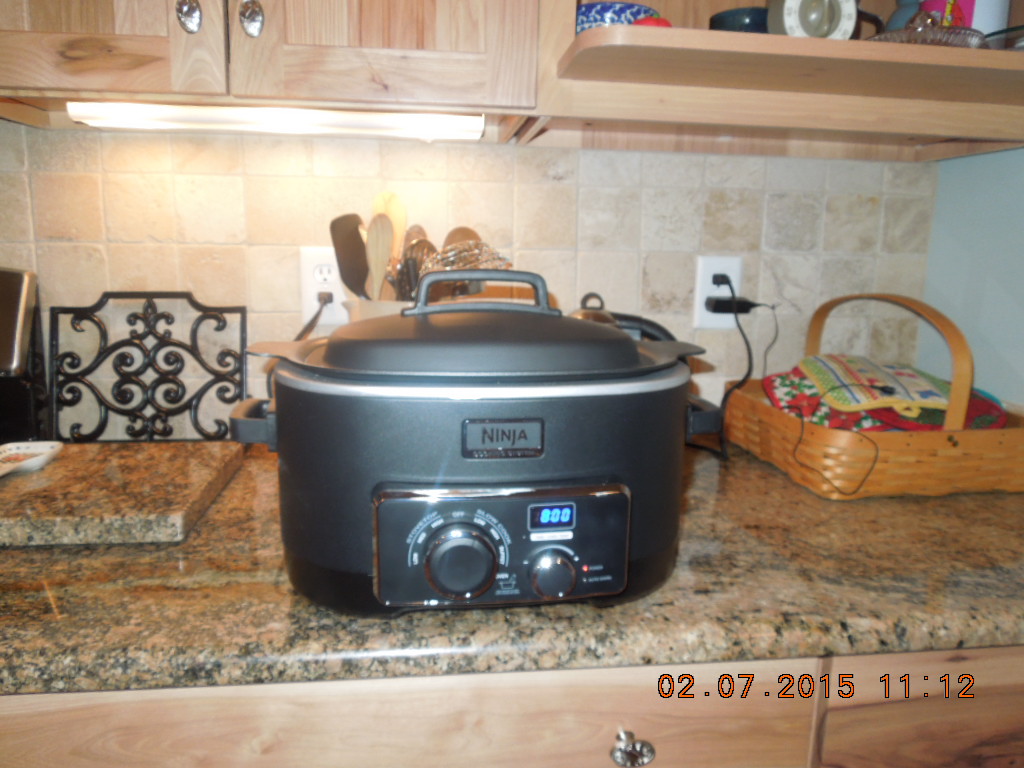 Fireplace going, food cooking life is so good.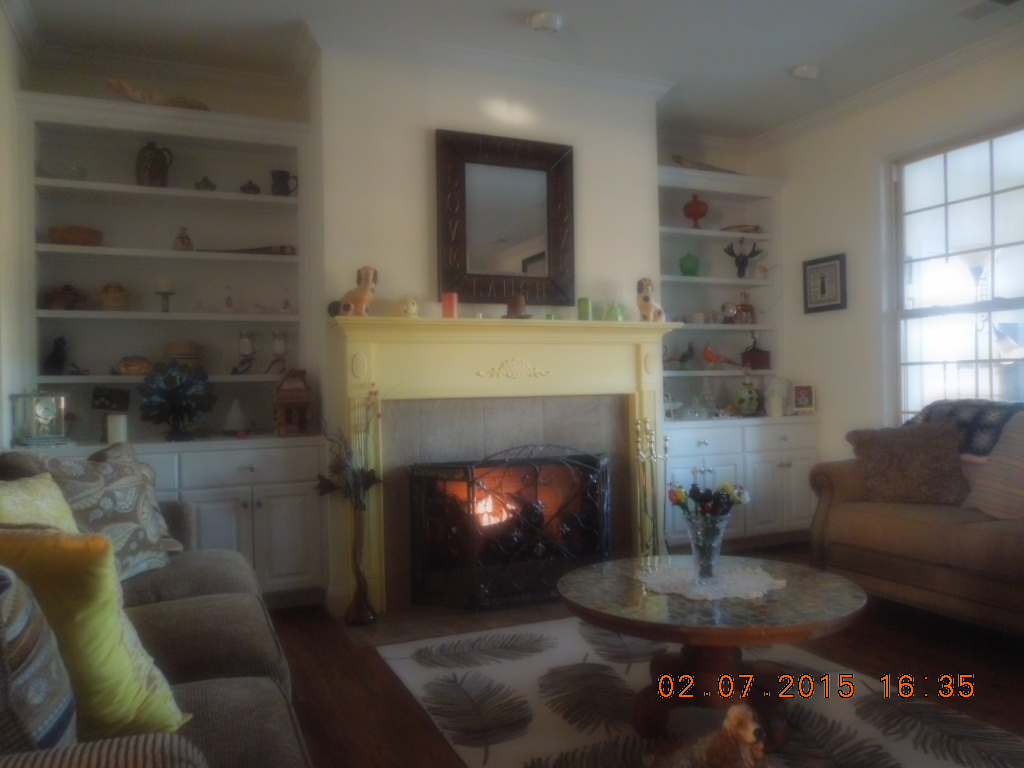 I got brave and made cornbread out of the norm for me. I used some canned corn and cheese . It turned out pretty good. That is one thing I have ALWAYS been able to make.. Good cornbread.  How I do not know but everyone that eats it loves it. I just use cornmeal and milk. That is it for me. It rises perfect.  I have even used meal that was just ground up as I stood and watched with milk.. No baking soda, salt or anything and it worked perfect.  I NEVER put an egg in my cornbread.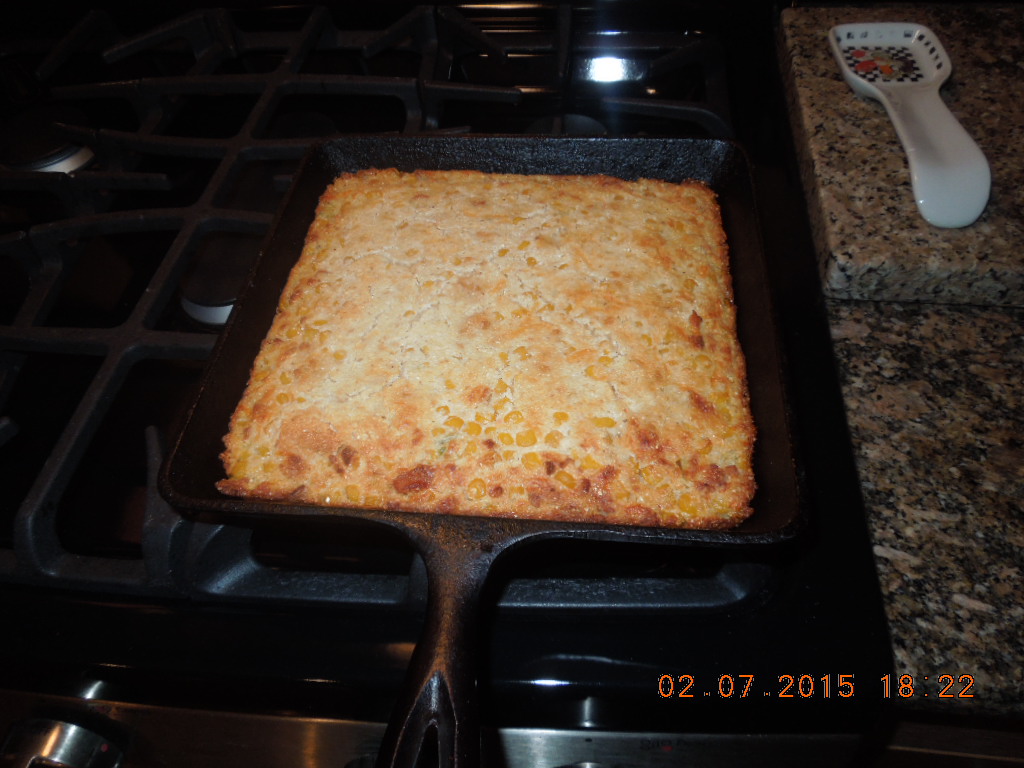 YOU TALKING ABOUT GOOD!  YUM YUM!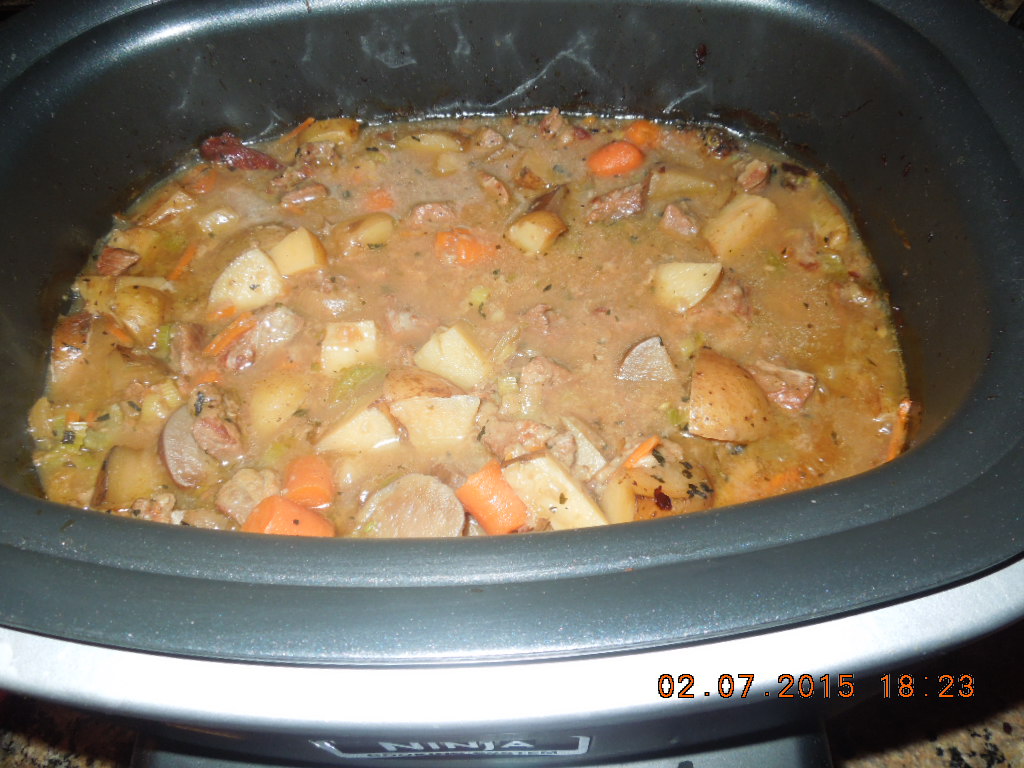 Dinner tonight.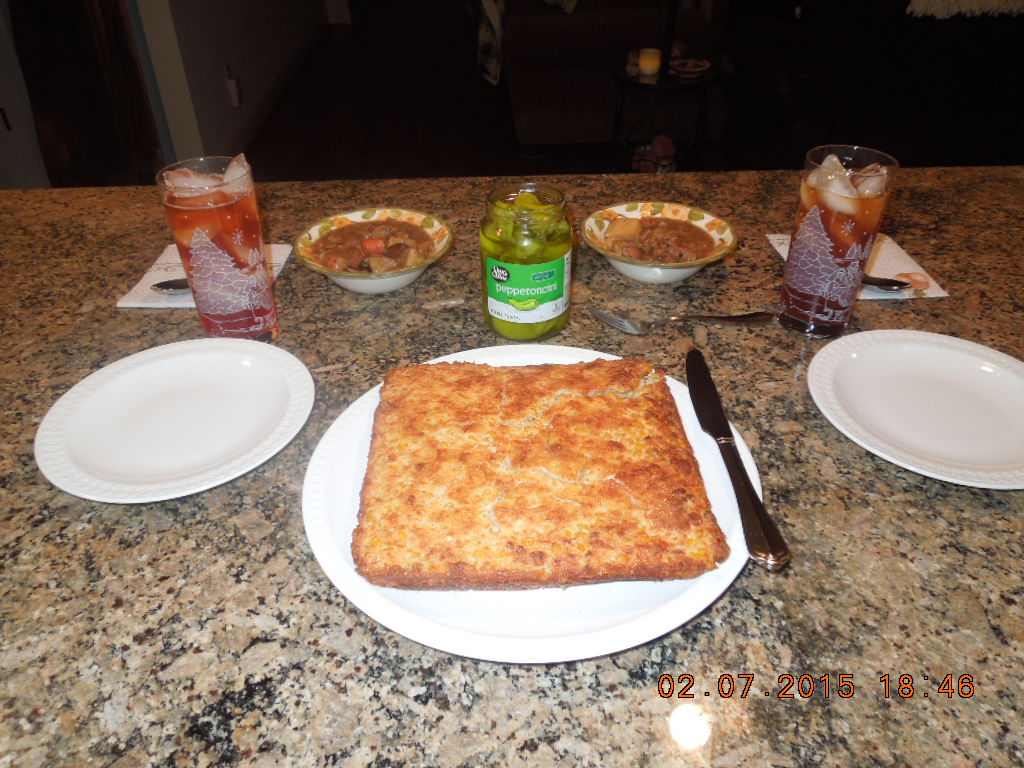 I can't decide which one I like the best.. the picture that is.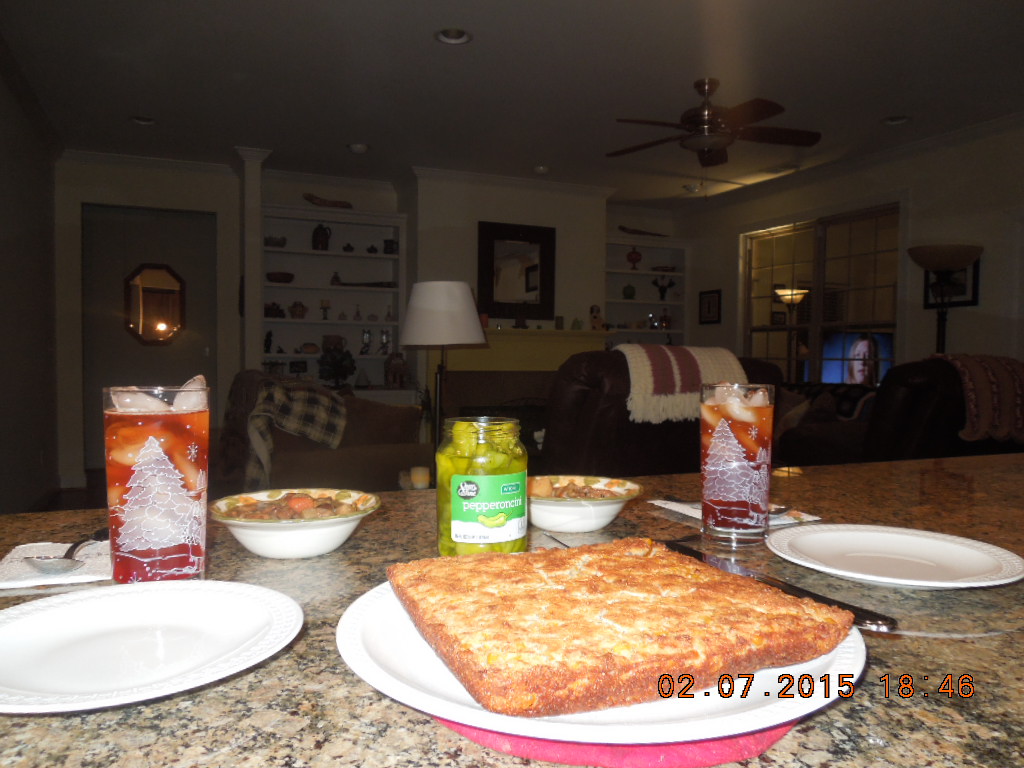 You can check out Ninja's on the website or if you are on Facebook we have a Ninja Group. Just put in the word Ninja and it will pop up. We trade recipes and show the food. I must have gain 100 lbs looking at the food! Just kidding. But all looks good.
http://www.ninjakitchen.com/ninja-cooking-system/   You can click here and read more about the Ninja.
Here is the best FB site to date for Ninja recipes and ideas       Laurie's Ninja/Crockpot Kitchen.    Just log in your Facebook and look for the name.