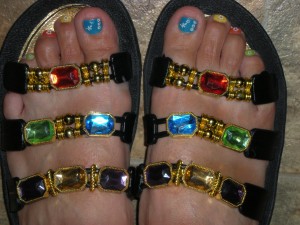 We went to Cullman, AL today on a mission to get a big metal, sun, moon and star for my gate. Derek has to finish one more section and I will have a pretty charcoal gate. I wanted these items to hang on the gate. Well first stop was Big Lots. This is a great store and they always have unique things. The prices are really low.
I never look for shoes while I am out shopping. Reason being I am basically a Birkenstock girl. That is all I can wear out in public and in the house. I know you think I have an image to keep up. No I have a back not to get sore, feet not to hurt, legs not cramp and those shoes are the best I have ever bought. I only have two pairs of boots and 1 pair of tennis shoes that are not Birks. Winter I put pretty design socks on and still wear them.
I looked and my husband was grinning as we say in the south like a possum. He had found this great oversized chair. It was between a recliner and a loveseat in size. He was calling me over there because I have been on a hunt for a new chair. On the way something caught my eye. THESE SHOES. I looked to see if there were any in my size. ONE PAIR! Then I tried them on and they felt good so I decided to see how much. I figured $10.00. Nope wrong, $5.00. OH then I knew they were going to be put in my buggy with my big sun that I found with mirrored tiles that will glisten and glitter when the sun hits it.
I walked over to Gary and asked him "Do these look ok?" Answer…"You look like a casino jackpot machine." Heck I already knew when he picked me he got a winner so I definately was taking these babies home.
I have decided to wear them in the house and not outside. They had another kind that was silver with white stones that looked like diamonds. Look out Cullman Big Lots for the little ol' gray haired lady turning in on two wheels in the near future for a pair of those, or should I wait and see if they mark them down 1/2 price..NAW.
Now I love good bargains. I have always said there are some pretty things at the Dollar General, Big Lots and these type of stores. There is no excuse for you to not have nice looking things. You can buy a pretty cut glass candy dish for a couple of dollars that looks just as good or better as the one you wanted at Macy's that was so expensive they had it locked behind glass. That would only be buying things for show. I want things that I can use and if something happens to it then so be it. I had a good time with it for the time I had it.
JACKPOT WINNER!  And yes I know my toenails are different colors with flowers on them. Are you not suppose to enjoy life and have fun? I DO! I hope you do also.