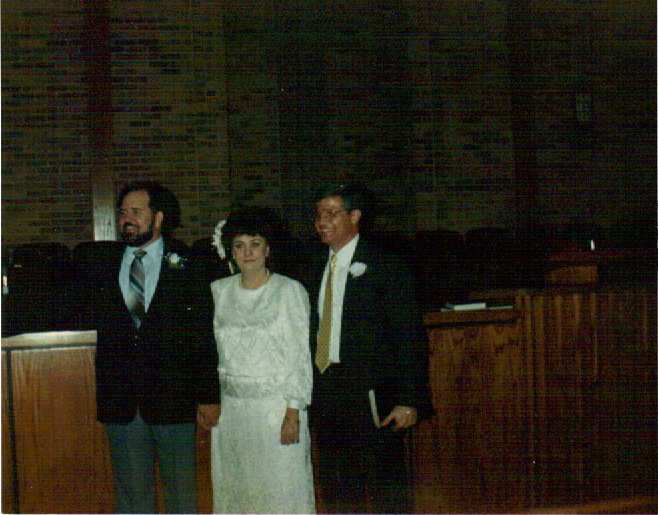 Gary and Chris Wheeler, Bishop Ronald Acker.    Look at us holding hands.. We still do! June 12, 1987
HAPPY ANNIVERSARY BABY, I GOT YOU ON MY MIND!
I was working at the Post Office in Birmingham  in 1986, NOT looking for romance. I was to busy making a living. I had a few friends there , some men, mostly women. One night at work about 2 am I was on break with Jimmy. This man happened " Is he married?"  He said"No divorced" and then I dug a deeper hole and said "Does he have any children?"  "Yep" was the answer.  That was all. I never gave it another thought. Just nosey.  Well Jimmy took it upon his own to go tell this man that a woman was interested in him. I was not. I knew nothing of this.  Well I noticed this man started coming to our table  during breaks and lunch which was 4 AM.  I thought strange but really did not pay any attention  to it.  The funny thing is I pulled mail out of his case for 2 years and never saw him once. Reached over his shoulder and got the mail. Never noticed him.  Very attentive person I am.
Well after a month of eating dinner with us one night he said "Can I take you to dinner before we come to work Friday night?" "Sure" I said and when Friday came we went to Red Lobster for dinner. My stomach was a big churning machine.  I was so nervous it was a wonder I did not throw up at the table. We ate dinner and came to work. Dont ask me what we had. I dont have a clue..Except a good time.
A few weeks later the circus was coming to the Civic Center in Birmingham, AL..  I was so silly that I would not just come out and say "Would you like to go to the circus?"  I wrote a note. Something like this.
Would you like to go to the circus.. Check Yes_____   N0_______
I will pay for the tickets.   I sent the  note by a friend of mine to give to him.  I got the note back and here is what it said.  YES ____x_____.  
I was so excited.
Well my mother, her husband and another couple came down. We met and ate dinner and went to the circus. After the event I dropped the man off at work and off I went to home.  Oh that night cost me big bucks. He just reached over before I let him out of my car and barely gave me a kiss..Just a peck on the lips. It upset me so badly that I was doing 65 mph in a 25 mile zone and got stopped by the police and got a $65.00 ticket.  It was worth every penny!
A few weeks later I was going to my mothers home and asked the man if he wanted to ride with me to her home. Sure do. Half way to her house  on Highway 9, out of nowhere the man said "You want to get married?"  my response, "Sure why not?"  Can you believe that.. Two half dates and now we were getting married?  I was in shock.  The man took a calendar we had and said "I think June 12th would look ok." So it was agreed June 12th would be our wedding date.
I never had been married so I knew nothing what to do .  My sister Karen (It) came down two days before the wedding and helped me get ready. I had some of the stuff but was missing a lot. It had not even crossed my mind to get shoes, floral bouquet  and some important things. I guess I was going to walk down the aisle barefoot. Well the day arrived and I was so excited. We had a simple wedding with no attendants and we only asked a few to come. 125 showed up. I am glad we did not send out invitations. My mother in law went to pick up the cake that afternoon and the lady gave someone else my cake and I did not have one.  Mrs. Wheeler had a "fit" and the lady quickly made up another cake. It was a good thing since so many showed up.
The day came, June 12th 1987, The Church of Latter Day Saints, Bessemer, AL.  I was as nervous as a cat in a room full of rockers.  We rode to church together and my mother was having a fit because we saw each other before the wedding and bad luck and you know the rest. We do not believe in luck so it did not bother us but that was her another story and I wont go into details. The ceremony went great, the reception was wonderful and we had a good time. Left for our honeymoon and the rest it history. 
I will say this.. It was all a big plan by God for me to meet "the Man."  I tell him all the time he was a gift from God. I have had the best 23 years of marriage.  He is just a wonderful person.  I thank God daily for him and I hope he lets us see 23 more and then more and more.  The man's name is Gary.   He is cooking my breakfast as I type this.. What can I say?  I told you he was a gift.  I love "The Man."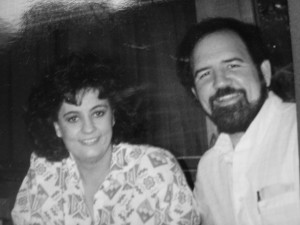 Our first anniversary. Gosh we were all smiles and I had big hair! I was 33 and he was 42.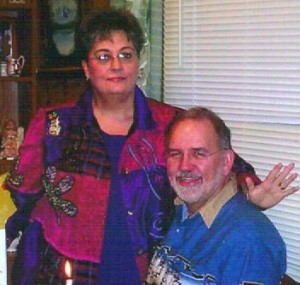 Gary's 60th birthday. Boy we have changed!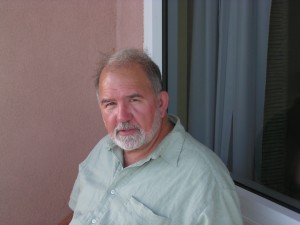 My gorgeous husband doing his Earnest Hemmingway pose!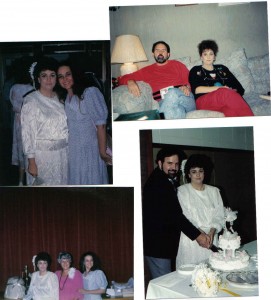 Here you will see Me, Karen (IT) and Mama.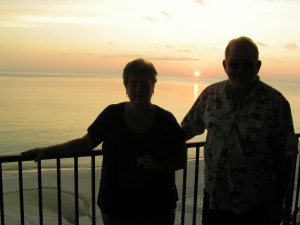 The Wheeler's entering into the "golden" years of their life enjoying each other and the sunsets!
I always tell him " I love you more than Forrest loved Jenny!"   Remember how much Forrest Gump loved Jenny?
Then I say  "Roses are red , Violets are purple and I love you more than maple syruple!"  On that silly note I am closing!