This is a joke! Needing more fabric.
 We have been talking about going through our fabric stash and organizing. You know, putting all the same color scheme in one tub. Well this morning we got up and after we had our breakfast I announced  I was not in the mood to go sew. I instead was in the mood to start today getting the sewing room cleaned out and organized. There are things I have held on for years that I WILL NEVER USE.. I will pass them on or give them to the Goodwill. Either way they will be leaving here.
We have one bedroom in our home. We are not spend the night company folks so therefore we do not have a need for another bed.  The what would be guest room is storage room for fabric. It is downstairs and we had it packed with boxes and tubs full. Today Gary moved every tub out and I started going through them. I dumped several on the kitchen table and labeled them with the different colors and started sorting.
Our living room, kitchen and dining area was a total mess but it worked out in the end.
Here are some pictures. These are when I was in the sorting process.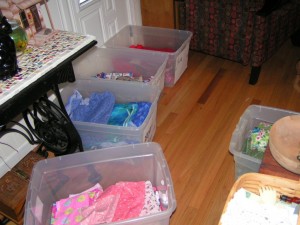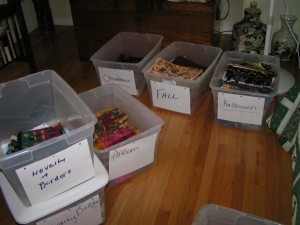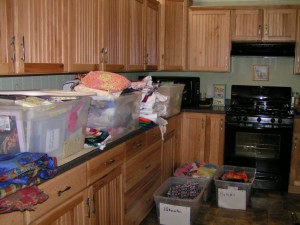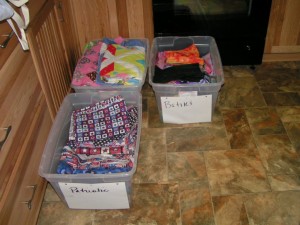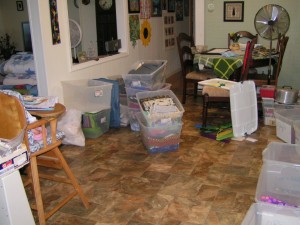 I had the place a wreck. We got all but 15 tubs finished. They are upstairs. I must say I had a very good time going through all the different fabrics and sorting and see things I had forgotten about. I will say I found out African fabrics are my favorite, with Halloween and Fall coming in second. I had a good bit of blue, pink, greens and my least favorite was orange. I think I had 3 pieces of orange.  Gary had 7 tubs packs full of Christmas fabric. That is his personal treasure.
Now here is the room where it is stored. I believe we are going to go through the other 15 tubs and leave them upstairs or either swap out with the ones downstairs. But I have fabric and won't have to get but an occasional piece to go with something for a long while.
These are the after pictures and I did get the living room and kitchen area back in order.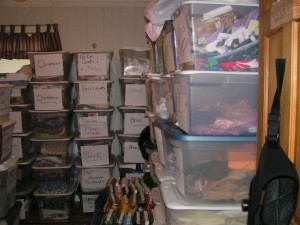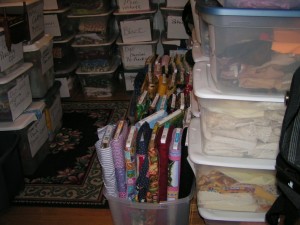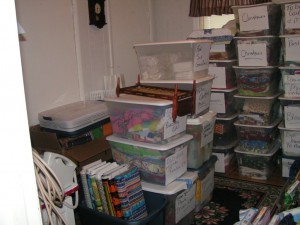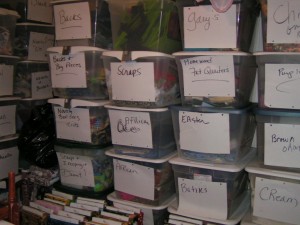 Gary does not like scraps. All day long he kept saying "Throw out anything you can."  I had a couple of tubs of scraps I wanted to keep. Do you think he will get the message?