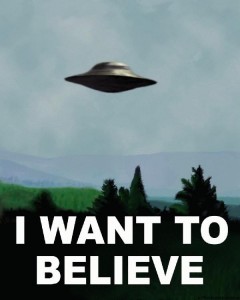 Remember the X-Files?  That was my favorite show. I could not wait for each episode to see what Fox and Scully were up to. I even have the same poster you see above in my office/Aunt Jan's bedroom.
Well today I WANT TO BELIEVE that I am going to get off this computer, go to my studio and get some serious sewing going on. I am giving myself 5 more minutes and check back tonight to see what I accomplished.  
Gary is going to go to the studio with me and he will be using our Accucut to zip out about a zillion circles for the fabric yo yo's  we are making and you can see the makers at www.welovequilting.com in the shop . He is also using the many bags of scraps I have to cut out the tumblers for a back I need for a quilt. You see from now on I have a plan. When I make a quilt top I am going to either make a tumbler back or a turning 20 back. So when the person gets a quilt they will have two in one and I will be able to use up my scraps and not have to purchase large amounts for backs. What do they say "Waste not want not?"   See you tonight with hopefully many surprises.