I was sitting here working on my computer waiting till time to get up and start our dinner. Gary was nodding.. I know you all find that hard to believe your man sitting in his chair with his computer in his lap watching tv dozing!  It is hard to believe I know.
I heard on my new scanner  HomePatrol which a friend of mine John Williams recommended and I am so glad he did. All you have to do it basically key in your zipcode. You can go to www.uniden.com and see them. I LOVE MINE.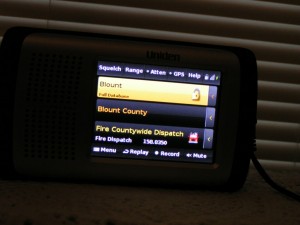 I heard dispatch all units to the "rez I dents" You have to understand I am in the middle of hillbilly country.  ….and it gave my address. "We have a code 10-95." Ok I thought, I must be hearing things. Then they said it again. I woke Gary up and we looked outside and low and behold the pictures will tell. Yep there was a 10-50 in the field across the road. They were going to need a 10-52 and in this neck of the woods they call it an AM BUHL LANCE! Yep 'sho do!
In a few minutes it looked like this. I was on my front porch with the zoom on the camera.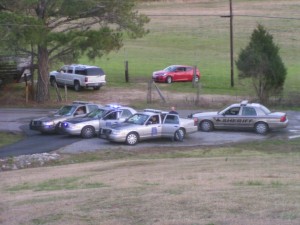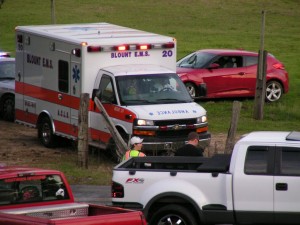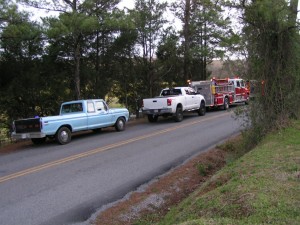 I bet the neighbors wondered what in the heck was going on at the Wheeler's. I know the folks here already tell their kids to stay out of the lady up on the hills yard. I guess if somebody ask I am going to say "Didn't I tell you I did not want company? Don't knock on my door asking for any solicitations or leave me any religious tracks and somebody did not listen!"
Well I asked my beloved husband to go down and see what was going on. He did not want to.. I say "If you are scared say so." So I had to get out of my gown, put my clothes on and head out in the woods. He claims he did not care what was going on but he sure interrogated me when I got back up the steep hill. Then he said "You should have went across the field in the cow pasture to get a better look."  Call me nosey will you!!!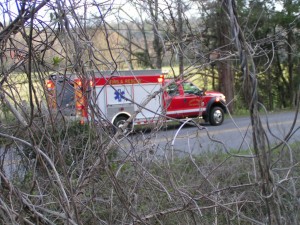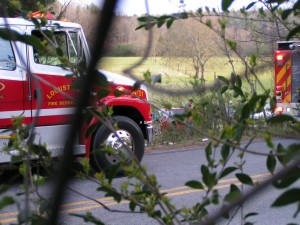 I am sure glad snakes were not out.. I had to crawl through the jungle here in Locust Fork, AL to get a good view of what was going on. Oh yes.. Just call me Gladys Cravitts.  That is ok.  INQUIRING MINDS WANT TO KNOW.
To the best of my abilities. Somebody came flying down the road going toward highway 79 from Little Shenandoah. It does not surprise me one bit no one has been killed on my road. Twice someone had ridden the ditch in front of my house like it was the track at the Talladega Race Way.. One time they turned completely over. You see we have a 35 mile speed limit on our road. They can't read, they think it is 350 miles an hour.
I am so glad my dear neighbor Sonya down the road did not come by when this was going on..I can hear it now," she'll do anything to keep from cooking!"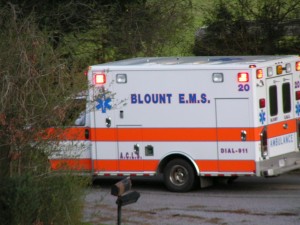 I don't think the person was really badly hurt. They did not turn the "sigh renes" as they call sirens where I live.It is pronounced (Sigh Runs, and say it real fast) Dont drag it out 3 miles. But I want to say something, we are really out in the middle of nowhere. It was probably 5 minutes after I heard the dispatcher call for help that my yard was full of firetrucks, ambulances and all the Blount County Sheriff Department and Alabama Highway Patrol officers. That makes me feel good.. Blount County Alabama is truly a good county. If I have to live in Alabama it will either be here or Calhoun County, AL  Blount County AL does have great emergency personel and officers. THANK YOU.
I wish I had my own newspaper or radio station broadcasting out of my home!! Any takers? I know we have http://www.blountcountian.com/ and then there is this online paper http://www.locustfork.net/ . I wonder if Glynn Wilson would give me a job? I would love to ride around in my car with my press pass and my notebook like Jimmy Olsen taking notes.. "Just the facts Ma'am." would be all I would report! I could see me like Columbo" Just one more question with my raincoat on and my notepad.. BUT I AM NOT GOING TO START SMOKING CIGARS OR ANYTHING ELSE!
Hey I could be a good investigative reporter for Roger at http://legalschnauzer.blogspot.com/  but then I'd don't think I would look to cute in a bullet proof vest. I'd surely uncover a big mess and get in trouble!  I will just stay here as Senior Reporter and Editor of We Love Quilting.
AND REMEMBER DON'T MESS WITH THAT LADY ON THE HILL!!!!! She is nothing to play with!