Most of the time I have approximately  a quarter of an inch of patience, more like a scant quarter.  All you quilters know what I am talking about. This past Sunday Linda and I both lost our patience. We just did not take it out on each other. Thank goodness our friendship is still intact. We normally finish our projects around 7 pm this Sunday it was after 10pm. I was so tired all week and so was Linda. Yesterday was the first day I got my strength back. It was run run run all week long on top of this past Sunday fiasco.
Having a long arm machine regardless of the brand is a new day every day, new problem,new adventure and new headache. Whatever you want to call it. Last Sunday was no exception. I could only hear the words of my MIL,"My Grandmother always said that for every stitch you sew on Sunday you will have to take out seven with your nose in Heaven."  I hope there is a lot of seam rippers because I have sewn quite a bit on Sunday's. Miss Gerry is no longer with us so I hope she put a good word in for some of the words that I was thinking while this machine of mine was testing us to the point of no return.
Linda had put together a wonderful quilt. Before she got here I had it already loaded on the frame, threaded and bobbins waiting to be filled up. We usually fill up about seven bobbins to start with. I had already picked out what I thought was a good color but you know it was her quilt her decision. She was ok to the one I had selected. I was smiling.
She got here we talked for a few minutes and she got started. ALL WAS FINE, until we decided to take a break, ALL HECK broke loose.  Every few seconds the thread would break. We knew it was nothing we had done because no one touched anything after we stopped for a few seconds.  We tried everything. Changing bobbins, cleaning the machine, changing the needle, you name it we tried it. I swear sometimes there is gremlins hiding in the sewing room we turn our back they start turning knobs and dials.
It took about one and a half hour to get about two feet finished.
Today the service guy came to the house to get it fixed up ready for tomorrow. He found out what was wrong and he will be back one day next week to finish the job. I really like my service guy. I refer to  him as  "Have Doctor Will Travel."
Well here is a picture of Linda's beautiful quilt. I think she needs to name it "Patience."  You know even though we had a difficult time for close to two hours we still have a wonderful time talking, laughing and trying to diagnose the problem. At one time Linda was on her hands and knees looking for a screw that I dropped out of the bobbin case. I am not a hundred percent sure that she was not down on her knees sending up prayers for me having a hissy fit!  For a "mature" gal she still has it going on. It is like Lucy and Ethel most of the time.  First I am going to show you a couple of pictures I have been wanting to share. After that her quilt.
HMMM I wonder what is under this Singer case and yes that is an Accucut. It is like those Go's you all love but this thing is heavy and can do some serious work. I have a lot of dies.  Projects coming in the future with this. I probably have had it for ten years. I would not take anything for it.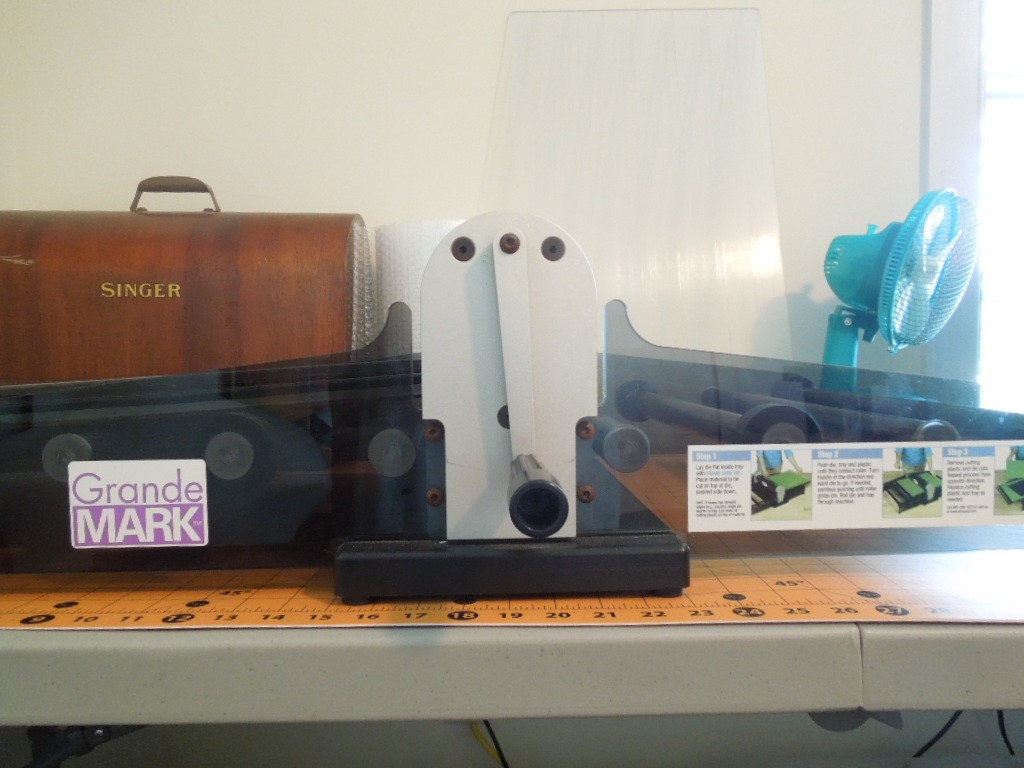 What is under this nice box that belongs to my Little Precious (Husband Gary) Well according to the way the pictures loaded you will have to wait for a few minutes. I forget that WordPress will take the pictures put them in their order not the order you load. But that is ok.. Like life, not everything works out perfectly you just adjust.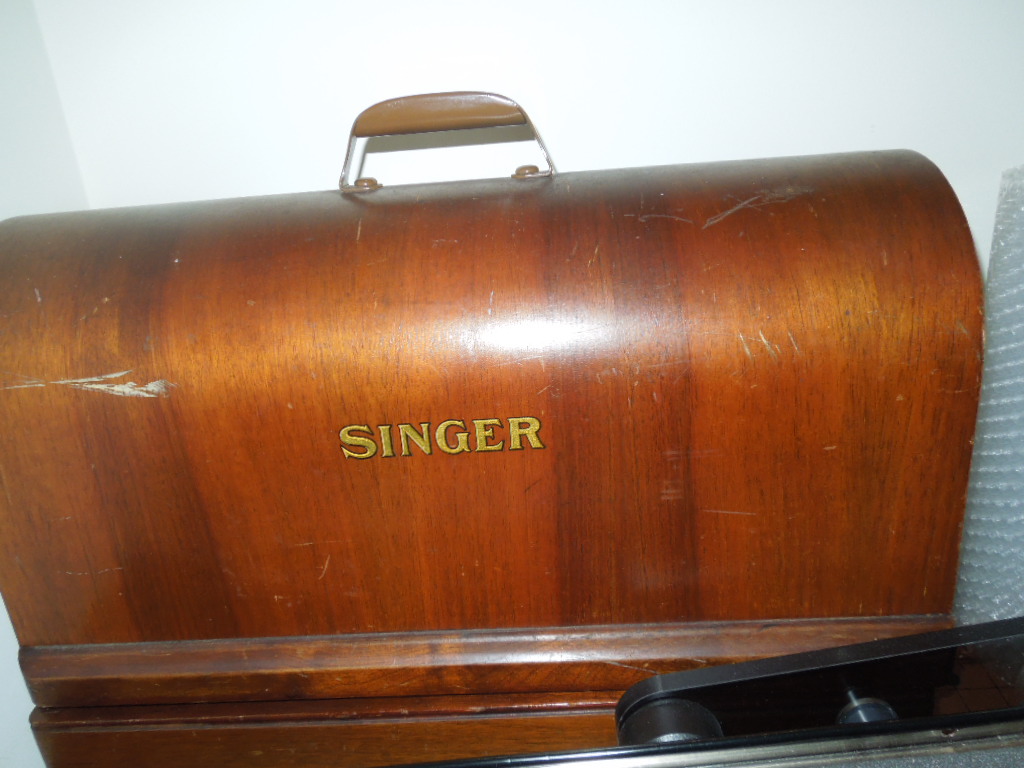 The finished quilt. It is a variation of a Gordian Knot pattern. I really like the combination of colors.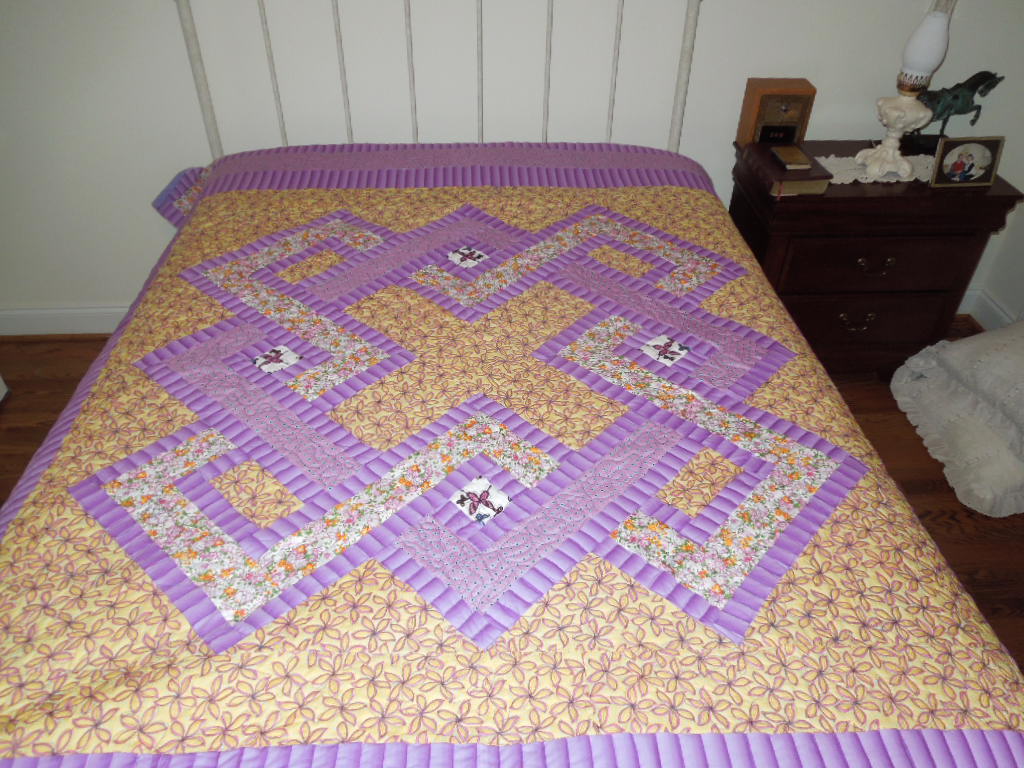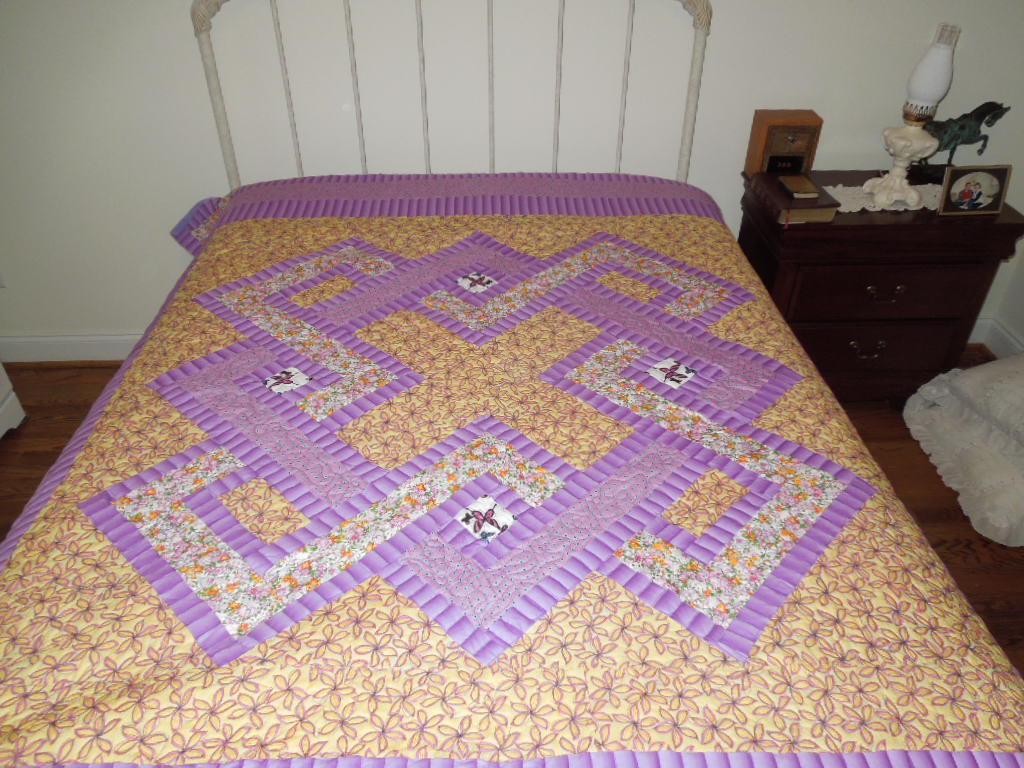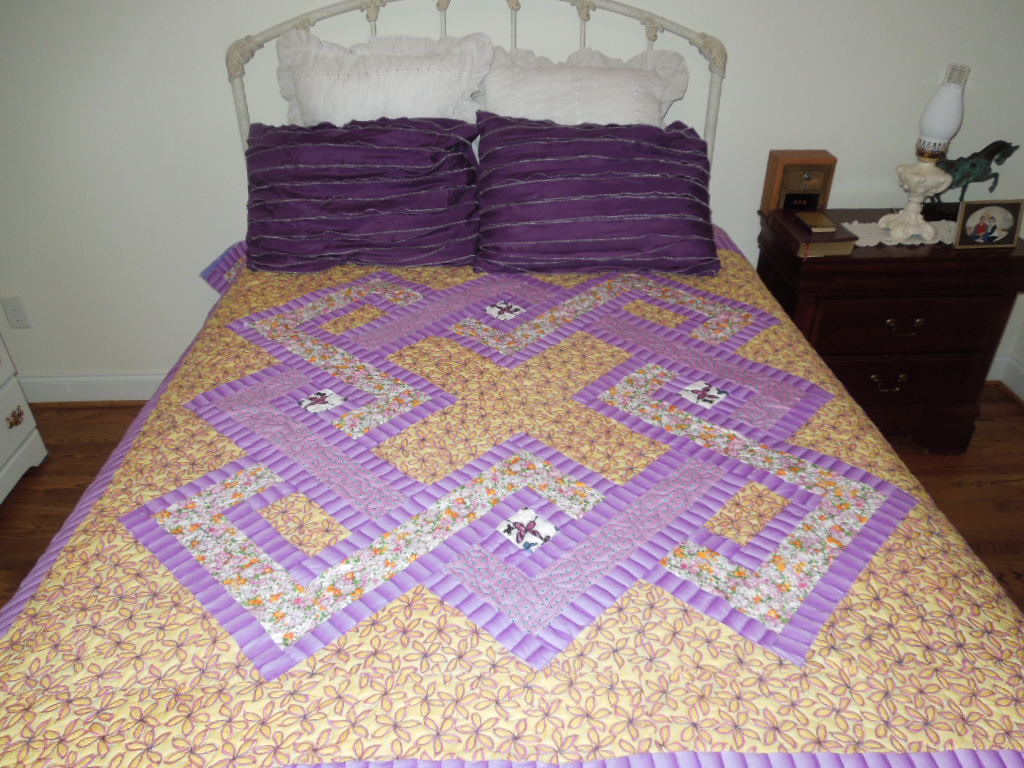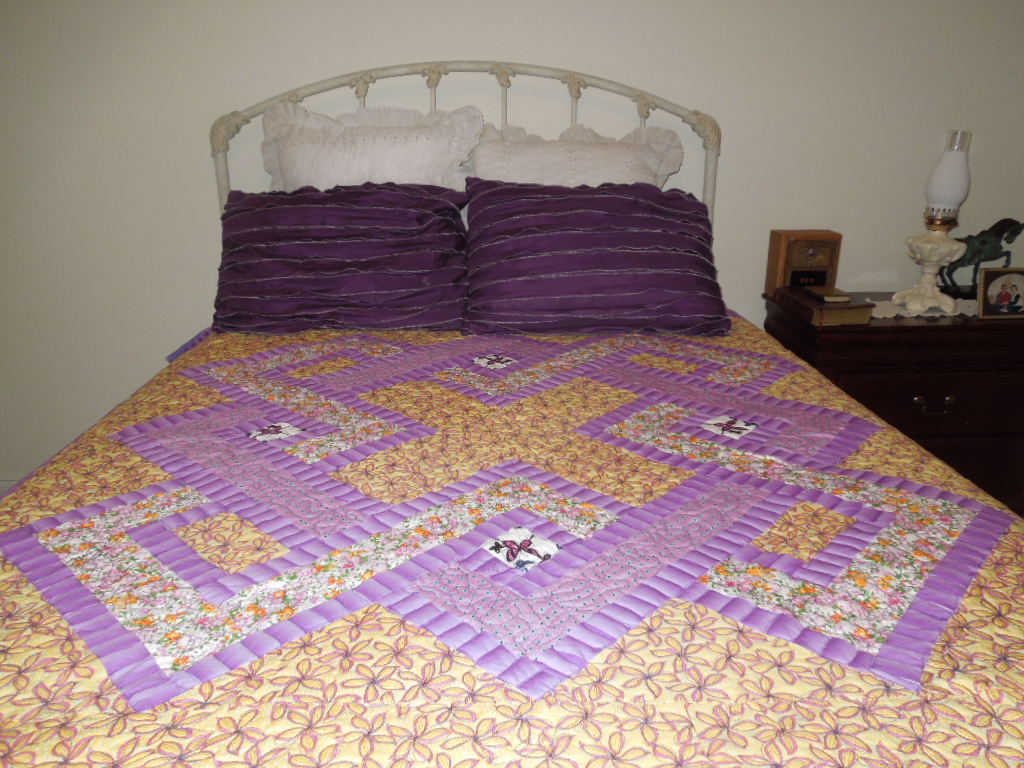 This is the back. I like how she went around the flowers. We like to freehand our work. Anyone can have a computer design but freehand is our thing. Now do not get me wrong one day I may have a computerized long arm but I probably would still use the manual option. I just like doing what feels good!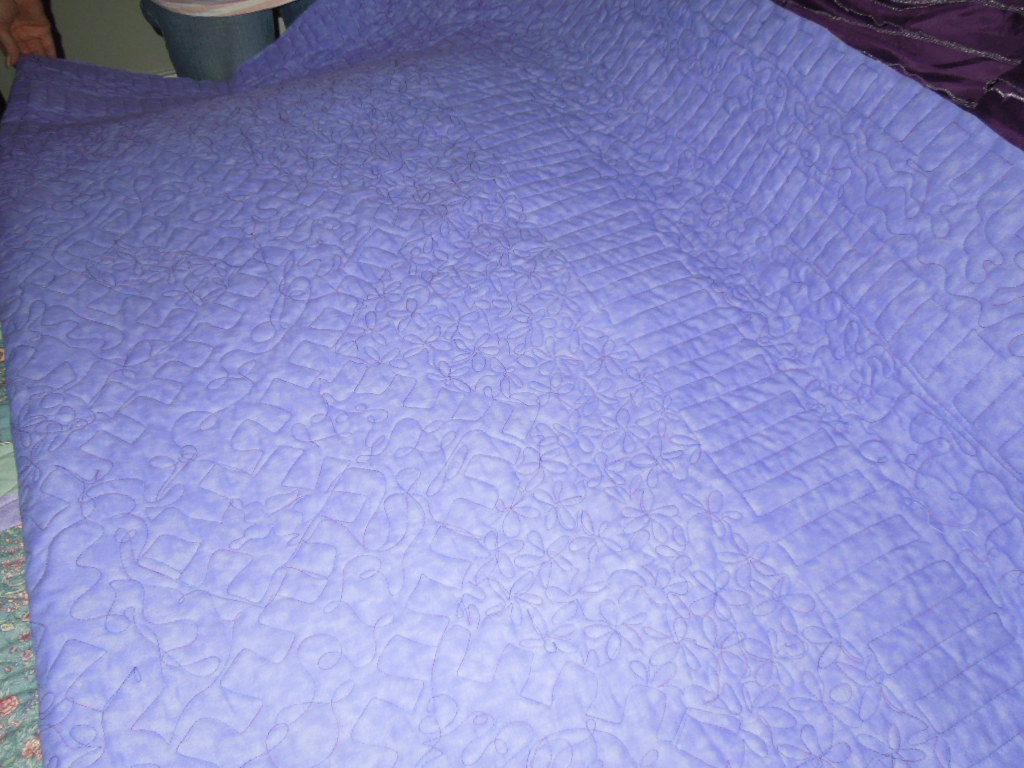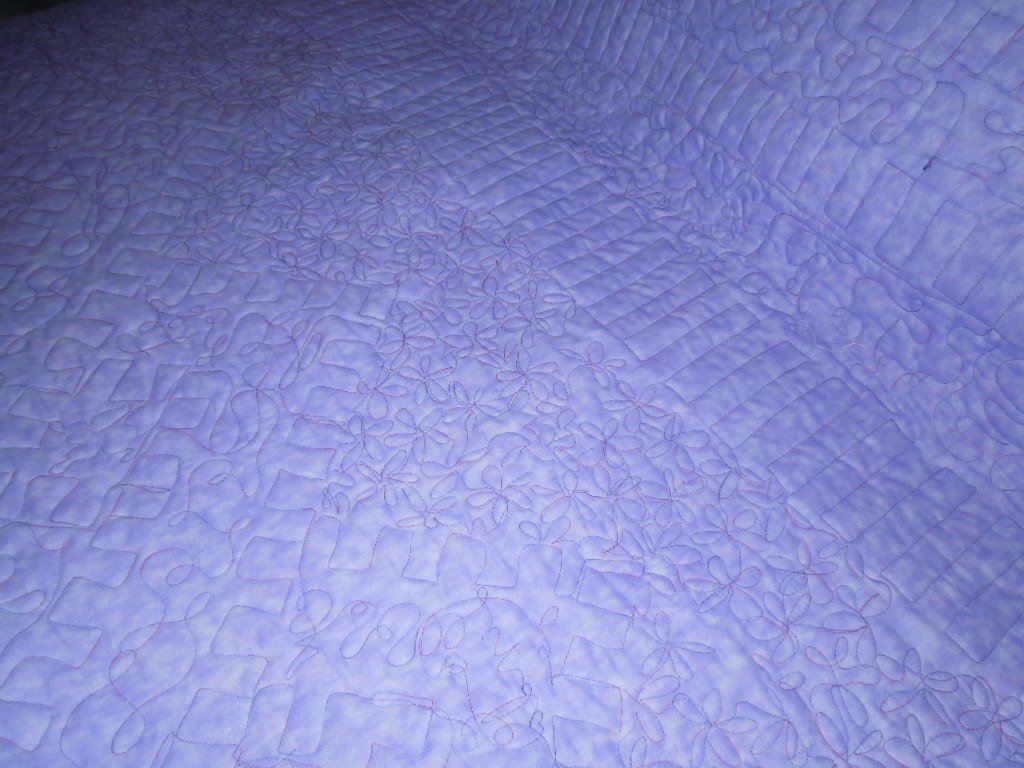 If you look closely you will see a dragonfly. I bought some templates from Checker Distributors to sell here in my store when I get a chance to list the items. I kept one for myself for a test. I took a pen that the ink dissolves with air or water and drew on the fabric the dragonfly then Linda just guided the machine over the marked lines.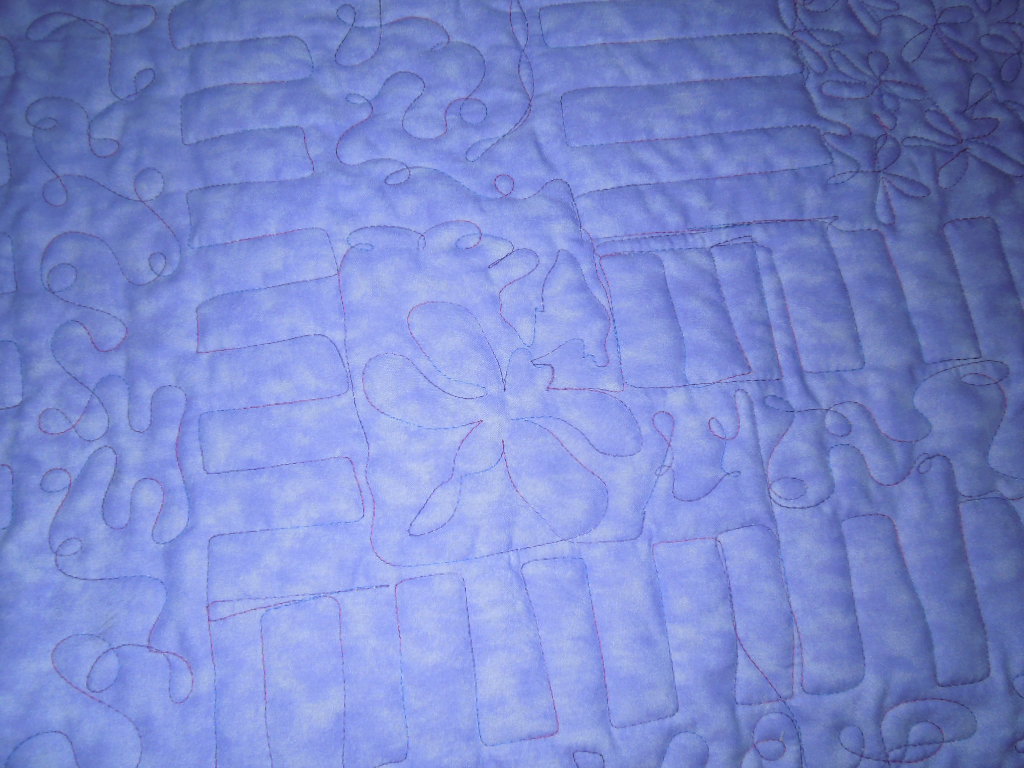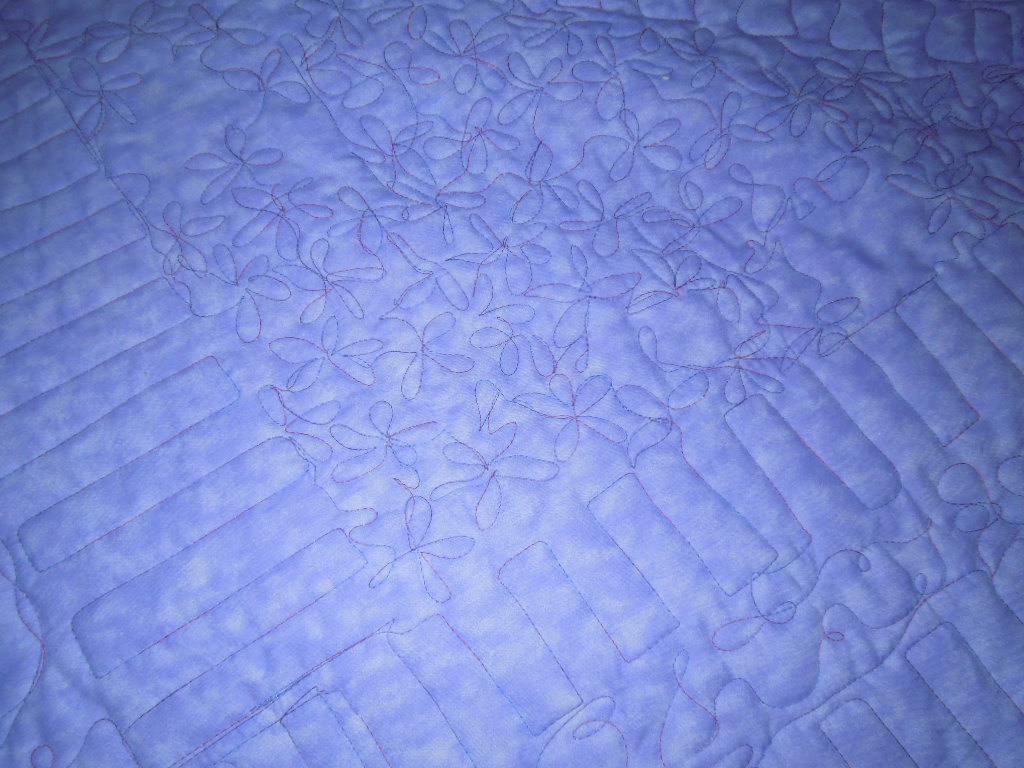 Now here is what was under that wooden box. Can you believe this? This machine is in mint condition. My MIL and FIL lived in Trinidad when my husband was a small boy. Mr. Jack was stationed in the Navy.  Mr. Jack ordered this machine from Sears through the commissary.  I think Miss Gerry said she used the machine maybe three times. It came back to the states and was hidden away in her laundry room in a cabinet. She gave it to my husband which means it is mine also but since it was his mothers I call it his machine. If I did not make a mistake it was manufactured January 19, 1954.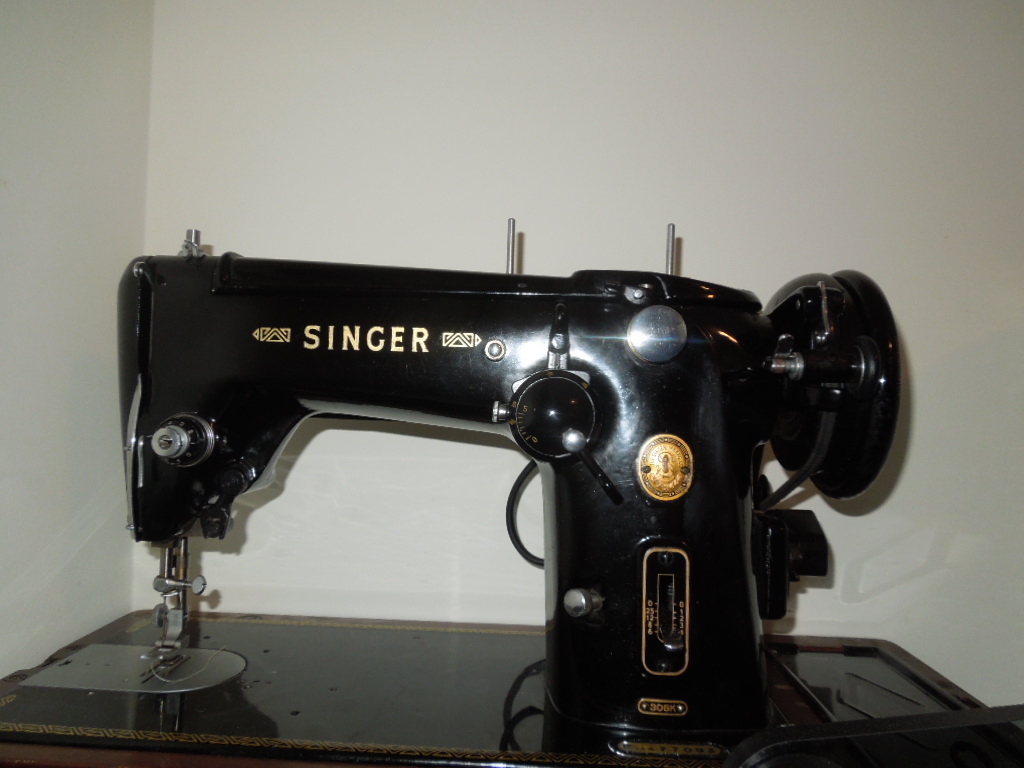 It seriously looks like it has not been used. The light spot on the machine is just a flash from the camera. We did replace the cord because over the years even if you do not use the machine the cord gets brittle and deteriorates.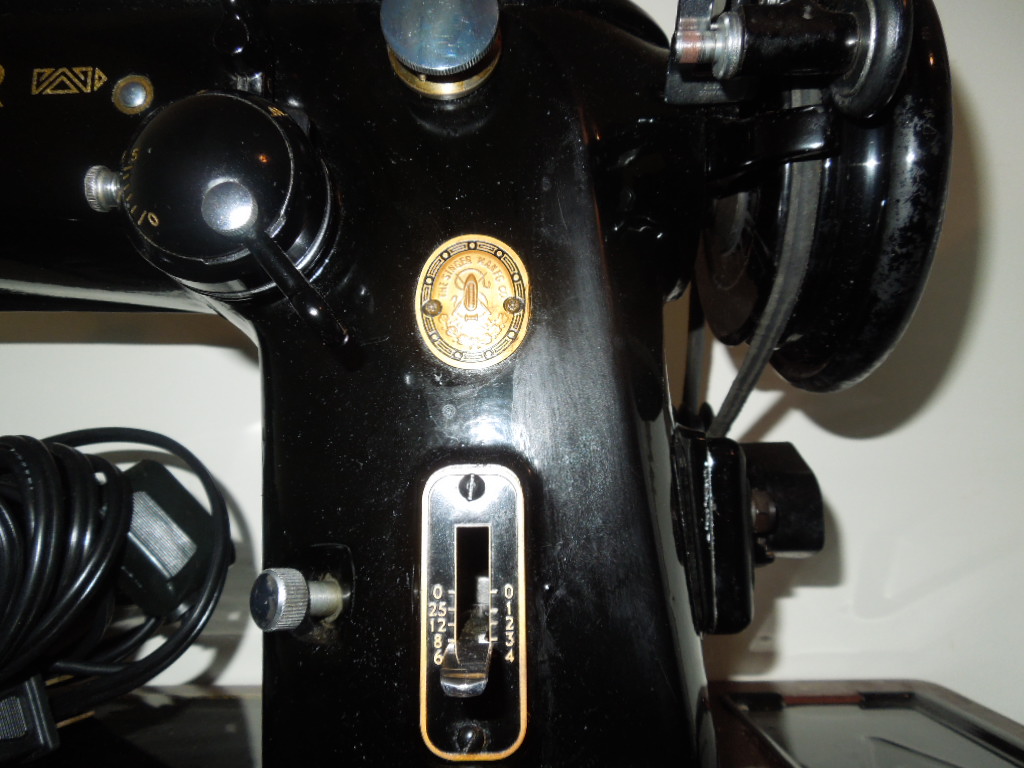 Isn't she a beauty?   Linda will be here tomorrow. We are having a "snow" day. You know when you do not get to go to work because it snowed. Well we are not going to be able to quilt on the machine but we have some UFOs that we are going to try to get ready to put on the machine this week when it is hopefully finished. Stay tuned!