Well another quilt bit the dust today. I got up this morning and went in the sewing room and Lizzie looked so sad sitting there all empty.
I looked through my many tubs of tops and found one I wanted to quilt. You see Gary aka Little Precious made this top for me a long time ago. It is called the Postage Stamp Quilt pattern. Or that is what we call it. Well I was going through my tubs and found it. Notice I said TUBS.
Time to load this baby on the frame!

I was placing it on the frames to see if I have enough of the backing batting. I did.
To all you  non quilters you want to see what the back of a top looks like. A MESS.  To be such a mess only to have the front turn out so beautiful. That is like life. You may be gorgeous on the outside but a mess on the inside!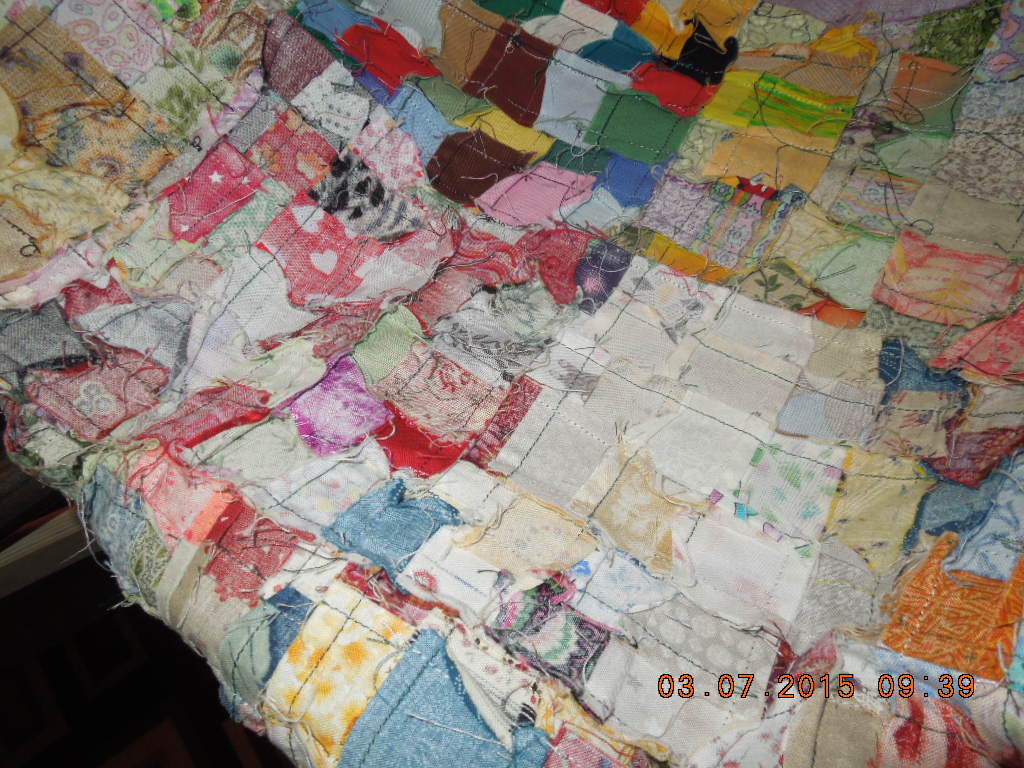 HHMMM I wonder if I have enough fabric for the back. This is one out of 25 bookcases!
FOUND IT.. see it on the photo. It is face down. That is because when I finish quilting I do not want the good side on the inside and the inside on the outside! I am getting more and more like Edith Bunker by the day! I just ramble on. Help me if I start singing like she does.
It is rolling up nicely and the stitching looking great. I love the back as well as the front.
You know what this means??? All finished and ready to take off the frames.
The finished product. No it will not be used on a bed. It is mine all mine and I am going to as my Deara says "wad up in the recliner with it." In other words I am going to use it in the winter when I am in the recliner relaxing.
I really like the quilt.
I know you will not be able to see the quilting and all different colors of bobbin thread I used. What I did was I had about six bobbins that was either full or a little bit on the bobbin and I used them regardless of the color. I did not care about all the different colors of thread, it is mine and colorful like I am. It worked out well. I used up the bobbins only to turn around and fill them back up with my stand alone bobbin winder. I laugh sometimes at the garb I put on to go out somewhere. I just grab anything. Nothing matches and then I get a glimpse of myself in a mirror and think "girl you look like a rodeo clown."
Front and back.  I am crazy about it. Now I have to put the binding on. I will do that in all colors. Hey I may even take the back fabric and make a binding. I like different. Thanks Little Precious. I now have a treasure from you to me to keep forever.Agent Wade will be here tomorrow.  I can't wait.