Well you do not know but I have this saying "I'll have it when I need it." Almost six years ago I bought a long arm Tin Lizzie 18. Now it could be more than six years I am just guessing. I bought it new . Never used it.
I was terrified of it. You see all my life I have been insecure. My work was not perfect, nor did it look as good as this persons or this and that and this and that and I was insecure. It never occurred to me that my work was not suppose to look like others it was suppose to be me. Good or bad it is me.
I took some classes on the Lizzie but the timing was not right. I was terrified of it. What if .. That should be my name, What If Wheeler. My famous two words I say more than anything. I am about to eliminate those two words out of my vocabulary.
I walked around the machine like it was a rattlesnake about to strike.  I had to make a decision. Never mind I was giving an ultimatum by my Feng Shui consultant Katie Rogers, that if I did not use it I needed to let it go. I needed to conquer it or give it up. We do not need things in our lives that bother us or keep us from being happy.  Lizzie was keeping me from being happy.  I needed to get rid of her if I was not going to use her. One part of me wanted to and the other part of me was like "DON'T DO IT." I knew if I did I'd be back in the stores hunting another one. I am bad about that. Letting something go to the donation center I truly love only to go search and search to get it back.
I have tossed and turned and tossed and turned and weighed one side against the other. It was like I was living with two different people. This one person inside wanted me to sell it this other one wanted me to keep it.
I studied and studied I read everything I could get my hands on about long arm quilting and the Lizzie.  I joined groups I asked questions.. I WAS STILL AFRAID.
Then a lady from a shop that has her own long arm business was gracious enough to come and show me how to operate it. IT CLICKED. I was no longer afraid.
Well the machine was a mess. After sitting there for all those years a part went bad. Yes a part went bad. I had not used it but one time so it was not like it was getting a workout.
Ok I took the machine in the hospital. It stayed a few days brought it home and every time I would sew three seconds the thread would break. My husband counted the times we threaded that machine 65 times in a couple of hours. With the needles eyes getting smaller(older human eyes) it was getting to be very aggravating. My back was hurting me so badly I was having spasms.. I was determined NOT TO QUIT THIS TIME.
I took it back to the hospital it stayed a few days and knock on wood came home and is working like a charm. NO BREAKAGE. I am holding my breath crossing my fingers.
A friend of mine left a quilt over here when we were trying to practice on it and it kept breaking.  Well when I got "Shug" home I called her and asked her was it ok if I tried to quilt some on it. Sure was.. well then I got to finish it.  There is about a 4 inch area we are going to have to take out all the way across. But that is ok. Tomorrow she'll pick up the quilt take out those stitches and Sunday we will be able to put it back on the frame and finish that one tiny bit and she will have a quilt.
She is going to bring a couple more to get started on.  I am working on a quilt for a raffle so I will be sewing on one machine and she will be quilting on Lizzie aka Shug!
Here are some pictures. The machine is not computerized and to be honest I do love the quilts that are quilted on the computer but I also love the way I can freehand and do any design I feel like at the time.
Please be critical if you find anything that you need to say to me. I welcome all comments. I hope you enjoy and if you all know a really great thread to quilt with let me know.  First picture has the messy problems that are going to go away this weekend.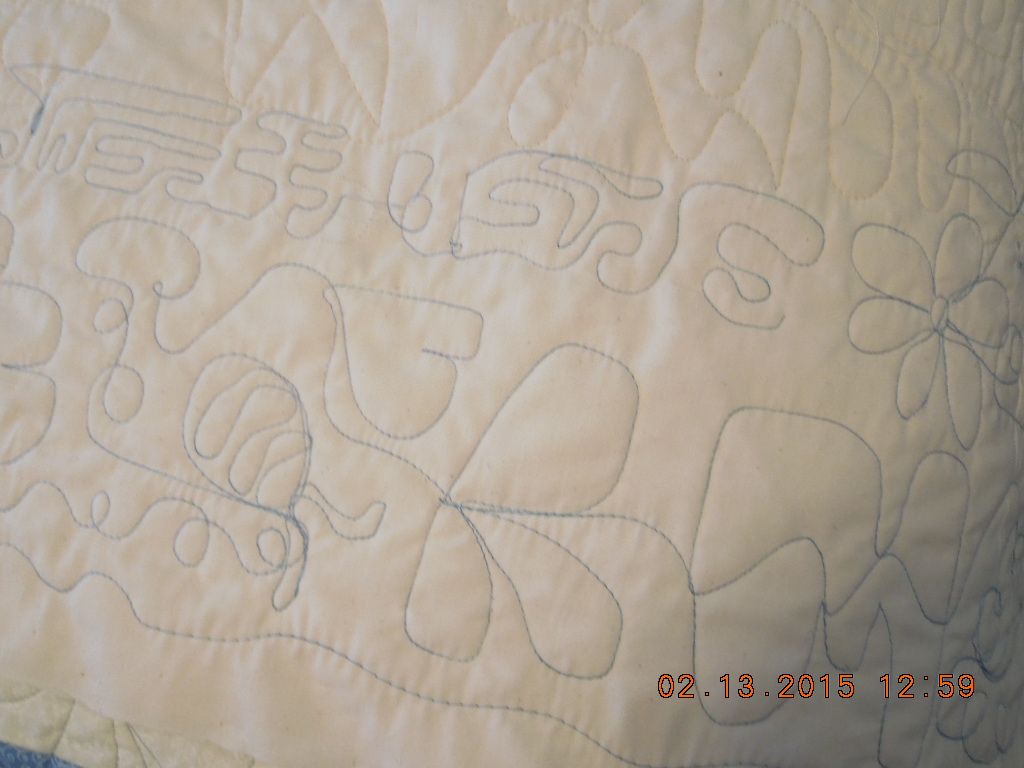 The above blue has to be picked out.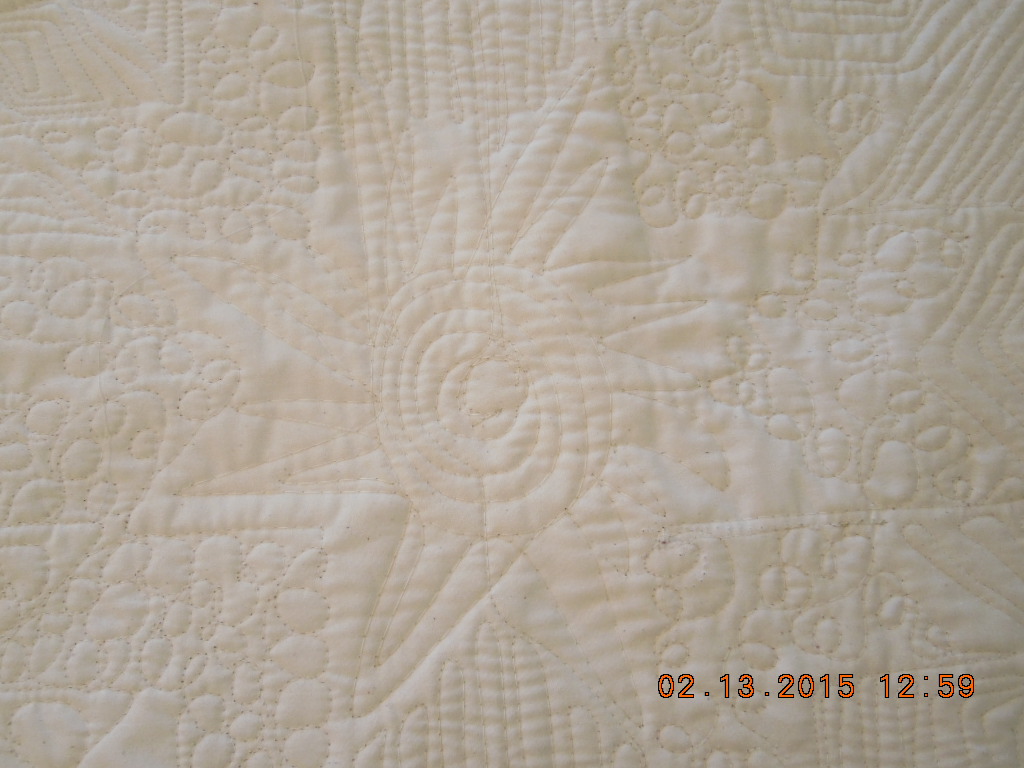 I just love all the different designs.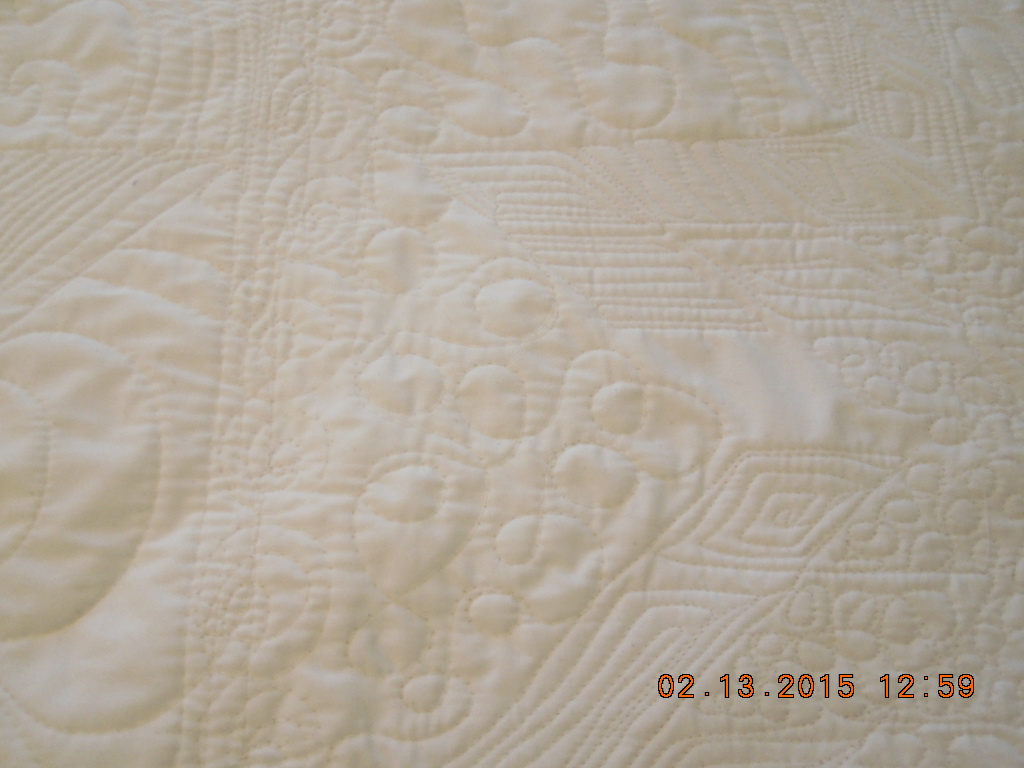 Look above to the right. I missed one part.. When we put it back on the frame to quilt where the blue was I'll pick that up and finish that one part.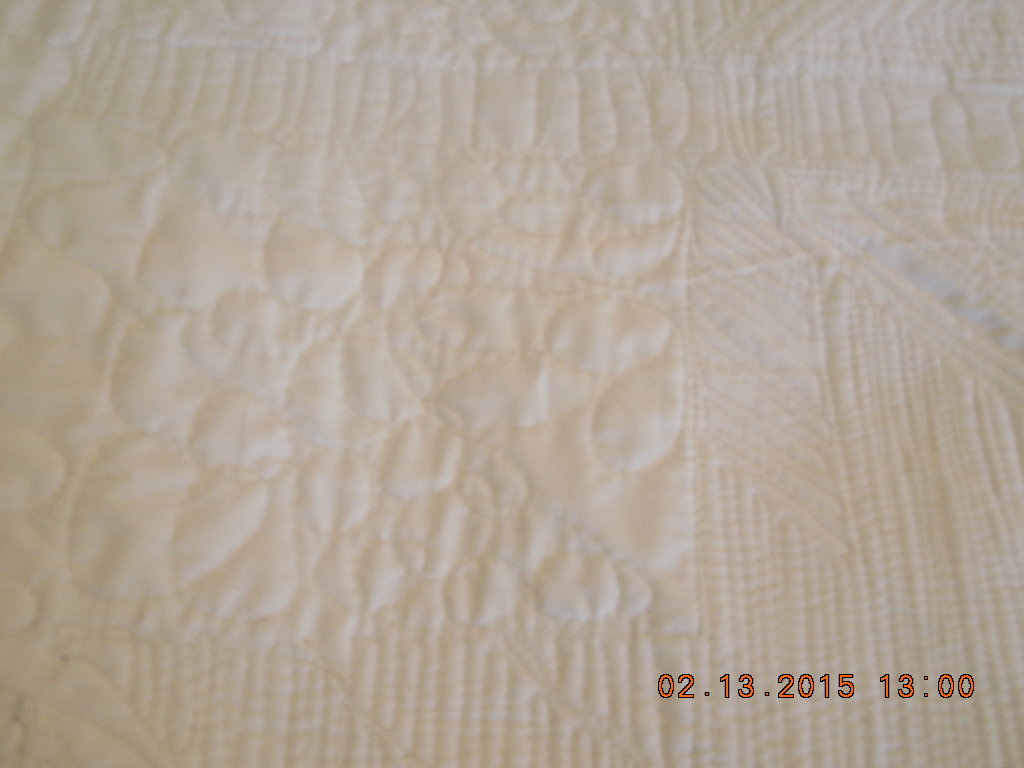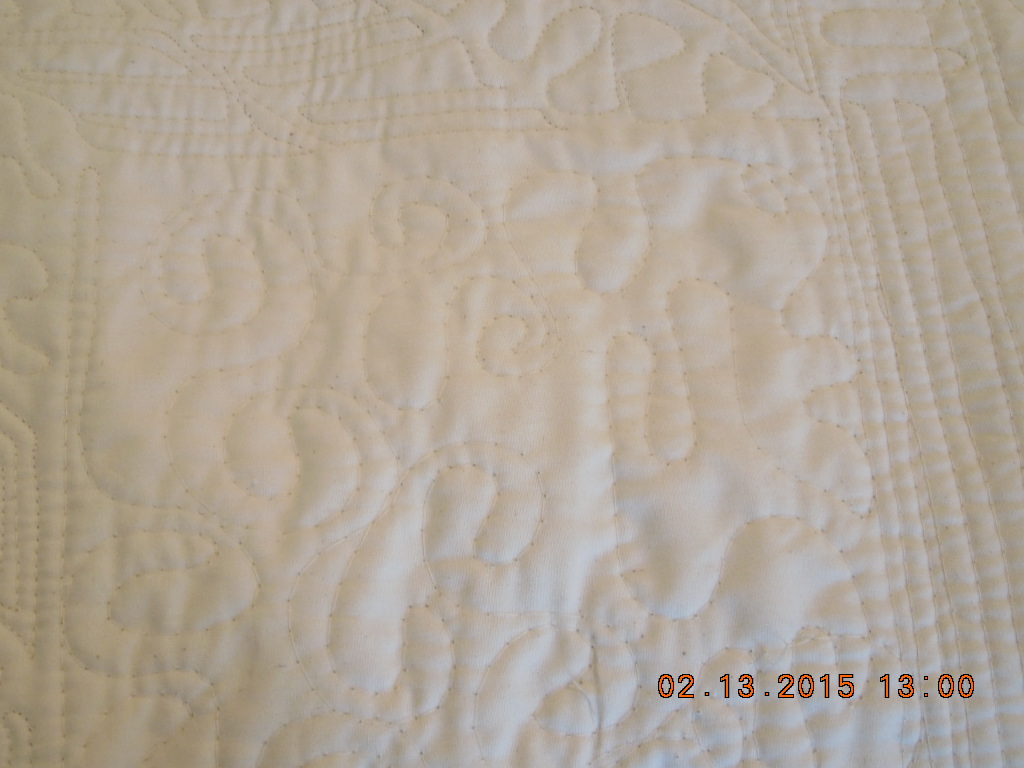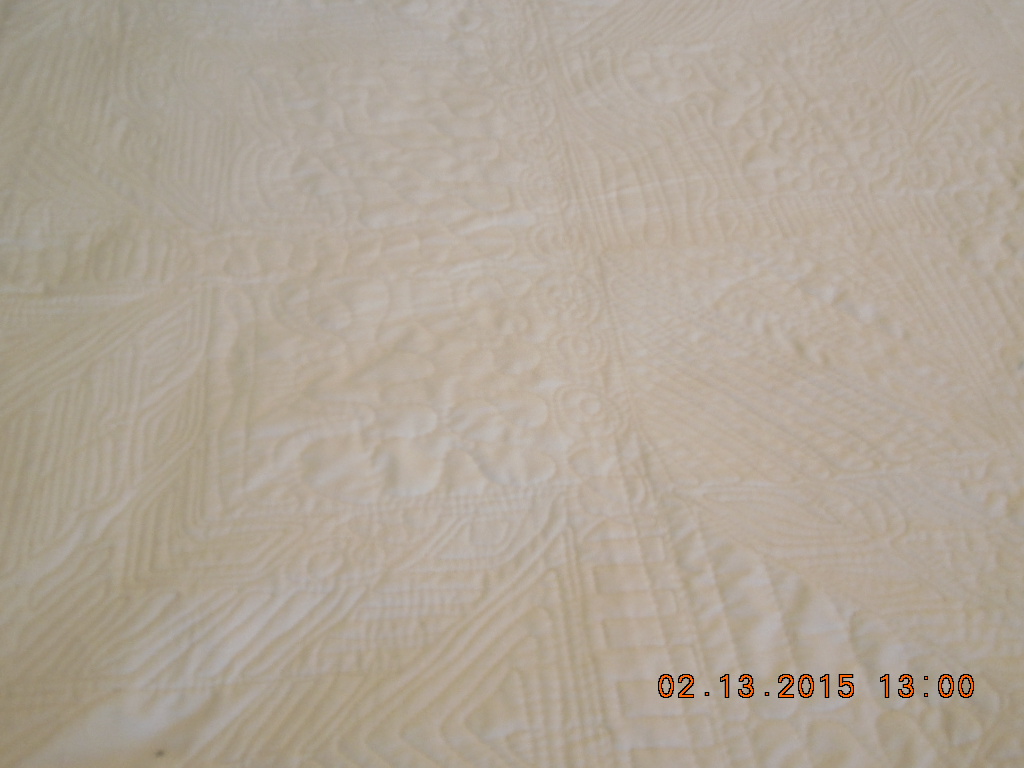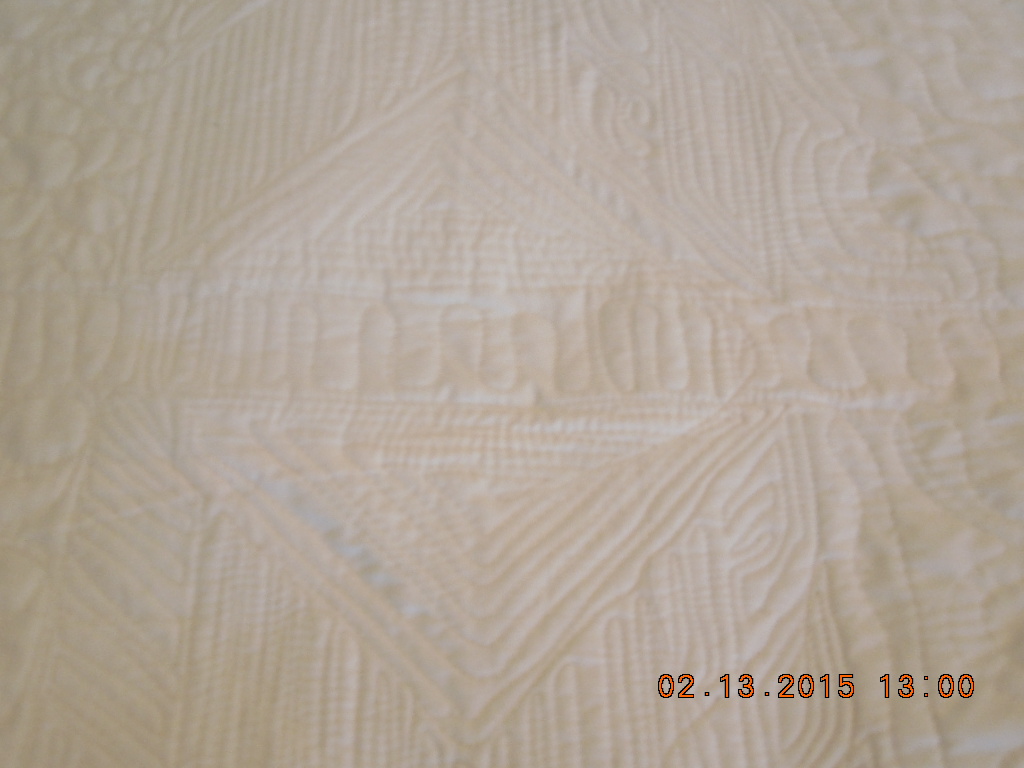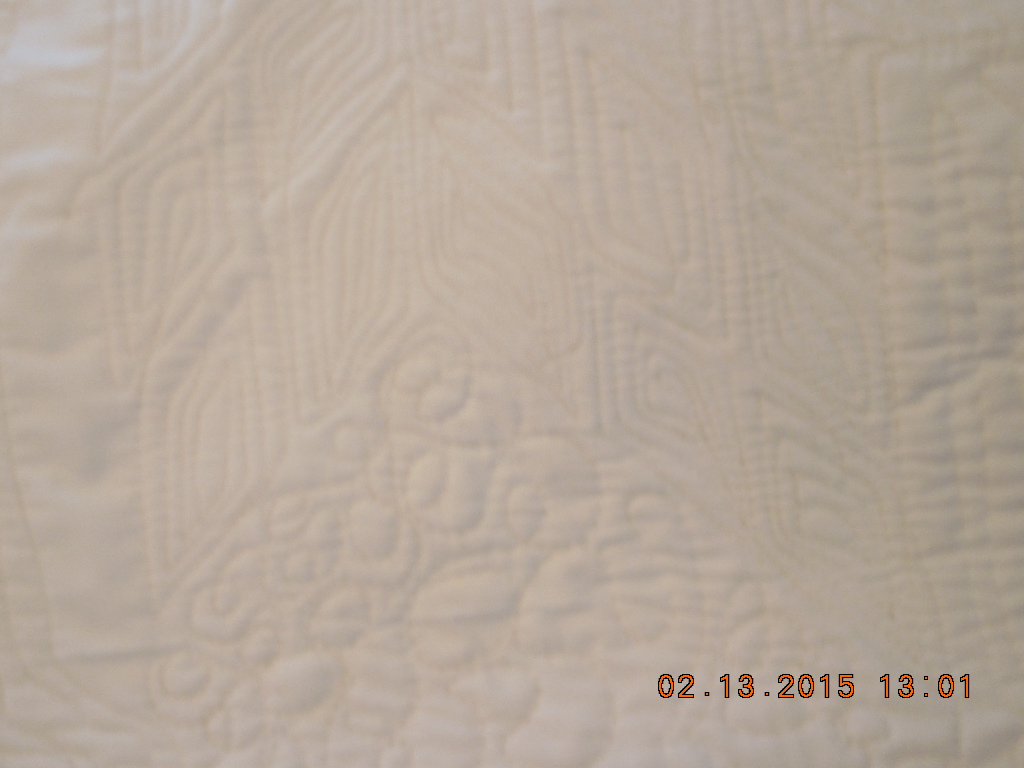 I truly like the design. It is me.. Just going all Willie Nilly like I do in life. If the short route is to the left I take the right.  I just love being different and doing different things. I am sure my quilting will always be different and I just love it. I am so glad I did not get rid of Lizzie and NOW I HAVE IT WHEN I NEED IT!  I am in love!!!!!!