If I go missing it will not be because of some kidnapping or forbid anything else more sinister it will be because I am lost in the jungle. Gary told Aunt Jan to come on down and swing like Tarzan when she got here. Said she could swing from the porch door to the back door to the house!
I got tired of going out and watering the flowers everyday and in a few weeks I will be bringing them in anyway so I went ahead and made room for them. Here are some of the pictures and most I grew from babies.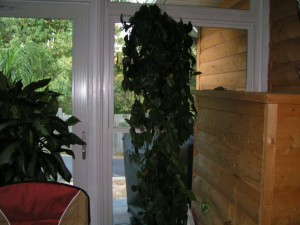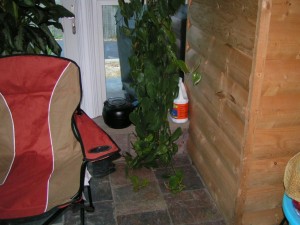 Aunt Jan's neighbor gave me this pot of ivy. It was hardly doing anything, barely sticking out of the pot . I put my magic on it this summer and now it touches the floor. I hung it out in a tree in the shade tiny bit of sun mixture and I think I have pulled it "out of the kinks."
We have had a cat for a long time.  She is 19 years old. She is an outdoor cat but I do let her come on the sun porch and she has her own house to go to at night and during the rain.  She is treated like a princess and the vet says she is in excellent health, just a bit slower. When it is cold or extremely hot I let her live on the sun porch. I am not going to say her name to protect the innocent but Aunt Jan calls her "the old lady." Well I fixed the OL a  place among the jungle. She will love it. It is hidden and like her own secret hideaway. Yes she has a litter box out there. I did not think you wanted to see that!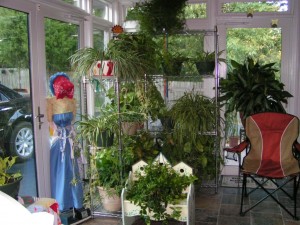 All of the airplane plants come from one mother plant with a couple of babies. I took the babies and planted them and they had babies and now you know the rest. So I have about 20 pots of airplane plants and about 10 I am leaving out to die during the winter. I just do not have room for them.(Unless I can find room for them…shh don't tell Gary.)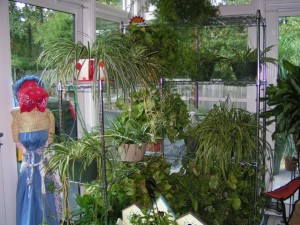 That is Maxine guarding the plants. It is a cover that goes over the vacuum cleaner. Most of the other plants came from one of those pot things they send to  you when you are sick. My employer I used to have sent me one after I had surgery. It was a small one with about 4 plants in it. Well I have about 20 plants due to that one gift. They are so huge that this spring I am going to have to repot and divide. I guess we are going to have to glass in the back yard for my jungle. I am running out of room.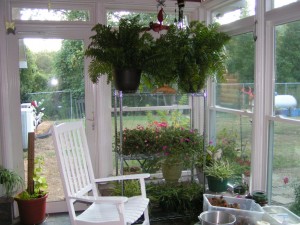 View of my rocking chair and another area of the porch that is overun with plants. That is zinnia seeds I am breaking up to save for next year that is on the table. I have about 10 quarts so far full of seeds and I am no way finished. 
The glass door you see will have a pony tail plant as I call it or elephants foot that I have had since 1983. I am more attached to it than anything. I thought about calling the Birmingham  Botanical Gardens to see if they wanted it but I just could not this year. Maybe next year. Today we brought it in. It is over 6 foot tall and weighs over 100 lbs. It took a hand truck and two of us fussing to get it in. The blades are like razor blades. I love it though. 
Go here http://welovequilting.com/speaking-of-babies/ and you can see a picture of my elephants foot two years ago. Now mind you..it is a lot bigger now.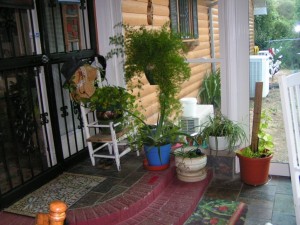 Going up the steps to the back door.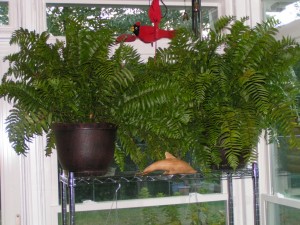 I did buy these two ferns this year. I hope I can keep them alive during the winter.  They are up above my chair on the metal stand I bought at Lowe's. My prayer is "Lord please don't let anything jump out on me or crawl out. Amen."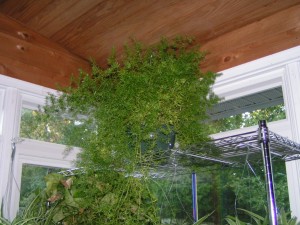 I love asparagus ferns. I came very close to letting this die last year because of the room. Something said "Don't do it Miss Ceilie." I am so glad I kept it. Well actually I kept two and they are thriving and beautiful.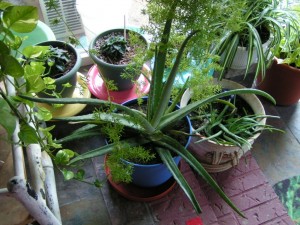 See this aloe vera? It was a TINY PUNY PITIFUL PIECE THAT I PULLED OUT OF THE KINKS! I tried to make a poem but I could not.  Aunt Jan gave me a tiny piece and bless its heart it looked pitiful. I loved it and nursed it back and I had to replant it this week and I believe I will have to do it again before winter is over.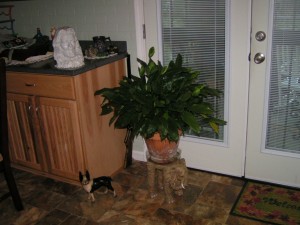 This one snuck in the house.  No the dog is not real it is one of those old cast iron dogs. Real heavy and will do some damage to a toe if you accidentally run in to it. See the bust of Jesus watching over the home.. LORD PLEASE DON'T LET ANYTHING JUMP OUT ON ME OR CRAWL OUT..  AMEN.