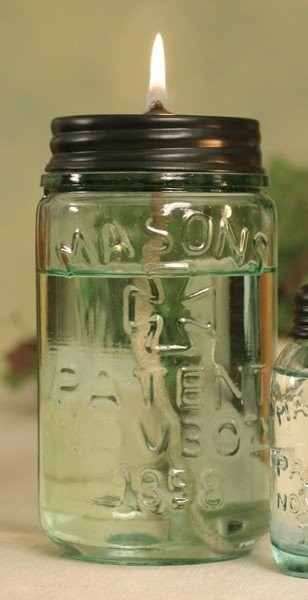 I was reading about awesome uses for Mason jars. Who does not have them? I gave away over 200 last year and probably will have that many this year. We buy apple sauce from Whole Foods and it comes in a Mason jar. Well when we go through a jar of Grandma Hoerners I wash the jar and save it. You can go to www.grandmahoerners.com and see the products. What I like so much about the apple sauce it is the consistency of apple pie filling but healthy. Huge chunks of apples. You can even get apple/strawberry, apple/apricot. Just go look. If you do not have a Whole Foods you can order and have it shipped to your home. We have done that also. Good product.
The label on the jar is so neat I have been wondering if I could seal it with some water sealer so that when outside it would not fade or come off.
Here is a great site of some things you can do with the jars. http://www.care2.com/greenliving/wicked-awesome-uses-for-mason-jars.html
Then go to www.google.com  and click on Images and then in the browser type in Mason Jar Images.  You will be there all day clicking on the pictures and reading the peoples blogs with ideas. I think I am going to make some of these above lanterns for this summer. I will use citronelle oil instead of olive oil so that I can ward off the "skeeters" mosquitos!
Here is another use for the jars. I take all kinds of fruits and mix them together. Here you will find kiwi, blueberries, blackberries, cherries, oranges, lemons, limes, mango's and whatever else I can find. Fill the jar about two or three inches with the fruit and water to the top of the label. Let sit in refrigerator for at least 24 hours. Take out the jar and put several pieces of ice in the jar on top of the fruit fill it up to the bottom ring of the neck of the jar with water and add two packs of Stevia. Put the lid on and shake and you have the best drink on earth. After you finish drinking you can do two things. Either get a fork and get the fruit out and eat it or you can put more water in it and put back in the refrigerator for a couple of hours and start the process over again.  I do not like water. I'll do just about anything to keep from drinking it. I can drink three of these jars full a day of this water.
We do not like any Stevia except the ones that come from Swansons. http://www.swansonvitamins.com/q?kw=stevia&x=0&y=0 We buy it in the packs that you can carry in your purse when you go out to eat and then we buy it in the jars to make our tea at home. One tablespoon sweetens a gallon of tea.