On our Trading Fabric Postcards group we have been making and trading miniature quilts. They are to be no larger than 26 inches by 26 inches. Here are some I received from the group and mixed in with be some other art work that I will explain.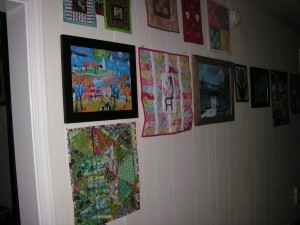 This is down my hallway. I am mixing my miniature quilts in with other pieces of art I have.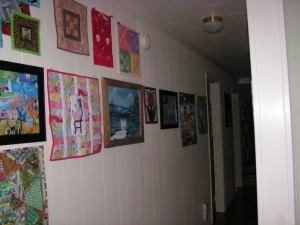 Another view. I hope to be able to fill up this side of the hallway by the end of the year. I am going to make some myself.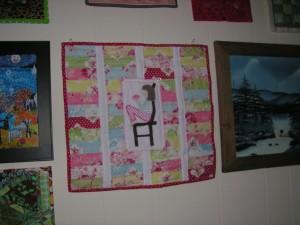 This quilt of a lady sitting in the chair was not made by a member of Trading Fabric Postcards. Someone else made this several years ago.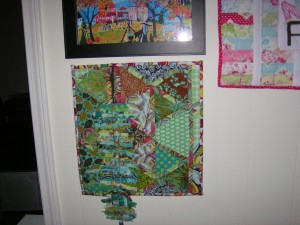 I love these colors and style.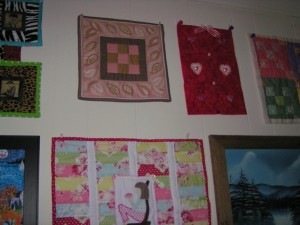 Some more pretties .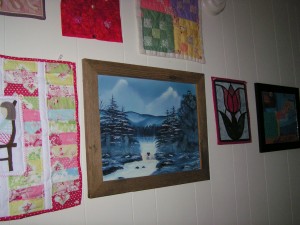 This blue painting in the wooden frame that was made from some old barnwood was painted by my baby brother Tommy Epps. He does wonderful work. I just wish he would paint more or give me his talents. If I could paint like him I would just have an entire house of murials painted on the walls. Gary would wake up one morning and never know what he would be looking at. I would paint my little heart out. Would that not be wonderful to be able to paint so well you could paint big scenes on your walls and when you got tired of it just cover it up and start all over. Gosh I wish I had painting talent!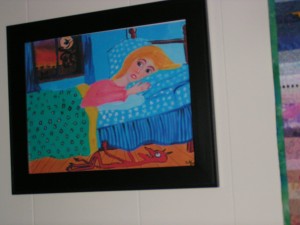 I bought this from a lady called Sister Raya. I love her work. Look at it closely. Have you ever been in this situation. In bed with the big eyes, cat looking in the window with a witch flying by the moon and the devil under the bed?? Happened to us all at one time or another. This could have been me if the little girl had brown hair!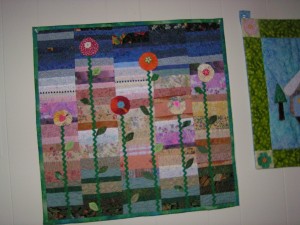 Yes this quilt is hanging straight. It was the photographer that was having a problem!! It is scrappy with fabric yo yo flowers.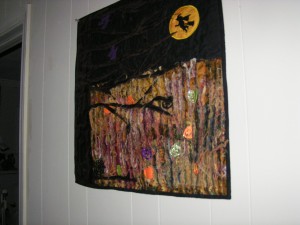 Check this pumpkin field out. This is really neat the way the fabric is cut to make it shred and who does not love the witch again flying against the moon?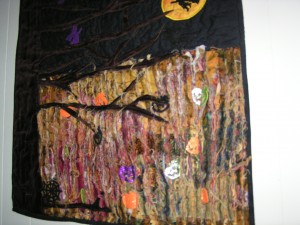 I love this field.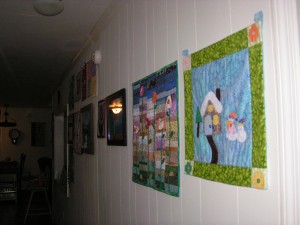 Looking at the gallery from a different view.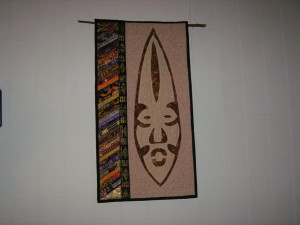 A special friend gave this to me for Christmas. Carol my web master. She knew I loved this type of fabric and style. It was just perfect. I have it by table so when I am eating dinner I can look at it and when I walk down the hall first thing I see is this wallhanging.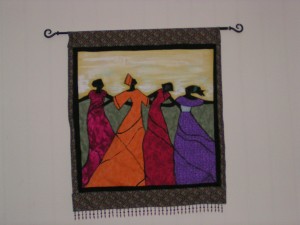 This hangs over my couch.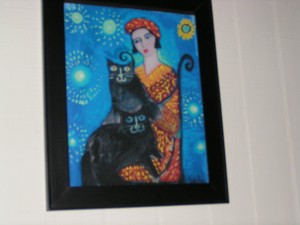 Another one of Sister Raya's art. I love this. Reminds me of a gypsy woman with cats.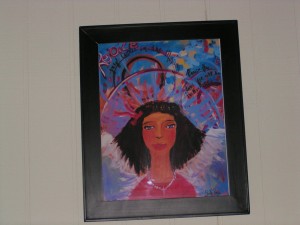 Sister Raya's Angel.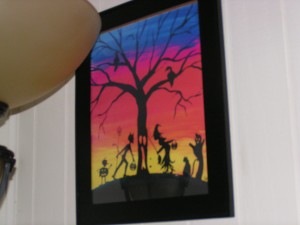 Sister Raya's again.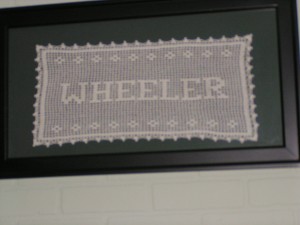 My sister Karen (It) had her mother in law make this for us. I love it. It is crocheted.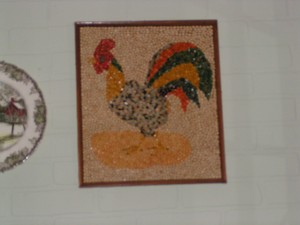 Am I the only person in the world with a chicken made of popcorn and beans? Remember these were so popular in the 50's and 60's. I still have one.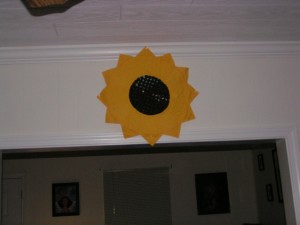 I LOVE SUNFLOWERS. You know it is strange. They are my favorite flower and I never planted any UNTIL this year.  I planted hundreds of seeds. They are coming up. I was so happy last year when someone in another group sent me this sunflower. I wish you could see the center better it is tiny brown fabric yo yo's.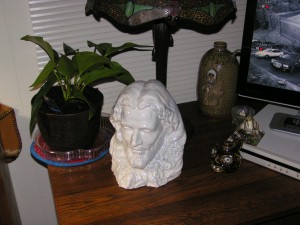 One of the few ceramic pieces that I still have that I made.  Do you know who it is?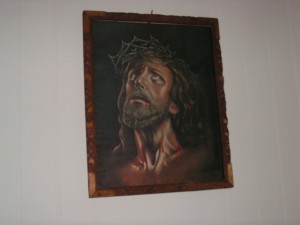 This picture has a special meaning. In 1972 when  I left my hometown to move to Birmingham, AL my daddy said if I ever saw a picture of Jesus with a crown of thorns and blood running down his face to get him one. He had never seen one but he just wanted one. Something he thought up. Well I was out and about on one of my many adventures and I was riding down the Bessemer Super Highway minding my own business and you know how service stations used to have rugs and pictures and other things hanging out for sale? I passed this service station, glanced over and what did appear? THIS PICTURE! I turned in the lot on two wheels. Got out and this was the only one they had $10.00 . Well back then $10.00 was like 10 million to me but I had it and I bought it. I went home that weekend and my dad was so happy. It was just as he thought in his mind. He died 4 years later the week of Thanksgiving. Mother always had that picture in her living room and when she passed away I knew it was coming home with me. I guess I love it better than any picture I have in my home.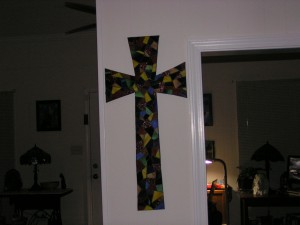 This was made by Jackie Wheeler Greene, our youngest daughter. I love it. It is mosaic. She does beautiful work. It is the first thing I see when I walk in the back door.